SEO or Google ads? What do you need to consider first? You understand that search engine optimisation, or SEO, makes your website get a better rank. Meanwhile, Google Ads will place your URL at the top of relevant search queries. It seems slightly costly, but it's worth it, as it delivers the instant desired outcome. In this article, we will answer your question and help you make an insightful decision.
SEO or Google Ads
Solid digital marketing is more critical than ever, with thousands of websites and companies rivalling to attract potential customers' attention. At this time, you will do your search for the best ways to promote your business online. You will find tons of practices you need to implement to get your brand to appear to your customers before your competitors do.
As a business owner, you have to focus on the best strategies that bring the best return on investment (ROI). You might not have more options if you have limited financial sources. You decide to establish a strategy to enhance your website's performance. Whether it is SEO or Google Ads, you have to choose one.
Comparing SEO and Google Ads is not relevant. It's just like comparing eating a salad to eating a steak. You simply love both. So, the next question is, is there any way to include both in my meal? Let's explore the difference between SEO and Google Ads and how you can guarantee the best results.
What is SEO?
In case you don't know, SEO refers to search engine optimisation. That is all the practices you can do to rank your website on the top page of the search results in order to let your prospective customers see you.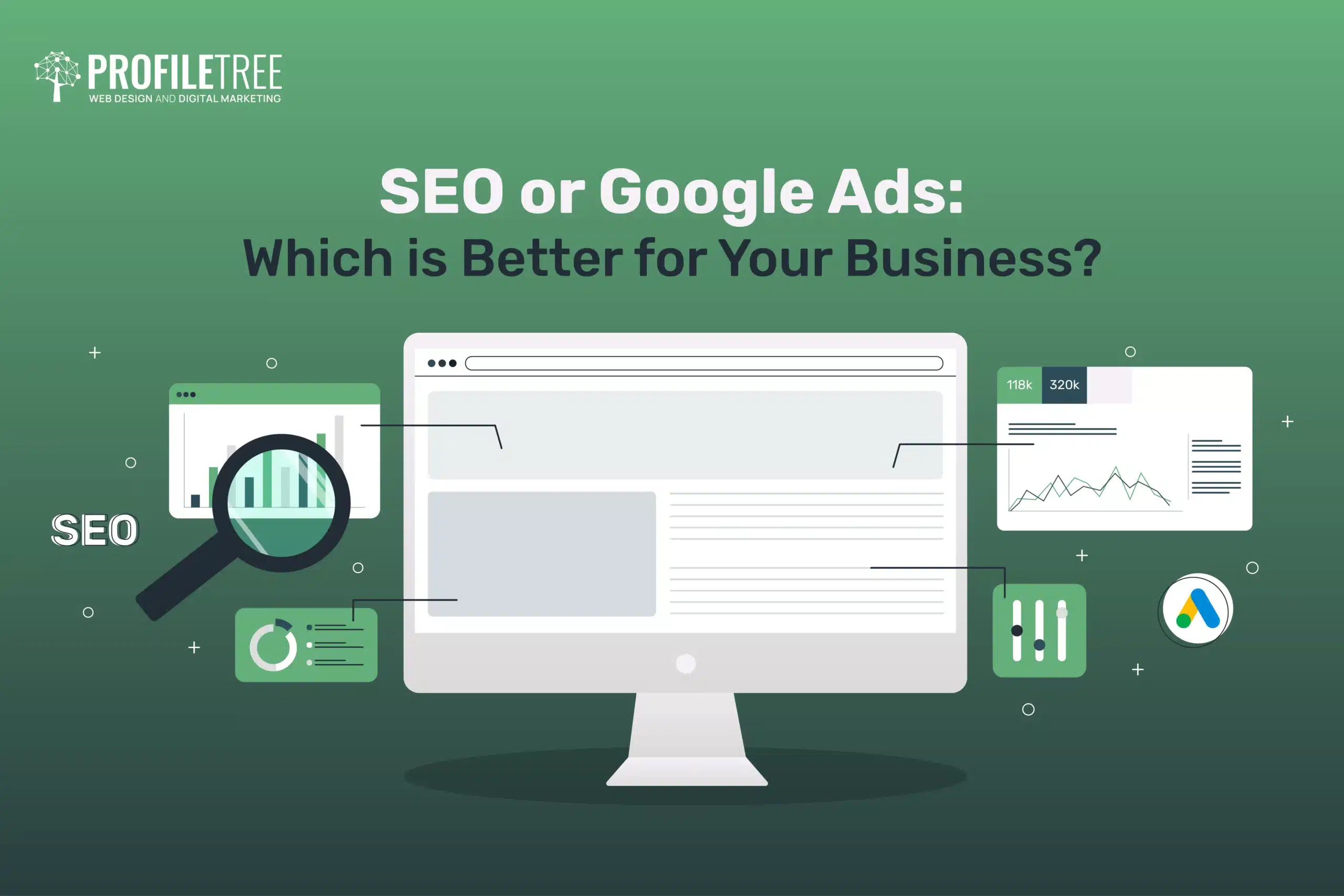 So, what practices are included? Well, a lot. These practices include strategies to get your URL noticed during half the battle of your customers searching for something relevant to your business.
But why is it important? You will be left behind if you don't secure a good spot in the top three positions. SEO can help you improve your website rank and start generating organic traffic.
According to Backlink, around 55% of users choose between the first three websites. The rest either change their search query or have a glance at other results. That's why being on the first page is not enough. You need to invest more to boost your website to achieve the highest possible rank.
So, how can you do that? You need to have an SEO strategy to increase recognition for your brand and generate qualified leads for your website. These things can be done through:
Creating user-focused content based on your keyword research
Optimising URLs to make it readable for search engines
Optimising meta tags
Creating a content marketing strategy with a focus on the performance of competitors' websites
Understanding how to build reliable backlinks
Testing your website speed through different tools
Using the right format to make the content digestible and readable
Answering your customers' questions through your content
Pro tip: To guarantee driving traffic to your website, you need to be updated with Google standards and algorithms.
What is Google Ads?
Since SEO is a set of strategies that makes an online appearance through search engines, why should you pay for Google Ads then? Obviously, Google Ads will accomplish the same goals as SEO, but much more quickly and at a far higher cost. You can say Google Ads is an advertising platform where you will charge per click (pay-per-click, or PPC).
Regarding their global empire or local venture, companies have started investing in Google Ads to attract active internet users who type in similar search queries. That helps businesses reach the exact most interested customers.
Basically, there are around 22 types of Google Ads. Let's explain the most commonly used ones:
1. Search Ads
Once your customers type relevant queries, it works to put your text ads at the first, second, or third option on the search results above the organic listings. These ads should be applicable to users' questions to get qualified traffic. The only difference between these ads and the organic results is that the first appears with an "ad" label.
2. Shopping Ads
These types of ads come in multiple product images appearing at the top of the first page of search results. The user's original content entered should be applicable to this carousel. The customers will be able to find prices under each image. E-commerce websites use these ads to gain more visibility over their competitors.
3. Local Ads
Similar to local SEO, local service ads are the best way to target a specific group in a particular area. For example, if you have a wedding dress shop and want to reach brides in Belfast, you can invest in these ads, which appear in a carousel format with your contact information and location.
How do Google Ads work?
Before answering your question about SEO and Google Ads and which type will be better for your business, let's have a quick look at how Google's advertising service works.
As we said, it's all about how many clicks your ads will get. The more clicks you'll get, the more you'll pay. That's why Google Ads are one of the most cost-effective digital marketing strategies.
When setting up your ad campaign, you choose the keywords you will pay for once someone clicks on your landing page. After getting Google's approval, your ad will appear in front of people who enter the same keywords.
But does this mean your ad will appear as a first search result? Not really! In the end, it's just a bid, and the quality of your advertisement and the competition both have an impact on it. Your budget also contributes to how many times your ad will appear.
Why Do You Need Both SEO and Google Ads?
For the best result, consider both SEO and Google Ads in your marketing strategy. If you plan to launch Google ad campaigns without considering optimising your website, content, or the landing page you send your customers to, your results will be disappointing.
So, Which One is Better, SEO or Google Ads?
Most companies are not aware enough of the best strategies to get them close to the right audience. They want to choose one approach, but that's not correct! You need both.
While SEO works on web content relevancy, exceptional user experience, and technical improvements to have a better rank, Google Ads offers you a chance to reach your prospects through particular keywords based on your research. SEO is more about configuration and link popularity. However, Google Ads rushes your website to make it visible to your customers.
You can't skip out on SEO and rely just on ads. Both channels are inevitable to step up your website performance and build awareness around your brand. A lasting effect requires taking advantage of both.
Things You Need to Consider When Running Your Google Ad Campaigns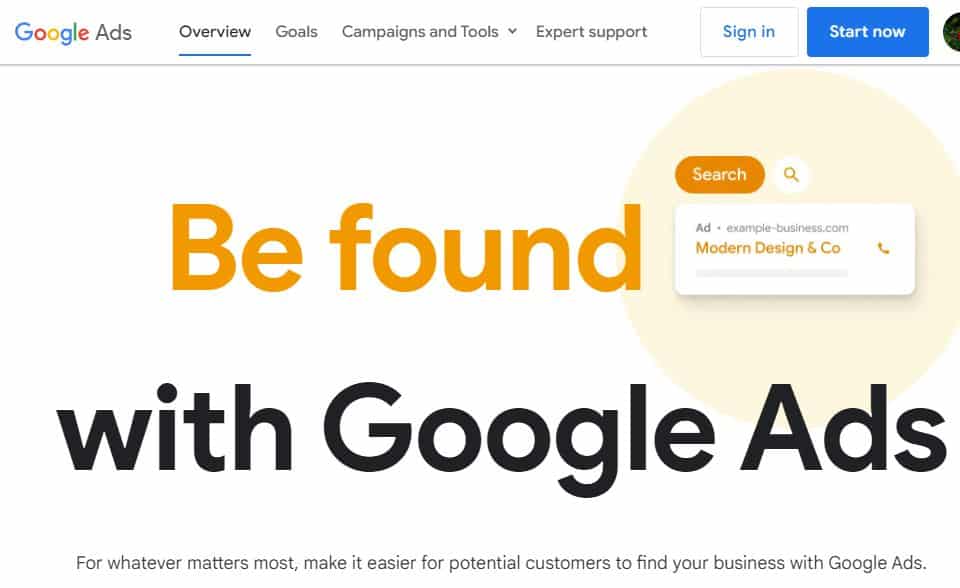 So, the question now is not "Which is better: SEO or Google Ads?" It's "How to make the best of both SEO and Google Ads?" Before launching your Google Ads, here are the most important things to tap into your customer's potential.
Know Your Audience
Need a solid marketing strategy? Only start by understanding your audience. It's more than breaking through their key phrases when searching for similar products or services. You need to understand their intentions and their demands. So, here are some questions you need to ask yourself before getting started:
How does your target audience search for your solution?
What are the keyword phrases your target audience uses?
Do you already have quality content for the page you will promote?
Pro tip: It's all about your customer demand. To run a successful Google Ad campaign, dig deeper to find high-volume-searching key phrases.
Create the Right Message
Running a Google Ad campaign is all about creating the right marketing message through your audience's eyes. Just stress their pain points and show them how to help.
Pro tip: Google Ads allows you to use a specific number of words. That's why you need to be choosy when selecting the keywords and your entire message. So, pay attention to the top-searched keywords, your customers' expectations, and the market needs.
Customise Your Google Experience
If it's your first time starting a campaign, you will need to visit ads.google.com and set up your account. Just click on Get Started. Google will then give you two options: Start a smart campaign or Build your campaign.
It seems tempting to depend on Google to create your own ad based on their AI technology. However, it seems wiser to take off and put in the work that customises your brand by selecting "expert mode". Don't let the name fool you. No expertise is needed. Just follow the steps!
Things You Need to Consider When Testing Your SEO Performance
So, you've got the answer to "Which is better: SEO or Google Ads?" Now, we compile a set of practices to improve your website rank, enhance your SEO tasks, and gain organic traffic.
Check Installed Plugins
The abundance of useful plugins might overwhelm you. However, not all plugins are created equal. Sometimes, they affect your website's speed. So, if you have tons of them, deactivate each in the plugin section of your WordPress website, run a speed test, and then activate them again once you're done to find out which plugins you should skip for better SEO performance.
You should also check for any plugins that need to be updated and highlight them on your WordPress dashboard. Click on any update message to take action, or check with your hosting provider. The update could be something they provide, a feature they issue within your plan, or an additional cost. Double-check whether or not you feel it is worth it or whether you do the updates yourself.
Clean up Your Database
For better SEO performance, you need to make sure that your database is all cleaned up. Why do you need to do that? The amount of data your website preserves determines how long it will take to have a fully uploaded website.
The platform delivers a clean and light template when you build your website through WordPress. However, it doesn't work like that. Many files, plugins, and data need to be stored to make your website more compelling and functional. If you don't have a good plan to manage that, you might end up with a slow website; even Google can't bear it!
To maximise your page speed, you can keep your WordPress dashboard tidy by installing a plugin like WP-Sweep or Advanced Database Cleaner. Overall, page speed is a huge factor in your website's success, as it can impact your search engine rankings, customer satisfaction, and conversion rate.
If your page is slow and sluggish, it could be a sign that there are some major performance updates that you need to make. Ensuring you run page speed insights every few months can mean you are up-to-date on your website.
Invest in the Right Tools to Test Your Website's Performance
Before putting a lot of effort into content and design, you need to test your website's performance and uncover how search engines see it—not just to gain a better position but for a user-friendly experience.
To be able to fix any performance issues that your website may have as much as possible and ensure your users have a great time browsing your website, Google PageSpeed Insights is one of the best free tools. It is reliable and accurate when measuring the entire user experience on your website.
Having an accurate report of how users deal with your website is also good. So, the more you run this, the better overview you'll have of your website. Hopefully, you'll be able to have a well-performing and fast-loading website as well.
Repeat Testing
To guarantee more accurate results, repeat your SEO audits frequently. You will need to rule out variations that affect your ranking. Take notes from the recommendations issued by different testing tools, adjust them, and test them again.
If you need any help with your website's performance, book your call today with a team of marketing gurus in ProfileTree.