Have you ever visited a website so slow that you immediately closed the tab and checked other suggested results? This might be one of the worst nightmares for a website owner. A slow-loading picture on a clothing website can throw off any potential customers, resulting in unintentional losses and low revenue. But it's not just product pages that are in danger of low site speed; every website out there is a victim.
Luckily, tools that can analyse your site performance and detect issues that hinder the page speed in minutes (sometimes seconds) have made such ordeals decrease in the past years, but some of us still haven't experienced their true powers. Here's everything about using the powerful GTmetrix tool to optimise your WordPress site and get the best out of it.
What Is GTmetrix?
GTmetrix is one of the most used tools for analysing site speed performance. In order to succeed in the digital world, one of your top priorities should be making your website fast for users. No one wants to use a slow website, especially sites dedicated to showing off products with multiple images added to one of the website's many pages. To make things easier for you, tools like GTmetrix emerged to constantly check how your site is performing by using various parameters.
The GTmetrix tool will analyse your site's speed and SEO performance to optimise your website. It does this by calculating how real users experience and perceive your site from different parts of the world and on different devices, following certain metrics. At the end of the test, you can get a performance score and a summarised report with a full breakdown of your site's performance and suggestions to fix any issues the tool has stumbled upon while running the test.
By following the parameters and fixing any issues that pop up, your site speed can be improved drastically, resulting in higher traffic —ultimately leading users to stay on your site longer—, low bounce rates, a higher position on the search engine results pages (SERPs), and high revenue.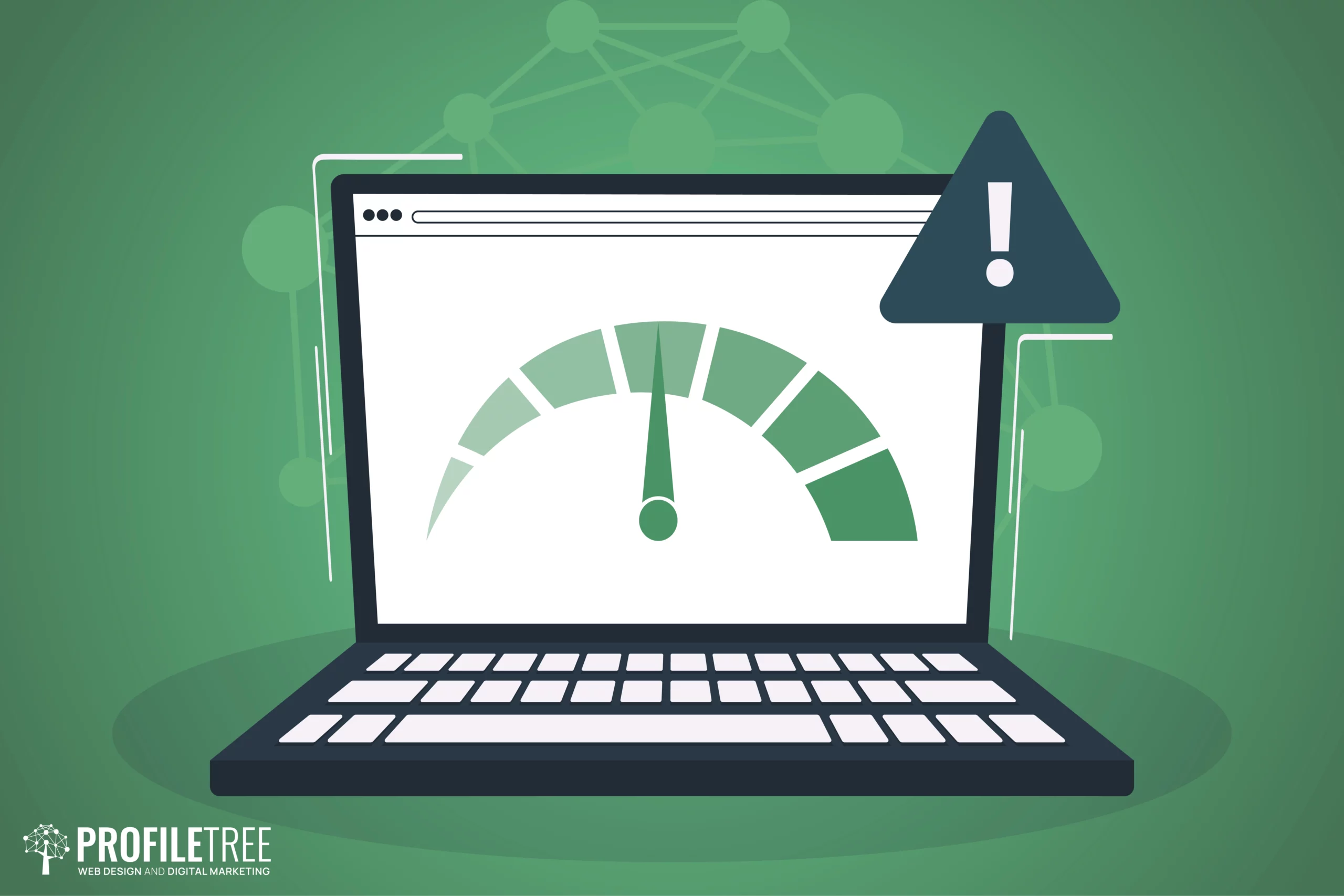 Free or Premium?
GTmetrix has two versions: free and premium, with the premium version offering three different plans accustomed to your needs and your budget. Although the free version has some limitations, there is a lot to benefit from.
The free (Basic) version offer you to test your page's performance in 7 global locations, while the GTmetrix PRO plans give you access to additional 15 regions. The 7 global locations are:
Vancouver, Canada
London, UK
Hong Kong, China
Sydney, Australia
San Antonio, USA
São Paulo, Brazil
Mumbai, India
In addition to the test location, you can choose which browser and device you want to use. The Basic plan offers testing with Chrome and Firefox but only on desktop devices. The premium plans, however, allow mobile device testing. More features of the premium plans include having a certain number of monitored slots (depending on the plan you choose), data retention, hourly monitoring, and more. Depending on the size and needs of your website, you can choose the best plan that works for you.
Note: GTmetrix incorporates results from Google PageSpeeds Insights to form the performance score and recommendations. That means you don't have to perform the tests on other tools since the results are based on a wide spectrum of performance metrics and explain them comprehensively (we will explain how below).
What To Know Before Using GTmetrix
Before going directly to the GTmetrix website to test your site's speed, let's look at some of the things you should consider first:
The Number of Tests
It won't be much of help to run your test only once since the results might change based on the amount of traffic. Try repeating the test at different times throughout the day.
Test Location
If your website is targeting a local audience, it would immensely help your optimisation process to set the location of the GTmetrix test to the one nearest to your visitors. However, if you're targeting global audiences, try running the test multiple times, each with a different region.
Test Subjects
Choosing your test subjects, whether multiple posts or pages, is crucial to get a better analysis.
Your focus and the primary goal here should be optimising your entire site's performance, so try not to obsess much about perfecting the score. You can, however, take each suggestion on the report into account to decide what will make the most significant and positive impact.
Using GTmetrix

To use GTmetrix, all you need to do is go to gtmetrix.com and paste the URL of the page or site you wish to analyse and click "Test your site."
As mentioned before, there are some customisation options, one of them being the testing location. By default, it will test the URL provided using the Chrome browser (Desktop) on a server based in Canada. You can change these settings by clicking on "Change Options," but you would need to create an account to further explore the options.
Setting up an account on GTmetrix is completely free. All you need to do is enter your basic information, such as your first and last names, email, and password. Once your account is all set up, you can re-enter your URL and explore the options available for the Basic plan.
With the Basic plan, you can change the location server to one of the seven previously mentioned regions.
Once you have selected your location settings, click on "Analyse," and GTmetrix will then analyse your URL, test it for different audits, and then present you with the total load time, a report, and a score that you can use to fix your website.
GTmetrix Analysis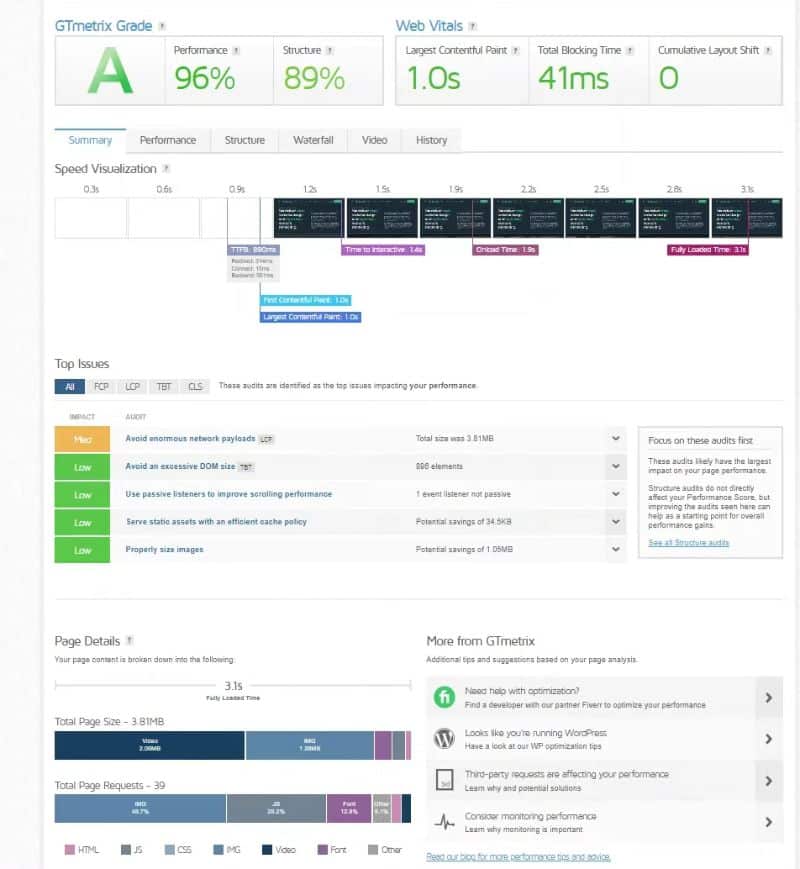 Since any web page is made up of different assets, such as HTML, JavaScript, CSS, and images, it's possible that any of these generate requests that slow down the page or site. The rule of thumb is: the more requests these assets generate, the slower your page or site will load.
When you run your WordPress website through GTmetrix, you will get directed to the analysis page, which will include your GTmetrix Grade and Web Vitals. The report page also presents you with six tabs covering different sections, each consisting of different suggestions to improve your site.
The GTmetrix Grade gets calculated according to two metrics: Performance and Structure.
Performance: your GTmetrix performance score is essentially the same as your Lighthouse Performance Score.
Structure: the structure score is GTmetrix's own proprietary assessment of Lighthouse and custom GTmetrix audits that tell you the overall performance of the page.
Back in 2020, Google announced that they would be introducing a standardised set of metrics to measure the real-life user experience. By achieving good Core Web Vitals, site owners can guarantee a great user experience and a place in the first search results. Although there are several metrics, GTmetrix focuses on Largest Contentful Paint (LCP), Total Blocking Time (TBT), and Cumulative Layout Shift (CLS). By hovering your cursor over the question mark symbol that's next to each of these, you can learn what they are and focus on optimising them first before diving deeper into other metrics.
Right below the GTmetrix Grade and Web Vitals, you will find six tabs, each focusing on analysing a certain area and giving you suggestions for further optimisation. The six areas (each has a dedicated tab) that get analysed are Summary (with speed visualisation), Performance, Structure, Waterfall, Video, and History.
Summary Tab
The Summary tab will offer you Speed Visualisation, showing a timeline of key events that take place as your page loads, Top Issues with identified audits that are impacting your performance, Page Details, and additional tips and suggestions based on your page analysis.
Performance Tab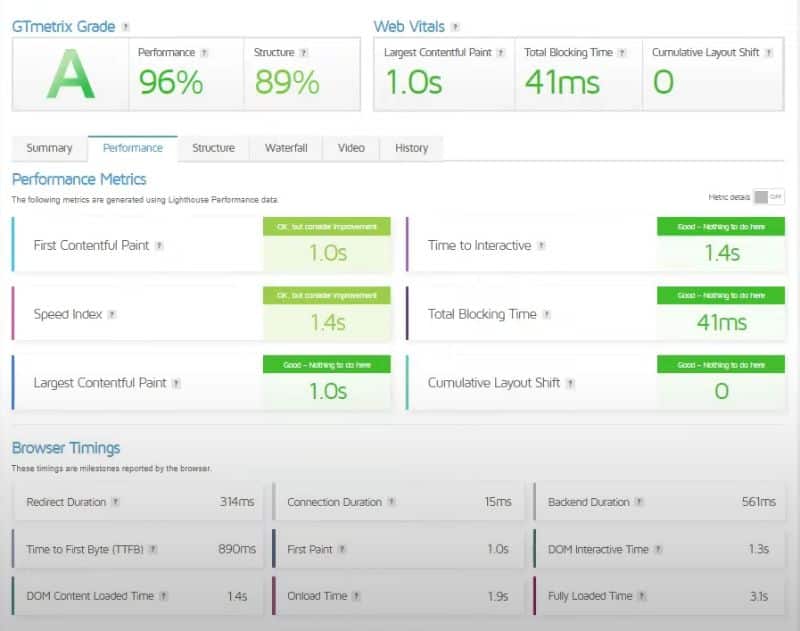 This tab shows a number of metrics sourced from Lighthouse performance data. In addition to the metrics shown in the Web Vitals box (LCP, TBT, and CLS), this tab also includes First Contentful Paint (FCP), Speed Index (SI), and Time to Interactive (TTI). If you toggle on the "Metrics Details" at the far right of the "Performing Metrics," you can have a detailed look at each of these metrics and understand better how to optimise your page. You can also view other metrics related to Browser Timings.
Structure Tab
The Structure tab might be the first thing you need to check for optimisation. This tab shows different audits set by Google for a smooth and "delightful" user experience. These audits outline the different issues on your page that could be the possible cause your site is not doing that well ranking on Google. GTmetrix displays all the audits for you and how each one impacts your site's/page's performance, giving you suggestions on how to fix the issues.
Note that, however, the audits the Structure tab display do not directly affect your site's performance. Instead, it serves as a good starting point to improve page load times overall. The tab gives you recommendations to enhance the speed and performance, like how to serve static assets with an efficient cache policy and provides solutions like properly sizing images, enabling Keep-Alive, minifying CSS and JavaScript, using CDN, and more.
Waterfall Tab
This tab basically shows you how long each resource took to load. We recommend carefully examining this tab. You can hover over the resource row you wish to examine and have a detailed breakdown of the reasons the resource is taking long to load. For example, if a certain image is taking too long to load, then you know you need to use an image optimiser. This can be done by using a plugin or just a simple website to reduce the size of the images.
Video Tab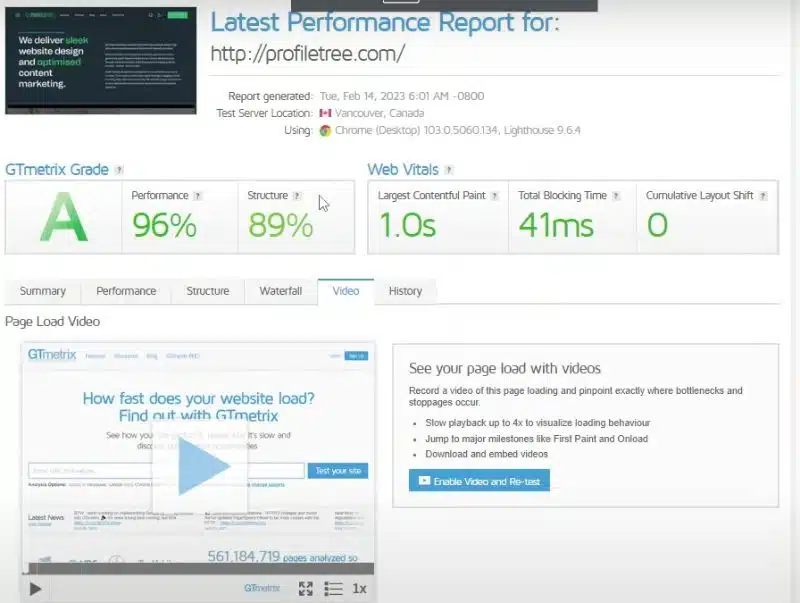 This tab provides you with the option of recording the whole testing process to pinpoint which resources took more time to load. You will have to register and create an account to use this tool. Once you do this, just click "Enable Video and Re-test" and let the tool do its magic. This can be quite helpful if you want to share the process during a meeting with your team to further avoid these issues in the future.
History Tab
This tab shows the history of test results through graphs so you can easily see the change in page load time, size, speed, and scores. You can basically visualise the page performance with these graphs.
Why Use GTmetrix?

The great thing about GTmetrix is that each tab that you have has the little question mark that we mentioned earlier. In some cases, like the Structure tab, the tool will show a button that says "learn how to improve this." By hovering over the question mark or clicking on this button, you will get more information on what the audits actually mean, how they affect the performance of your page and the whole site, and how you can fix them directly.
This is what makes GTmetrix a great and important tool for any beginner to use because it has its own documentation to explain quite clearly what the tests mean and how you can improve.
Can GTmetrix Be Used as a Plugin In WordPress?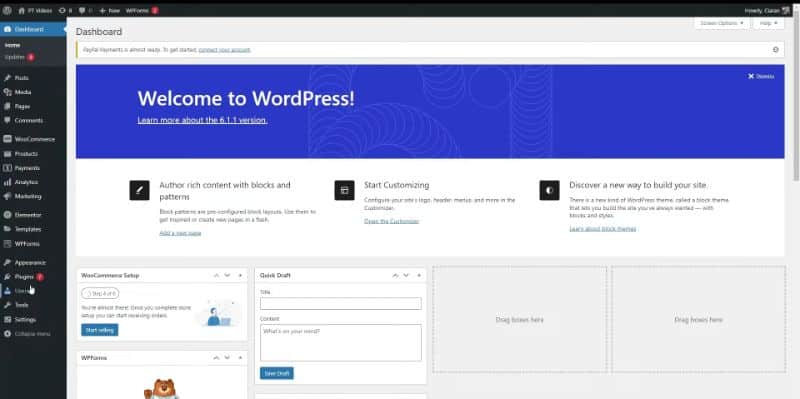 Yes. GTmetrix can be downloaded and added to your WordPress website. That way, you can test the site directly from your WordPress dashboard as opposed to going on the site over and over so just that you save more time and use it to improve your site's speed and performance.
To download the GTmetrix plugin:
Log into the backend of your site.
Go to your dashboard.
Go to Plugins, and then click on Add New.
In the search plugins bar, type GTmetrix.
Select GTmetrix for WordPress plugin (make sure it's by GTmetrix) and click on install now, and after it's installed, you can activate it. It will automatically add a GTmetrix tab in your toolbar.
To set up your new plugin, click on the GTmetrix tab from the toolbar. You will need to have an API key and your registered email. Even if you are on the free plan, you can easily get the API key. If your account is on the free plan, you will have a limited number of requests per day, but if you are using the tool on only one website, then you are unlikely to run out of credits.
Once you are on GTmetrix, simply follow these steps:
Click on Account.
You will find the API Key under the API Usage section, copy that API Key and paste it into your website.
Type in the email account associated with that API key.
You can regenerate the API Key multiple times to create one API Key for each of your sites if you own more than one.
After this is done, you will see that you have a lot more options when you are on the Settings page under the GTmetrix tab. Each of these options will help customise your testing. If you are on the dashboard, you will find that there is a new widget added for GTmetrix at the bottom.
The Difference Between Using The GTmetrix Website and the Plugin
Essentially, you will get the same options and sections if you were to use the normal GTmetrix website. The only difference is just convenience. Installing the plugin will allow you to do the testing as soon as you log in, all while still on the same website instead of opening a new tab for another site. The plugin itself is quite lightweight, so it shouldn't affect too much of your load time.
If using the normal GTmetrix website sounds more convenient for you, then there is no need to use the plugin. On the website dashboard, you can see how many credits you have and when your credits will reset. The credits reset every day, but if you need more, you can always purchase. But again, if you are just using it to monitor one site, then the number of credits that they give you daily should be enough.
One thing worth mentioning about using the plugin is you can schedule some tests. If you click on Schedule underneath the GTmetrix tab, you can set up scheduled tests hourly, daily, weekly, or even monthly. However, note that this still depends on how many credits you will have daily. You also have the option to decide whether you want the test reports to be sent to your email and at what time you want to be emailed.
When using the plugin, you will need to set the status, whether active or paused. This can be helpful when it comes to scheduling. Instead of deleting the full schedule, you can just pause it for a little bit. You can also pause it due to recurring failures.
Note that you will need to edit the server, the event, and the timing of the test. And always remember to save your edits! Otherwise, your changes won't be saved, and you will lose the schedule you've set up.
Overall, GTmetrix is an all-rounder when it comes to offering various and different insights to enhance your website's performance further. As this comprehensive tool gives you all the information you need to optimise your website, you can guarantee your online presence easily and smoothly.