The Coronavirus pandemic has caused a lot of ups and downs for the tourism industry. From travel restrictions to ever-changing rules, it is hard to comprehend what we can and can't do.
However, players across Ireland's tourism industry actively promote travel across the island; and for Irish residents, a world of adventure can be found on their own doorsteps. To celebrate what our country has to offer, we've put together a list of tourism leaders transforming Irish travel for people on the island. Check it out!
Cian Landers – The Fitzwilliam Hotel
Cian Landers jumped into his career in tourism and hospitality with a passion for fine dining. Working as a chef, he quickly realised his passion for work on the other side of the counter.
A degree in hotel management followed, leading to a jet-setting career experiencing tourism and hospitality across the world. Years later, Cian heads up Belfast's luxurious Fitzwilliam Hotel as General Manager.
The hotelier has been in the driving seat position in the development and renaissance of Belfast year-on-year. Belfast's hospitality revival has been driven by professionals like Cian Landers, transforming the prospects of the city for tourists and locals alike.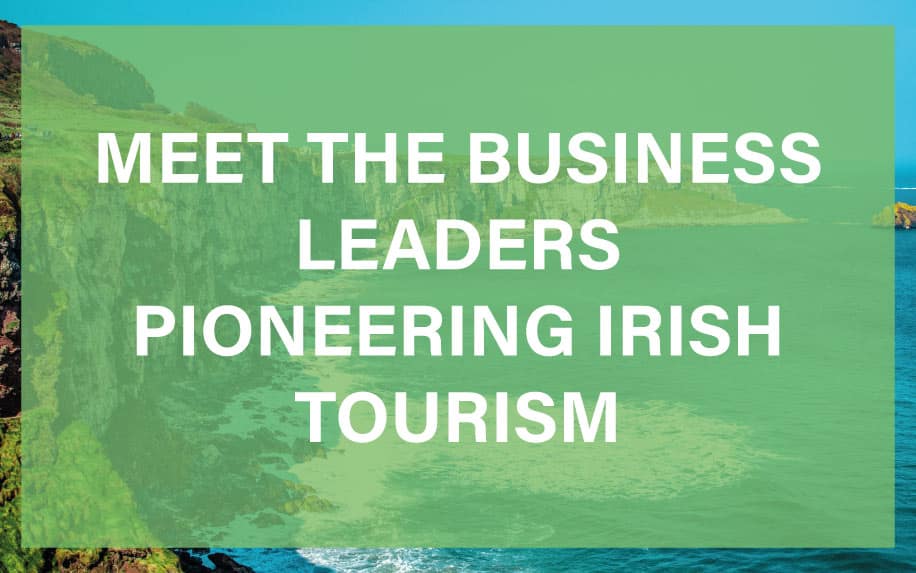 George Grimley – Belfast Sightseeing
When we think of tourism in Belfast, those iconic red buses come to mind – and we have tourism leaders like George Grimley to thank for that.
As Owner and Director of Belfast City Sightseeing tours, George's insights reveal a surprising aspect of Belfast's tour industry: that local people in the city form a large section of your customers, in many cases being some of the most rewarding tour participants.
Now with a fleet of 13 double-deckers, Grimley has put Belfast firmly on the tourism map whilst also bringing the magic of Belfast heritage to locals and residents of the city. "There's nothing more rewarding for a tour guide than someone local saying they discovered something they didn't know about," says Grimley.
Kate Taylor – Taylored Training
When it comes to overcoming tourism sector challenges, few tourism leaders are as knowledgeable as industry consultant Kate Taylor.
The Founder and Director of Taylored Training has worked with over 500 tourism businesses through her relationships with Fáilte Ireland and Tourism NI. Kate emphasises that even smaller NI tourism businesses are competing on an international stage, "whether we want to or not, due to search engines".
The consultant brings tourism experience in all its forms – "the good, the bad and the ugly". When it comes to overcoming challenges in the industry, Kate recommends learning from as many businesses as possible, implementing little snippets of each into your own business.
Ruth Chocron – Titanic Guest House
When it comes to tourism in Northern Ireland, it's not all about museums, murals and five-star hotels – and Ruth Chocron's business is testament to this fact.
Titanic Guest is a boutique bed and breakfast based in east Belfast which demonstrates the city's rising prestige as a place of comfort, luxury and good living. Ruth combines these hospitality essentials in her establishment with rich heritage; being based on the site of a former shipyard director's home.
Ruth's contribution to ProfileTree's Business Leader series shines a light on the vitality of Northern Ireland's blooming B&B culture – and we can't wait to visit Titanic Guest ourselves.
We live in interesting times. Do you plan on a staycation in Ireland this year? Where are your favourite hotspots on the island? Let us know in the comments and don't forget to like, subscribe and share!