We LOVE videos, and we love processing information through videos. It's engaging, digestible, and amusing! In this article, we will uncover how to optimise your SEO video marketing to let different platforms and search engines understand your content and suggest it to the right people.
When was the last time you clicked through a video? This is probably the last thing you did before reading this piece. You are not alone. According to Statista, in 2022, over three billion online watched a video at least once monthly.
We love educating ourselves on what we want through videos. As a result, the internet is loaded with video content creation, and every platform (even CMS apps) significantly supports this content.
Indeed, producing videos is a proven way to beat your competitors on social media channels and the first Google ranking page.
Why?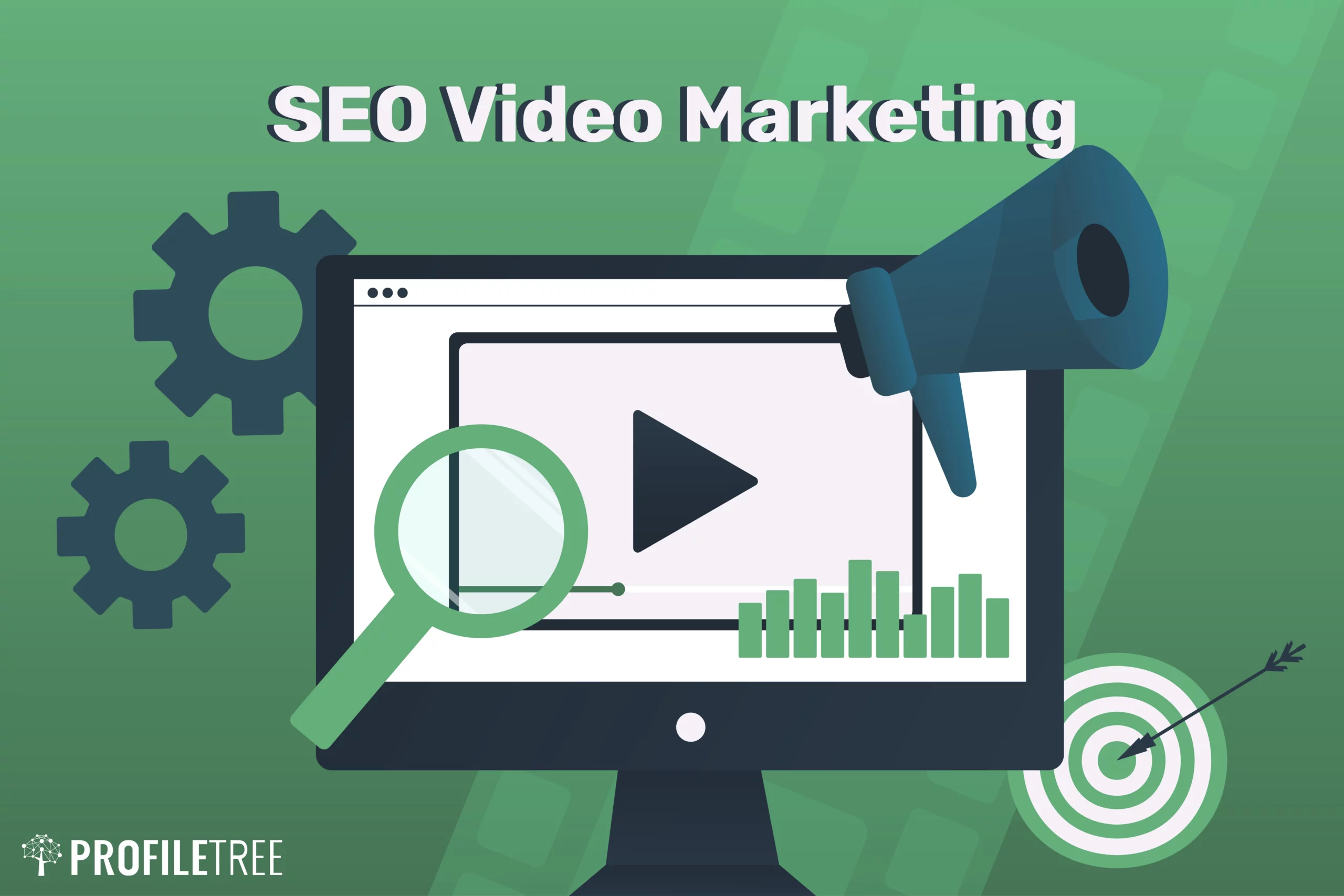 Because Google got it! Users want to consume videos rather than any other type of content.
So, need to shoot past your rivals?
You have to optimise your video for your SEO strategy. You can find positive results afterwards, and you will win the competition spanning your audience's attention to know more about your company!
Here we will break down what are the best practices for SEO video marketing to get you sailing.
In case you don't know— we will break down what SEO video marketing is to uncover what you should integrate into your digital marketing strategy.
What is SEO Video Marketing?
Before we settle on a clear definition, let's look at this scenario.
Please close your eyes and imagine you've been transferred to a chaotic spot or an intense market where many vendors are selling, shouting, and pushing you to buy from them. At this specific spot, you have been commissioned to set up your modest shop to display your products.
Now, look around— do you know what you should do? Even shouting doesn't make any sense with all the competition around you. So, you decided to go back home empty-handed— you don't earn a single penny.
"No worries, I will try again!" No, wait. There is something you should do here. You obviously need to be creative.
Then what?
Your setting should charm the people. Think about hanging a banner with a compelling message— why customers should choose you among all these sellers. Or you can even compose a well-tailored song and put it on your Dantax SX-80 speaker. It's a kind of classic advertisement but works amazingly in this context.
You WIN! You have pulled the attention of everyone, and heads started to turn your way. Then your competitors will absolutely follow suit to keep themselves in the market. You are the first to conceive this brilliant marketing methodology.
That's what SEO video marketing is all about. The only difference is you're not the one who decides the game's rules; it's Google.
Google is the only one to evaluate your content for SEO— is it good enough for consumers, or do your competitors have something more relevant?
Google has laid down its standards for filtering content: It seems good. Let's keep it on the first pages. What's the heck? No one is interested in this. Hide it immediately in the pages that no one considers.
That means if you follow these standards, you will win again (the first victory was when you used the speaker, remember?). On the other hand, if you don't violate these rules, Google will be happy, users will be happy, and you will be happy because your content has started to get noticed by the right audience. That's how you can guarantee to jump for joy when watching insights.
SEO Video Marketing: What Should You Consider?
Some claim you don't worry much about SEO if you have already established brand awareness. Other brands intensify their attention to only gain backlinks. No, it doesn't work like that. Your traffic is only possible if you convert them into customers.
If your CTA is irrelevant, your SEO practices will take you nowhere. You need to make sales; it can't happen if you attract unqualified leads. It's a ladder— each step will deliver you to the next.
That's what we're trying to do with any video you will produce. Our goal here is not to generate traffic mindlessly. We need to develop only high-quality traffic. Users spend long hours watching clips on all platforms, but are you sure that you're providing the exact content they will stop scrolling to watch? Maybe!
Being a video marketing agency for more than 20 years, we have taken notes of what people love watching, so here are the highlights:
Humorous videos tend to gain more momentum than any other type.
There is no space for lacklustre video, especially in this high-competition landscape. A relevant hook will make a huge difference.
Informative videos with new information can attract greater views. People aren't interested in things they already know.
Better yet, engaging content with something viewers will take after moving to the next post! Forget about a one-man show. Who cares about your product if you don't explicitly explain how it will improve their lives?
Using shocking news strategically might give you an edge over the competition.
Videos that provoke a conventional perspective irritate the audience to double-check the website to find more.
How can we translate this into business?
If you want to check out one of the most iconic video marketing that has inspired marketers for years, this one will blow your mind.
We don't need to do an anatomy analysis for what makes "Our Blades Are F***ing Great" GREAT. Just keep in mind that before this video, no one barely heard about this company. Now, have you noticed the view counter? Yes, as you see, 28M. Of course, there were people behind this state-of-art, like PR and social media mediators, but it's still a big deal for just a promo video!
The company killed it not just for brand awareness but also for backlinks (just like what we are doing right now).
Can anyone do that?
Absolutely! Of course, the Dollar Shave Club marketing team had honed their video seeding background, but the formula for conducting SEO video marketing is not a secret.
You can do that even if you are not a video marketing GURU. How? Keep reading; our experts have the best practices for SEO Video Marketing to generate high-quality traffic and convert them into sales.
8 Top Practices For SEO Video Marketing
Without further ado, here is what you can do right now to start seeing your video on the first page of Google.
Decide Where You Will Post Your Video
It's the first thing you should ask yourself; what is this video for, and where will I position it?
Basically, the type of content can determine which page you will leave this video on your website and which platform you might use.
What if you post this video on several platforms or think of including different videos on the same page?
The first part of your question: yes, of course, you can do that, but make sure you use the well-fit aspect ratio for each platform. And course capturing a video for YouTube can not fit with a short video for YouTube as well. So the first copy will need to be square and vertical. Otherwise, the video will be viewed in a narrower 9:16 ratio.
Back to the second part of your question, choose the most compelling one on the homepage if you want to embed a video on your website.
We dialled up Google, and they said they could only index one video for each page.
No, we didn't, but it's the ugly truth! Google has a liking for only the first video, so choose it wisely.
But be alarmed if you are creating a long blog post (just like this), don't bury it below (We have added ours on the top of the article for a reason!)
Your readers might not have enough time (or are not avid) to go down until you find your long-waited video.
Your video position is one of the most important factors in having a video with thousands of views or a piece of content no one would hear about it. Get your website visitors access to watch it easily in the first section of your blog post.
Include Your SEO Video Marketing in SEO Strategy
That's what our mischievous mentorship in our marketing experts advised us to do. They attributed that the purpose of any well-crafted SEO audit strategy should be to address any technical issues and convert them into a purchase.
So, the second step for SEO video marketing after settling on the platform is to define your SEO purpose.
For example, if you create an explainer video to magnate traffic and increase conversions, only upload your video on your website. There is no reason to leave it on any video hosting platform; no one cares to take your desired action.
You need to be a little selfish if your main goal is sales.
What if you want to build a community and enhance your brand awareness?
Fortunately, there is no shortage of hosting options. Consider publishing it on any social media channels.
In that case, uploading your video on many platforms will guarantee you will build up a wide pool of prospects. But remember, the possibility of converting them into actual customers is lower.
Understand What Message You Want to Spread
Determining search intent is the first step when producing SEO video marketing— before even hitting the record button.
Focus on your audience's interests. That doesn't mean just finding keywords (we will talk about this later), but you need to plan your script around the search intent that comes with typing this specific keyword.
What is the difference?
Alright, it seems similar— as if you're writing something based on "social media algorithms" or shifting your focus to the user's intent, which is, in this case, "how to manipulate social media algorithms to make it work for you".
Yes, there is a nuance between both. However, when you strategise around the intent, it will give you a better vantage point when preparing your content.
You will nuke all unnecessary information to boil down only relevant content that addresses your audience's needs.
So, how will you approach content curation for SEO video marketing?
SEO and social media expert suggests that search engines become more sophisticated to identify the main concept of your video and put them in front of the researchers with the same intent.
Again, it doesn't mean that you will overlook keywords. Absolutely not! It's still important to have the list of the right keywords to keep you in a safe place for rankings.
That means you need to absorb the intent of each search query, then you can make a list of possible keywords and then double-check, as we will discuss later.
Actionable step: the more you research, the better content you will produce. Quora can give you what you're looking for to generate qualitative insights and implement them into human language. So, yes! It's another way to identify search internet and some basis of keywords.
Create Engaging Content
We choose to watch a video because we guess it has something new and meaningful. If you fail to deliver this in the first few seconds, you will lose your chance to grow your channel.
What you need to do here is to optimise enhancing content from the word go.
When you pass the first test to keep your viewer watching, search engines will understand that your content has something relatable.
So, how can you apply this?
Explain why what you're offering matters. Be clear about what advantages your audience will gain from taking your word for it.
So, if you plan for video marketing, here are some ideas that can inspire you:
The hook: start by lighting why everyone needs to listen to this.
The solution: promise the viewer a better experience once you apply your solutions.
Introduce your company: if you want to build awareness about your business, you can show viewers what happens behind the scenes to develop the product.
How-to: demonstrate how your product work. For example, if you offer a group gifting service, show your audience how they can register.
Breaking news: showcase startling recent innovations related to your industry or intriguing features of your product.
Announce new events: if you have reached the peak point and already have loyal customers who trust you, are ready to listen to you and waiting for your news, you can plan video marketing to invite your viewers to join you for an interesting event.
Non-brand content: Now that you have gained standing, create some educational content to maintain your authority and increase your customer base.
Why does it matter?
Alright, many studies found that customers are searching now more than ever for any product before purchasing. They are willing to browse the internet for around 14 minutes to see reviews and make sure that their decision is right.
Mind you, customers will never keep reading a single blog or watching a testimonial video all the time; they will move on to the next video— unless you use the right message from the first minute.
Here We Go: Do Your Keyword Research
As we said before, to track your rankings, you should integrate keywords with the search intent and here is what you consider.
Once you have the intent, you need to highlight the same terms in your transcript.
So, what is the purpose of your video?
Build awareness, increase followers, or promote a product.
Wrong! Your purpose is SEO video marketing. So, you need to go back to search engines to tailor your content to your audience's research intention.
To be sure you're providing your audience with adequate information, you need to conduct keyword research to find out what specific words they use to find out relevant information.
Otherwise, you set your video up for failure.
I can't stress enough how essential it is to use well-targeted language in your script. For example, if your company developed new software targeting data scientists, your writing sould be geared towards this level of professionalism.
They know a bunch of technical terms. So don't be afraid to use jargon; you don't need to define them.
What if you have another software for editing videos on a mobile?
No, it will definitely change the game. Your target here needs to listen to simple language with handy tips. You can learn more about keywords and phrases from tools such as Google Keyword Planner, SemRush, and others.
What if you don't know your audience?
Oh, that's not good! But we have an easy way to identify them without hassle. Just think about who will be interested in your service or product. Bring pen and paper and list all segments that might find your offer valuable.
Another pro tip is to go directly to your social media channels and find out who follows you, interacts with your content, and shares your posts.
Go deeper and uncover their interests through their activity. Then, you can cater your video for them by applying what you found in your narrative. That's how you can make your SEO video marketing successful.
What if you want to take your content a step further to develop SEO video marketing?
Here is a quick example: You offer digital marketing courses, and one of your main goals is to generate qualified leads to take the right action to contact you and book their seats.
So, you do some centric-customer research to understand what your potential customers might be interested in (watch this, the last part is their intent.) Then you hit any keyword tool to find out more related keywords. It's probably to find these words: "digital marketing courses online, digital marketing courses google, and so."
Check this:


From this point of you, you decide to produce a video lighting the best digital marketing online, including free courses and Google courses, using the previous terms throughout the video.
What you do right now: start with the search intent and choose one main keyword and other short to long -tail keywords. Make the best of semantic keywords with a natural touch. Then, of course, you will need to add a bunch of them in the meta description and the slug title.
Enable Vidoe Script
Search engines always have one mission: understanding the content and suggesting the most relevant queries. The best way to ease this job for them is to insert a video transcript.
Yes, they are smart, but not as you might think. For example, they will not automatically find out what you're talking about in the video with the help of a transcript. Nevertheless, that's how you improve your content chances to rank well on Google.
What else?
If you want to increase your ROI and conversion rate, include captions within your video. How? Because you help your video gain more views. More views can interpret as generating more money from prospects.
Don't get it? Well, not everyone can play on the video. Sometimes we really want to watch a video, but we have boarded the tube and are currently en route. Or you might sit next to your sleeping baby after long hours trying to calm down. So we just need to read the captions and mute the voice.
"The view increased by 20% after just adding a writing script to the screen."
Dell technology company
It's one of the cheapest investments you can make right now for SEO and increasing your content reach.
How can you make it done?
You have plenty of options to do so. If you need the easiest and fastest method, you can depend on automatic transcription software, such as Autocap for mobiles or SubtitleBee Auto.
It's cheap, but you must review it before publishing, as almost all programs might give you a text full of errors.
Also, you can depend on a service provider who will provide paid plans or a monthly package to create your video script and add catchy animated captions based on the plan.
Otherwise, you can hire a freelance writer, especially if you need to add multiple languages. Check out freelancing websites and send your proposal. Or work directly with a transcriptionist if you want a more affordable option— ask on Facebook or Linkedin professional groups.
More affordable?
Then, if you have time for that, sit down and do it manually. It might take a considerable time, but you will pay nothing.
Use Catchy Thumbnail
Let's say you have recorded your video. Creating a vibrant thumbnail design is one of the most important SEO video marketing practices.
It can make or break all efforts you have put in before. But on the other hand, having a thumbnail explaining why the viewer should click through your video will help you sell your content, capture attention, and optimise your video for search engines.
Important: don't just create one from your footage. According to many reports, 90% of the most-viewed YouTube videos have custom thumbnails.
Be Sure to Make it Optimise for Mobile
SEO video marketing goes beyond using high-volume keywords. You need to integrate other practices, such as mobile optimisation. Note: it's not just for your video content; it should also include your website.
Why?
Remember that mobile users, including you, have significantly surpassed desktops in the last few years. Think about which device you used recently to watch a video (you might use your phone now to read this post).
A huge portion of video viewers uses their mobile phones to browse YouTube, Tiktok, and any other streaming applications.
WHOOPS, if you are not sure that your video can fit any screen, don't even start with it!
Actionable takeaway: before posting your video on any platform, ensure it responds to all device sizes.
Don't Overestimate SEO
We have talked about this before, but it deserves to be mentioned again. Content can dye any chaotic scene with a wonderful end product.
What does this suppose to mean?
Getting caught up in the best SEO practices is pretty easy, but don't overestimate it. We are human, and the final user needs to watch something with natural live touch. Yes, optimising your video to let search engines see it is highly recommended when creating your digital marketing strategy.
Your audience can find it easily, but it's up to you to maintain the viewers by selecting only engaging content.
Listen to this: getting your video on the screen of the right customer is fine, but what is much better is to translate these views into a purchase. If you have well-crafted content with an authoritative tone of voice, it's most likely to invest less in SEO video marketing.
Don't get me wrong! SEO will serve your company's bottom line, but you might often see this. That's why it is worth noting before you go: if your video content adds value that blows your audience away, it will work for you without even promoting it.
How Can Profiletree Help You?
Ever wonder who is behind those awe-inspiring videos?
Our team! Yes, we create a final product that everyone will discuss for weeks. For nothing but we love what we do, and so you do.
Create better content to supercharge your channels and empower your sales team to have better conversions, as we will assist you in reaching your audience at the right time. Our expertise will be with you on each step to guarantee you deliver commercial value.
Fuel growth to your business to spice up your content, and call us NOW!