Do you want your blog to rank number 1 in search engine results? If the answer is yes, then this is the article you need to read.
Blog posts are a great way to give you a leg up when climbing the ranks of search engine results, and we'll show you how to write a blog for SEO in this article. But before we get into the nitty-gritty of how to optimise your blog post, we will first discuss why it is so important to start writing blogs in the first place. 
Table of Contents
What is a blog?
Blogs have come a long way since being a form of casual online journaling. Today, the benefits of blogging are tenfold and are used to generate sales, increase traffic and promote brand awareness. Content creators are increasingly producing blog content that has been strategically structured to rank higher on search engine results and achieve business goals.
But what is a blog exactly?
A blog is a piece of long-form written content that expresses an opinion or perspective on a certain topic. They usually take on an informal or casual tone and can literally be about anything.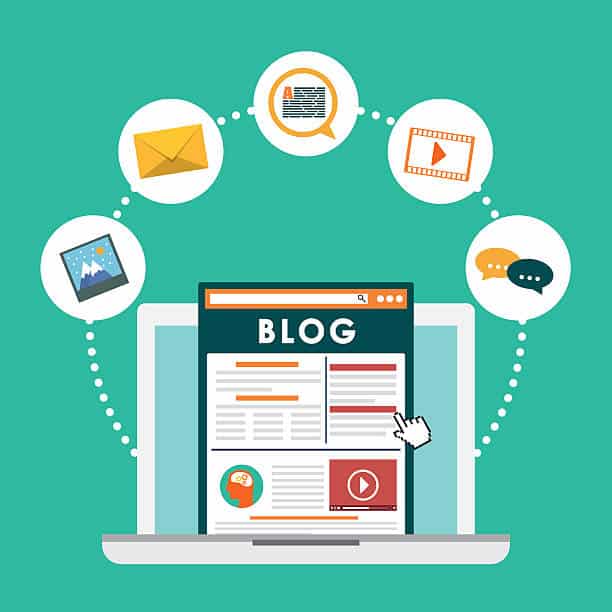 Whether it's an opinion piece about current news or business commentary regarding upcoming trends, blog posts provide an in-depth discussion where different perspectives and insights are explored in detail.
What is SEO?
SEO is an acronym for Search Engine Optimization. It's the strategic process of curating online content so that it ranks in a higher position on search engine results.
Type any search query into Google, and there will have been a predetermined algorithm that selects the most relevant pieces of content to show in response to that query.
Usually, the first 1-3 results are ads, which will be stated by the search engine, but the results after those will have risen on their own merit. SEO is an organic marketing tool, meaning that it generates long-term visibility for your content as opposed to purchased ad space.
Content writers will attempt to balance their content with what appeals to these search engine algorithms and what engages with their target audience. Ultimately, SEO is an ongoing battle between online content creators attempting to take that top spot of search engine results.
The higher your content ranks on search engine queries, the more traffic your website is going to receive, which results in increased brand awareness and, ultimately, generates more sales/conversions of your product/service.
Is a blog good for SEO?
Blog posts and SEO now go hand in hand because what is the point in creating unique, quality content if no one is going to see it? SEO ensures that your blog posts are seen by your target audience and that the effort you have invested into drafting and editing blog posts is well spent.
Quality-written blog posts that are tailored to your target audience will also have the dual effect of raising your website's SEO performance. If the ultimate goal is to get audiences to visit your website and spend time on their browsing content, then a blog post is the hook that will draw them in.
Why are blogs good for seo?
Blog posts provide a platform for you to showcase your expertise. Whether you're starting a blog for your business or if you're a personal blogger talking about niche interests, it's still an opportunity for you to share your knowledge and answer the questions that your target audiences might have.
You might take your own knowledge and skill set for granted, but this insider expertise could be a fountain of knowledge for someone else. Write blogs that balance your own interests but also answer your audience's queries. Finding this balance will help you become a good writer, creating blog content that is both valuable and interesting for audiences to read.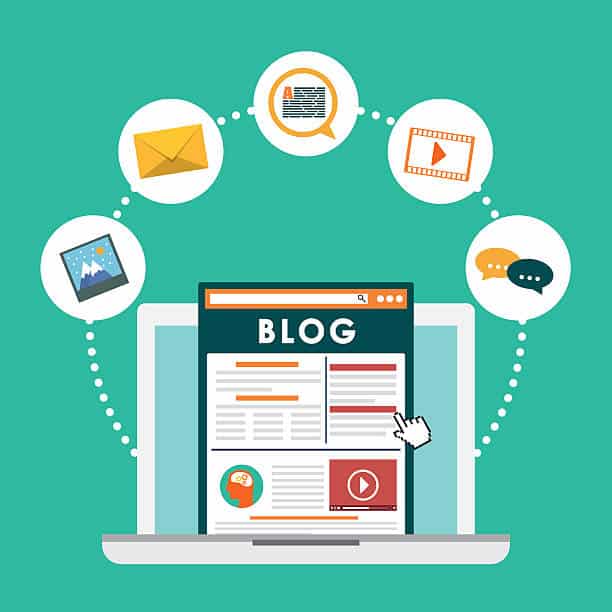 Tips for writing a blog for SEO
A blog that is written with SEO in mind needs a more strategic approach than non-optimised blog content. Put bluntly, rather than writing about whatever is of interest to you, you actually need to create blog posts that are centred around what audiences are searching for and what appeals to search engine algorithms.
Check out these tips below and start writing quality blogs for SEO purposes.
1. Find your niche topic
Finding a blog topic to write about can be one of the most difficult decisions when embarking on a blogging journey. The best advice is to pick something that is of interest to you, it will be much easier to write about, and your genuine interest in the topic will shine through the content.
If you're not interested in the topic, then neither will your readers. Choose a blog topic that you feel passionate about and share that passion with your audience. It's also worth noting that a niche topic has a better chance of ranking, e.g.) instead of talking about general fashion trends for women, you could narrow it down to fashion trends for women aged 25 – 35 or office fashion trends for women.
Niche blogging is about quality over quantity. You will have much more success when recruiting regular readers that are interested in your niche, as opposed to writing for global audiences and risk not being seen in the overwhelming, competitive environment of search engine results.
2. Find the keywords
If you have never written for SEO purposes before, then the phrase 'keywords' might sound unusual. Basically, it refers to the words or phrases that your blog will rank for. For example, if you write a blog with the title, "10 office outfits to start the new year" you ideally want to rank for the keywords "office outfits" as opposed to "start the new year".
So how do you know what the keywords should be for your blog?
There are a few ways to do this keyword research. We'll discuss three platforms you can use to generate competitive keywords. Before we get into keyword research, however, it's useful to define some terms that you will come across.
Volume: How many searches are completed every month for that phrase/keyword.
CPC: Cost-per-click, how much it would cost if you were to pay for ad space in response to this keyword.
SEO Difficulty: How difficult it is to rank for this keyword with SEO practices.
Long-tail keywords: Longer search phrases that include the target keyword.
Related keywords: Might not include the target keyword word-for-word, but Google knows it is related to the target keyword.
Ubersuggest
Uber suggest is an SEO platform that can do a lot. It can tell you the current SEO performance of your website/content, give advice on what keywords you are already ranking for, and suggest keywords that you should attempt to rank for.
Simply type the general keyword into the search bar, and it will generate similar keywords that you can include in your blog content. For this example, we will use "Office Outfits".
The list of keyword suggestions provides lots of ideas around content that you can include in your blog pieces. Simply scroll down the suggestions and take note of the keywords that are relevant to your blog piece. In this example, you could have a section on business casual outfits, what is meant by business casual, etc.
Keyword platforms like Ubersuggest provide a launchpad of existing search queries that can you can adopt into your own blog content.
Keywords Everywhere
Keywords everywhere is a great Google extension that lets you view related keywords in response to a search query. It provides quite a detailed list of relatable searches, where you can literally cherry-pick the ones relevant to your blog piece.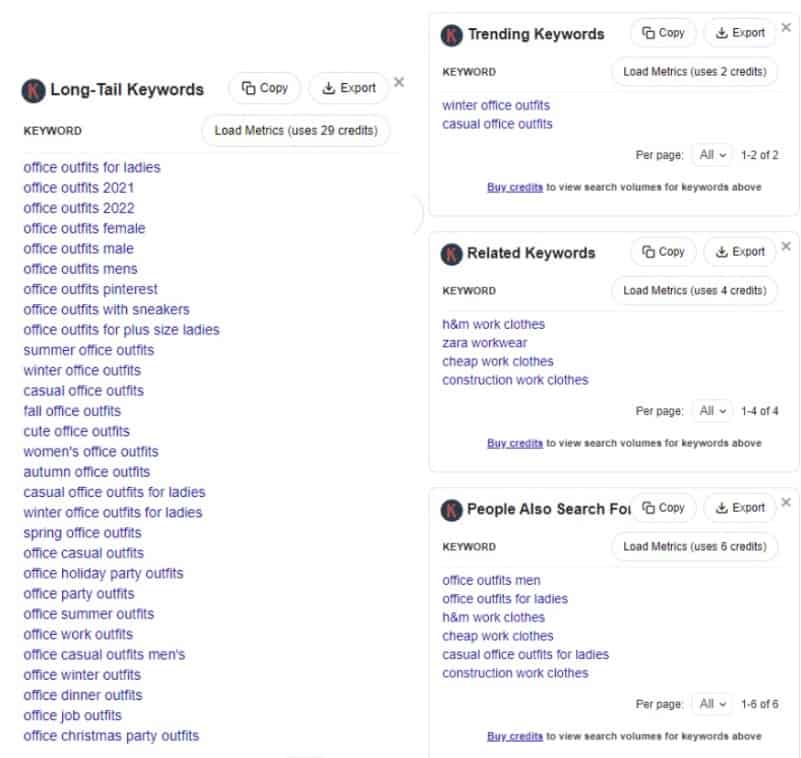 This Google extension is free to add on and is a great asset for those writing blogs. It quickly generates a list of strong keywords that people are currently searching for, which contributes towards creating relevant and up-to-date content that your audience will love.
SEMRUSH
SEMRUSH is another great SEO platform where users can measure their current SEO performance and generate a list of strong keywords that is relevant to their blog piece.
It shows a list of keyword variations, where people are asking the same thing but in a different, roundabout way and a list of keyword questions, where people have searched for the keyword phrase in the form of a question.
This platform provides amazing keyword research, letting blog writers generate articles in a way that fits in with user queries. Some of the suggestions may be irrelevant to blog writers, but that's where the expertise of the blog author comes in, in order to create unique and well-structured blogs for SEO purposes.
Researching your primary keywords and generating a list of secondary keywords will ensure that your blog content is well-optimised and in an ideal position to start ranking and bringing in readers.
3. How long should a blog post be for SEO?
Ideally, every blog post you write should be 1000 words or over. Anything less and search engine algorithms will tend to ignore it. As a general rule of thumb, though, the higher the SEO difficulty is for a particular keyword, then the more content you will need to write around it. For those keywords that you really want to rank for, I would suggest writing mega blogs with 2000 – 3000 words.
4. Blog title for SEO
Curating a blog title is one of the biggest things you can do to improve your blog's SEO performance. It is the main cue that search engine bots will use to determine what your blog is about, and it's the hook that will ultimately draw readers in.
Check out these tips for writing a strong blog title for SEO purposes:
Ideally, blog titles should be around 50 – 60 characters in length.
Include a power word, e.g.) successful, amazing, wonderful, etc.
Include a number in the title, e.g.) 10 ways to / 5 things for, etc.
Position your keywords at the front of your title.
Follow these steps to create a strong blog title that draws in readers and ranks highly on search engines.
5. Blog structure for SEO
In order to write a blog for SEO purposes, you really need to pay attention to how it is structured. If you just word-vomit content onto a blog with no sense of structure or format, then it's not going to appease search engine algorithms, and audiences will quickly dismiss it as a relevant source of information.
Think about the following tips for structuring your blog:
Keep paragraphs short
Ideally, paragraphs shouldn't be any longer than 3 – 5 lines. This allows audiences to quickly condense information and skim through the blog content, without them having to commit large amounts of time to understand what you are saying.
Use headings
Headings also help the reader and search engines, understand what exactly your blog is about. Make sure that you use the keyword phrase in at least one of your headings, ideally in the H1 as this helps improve the SEO score.
You should also use your headings in an inverted pyramid style within the blog. This means that the blog should include a H1 at the top of the content, before funnelling down into H2, H3, H4 and so on. This basically tells search engine algorithms that all of the important and most relevant information is at the top before condensing down into the more finer details.
Include an image
Including images within your blog content will help the reader visualise what you're saying, helping to put your words into a picture. It also aids in breaking up the content, which makes the blog more visually attractive to read.
Include an image with alt text
When including images within your blog, you also need to include the keyword phrase as the alt text. The alt text serves a few different functions;
If your website fails to load, the alt text will describe what the image is supposed to be of.
If the user is visually impaired, text-to-speech readers will use the alt text to describe the image.
Search engine algorithms and search engine bots, will use the alt text to determine what your blog article is about.
Include video content
On the same notion of including image content, video content is as equally important. It helps audiences digest your blog content, and if they press play on your video, they will stay on your site for longer, which works towards improving your site's overall SEO performance.
You can create your own video content as part of your blogging content. It will be original and offer audiences a form of visual content that's easier to digest than reading a long-form blog, but you don't need to create your own video content in order to make your blog successful.
Take our blog vs vlog article, for example, we have included lots of video content from other external resources, yet it is still one of our highest-ranking blog articles.
Create a table of contents
A table of contents will help blog readers and search engine bots understand what your blog piece is about. For blog readers, they can refer to your table of contents and jump to the parts relevant to them, which is particularly useful for long-form blogs, where there is lots of content to get through.
You can either create a table of contents manually, where you create internal hyperlinks that allow readers to navigate your blog – or you can add on a table of contents generator to your website's platform, where an automatic table is generated once you upload the blog.
I would advise installing a table of contents generator as it's much more effective and it counts towards improving your blog's SEO performance.
6. How to make a blog SEO friendly?
In order to make your blog SEO friendly, you will need to pay attention to how you write and structure the content. Once you get into the habit of including these tips in all of your blog pieces, you will see how quickly they can improve your blog's overall SEO score.
Backlinks
A backlink is when you link out to another internal blog piece or website page within your blog's content. It is recommended that you include at least 3 backlinks per 1000-word blog, as it increases your website's overall credibility score and it enhances the SEO performance of your existing blog content.
External links
External links are when you link out another resource of information that is entirely separate from your brand or business. It is advised that you avoid linking to your competitors and include external links from well-known sources. Again this will help improve your website's credibility score and note to search engine bots, that your blog content is trustworthy.
Keywords Density
The keyword density refers to how many times the target keyword is mentioned within your content. The ideal keyword density is below 3% but above 0.8%, ideally mentioning it 1-2 times per every 100 words. This ideal ratio ensures that content is relevant to the target keyword and title, and prevents blog content from becoming too spammy.
Readability
The readability score refers to easy it is to understand what you have written in your blog. If you use lots of complex terms or jargon, it will reduce the readability score and signal to search engine bots that your blog is difficult to understand. Try to use layman's terms when writing your content and simplify the language used, you want your blog to be accessible to those reading it.
7. How often should you write a blog post?
If you're undertaking a major SEO strategy, then it is advised to upload a blog article at least once per week. This will ensure that readers are met with up-to-date content and it will signal to search engines that you're a relevant and current site.
It will take time, however, for your website's SEO performance to improve, so don't expect any major changes to happen overnight. As a general rule of thumb, it usually takes around 3-4 months for search engine bots to keep ranking your content and push your blog content higher up on those search engine results.
8. Where are you going to upload your blog content?
Another important thing to consider when writing blogs for SEO purposes is where you are going to share your blog articles, as this will have a direct impact on your SEO performance.
If you are uploading your blog to a platform that isn't your website, then it will be more difficult to track the SEO performance, especially if the website doesn't have Google Search Console installed or if you don't have access to it.
Depending on which platform you use to upload the blog content, this will also affect your blog's URLs, which, again, is another major factor that impacts your SEO performance. Consider what is the best blogging platform, before you start uploading and ensure that you get the most out of your blogging content.
9. Share your blog on social media
Although SEO algorithms don't necessarily concern themselves with what's happening on social media, you can still generate more visits and impressions to your blog article by sharing them on social media platforms.
Some bloggers, will create social media accounts that are entirely dedicated to sharing and promoting their blog posts, and it works great! You can share small excerpts of your blog piece and use the post as a hook to encourage audiences to click the link and read more.
Blog content works great as part of a social media marketing strategy. You already have the content written, so why wouldn't you share it? It will ultimately help to increase your brand awareness and enhance your blog exposure.
Now you know how to write a blog for SEO
There is a lot to take into consideration after reading this blog, but hopefully, you now feel like you know how to make a start on your optimised blog pieces. Remember, the only way to know if you will be successful or not is to get started on writing and uploading your blog pieces.
With careful monitoring, you can discover the type of blog content that resonates with your target audiences, allowing you to deliver a content marketing strategy that increases web traffic and enhances your brand awareness.
Before you know it, you will be writing your own article on how to write a blog for SEO.