Google and other search engines are one of the most used and most effective digital marketing tools. Not only because everybody uses them, but also because people only go there with a real interest in whatever they're searching for. As a local business in Ballymena, how can you use search engine optimisation to your interest? Partnering up with a local SEO agency is rewarding because it is effective and budget friendly.
Are You Looking for 'SEO Ballymena'?
ProfileTree – Expert SEO Specialists with a Local Flavour Serving Businesses in Ballymena, County Antrim, Northern Ireland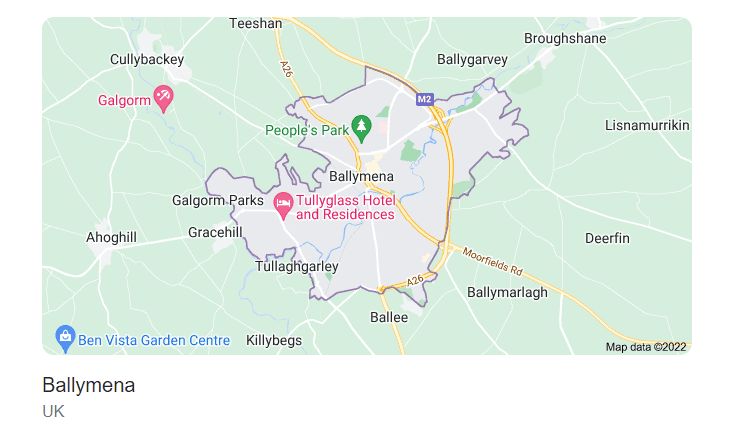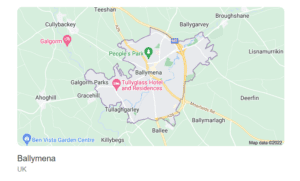 We are a self-made, family run agency based in Belfast and Monaghan. We've established ourselves in the Northern Irish market since 2010. We've grown the team, collected awards, and helped local and international businesses with their SEO performance and traffic growth We've also helped hundreds of small and medium sized businesses with free SEO training through programmes funded by Belfast and Lisburn City Councils over the course of three years.
SEO Ballymena: SEO VS Digital Advertising
The strength of organic SEO is that it is an inbound marketing. Unlike any traditional advertising, digital or not, it is not interruptive. While social media marketing is annoying to many users, organic SEO is something that users appreciate. None of your audience on social media platforms are there to buy something. For example, when they're watching a video on YouTube and they see your ad, they perceive your brand as 'annoying'. Meanwhile, if a user is searching for a topic or a product on Google and your website shows up, they perceive you as trustworthy and helpful. It is obvious that a person who is searching for something is more likely to make a purchase.
Organic SEO Ballymena for Local Businesses
Organic SEO is also budget friendly because it is evergreen. Paid campaigns are always bound by duration. A year long campaign is not achievable for most businesses. That's why investing in an organic SEO strategy is way more efficient. If your website is optimised, hosted, and managed by your agency, it becomes the agency's responsibility to ensure your website is up to date. Your main goal would be to conduct keyword research and create content for your website. The content you create is evergreen. It will continue to be a source of traffic to your website as long as the content is sitting there on the website. Optimising it will only require minimal updates every now and then.
SEO Ballymena: How Google and Search Engines Work
How Search Engines Work
It's important to understand Google, and other search engines, and why they play such a big role in your organic SEO strategy. When you search for any 'keyword' on Google, did you ever think how Google shows up these results in this order? Why does this specific website 'rank' as number one result? Search engines have a big responsibility. Their main goal is to ensure that when a user provides a search query, it returns the most informational, relevant, and beneficial results possible.
Google's Perspective
Google wants the results it delivers to be all-encompassing resources that match the search intent of users — the information they want to find when searching online. If that doesn't happen, users will no longer trust it. They won't use this search engine anymore.
How Google Ranks Your Website
In order to do so, Google rates your website based on many factors. While Google won't announce all the factors that they rate your website based upon, however, some factors are important. Google reads through the content on your website to understand what to associate your website with. It also analyses the experience that your website offers to the users. So, things like page speed, dwell time, and bounce rate are all considered. Google wants to rank the best websites out there related to the topic mentioned in the query. Because that makes Google users come back for more. So, to ensure your website is ranking high, your website must score an A+ when it comes to experience and content.
SEO Ballymena Strategy: How to Boost Your SEO Performance
As a small business, you may not have the budget to advertise, so investing in organic content and traffic is your way to go. But where to start?
SEO Ballymena Strategy: Review Your Website's Performance
Start by knowing where your website stands. This is key to understand the strengths, weaknesses, opportunities, and threats before you start improving your SEO performance. The below metrics are valuable when it comes to analysing your performance:
Number of monthly traffic
Traffic demographics
Number of keywords your rank for
The list of keywords you rank for
Domain authority
Backlinks
Top pages
Top keywords by location
Dwell time
Bounce rate
SEO Ballymena Strategy: Review Your Website's User Experience
It's easy for us to fall in love with our own brands. We don't easily spot the faults in our website. But from a customer perspective, does your website really provide clear directions? Does it offer solid reasons to believe? Is your homepage cluttered? What are the calls to action? Is your site map easy to navigate? This is even trickier if your website is an ecommerce website. Your category management, product listing, description, and checkout and payment process can make or break the experience for your visitors. Highlight key areas of improvement and write them all down. Your ultimate goal is to make visitors stay and take actions, remember that.
SEO Ballymena Strategy: Conduct Keyword Research
Using any of the free keyword analysis tools on the Internet, you can find out the keywords that Google associates with your website. You can understand how popular those keywords and whether they are relevant to what you offer as a brand. You'd be surprised to see that some keywords could be totally irrelevant and that's why you're not getting traffic or conversions. Create a list of keywords that you think your audience will use if they're searching for your services or products. Check the number of searches that these keywords get each month in your target location. Write down all the possible related keywords and validate their popularity and relevance to your business.
SEO Ballymena Strategy: Watch Your Competitors
Using tools like UberSuggest, you can also analyse not only your website, but also other websites. You'll be able to study what's working out for them. The keywords they rank for and the most popular pages that attracts traffic to their website. By observing others, you'll be able to assess your website and SEO strategy better. You should always stir away from copying. The originality of your content and brand voice are your differentiators for Google. The goal of watching your competitors is only to learn and use that to create your own SEO strategy.
SEO Ballymena Strategy: Create Content to Target Relevant Keywords
You're the expert on the subject matter. You also want your audience to believe that you can help them. Perceiving you as a knowledgeable expert stem from creating content that educates and inspires. Think of the keywords you collected and interpret these into questions that you think your target audience will be interested in. Focus on the quality of your content rather than the quantity. Not only will this help you with setting reasonable targets and being consistent with writing, but also Google cares about the quality of your content. Long, elaborate content wins. Each article should be between 1000 to 2000 words.
SEO Ballymena Strategy: Add Media to Your Content
When you keep users engaged on your site pages, you keep them on your website for longer. How long users stay on your website is an important Google ranking factor. Any little addition to your page that helps keep users on your site longer is another second toward your overall dwell time, which can benefit your search rankings. Media can be images, infographs, dynamic slides, or video. Images are also a way to add alternative text that enhances the accessibility of your website to those with audio or visual impairments. Meanwhile, embedding videos increases the visitor's dwell time significantly.
SEO Ballymena Strategy: Optimise Your Content for SEO
You're not only creating content for your visitors. Remember that you're also creating content for Google. It is super important to create valuable and informative content, but it is not enough to make Google recognise that. There is an SEO checklist when it comes to the formatting of your content. In addition, backlinking is the real game changer for your content. Always link to your important pages on the website and reach out for other businesses and websites to link out to your website. This will increase your domain authority.
Consistency Is Key
Creating content is the trickiest part of your SEO strategy. The most common problem we often face with our clients is consistency. You can hire a staff member and assign those writing tasks to them. Or you can write content on your own. We also have a team of talented writers that have written articles about nearly every industry out there. Get in touch with us if you would like a helping hand with writing or optimising your content for SEO.
SEO Ballymena: How Can an SEO Agency Help Your Business
For SEO in Ballymena, we make things happen by working in a very different way. We know you might have wasted time, or worse…budget, trying different things to grow online. And that it's now time to step up to a truly results-based SEO partnership. Our service is based around the results you need from your SEO investment with the support of our web development and content marketing expertise. These elements work hand in hand to create search engine optimisation that's designed to perform.
What ProfileTree Offers Within SEO Ballymena Services
We know Ballymena is a straight-talking place to do business. This suits us VERY well as we've built our SEO services around a different kind of no-fuss service for businesses in Ballymena and NI.
That's because we have a very simple way of working!
SEO Ballymena: Local Service
We aren't a call-centre or a corporate, we're a hard-working local business like you. We'll take time to not just listen to what you need but also understand your business, your audience, and your online world properly. Connecting your digital presence into a customer journey that converts is the 'sweet spot' of digital marketing we want for your business.
SEO Ballymena: Straight-talking
We use clear goals, transparent billing, and a no-fuss approach to make working with us the perfect match for your business. We know you need to get things done, get results and see the value for money. This makes your goals, our goals.
SEO Ballymena: A Trusted Partner
The bad news about the digital world? When something works without being kept updated, it will eventually start to drop in results. That's because the way your customers search, their choice of devices and what they expect to see from your business will change over time. Not to mention changes to Google, social platforms and more. We'll be on-hand as a trusted guide to help keep ahead.
Ultimately, we know your customers because our team members come from across NI – including Ballymena – so we ARE your customers. We want to grow with your business, through great results and through understanding your company.
SEO Ballymena: The Right Reasons
Is moving up the search results a good thing? Of course! But having this as your only goal is like moving a shop to a busier street without thinking about how to bring more people inside. Great SEO is designed to bring your 'shopfront' to more people AND help bring them through your online 'doors'. That's because your online world is a start-to-finish journey for your potential customers. Create the right steps from discovery to engagement, and more, to unlock success online.
SEO Ballymena: The Right Customers
Climbing the Google rankings for people looking for one thing in Ballymena is of little value if the searcher will then have no interest in your product or business. We'll help you match your company to potential online traffic to help meet your buyers where they want to see your business. How? We use the 'intent' of the searcher and match this to the right content in the right way to guide the potential buyer through a relationship with your company. Just think: an online presence built around buyers who stay with your business.
SEO Ballymena: The Right Content
Great SEO – both website set-up and content-based – will impress Google enough to give a higher search position. But great content will be the factor that truly attracts, and keeps, the searcher on your site and close to your brand. Of course, this content needs to be set up in the right way for the LATEST Google requirements, and more. We're a working digital agency so we help our clients by applying the very latest tried-and-tested methods to help their company.
SEO Ballymena: The Right Approach
Treating SEO as a 'tickbox' task will no more drive sales than new signage over a physical shop will – in and of itself – help hit any sales targets. ProfileTree use an understanding of your entire online presence and potential buyers to create real customer journeys. This 'bigger picture' view is the difference between paying for an 'off the shelf' product and working with ProfileTree. We'll think bigger to surpass customer expectations through broader, specialist expertise.
SEO Ballymena: Testing Tactics on Our Own Brands
We have four brands of our own: Connolly Cove, Learning Mole, Amazing Food and Drink, and Amazing Cars and Drives. We're proud to call these brands our own, each achieving success and growing every day. They're also our litmus test and where we practice what we preach. So, if we can achieve millions of views and high ranking for our own brands, we can also do it for you.
SEO Ballymena: How Much Is SEO Services
Working with so many different businesses over the years taught us to deal with different budgets and requirements. We tailor all our packages according to your needs and it doesn't matter whether the budget you have is big or small – we work with KPIs. In other words, you set the budget, we tailor a package optimised for your requirements and within the limits of your spending. We have packages starting from 500£ per month covering keyword analysis, content creation, image curation, and SEO optimisation.
SEO Ballymena: Ready to Book a Free SEO Audit?
Fill the form and send us your questions, we will be happy to answer all of them. Please do let us know if your business is registered in Ballymena. Alternatively, you can book a chat with one of our team members to audit your SEO performance and find out how we can help you grow your website traffic organically in Ballymena, County Antrim.
More services: Social Media Marketing Ballymena, Digital Training Ballymena, Digital Marketing Ballymena, Content Marketing Ballymena