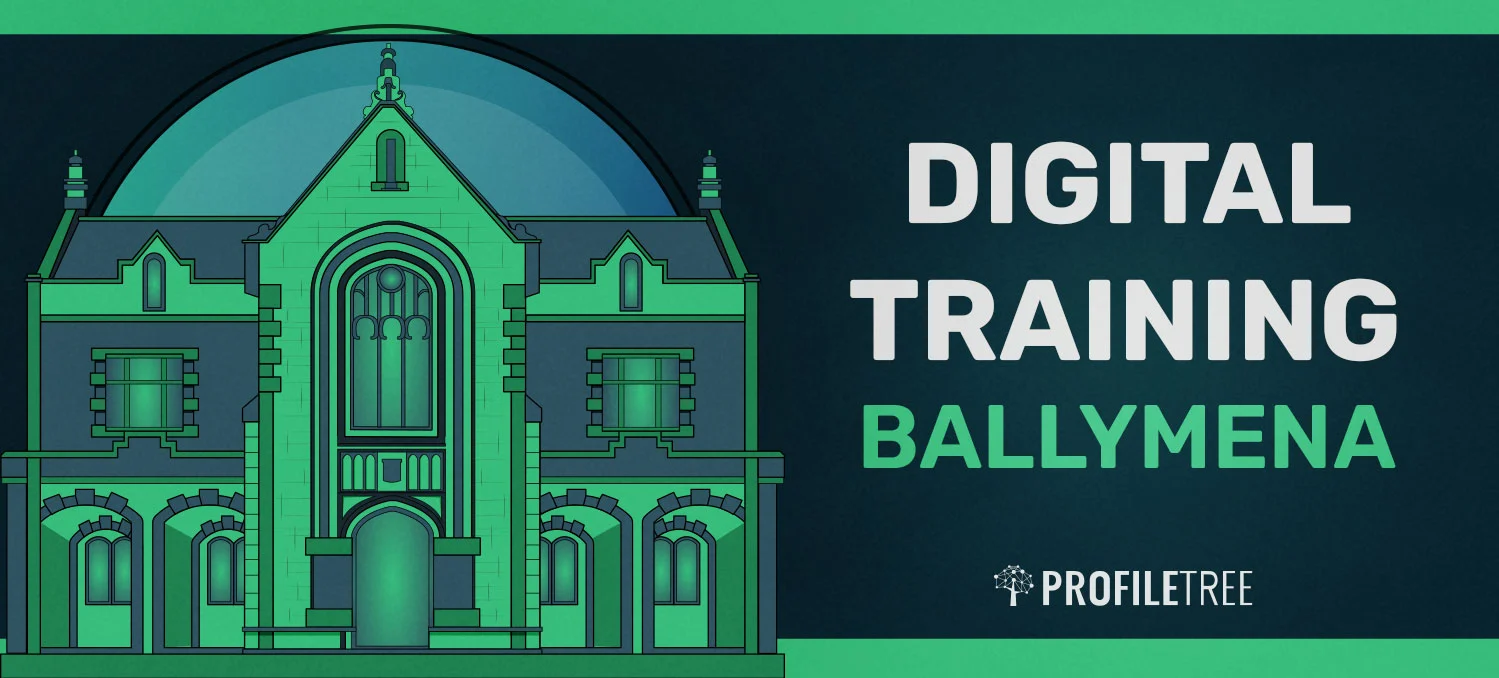 Every local business we encounter is genuinely interested in upskilling their employees' digital skillset. Digital transformation has been at play for years, and every business is already looking for ways to digitise their processes. However, that barrier of employees not being able to cope with the new digital tools is real. Business owners understand that their in-house teams are the best people to deliver because they understand the business better than anyone and they're entirely dedicated to one company – unlike any other third party. However, what we often see is that they've tried digital courses before and hasn't really reaped any 'real' benefits from that investment.
We love to empower our close business community with knowledge that enables them to adopt and adapt to digital transformation. In this article, we will tackle Pay Per Click (PPC) Training as well as how to approach digital training.
Are You Looking for 'Digital Training Ballymena'?
ProfileTree – Expert Digital Trainers and Digital Strategists with a Local Flavour Serving Businesses in Ballymena, County Antrim, Northern Ireland
We are a self-made, family run agency based in Belfast and Monaghan. We've established ourselves in the Northern Irish market since 2010. We've grown the team, collected content marketing awards, and helped local and international businesses with building top-notch websites. We've also helped hundreds of small and medium sized businesses with free digital training through programmes funded by Northern Ireland's Councils over the course of three years. Investing in building digital training for your business in Ballymena means making sure your new partnership is built on proven methods. Our multi-talented experts can deliver on all aspects of digital training from blogs to social media marketing to video production, SEO, and web development.
Digital Training Ballymena: Skills You Learn in a Digital Training
Responsive, customised, need-based training makes the difference between a good workforce and a great one. The digital world is constantly evolving, meaning that you and your employees need to stay up to date to be able to compete online. But what exactly are the digital skills needed? Does it refer to digital marketing, coding, or mastering Microsoft Office programs? Digital marketing training can include anything from social media management to web development, we've tackled some skills in previous articles that you can check here:
Let's talk about PPC Training. 
Digital Training Ballymena: PPC Training
PPC advertising is an incredible opportunity for businesses to scale their traffic and their business' online profits. However, if you don't know what you're doing, PPC can lead to throwing money away. Having an effective CRO strategy is crucial for PPC to be effective. The key to PPC is ensuring that your cost per sale is lower than your profit margin. Your team needs the proper training to become experts in developing profitable PPC campaigns. From finding the best keyword opportunities, writing the ad copies, to altering your targeting settings, and boosting conversion rates.
Our training team has decades of experience driving revenue with PPC and we've asked them about the must have skills to manage high performing paid campaigns online.
Digital Training Ballymena: Targeting
You may be thinking 'why does my team need to learn about targeting in a digital training, are they supposed to be learning Google AdWords or Facebook Ad Management instead?' As our training team likes to put it: digital training should never start with the 'tools'. Mastering the tools is a practice, it takes time and eventually any team can master using the tool. What matters more is the understanding and the vision.
Micro-Targeting
Many clients approach us with 'we target everyone', we target 'small businesses in Northern Ireland', or 'we target women between the age of eighteen to forty-five'. That kind of targeting used to work for creating TV or radio commercials – these are mass productions with millions of listeners and viewers. In this digital era, not even the mass productions target customers that way. Digital advertising has brought micro-targeting to the table.
Brands are now able to create campaigns targeting very specific personas, in very specific locations and who behave in specific ways. They're also able to run multiple campaigns simultaneously targeting different people with the same product – but through different messages, appealing to different needs. This is a best practice because businesses now appreciate that a target audience is much more diverse than you think they are. Meaning, you can't market product A to women at the age of twenty-five the same way you market it to twenty-five-year-old women, even if the product is exactly the same.
This is why your in-house team, the ones who respond and deal with your customers on a daily basis, should spend time learning how to identify your target audience, how they behave online, and why they should care about your services.
Digital Training Ballymena: Setting Ad Objectives
Once a target audience is identified, the team will be faced with setting ad objectives. While it's easy to label every campaign as a 'brand awareness' campaign, there's a deeper approach to setting objectives. Paid advertising is an investment, your company is putting money for those ads. So, the most central question is what do you want your audience to do when they see that ad? It's not about 'making a sale' but rather building a relationship with new, untapped audiences. Your goal could be to sign up for a newsletter, increase website traffic, increasing your engagement on social media, sign up for a webinar, give you a call, reaching as many users as possible, or simply watch a video.
Coming up with the right Call To Action (CTA) is crucial for the success of your campaign. It saves your audience the confusion, it clearly tells them what to do without being pushy. Additionally, it helps you measure success.
Digital Training Ballymena: Creating Capturing Ad Copies and Visuals
Advertising is essentially capturing the attention of an audience, and you can't do that without visuals and copy that stands out. Those are your tools to make users stop scrolling and listen to what you have to say. In a sea of content out there, it gets harder to win that attention. That's why your team needs to up their writing and design skills.
Copywriting and design are things you can learn and get better at with time. You'll know what works and what doesn't through A/B testing and trial and error. Learning how to write concise, engaging, and inspiring ad copies and visuals that motivate users 'to click' on that link or watch that video should be an essential part of their PPC digital training.
Digital Training Ballymena: Analysing Key Performance Indicators and Optimisation
Anyone can create a PPC campaign on any platform, but it takes knowledge to know how to manage that campaign. How to optimise your numbers? How to know if the cost per click is too high? How to assign a reasonable ad budget? When to stop a campaign at the right time before it has drained your budget? These are all super important questions that every PPC advertising specialist must know the answers to.
Reading reports and tracking the cost per acquisition VS the lifetime value of a customer, and working on optimising both, starts with understanding those basics. That's how PPC digital training puts your team on the growth hacking road and how to use campaigns to see real Return On Investment (ROI).
Digital Training Ballymena: Ad Management Tools
Whether it's Facebook, LinkedIn, or Google AdWords, every platform has its own ad management tool. To have your in-house team run your ad campaigns efficiently, they need to be well acquainted with the user interface to navigate their way around it easily. Creating an ad campaign on any of those platforms will put the previous skills to test. Your team will select the target audience and objectives of the campaign, upload the ad's visuals and copy, and keep a close watch on how the campaigns perform through these tools. They also need to grasp what each metric means and how it matters in the grand scheme of the campaign's performance.
Ad Formats
Another important aspect of ad management tools is acquainting your team with each platform's ad formats. That means that they sometimes will create different formats of the same visuals and copies. Ad formats are more diverse now than ever, from stories and short videos to carousels and web banners and everything in between. These are all important aspects to be covered in your PPC digital training programme.
Free Ad Management Courses
To compliment your training, every platform also offers a guide to its ad management tool. That allows you to make the most out of every channel. Facebook, for example, has its Meta Blueprint Certification which is a free certificate created by Facebook and includes over 100 mini-courses covering everything related to Meta's ad management tool for all the social channels owned by Meta: Facebook, Instagram, WhatsApp, and Messenger. The courses are categorised according to the level of the learners, so it suits every individual in your team whether they're a beginner, an intermediate, or an advanced.
Digital Training Ballymena: How to Approach Digital Training
Our digital training in Ballymena works a little differently. We're already a fast-growing and trusted digital agency, meaning we'd built up decades of combined experience in discovering what works online. We'll even show you live results from brands like yours we've helped to grow online.
One of the unique features of businesses in Ballymena is their natural flair for customer service, for 'getting the job done', for time-honoured and trusted expertise and for a no-fuss approach to business. In short, Ballymena companies know how to deal with, deliver for and retain customers. However, this 'real world' excellence doesn't always translate to online success for local businesses because a short-term, reactive, or limited approach to the digital world isn't enough to make these three factors mirror the relationship a business has with customers in a physical shop or office.
Digital Training Ballymena: Dealing with Customers
In a real-world shop, you know how to 'read' your different types of customers, understand what they need, how they like to go about buying and know how to deliver the right kind of service. Presenting your business online needs to allow potential buyers to behave how they want to behave. We'll show you how through incorporating customer behaviour online within your digital training. We believe that to succeed in the digital world, a deep understanding of online behaviour is just as important as the 'technical' part.
Digital Training Ballymena: Delivering For Customers
Your customers in your shop or office expect a certain standard of service. Potential customers online have the same standards, too. They'll want a website optimised for their device, they'll want to see you on the platforms they use, and they'll want quick answers to their questions. We've reached a point where customers expect an omni-channel, seamless experience from any business online. That's why your business will benefit from expert help and specialist training to meet those expectations online. After all, creating online conversions means an 'always on' version of your business working in the background to produce enquiries and sales, so your team needs to be capable to operate in such way.
Digital Training Ballymena: Retaining Customers
This is where the right aspects of the digital world, brought into your business through customised digital training, can get very exciting for businesses in Ballymena. You might have returning customers who repeatedly call into your physical business to see the latest products and see what's new so they can recommend you to friends. A community of buyers can also be formed online, meaning a new group of people also staying close to your brand and returning repeatedly, instead of looking to the competition.
So, how to replicate your offline business success online? Specialist tailored digital training delivered by a company with working expertise and a focus on your business results. For instance, using email and content marketing training are great for nurturing existing customers and helps you establish your business as the 'top of mind' choice for your existing customers.
Digital Training Ballymena: Tailored Digital Training VS Digital Courses
Digital Training Ballymena: Demand More
A pre-packaged training course can't take account of your unique business, your customers, or your goals. Training designed around you could cost less than you'd expect and is made with a focus on the outcomes you need for your company. We'll show you how a smarter approach can deliver for you.
Digital Training Ballymena: Think Innovation
Training your team to use a specific tool or method to keep up with the competition may be necessary. But without keeping one eye on how your customer behaviour changes – and constantly – online there could be a 'shelf life' for your investment. We'll deliver training with knowledge of digital change, and customer behaviour, built in.
Digital Training Ballymena: Accountability for Your Growth
The pace of the digital world can create the common error of not matching time and effort online to the outcomes your business will need in the short, medium, and long term. While 'off the shelf' training can't take account of these unique needs, a tailored approach to training can keep this essential consideration in clear view. In other words, we don't create tailored digital training programmes with the goal of sharing knowledge only, we also build those programmes around KPIs and clear objectives.
Digital Training Ballymena: Think Customer Journey
Companies starting out in say, digital marketing, can initially waste time trying to achieve reach, traffic, views and more without a sense of how they want the customer to convert. Or they try to convert the customer too soon or in the wrong way. Keep a focus on a quality customer journey to unlock great results. Once again, tailored digital training solutions can show you how every digital channel, whether it's your website or your YouTube channel, is designed to take your customer one step at a time down the sales funnel.
Digital Training Ballymena: How Much Does Digital Training Cost
Working with so many different businesses over the years taught us to work with different budgets and requirements. We have created multiple packages for each of digital marketing services. Of course, every digital training project has its own requirements but generally, we use your requirements and budget to come up with suitable digital training solutions. And we hardly ever give our clients one solution – we usually give them multiple to choose from. In other words, you set the requirements, we tailor a package within the limits of your spending.
Our digital training hourly rate starts at £65 per hour. Delivering a 90-minute session takes around 6 hours of preparation by our team. Of course, sometimes the preparation would cover two sessions instead of one, depending on the level of complexity of the material delivered. For an accurate pricing, get in touch with us.
Digital Training Ballymena: Ready to Book a Free Digital Training Audit?
A digital training audit is where one of our expert team members will get on a call with you to understand what you have in mind for digital training. You'll discuss your goals, your team's skills, and where you see potential. Our specialist will go through your digital marketing channels and analyse your performance briefly to recommend digital training solutions. Fill the form and send us your questions, we will be happy to answer all of them. Please let us know if your business is registered in Ballymena, County Antrim, Northern Ireland. Alternatively, you can book a chat with our team for free and find out how we can help you plan your digital training in Ballymena, County Antrim.
More services: Social Media Marketing Ballymena, SEO Ballymena, Web Design Ballymena, Content Marketing Ballymena, Digital Marketing Ballymena