'How to get into marketing?' is a question being asked more and more often thanks to the career choice gaining more and more popularity in recent years.
Why? This is due to the large demand for marketers and the incredible large varieties of marketing jobs to almost any kind of specialty.
Our essential guide to your marketing career starts here…

What Is Marketing?
Traditionally, marketing was the process of creating a customer want for your products through the use of print, broadcast, mail, and phones. These were all single way channels that were limited to getting the message across to the audience with no way of receiving feedback or engaging the customer.
This was quite inefficient as there was no way to target your relevant audience and you instead relied on sending the message out to the masses and hoping that it attracts some of them. Despite these methods being ancient, they are still used quite often and there is still room for innovation.
As communications improved through technology, there now exists an opportunity for two-way marketing where the audience is engaged and their feedback may be heard. This new field of marketing is known as digital marketing and it involves the use of digital mediums where various statistics may be tracked in order to analyze the effectiveness of any campaign.
The most popular form of digital marketing is social media. These social networks give you access to a global audience that you can target independently at your leisure.
How to Get a Marketing Job
Initially, it might seem like a far-fetched idea for you to be able to get a job in marketing, However, with the proper understanding of the field and a little bit of dedication, you can almost be certain that you'll know how to get into marketing.
The first thing you will need to do is earn some work experience to help you get the job of your dreams. Thanks to the internet, this is a fairly doable task. Begin by deciding the type of marketing that you'd like to work in. Here's a quick list that contains the major marketing paths you can choose:
1.Web Content Writer:
This extremely popular job involves you writing content for a business's target audience using the keywords you are given. The purpose of your pieces is to engage the audience while also boosting the ranking of the site.
Naturally, this job requires you to be skilled in writing and have a basic knowledge of SEO. This is often a great starting point for people wondering about how to get into marketing as it requires little past experience and you will often be judged based on a writing assignment.
2.Social Media Manager:
Managing social media pages for a business can be quite the handful of a task. This is why a business usually hires one or more persons to manage social media for them.
This job requires you to manage the content being posted, plan and set goals for the growth of the brand, SEO for the page and collection of relevant demographics for your audience. This position requires lots of planning and constant communication with the business to ensure that their vision is being accurately portrayed.
Additionally, you'll also need some knowledge on the topic of measurement the success of a campaign through tracking the resources allocated to the campaign against the potential gain from doing it which can also be called the ROI. Check out our social media marketing guide to gain more insight about how to get into marketing of this type.
3.SEO Specialist:
An SEO specialist is someone that knows how search engine algorithms rank pages. This is a task that requires a tech-savvy person that is willing to be constantly researching as these algorithms tend to change a lot.
As an SEO specialist, your purpose will be to optimize websites, content or social media profiles in order to ensure that they rank as highly as possible. SEO is an incredibly vast section of digital marketing, check out our SEO Techniques article.
4.E-mail Marketing Manager:
E-mail marketing has been a commonly used tactic to keep existing customers aware of your business. It is a way to ensure that retain existing customers while also reaching an audience of potential customers. As an e-mail marketing manager, your job will be to create email marketing campaigns to be sent to the company's customer database.
This can be in the form of a regular newsletter that notifies customers about any new products or ongoing sales. In addition, you will also be responsible for tracking the number of sales generated by the email marketing campaign and consequently, the effectiveness of each campaign. In addition to creating campaigns, you will also be responsible for managing already existing ones and suggesting any improvements that would maximize the effectiveness of each campaign.
This job requires lots of communication with the marketing team and a good understanding of campaign tracking tools. Check out our Google analytics URL builder guide to learn about tracking marketing campaigns separately. This is a useful tool that will surely help you on your journey of understanding how to get into marketing.
5.Web Producer:
This is the field of marketing that requires the most technical know-how. As a web producer, you will be expected to create websites that capture the true vision of the business. Similarly, you will also be responsible for regularly updating the website and optimizing its code to suit any changes in SEO trends.You will not only be creating the website, but you will also be responsible for filling it with relevant content and graphics for an optimal user experience.
You will need a good knowledge of HTML and other web-based programming languages in addition to a creative mindset that will allow you to stand out from the competition.
6.Marketing Analyst:
To begin with, a marketing analyst is responsible for conducting market research to collect data about the relevant market and its customers. Then, this data needs to be analyzed in order to have a better understanding which allows you to accurately predict the outcome of any decision being made in a company. Your job as a marketing analyst will involve calculating the expected return on investment of any campaign before it is launched.
This can be done when you have a complete understanding of the market, customer needs and the decision being made by the competition. This job relies the most on having a good understanding of proper marketing and is often left for those who major in that field of studies.
7.Product Manager:
A product manager specialized in understanding the needs of the customers. Ultimately, your goal as a product manager is to maximize sales through suggesting any necessary changed or implementation of new products.
As a product manager, you need to have a clear understanding of the demographics your business caters which can only be done through a properly set up communication channels with the customers.
Now that you understand the main fields of marketing, it is time to work on your skills in order to ensure that you get the job of your dreams.
How to Get Work Experience in Marketing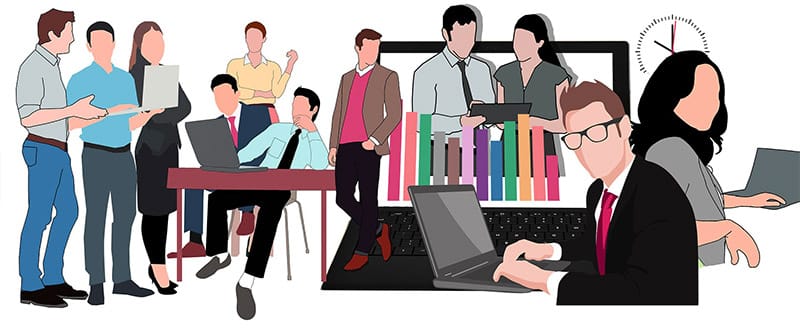 Showcasing your skills
The first thing you need to know when applying to a business is their vision. Your cover letter should always be customized to show that you understand what the business has in mind. Many employers admit that they lean towards candidates that have spent time understanding the business before applying.
This method may even give you an edge over a more experienced person simply because employers believe that skills can be taught but passion is often rare.
Next, you should work on your CV which will be your main method of showcasing your skills to the employer. It is important to focus on your skills in technology, communication, planning, and scheduling. Here's a list of some of the most important skills that employers are looking for:
Ability to communicate and work with a team
Analysis and interpretation of data and statistics
Solid Planning and goal setting
Accurate predictions of the outcomes of your work
Ability to brainstorm and create unique ideas
Obtaining new skills
Once you have chosen an appropriate field of marketing, you might decide that you need to acquire additionally skills before you are able to get the job you want. If you're looking for marketing related skills, check out our article about online marketing courses. Next, you might consider working on your technical skills. Here is our list of 5 Technical skills needed for marketing careers. These valuable skills will not only help you understand how to get into marketing, but they will help you stand out when applying for your dream job.
Finally, since your CV is an extension of yourself, it is often a wise idea to spend a good amount of time stylizing it and making sure that it is organized and appealing. Employers will often think of your CV as your first sales pitch so you should spend a significant amount of time perfecting it. Once you have finished setting up your CV, you might find that you'd like to add more experience to it.
This is when these Online Marketing Courses come in handy. Thanks to the internet, there exists many resources for online self-studying. These resources will help you get a marketing degree from your home. Here are some of the best online marketing courses to show you how to get into marketing:
This prestigious college allows you the unique opportunity to self study for your CIM qualifications from home at your leisure. This is a great opportunity especially if you currently have a job and require a flexible studying schedule. The recommended amount of study hours is 4 to 6 hours a week and on average, a course will require 45 hours of study. If you're interested, you can fill in their free trial form for a free 2 week trial.
Whether you are looking for physical or online courses, distance learning portal has you covered with their wide selection of institutes in almost every country. Distance learning portal will help you find the best institute for you and if you prefer to do online courses, they'll show you all the available courses that will help you boost your CV.
Their courses offer you some of the highest qualifications from some of the best educational institutes likes the London school of international business which is sure to impress any employer.
Google is obviously a big player when it comes to digital marketing. Their online marketing course is a must have as it provides you with great insight regarding how to get into marketing, specifically the digital marketing. Google's course will teach you about Adwords, Display Ads, Video marketing , SEO, and Analytics. Since Google happens to have the #1 search engine, they can teach you a lot about optimizing content to ensure that they rank well.
Knowing the right people
Sometimes all it takes to get things going is to know the right people. This is especially correct when it comes to marketing since it's an industry that heavily relies on networking. Having a strong presence on these business networking sites is definitely a good starting point.
These business networking sites will give you access to a global market of employers. It is not uncommon that these sites are used for hiring and thus, it is important for you to properly set up your profile there to showcase your skills in order to attract relevant employers. As a starting point, you should sign up to LinkedIn and set up your profile there. With LinkedIn being the most popular business networking sites, your presence there is a must. This website will allow you to search through business, job posting and other relevant events.
Additionally, by signing up, you will be added to their database which makes it likely that a business looking to hire might contact you. Another good business networking site is inbound which is a non-profit website that aims to connect managers and persons looking to be hired. This site is especially great because it not only provides you with an opportunity to find a job but it also provides great insight regarding how to get into marketing
Services that Show You How to Get into Marketing
When looking for work experience, there are several services that will show you how to get into marketing. They all have different approach but they can mostly be narrowed down into the following categories:
A) Freelancing
Initially, you might find it hard to get a position in a business due to a required amount of experience. This is when freelancing becomes useful. As a freelancer, companies are much more willing to hire you with very little prior experience. They will often test you on the relevant skills and if all goes well, you can expect to be hired.
Freelancing does not only provide you with insight regarding how to get into marketing as a stable job, but it will also give you the necessary experience to help you seek that dream job of yours. Once you have acquired sufficient experience, you might find yourself being promoted to a permanent member of the staff or you can use that newly earned experience to seek another job. Make sure you check out our guide to freelancing to help you find a job easily.
Now, let us look at some of the freelancing agencies that will help you find freelance work to build that precious work experience.
This streamlined website simplifies the process of finding freelance work. All a company has to do is fill out a form describing the job, and then it is ready to be posted to thousands of professionals who are experienced in freelance work. Bu having Upwork link between you and the company, neither parties have to worry about the tedious process of managing a project and can instead focus on getting it done.
Additionally, Upwork simplifies the process of communication by providing their own messaging platform and once the job is done, payments are managed through Upwork so you don't have to worry about tedious bank transfers.
This is yet another freelancing agency that will help you find freelancing jobs without breaking a sweat. Their custom search engine will allow you to enter keywords to help you find relevant jobs. What's special about freelancer is that people willing to take the job get to bid on how much they'd like to get paid for it.
This gives you an edge if you are new to the field since you are aiming to gain work experience so you can allow your prices to be lower than the competition until you build up some solid work experience.
Unlike other freelancing services, People per hour focuses on larger jobs that are often paid by the hour. This is a great opportunity for you to really stand out since businesses using this service care more about quality than quantity. Their search engine is highly flexible and will allow you to filter results so that all the listings are to your standards.
Recruitment agencies
As you can probably tell from the name of this agency, they specialize in marketing recruitment. All you have to do is fill in your desired job and location and their customized search engine will list all the available positions. In addition to this service, they also have a blog where they write about the latest news and greatest tips which will surely help you figure out how to get into marketing. Make sure you check out their free service to give you a general idea of the available jobs near you.
Another great option for finding jobs, DNA recruiting helps you find permanent, freelance or contract work depending on your needs. Their main focus is the UK however they have some listings for worldwide jobs. In addition to the normal search criteria, DNA recruit allows you to enter keywords to help you find the jobs that suit you the best.
This UK based agency will help you reach potential employers worldwide. Whether you want permanent or freelance jobs, StopGap has got you covered. Their website allows you to search using keywords, location and job description to ensure that you are completely satisfied with your results. In fact, they are so confident in their ability to match businesses and persons together that they offer a money back guarantee if the business is not satisfied with the service.
Overview
If you follow these steps, you can be sure that you'll stand out when applying for jobs. Remember that when applying for a marketing job, your application is often considered to be your first pitch and thus a good amount of time must be spent preparing it.
After you have chosen your desired field, you need to customize your cover letter to fit the vision of the businesses you are applying to. Additionally, your CV needs to be a showcase of your skills and you need to accurately convey your passion for the field. If you'd like to acquire more experience, signing up for an online course is often a good idea.
Next, it is time to earn some work experience which can be done by applying for freelance jobs where it is often acceptable to have no experience since you will be judged based on a sample. Finally, you need to remember that confidence is your key to landing a job and if you follow this guide's preparations, you have every reason to be. Make sure you check out our business objectives article to get a clearer idea of how to plan for projects.