Whenever you feel bored, check our full list of fun websites and kill time by playing, exploring and finding ways to fight boredom. Save this one on your bookmarks or share it with your friends to have fun together.
Sure, many fun websites to go on when you're out of the mood or bored, like surfing social media sites like Instagram and Twitter. But, going a long way, only repetitive things will make you dull; UF!
You can spend hours only scrolling for a long.
So, how to cure this boredom and find ways to instil energy in you?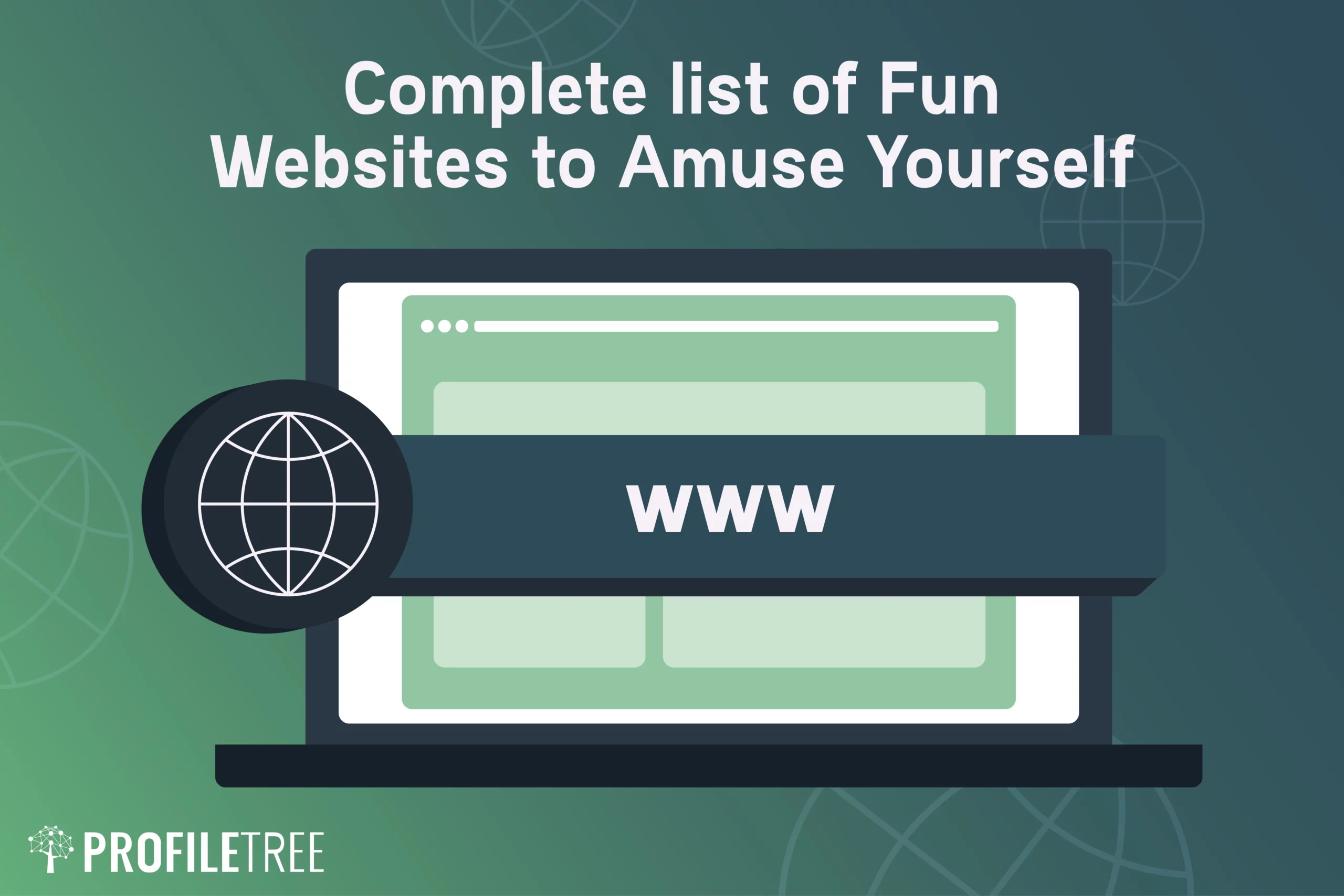 You can use many sources to stave off your bad mood while being copped up on your couch with these interesting, cool, and random time-wasting fun websites.
We promise all these fun websites will keep you amazed and entertained on the internet for long hours without feeling (if you're only aiming to kill time!)
All these websites designed to save time will always hold your attention.
Let's dig through these links, take a peek at these super fun websites, and let apathy become a thing of the past!
Here is our ultimate list of fun websites ranging from interesting to weird check it right now!
A list of Fun Websites
So, for a day, stop visiting only famous websites and look at these crazy websites, which will help you stay fresh and who knows, you might get inspired or learn something or two while you're at it to use for your next project.
Are you bored and looking for something fun to do? Then, MapCrunch is here for you! It is a fantastic and unique website that can provide hours of entertainment.
It's the best fun website to go on when bored; that allows its users to experience virtual travel to multiple locations across the globe.
MapCrunch transports users to a random location in Google Street View from anywhere worldwide.
You can choose from dozens of different countries to explore virtually with just one click of the "Go" button or click on "Random" for a surprise destination. It will bring up a Street View from any location on the planet.
You can also click on "Favorites" for locations featured as popular destinations among other visitors.
Once you are transported to your chosen destination, it's up to you what you do! Your choices range from just taking in the sights, exploring neighbourhoods and landmarks, or even playing games like hide-and-seek with your friends by placing markers on buildings or streets.
Also, there is a "Options" menu where you can pick countries you're interested in.
BRILLIANT, right?
At the beginning of 2022, people's timelines on social media, especially Twitter, were loaded with puzzles, numbers, and things that seemed complicated, but it was super cool.
They started filling yellow, green, and black squares.
Then, we discovered their secret! Everyone we knew was playing a game called Wordle.
Wordle is an excellent website that can keep you entertained for hours when you're bored. It's a fantastic online tool that allows users to create beautiful, visually appealing word clouds from the text that they provide.
Also, Wordle offers a guessing game where you have six chances to guess a five-letter of each day. It's the same word for everyone, making it a crazy way to connect with people worldwide.
The great thing about Wordle is that it's effortless to use.
Additionally, you can play it only once daily, which builds excitement and anticipation for what's coming next.
What's more, Wordle tracks players by device, so you can keep track of your streak daily and share it on social media to interact with others and show how many tries it took to reach the right guess.
Also, you can get access to a bunch of games— some of them need a subscription, and others will give you only one play.
Find the Invisible Cow is a browser-based video game that people of all ages can enjoy. The game is simple: using only your mouse.
Also, you should ensure you turn on your device's audio before starting, as the cow is hiding behind the noise.
You can move around freely, and as soon as you spot the cow – click on it! But, of course, finding the cow will get increasingly difficult with each successful attempt, so there's always something new to look forward to!
The best thing about this website is that it's free and accessible from any device with an internet connection.
Want to see how the internet is sometimes weird, or do you want to explore hidden fun websites?
Take a peek at this one and see what the web truly offers.
The Useless Web is an online collection of unique and bizarre websites. It's a great way to waste time by exploring the internet's strange, random, and sometimes wonderful corners!
This website contains thrilling surprises that will leave you entertained for hours. You can expect to find anything from creative art, obscure games, portals to other weird sites, or simply a page with nothing more than cats snoring. Who knows what you'll find when you click on one of these odd links? The possibilities are endless!
The best part about The Useless Web is that you never know where it will take you next. So if you're looking for something surprising and unexpected, why not try this site? You won't be disappointed!
Are you a music lover looking for a way to find new and exciting artists? Even though music streaming apps like Apple Music, Spotify, and others have their well-tuned recommendation algorithms- if they stop understanding you or you feel these apps aren't cutting it for you, you need to check them out.
Because you know good music is so hard to find.
Gnoosic is the perfect website for you! This super website helps discover new music uniquely and innovatively. Moreover, it houses a search engine for really fantastic underrated music.
Gnoosic takes your musical preferences as input and then suggests a variety of similar artists that may be unknown or unpopular. It's like having your music guru at your fingertips!
Also, it's super smart learning and adopting from the website users to figure out which artists might be liked by people based on the type of music they already enjoy.
It's an incredible way to find out new singers around to listen to, and it always works quite well.
You can customize the search criteria to get more specific results that fit your tastes.
Exploring the vast world of undiscovered music only takes a few clicks. So don't waste any more time searching aimlessly; try out Gnoosic today and experience the thrill of finding great new tunes!
Our list of fun websites can only be completed by mentioning this one.
Are you looking for an exciting game to sharpen your coding skills? Then, look no further than Hacker Typer, an online website sure to bring out the hacker in you!
Hacker Typer is an interactive typing simulator which helps users become faster and more efficient coders. Once you enter the website, all you need to do is start typing away.
It has all the information you need to be a hacker, much like those portrayed on TV shows and movies. With a few simple keystrokes, the tool will temporarily provide you with hacking abilities.
The site will generate random computer code as though you were a real hacker. It allows users to simulate hacking into secure networks, scramble their codes and even explores different programming languages.
Hacker Typer also offers tutorials, guides and tips on how best to use its features. So whether you're just starting with coding or are an experienced programmer, this website will provide hours of entertainment while helping you improve your coding skillset!
If you like the concept of Wordle but you're more into music. You're in luck. This is a musical version of guessing games.
This app emerged after Wordle was booming.
The Heardle platform enables people to create their mix tapes with the help of user-friendly tools, allowing them to customize their mixes based on personal preferences.
It's well-tailored for connoisseurs and music lovers alike.
It plays a short song intro, giving you six tries to make the right guess from uncovering which song.
It's another excellent game to play when searching for a list of fun websites.
It's a bizarre single-serving site that displays a toilet paper roll to wrap and undo as the users scroll up and down.
Yes, I like it (sue me!) when I am bored and have zero energy to think or encode something. It works for me to release stress.
Looking to get lost in weird and quirky? Check this site and expect a few chuckles and silly-face reactions!
Pointer Pointer is the internet's latest and most exciting website! It's been described as a "game of surprise", with its interactive features that allow you to see yourself or your friends on the world map.
With Pointer Pointer, you can browse through photos of people pointing at each other from around the world!
This fantastic website has taken off in popularity since it was first launched, and users have reported spending hours browsing through its collection of pictures. It's entertaining to discover people from different places and cultures while having fun simultaneously.
When we're bored, we often want to do stuff that's pretty useless but still brings a lot of fun.
One of our picks when creating any list of fun websites, Patatap is an online platform that brings music, sound, and visuals together in a way that's easy and accessible for everyone.
Patatap users can create entire compositions using their computer keyboard or mobile device!
Using Patatap is incredibly simple: just press any key on your keyboard or tap on the screen of your mobile device to create a unique visual animation accompanied by a different sound every time.
The possibilities are endless when creating music, art, and animation with Patatap. With its intuitive design and user-friendly interface, this website will reward you with crazy sounds and animations.
Yes, it sounds ridiculous to many, but it will be somewhat addictive if you enjoy typing on a keyboard.
Also, if you're looking for a way to keep your kids busy, this one fits the bill perfectly.
Astronomy Picture of the Day (APOD) is an incredible website that has captivated viewers with its daily showcase of stunning space photographs since 1996. An ever-changing display of celestial wonders, APOD provides a breathtaking visual experience that anyone can enjoy.
The site is continually updated each day with a new image or photograph related to astronomy, accompanied by an informative description written by professional astronomers.
This vast collection of images offers something for everyone; from awe-inspiring pictures of distant galaxies to close-up views of our moon and planets, APOD's library showcases an incredible array of cosmic sights.
Not only does it provide a short explanation about the source and scientific context of each photo written by an expert astronaut, but it allows users to explore the universe in a way not possible through the naked eye.
If you're a space avid, make sure to have a look at this site.
Could you wish to go around the world in less than a day?
It's possible with this superb play— one of our favourites when creating a complete list of fun websites.
GeoGuesser is an exciting website that has taken the internet by storm! Players around the world are raving about this fun and challenging game.
GeoGuesser tests your geographical knowledge as you try to guess where you're based on a satellite image in the world. It takes skill, strategy and a bit of luck to be successful at this game.
The website offers two different modes: Classic Mode, where players have three attempts to place their marker within 500 meters of the correct location, and Challenge Mode, which requires players to complete five levels with progressively smaller boundaries.
The challenge mode adds a strategic aspect as players must decide when to use their limited number of "lives" or "hints" throughout the game.
Not just that, but almost all locations are based on historic attractions offering a 360-degree view to discover more about cultures before you go to this place.
Giphy is the go-to destination for those seeking to express themselves creatively and hilariously! Giphy is an online database full of GIFs, stickers, and videos.
Founded in 2013, Giphy has quickly become one of the most popular fun websites for cool animated pictures. With over 10 billion daily views across all its platforms, it's no wonder why so many people love using this website.
Giphy makes it easy to find exactly what you need with its extensive GIFs, stickers, and videos from movies, TV shows, celebrities, sports teams – even your favourite memes!
Whether you're looking for something funny or serious for your next post or message reply – Giphy will have something to fit your needs. It's also a great way to build custom content that can instantly be shared with friends and family!
Oh, dear! I really like it 🙂
Staggering Beauty is a mesmerizing computer art installation for a unique experience to explore your artistic skills.
Participants use their mouse to let the virtual worm dance producing captivating visuals that appear to move and react with the user's movements.
With its ever-changing nature, Staggering Beauty makes for a truly unique digital art form that can be experienced around the globe. So whether you want to relax or be inspired, Staggering Beauty offers something for everyone!
Are you like stories? But not any stories— real stories that refuted the saying that the customer is always right. But it seems, thankfully, not.
Not Always Right is an online community for people to share their funny customer service stories and experiences. It's the perfect place to go if you want a laugh or some light entertainment.
Not Always Right is the ideal spot for anyone who has worked in retail, hospitality or another customer service job. Here, users can upload their funniest customer interactions so that others can enjoy them too! You may even relate to some of the stories – customers say and do the craziest things!
It's perfect for when you need a break from work stress. So check out this and have fun laughing at all the funny stories everyone has shared!
If you find yourself a little bored and need something to do, this list is the perfect place to start for fun websites to amuse yourself. From playing online games to learning something new or taking part in an exciting quiz, there's an activity here for everyone.
Most importantly, all of these websites will charge you nothing! So grab your laptop or mobile and let the fun begin.