Can you Make Money From Expiring Domains?
Domains are incredibly important to successful websites. Therefore, expiring domains can cause a massive amount of trouble for site owners. By the same token, if you have an entrepreneurial spirit, there is great potential to save or even make money from expiring domains.
First, a little bit of background. When you launch your new website, you'll have to purchase a domain to stake your claim on the World Wide Web, which costs money.
In addition, if you already have a domain, you will have to maintain it—regardless of your domain's function, it will expire at some point, forcing you to renew it.
Fortunately, there is a great way to save money by purchasing expired domains. Millions of domains expire yearly when their owners either can't or won't renew them.
Instead of those domain names chiselling themselves in internet stone forever, they are auctioned off and recycled, often for a lower price than what buying a new one would cost. Follow a few simple guidelines, and you'll be able to reap the benefits of purchasing expired domains.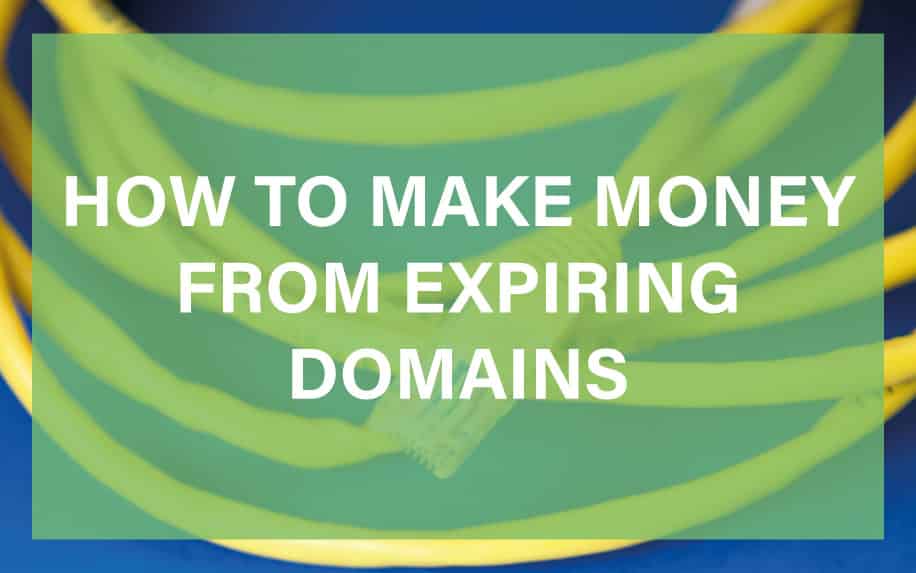 Table of Contents
Why You Should Buy Expiring Domains
There are two reasons to buy expired domains: time and money.
While purchasing a new domain will allow you to start from scratch, you can save a lot of time in the long run by buying the right domain. Domains that already exist already have Page Rankings. If the expired domain you're looking to buy has a high Page Rank value, you might save a ton of marketing effort.
Here's how a high PageRank can impact your organic traffic: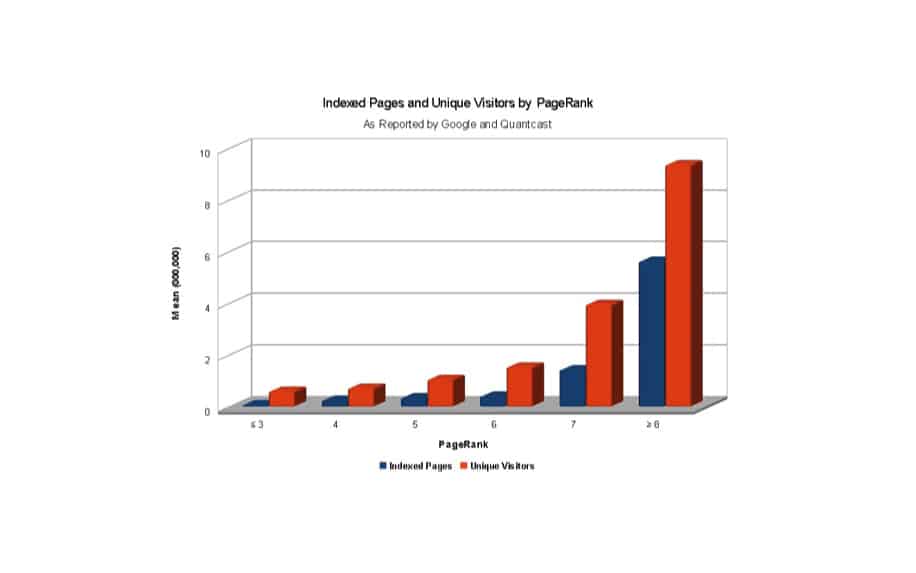 A company that buys such a domain will not have to work hard on website promotion or building backlinks. Getting a great expired domain is like buying a bicycle with assembled parts. In addition, you can save yourself some search engine penalties since all your pre-existing backlinks won't be on a fresh domain.
And of course, expired domains can save you money. Prices vary greatly from site to site, but many fantastic domains can be purchased for only a few dollars. Combined with pre-existing work done to the domain, this is a fantastic deal.
Acquiring expiring domains can be a strategic move for your online presence. Expired domains, often referred to as expiring domains, are web addresses not renewed by their previous owners. Here are 20 reasons why you should consider investing in expiring domains:
SEO Advantage: Expiring domains can offer an SEO advantage due to their existing backlink profiles.
Traffic Potential: Some expiring domains still receive traffic, which you can redirect to your website.
Domain Authority: Many expiring domains have established domain authority, helping your site rank better in search results.
Trust Factor: Search engines often trust aged domains, which can positively impact your site's credibility.
Keyword Relevance: Expired domains may contain relevant keywords that align with your niche.
Branding Opportunities: Expiring domains can provide unique branding opportunities.
Memorable Names: You can find catchy, memorable domain names among expiring domains.
Avoid Registration Delays: Acquiring an expiring domain can save you from waiting in domain registration queues.
Instant Credibility: An expiring domain with history can lend instant credibility to your website.
Shorter URLs: Expired domains often offer shorter, cleaner URLs.
Niche Targeting: You can select expiring domains targeting your niche audience.
Cost-Efficiency: Buying expiring domains can be more cost-effective than purchasing premium new domains.
Historical Data: Accessing historical website data can inform your content and marketing strategies.
Traffic Monetization: Some expiring domains come with traffic that can be monetized through ads or affiliate marketing.
Social Media Integration: Matching social media handles with expiring domains enhances brand consistency.
Content Preservation: Valuable content from the previous website can be preserved or repurposed.
Legal Safety: Acquiring expiring domains can help avoid legal disputes, especially regarding trademarks.
Local SEO Boost: Geo-specific expiring domains can strengthen your local SEO efforts.
Traffic Redirection: Expired domains can be redirected to your primary website to consolidate traffic.
Investment Potential: Investors often purchase expiring domains to resell them profitably.
Finding Expired Domain Names
You can see millions of expired domains by searching at ExpiredDomains or FreshDrop. ExpiredDomains supplies free accounts, while FreshDrop only provides two months of access at no cost. However, FreshDrop features a few search filters that ExpiredDomains doesn't offer.
The registrant or registrar no longer claims the expired domains listed on these websites.
You can purchase them on any domain registration service if it supports the relevant top-level domain. They cost just as much as domains that no one has ever used. You can also access additional discounts by searching for discount codes.
You'll find that many of the domains hold little appeal.
They're too long and contain several hyphens or numbers. Others have been tainted by marketers who tried to artificially boost their search rankings for high-value loans, prescription drugs or gambling keywords.
People abandon some domains due to complete failure. Perhaps search engines blacklisted them for using manipulative tactics, or no one wanted to type their lengthy, unmemorable names. On the other hand, valuable domains may expire because the owners didn't know how to promote them or decided to focus on different priorities.
You'll need to research to separate the good from the bad. Expired domains are not always a lost cause.
Fortunately, the above-mentioned websites will let you refine your search in many ways. You can specify the desired, look for domains above a certain age or leave out addresses that contain numbers and hyphens. Some investors prioritise the shorter TLDs like .com and .org.
You may also search by the number of characters in a name. While you're unlikely to find an expired domain with only a few letters, it makes sense to restrict your searches to names with less than 25 characters. They're much easier to type, remember and advertise.
Some investors will buy domains regardless of the subject or industry.
After all, it's fairly easy to set up a list of relevant pay-per-click links that suit almost any niche. A potentially beneficial alternative is to search for keywords regarding your areas of expertise. This will make it easier to recognise desirable domains and create quality content for them.
There are many different steps you can take to evaluate expired domains. You'll benefit from looking at their registration histories, inbound links, Google PageRank and other attributes. The expired domain search engines enable you to quickly and conveniently gather most of this information in one place.
Let's look at some of the metrics to look for when buying expired or expiring domains.
Metrics to Look for
When purchasing expiring domains, it's essential to consider several metrics to help you assess the domain's quality, authority, and potential. These metrics can give you valuable insights into whether the domain is a valuable investment for your goals. Here are four key metrics to look for when buying an expired domain:
Page Rank (PR):

Definition: Page Rank is a metric developed by Google to measure the importance of web pages. It assigns a numerical value between 0 and 10 to web pages, with higher values indicating greater authority.
Importance: A higher Page Rank suggests that the domain had authoritative backlinks and quality content when it was active. It can be a positive indicator of the domain's history and potential for SEO.

Citation Flow (CF):

Definition: Citation Flow is a metric developed by Majestic, a leading SEO tool. It measures the number of backlinks pointing to a domain or webpage. A higher CF indicates a larger number of backlinks.
Importance: A high Citation Flow can indicate that the domain has a substantial backlink profile. However, it's essential to consider the quality of these backlinks and not just the quantity.

Trust Flow (TF):

Definition: Trust Flow, also developed by Majestic, measures the quality of backlinks. It assesses how trustworthy and authoritative the linking domains are. Higher Trust Flow indicates more authoritative and trustworthy backlinks.
Importance: A high Trust Flow is valuable because it suggests the domain has quality backlinks from reputable sources. This is a critical factor for SEO and overall domain authority.

Keywords:

Definition: Keywords refer to the keywords or phrases the domain has historically ranked for in search engines. Analysing keywords can help you understand the domain's content focus and potential for ranking in specific niches.
Importance: Examining keywords can provide insights into the domain's niche relevance and whether it aligns with your intended use. It also helps you gauge the domain's SEO potential for specific target keywords.
Buying expiring domains or a deleted domain with a solid Page Rank is obviously in your best interest. The older the domain, the more likely it is to have a decent page rank. However, determining the age of an expired domain can be tricky.
Sometimes, domains have been registered but had no websites created, meaning the registration date may not matter to some search engines. These will not be worth any more than a brand-new domain.
Citation Flow and Trust Flow
Citation Flow is a metric between 0 and 100 that predicts the value of the domain based on the backlinks to it. This is used to compare the backlink data between different domains. Backlink data is very useful in determining value. 
Trust Flow measures the trustworthiness of the domain along the same scale. The higher the number, the more trustworthy the domain. This is another crucial metric for determining value.
Evaluating the Link Profile
ExpiredDomains.net gives members the ability to search by "backlinks" or "domain pop." Backlinks refer to the total number of links to a domain on all web pages, including multiple links on the same website.
Take the time to assess a domain's link profile carefully. You can accomplish this using information from ExpiredDomains or Moz.com's Open Site Explorer tool. In addition to data on backlinks and anchor text, you can view a handy "spam score" for each website.
Assess the inbound links and their text to see if they seem natural and relevant.
A domain proves far more desirable if it has backlinks that other websites voluntarily created without attempting to manipulate search rankings. The links should appear on related web pages and have relevant anchor text that describes the target URLs accurately.
Beware of domains that people promoted with off-topic comments or forum posts. Also, watch out for links from:
Reciprocal link pages,
Low-quality directories,
Websites that were hacked,
Keyword-stuffed pages.
Keep away from expired domain names that spammers or hackers may have previously owned. For instance, you should exercise caution if you notice most inbound links have the same anchor text. Someone might have artificially created them in an attempt to rank well for a specific search keyword phrase.
Explore the History of Expired Domains
The Wayback Machine provides a way to see what a website looked like before its domain expired. This can help you determine if it engaged in disreputable activities, such as distributing viruses, pornography, pirated material or spam.
Neglecting to background-check the expired domains that interest you before you invest in them might very well be a big mistake. You could be penalised for a previous owner's actions. For example, internet filters might block access to your website or reject every email message you send.
The age of a domain is important as well. Search engines often favour older names and give greater visibility to their pages. These names also tend to fetch higher prices at auction. Furthermore, an "aged" domain is more likely to retain inbound links on well-established web pages that rarely change.
Don't rely on a single website or a few statistics to fully assess a domain. Remember that people can manipulate traffic ratings, PageRank numbers and link counts in various ways. A simple Google search for the domain may be enlightening, especially if you surround the name with quotation marks. Here are a few other things to check:
Reviews of the previous owners,
Ratings from anti-virus companies,
Domain-based email blacklists.
Both ExpiredDomains and FreshDrop let users search for domains that have been listed on DMOZ. This is an established web directory with high-quality listings.
If you hunt for expired domains regularly, don't waste time looking at names you saw yesterday.
ExpiredDomains.net gives users the option to view addresses that became available less than 24 hours ago. To make the most of this feature and establish a productive routine, try to check for names each day simultaneously.
Common Pitfalls to Avoid
Everyone makes mistakes, and it can be easy to make them when you're new to buying expired and deleted domains. Pay attention to these common pitfalls:
Violating trademarks,
Buying a domain which was used for a scam,
Bad backlink profiles.
Don't feel foolish if you've made one of these mistakes before. They're common for a reason. The best you can do to avoid making mistakes when buying an expired or deleted domain is to do your research. Being thorough in your research will pay off handsomely.
Registrar Auctions and Back Orders
Another type of expiring domain can be found on individual domain registrars' websites. When customers of companies like NameCheap, Name.com or Go Daddy let their domains expire, these registrars put them up for sale.
Different firms use fixed prices or auctions. You can search their websites and look for high-quality affordable domains.
The domain's expiration date arrives,
Its owner has a final chance to renew it,
This grace period lasts about five weeks,
Next, the registrar tries to sell it,
If no one buys it, it fully expires.
The process varies from one registrar to the next. For instance, Network Solutions allows everyone to back-order expiring domains within five weeks after the expiration date. Customers pay a fixed fee for back-ordered names. However, an auction occurs if multiple users request the same domain.
Auctions don't always provide an economical solution. Some investors bid hundreds or thousands of dollars on appealing website addresses. Domains with popular TLDs sell at high prices merely because they're less than five letters long, even if the word or acronym lacks meaning.
Websites like DomainHole and DomainTools can watch domain names for you. These free services use email to tell you when the status of the desired domain changes. For example, you would receive a message when a name expires, and the registrar puts it up for sale.
Act Quickly When Purchasing Expired Domains
If no one buys expiring domain names, most registration services let them fully expire. You can find them as deleted domains and claim them at little expense. However, remember that other people may be waiting for them to become available. You'll need to act quickly if the desired domain has any value.
Investors regularly use automated means to acquire expired website addresses immediately. They charge fees to register newly expired domains instantly. Use caution; some of these services have received strongly negative user reviews.
As you seek and evaluate various domains, be sure to exercise patience. For instance, it's been claimed that only 7-12% of all expired names mean anything to more than one person.
When you identify expiring domains with a favourable link profile and no disreputable activities in the past, you can go ahead and register or bid on it. Don't get discouraged if other investors thwart your initial attempt. After acquiring your first domain, you may preserve its rankings and inbound links by uploading some basic content as soon as possible.
Expiring Domains FAQ
Q: How can I find lists of expiring domains?
A: Tools like ExpiredDomains.net, ExpiresDatabase.com, and DomainResearchTools provide extensive lists of domains expiring soon or recently expired.
Q: Are all expired domains worth buying?
A: No, you need to thoroughly evaluate domains for factors like quality of backlinks, search rankings history, traffic levels, relevancy, etc., to find worthwhile domains.
Q: Is buying expired domains safe for SEO?
A: If the previous owners didn't violate guidelines and you redevelop the domain ethically, buying expired domains is generally fine for SEO. But do proper vetting.
Q: How much should I expect to pay for an expired domain?
A: Domain prices vary greatly based on attributes like backlinks, age, and industry terminology. Most quality expired domains range from a few hundred to a few thousand dollars.
Q: How do I know if a domain has already been redeveloped?
A: Do a reverse IP lookup to see if the domain already maps to a new server. Research archives like Wayback Machine to spot signs of redevelopment.
Expiring Domains Conclusion:
Expired domains can provide a strategic opportunity to build domain authority and capture organic search traffic quickly. However, extensive research is required to identify quality domains with solid histories that align with your brand and business goals.
Use specialized search tools to uncover expired domains, then thoroughly vet candidates for red flags and redevelop them ethically. With the right due diligence, an expired domain can deliver tremendous ROI through strong rankings and visitors. But cutting corners with low-quality domains often leads to disappointment and wasted investment.