Why Is a Domain Name Important?

Domains are one of the most important parts of the web. If you want to make your mark online, a great start is not taking the importance of your domain name for granted.
You can make the very most of your domain name by picking the perfect choice for your business: a domain that's short and sweet, memorable and – ideally – unique. Before deciding on your domain name, you should use a domain name checker to ensure no other businesses or competitors have the name or a name too similiar.
What Is a Domain Name and Its Role on the Web?
One of the biggest reasons domain names are important is the role they play on the web. Without a domain name system, the internet wouldn't work which would give it no reason to exist. Search engines even use a domain name dedicated to them, so without a domain, they would not even exist to search the web.
Therefore domain names are not just important to us to find websites but are the most important part of the web.
Other Roles Domains Play
Having the right domain name for a company or website is one of the most important parts of a business. This is because business audiences are now mainly found online and more and more businesses are recognising the need to transform and grow their online presence now than ever before. When you choose the best and most accurate domain name for your business, your online presence and business can and will reach a wider audience which can be initially surprising to businesses. 
If you are looking to build your company as a recognisable brand, you should always include the brand in the name of the web address, as that is what users will search for on search engines. Globally recognised brands such as McDonald's and Apple own the domain of their brand name making their websites easy to find and brings a lot of traffic to their websites. 
You name the brand and it will most likely have the name of the brand in the domain name. This in turn also will generate the brand profits.
Even many smaller brands will always have the name of the brand in the title. Having the right domain name can make your company look more professional by adding credibility to your website. 
What Are the Elements of a Domain Name?
The ending of a domain is one of the most important parts of the whole name. Without this part of the domain name, it will not be recognised. The most popular domain extensions are .com, .co.uk and .co. 
Is Domain Name Availability Difficult?
The availability of most popular domain extensions that are very generic like .com and .co.uk can be hard to find.  For example, if I was to search for a website for a cup which is simply an everyday object on a domain registering site, it can be almost a guarantee that the common domain name extensions will not be available. If you are to find a .com or .co.uk extension, you should snap it up.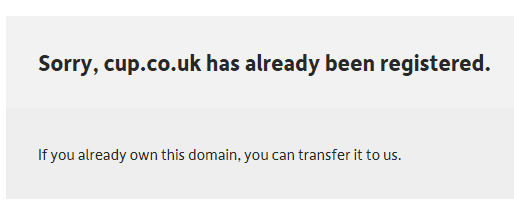 With the decline of the .com and .co.uk new domains have been made available. This is due to the reduced numbers of .com and .co.uk extensions there are. 
There are country coded extensions such as .ie for Ireland, .uk for the United Kingdom and .es for Spain (Espana). There is also new extensions such as .design and .blog. All of these extensions help to show the user what kind of website that domain is being used for. There are also domains known as emoji domains and re-directing domains that will be available if you are unable to find the best match in your domain name search.
So more recently than ever you will find a lot of blogs ending in the .blog extension. A lot of portfolio sites end in .design. The country code extensions help to show the user the main audience of the site and what country they come from. For instance, a lot of small business based in the UK only target audiences in the UK, so they would use this extension as it would show people the website is for a UK based business.
Can we help your business grow online with a website? Check out our services and let's talk results!