1 and 1 Domain – Operating since 1988, 1&1 IONOS is one of the world's largest domain name registrars and web hosting providers. As of 2023, the company manages over 8 million domain names across global TLDs like .com and .net as well as country-code domains.
With over 1,000 employees and data centres in Europe and the U.S., 1&1 IONOS caters to a global customer base of individuals and businesses seeking domain registration and web hosting services. United Internet, a large German internet company, currently owns the company.
1&1 IONOS offers domain name registration and management services across popular TLDs like .com and .org as well as newer domain extensions like .online and .site. Key features include free private domain registration, DNS management, email forwarding, domain parking and other value-added services alongside core registration capabilities.
Compared to GoDaddy, Namecheap and Bluehost, 1&1 IONOS competes on factors like pricing, domain selections, customer support and extra features. The registrar has faced some criticism historically around renewal pricing and customer service responsiveness.
In this review, we will do a deep dive into 1&1 IONOS's pricing, features, user reviews and key strengths and weaknesses as a domain registration provider in 2023. Our analysis looks to provide an expert perspective on how 1&1 compares to alternatives for those looking to purchase new domains or transfer existing portfolios.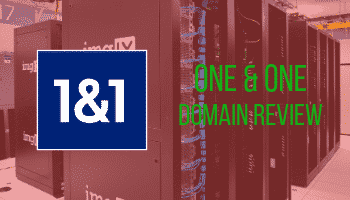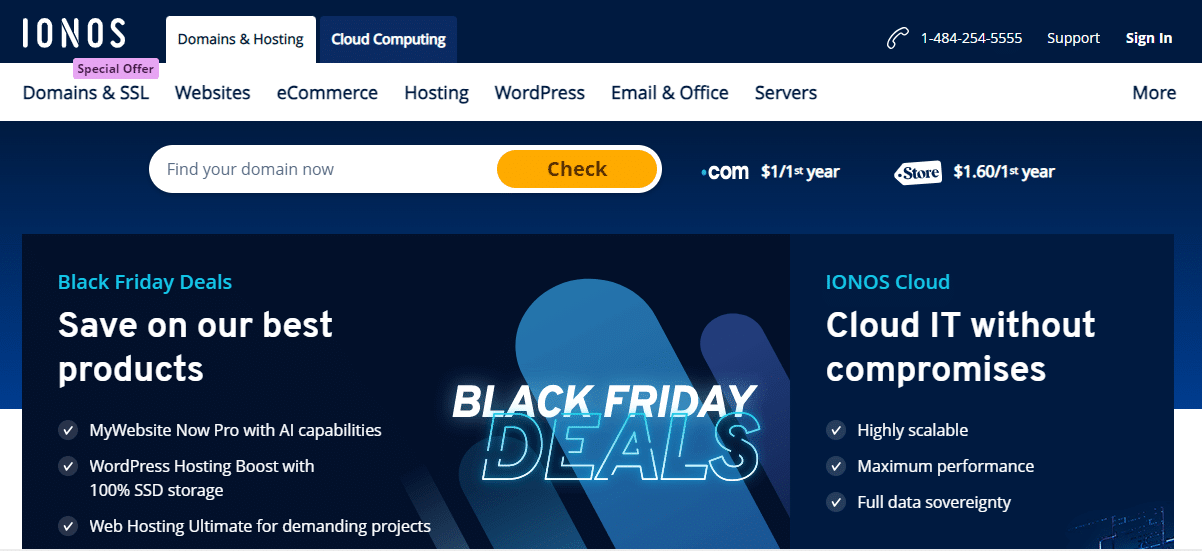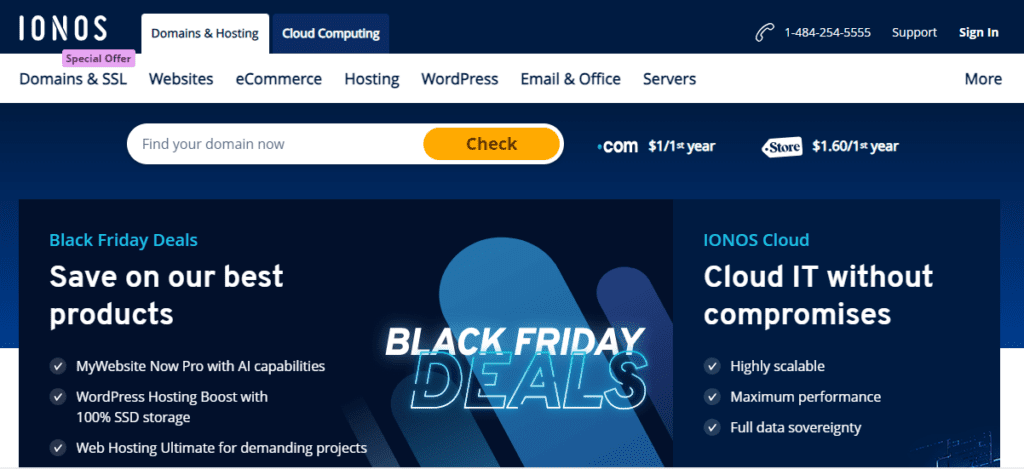 Table of Contents
1 and 1 Domain Registering
1 and 1 Hosting is a web hosting and domain provider based in Germany. The company was founded in 1988. So they have been around for a long time. 1 and are based in Montabaur, Germany the very place Ralph Dommermuth founded it. Since being established, 1 and 1 have established a great customer base in many countries worldwide, including Germany, Spain, the US, Mexico and the UK. In 2006, 1 and 1 became the top web host provider within the UK. This just shows the extent of 1 and 1's customer base.
Since their establishment nearly 30 years ago, 1 and 1 have started to venture into domain names, web security and web marketing. Here, I will be talking about their Domain.

Pricing;
Like many very similar companies, 1 and 1 offer different pricing depending on the type of domain you are willing to buy. Generally, the well-known domains such as .co.uk, .com, and .org are not to expensive in terms of a domain name. A .uk domain which includes .co.uk, .me.uk, .org.uk and .uk will cost an initial 99 pence to register with 1 and 1. To renew this domain in a year's time it will cost £9.99 which is still really cheap. A .com and .org will also cost 99 pence to register the domain for the first year but a .com will cost £12.99 to renew and .org will cost £15.99 to renew.
With 1 and 1, the price of a domain can reach upwards of £499.99 to register a new domain. the only domain at this price to register is .luxery. Many companies allow you to register car, security and.rich domains, these cost their thousands to register, so 1 and 1 do not offer this service.
There are also premium domains you can buy on 1 and 1. They usually start from a price in the hundreds but can stretch into their thousands. If you have a very mainstream/popular name, you may be out of luck trying to register your domain as a .com or .co.uk because its probably already taken.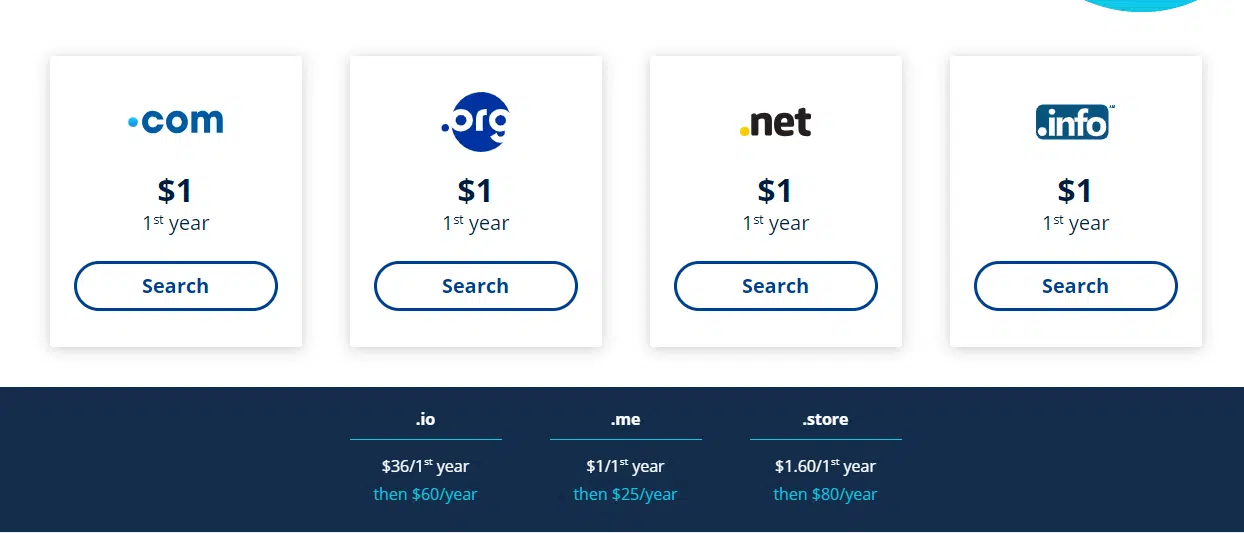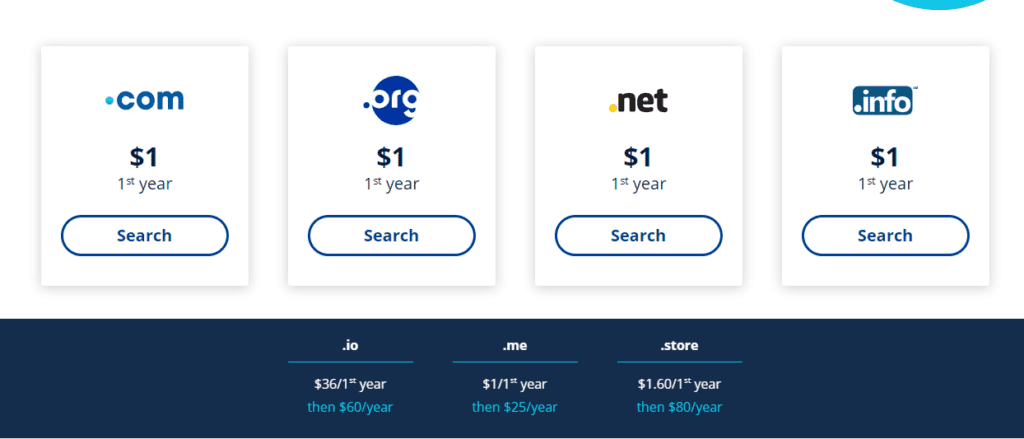 1 and 1 registration price and renewal price per domain

| | | |
| --- | --- | --- |
| Registration price | renewal price | domain |
| £0.99 | £9.99 | .co.uk, .me.uk, .org.uk, .space, .uk |
| £0.99 | £10.99 | .co.za |
| £0.99 | £12.99 | .com |
| £0.99 | £14.99 | .club |
| £0.99 | £15.99 | .org |
| £1.99 | £14.99 | .me |
| £2.99 | £19.99 | .email |
| £2.99 | £10.99 | .eu |
| £2.99 | £19.99 | .ltd |
| £3.99 | £15.99 | .info |
| £4.99 | £6.99 | .casa, .nl |
| £4.99 | £9.99 | .link |
| £4.99 | £10.99 | .click, .cologne, .in, .koeln, .work |
| £4.99 | £19.99 | .party, .website |
| £4.99 | £24.99 | .online |
| £4.99 | £34.99 | .co |
| £6.99 | £6.99 | .fr |
| £6.99 | £10.99 | .capetown, .durban, .joburg, .one, .pictures |
| £6.99 | £14.99 | .asia, .blue, .futbol, .kim, .nagoya, .okinawa, .onl, .pink, .qpon, .red, .rocks, .ryukyu, .tokyo, .top, .xyz, .yokohama |
| £6.99 | £15.99 | .net |
| £6.99 | £19.99 | .cloud |
| £6.99 | £29.99 | .site |
| £6.99 | £49.99 | .store |
| £7.99 | £14.99 | .cymru, .wales |
| £8.99 | £8.99 | .name |
| £8.99 | £14.99 | .bet, .boston, .games, .ist, .pet, .promo, .vip |
| £8.99 | £15.99 | .biz |
| £9.99 | £19.99 | .agency, .business, .center, .city, .company, .dance, .desi, .directory, .education, .equipment, .exposed, .football, .fyi, .gallery, .gift, .graphics, .gratis, .institute, .international, .jetzt, .lightning, .management, .miami, .moe, .network, .news, .ninja, .photography, .photos, .reisen, .report, .reviews, .rip, .run, .schule, .soccer, .solutions, .supplies, .supply, .support, .systems, .technology, .tips, .today, .video |
| £10.99 | £19.99 | .earth, .family, .fun, .group, .istanbul, .live, .studio |
| £12 | £25 | .app |
| £14.99 | £14.99 | .pro |
| £14.99 | £24.99 | .band |
| £14.99 | £29.99 | .help, .pics |
| £14.99 | £39.99 | .london |
| £15.99 | £15.99 | .mobi |
| £19.99 | £29.99 | .academy, .accountant, .africa, .airforce, .army, .associates, .auction, .bargains, .beer, .bid, .bike, .blog, .boutique, .builders, .cab, .cafe, .cam, .camera, .camp, .cards, .care, .cash, .catering, .chat, .cheap, .church, .cleaning, .clothing, .coffee, .community, .computer, .construction, .consulting, .contractors, .cooking, .cool, .country, .date, .deals, .democrat, .digital, .direct, .discount, .dog, .domains, .download, .engineer, .enterprises, .estate, .events, .exchange, .express, .fail, .faith, .farm, .fashion, .fish, .fishing, .fit, .fitness, .florist, .forsale, .foundation, .garden, .gifts, .gives, .glass, .gmbh, .gripe, .guide, .guru, .horse, .house, .immo, .immobilien, .industries, .ink, .kaufen, .kitchen, .kiwi, .land, .life, .limited, .loan, .lol, .love, .market, .marketing, .mba, .media, .men, .moda, .mom, .money, .navy, .parts, .photo, .place, .plumbing, .plus, .productions, .properties, .pub, .racing, .rehab, .rentals, .repair, .republican, .review, .rodeo, .saarland, .sale, .sarl, .school, .science, .services, .shoes, .shopping, .show, .singles, .social, .software, .solar, .srl, .stream, .style, .surf, .team, .tools, .town, .toys, .trade, .training, .tube, .uno, .vacations, .vet, .vision, .vodka, .watch, .webcam, .wedding, .wiki, .win, .works, .world, .wtf, .yoga, .zone |
| £19.99 | £39.99 | .quebec, .scot, .tattoo, .tirol, .wien |
| £19.99 | £69.99 | .global |
| £24.99 | £29.99 | .shop |
| £24.99 | £39.99 | .jewelry, .tech |
| £24.99 | £49.99 | .alsace, .paris |
| £29.99 | £29.99 | .cc, .tv, .ws |
| £29.99 | £39.99 | .actor, .amsterdam, .apartments, .art, .attorney, .berlin, .bingo, .black, .brussels, .buzz, .capital, .careers, .claims, .clinic, .coach, .codes, .condos, .coupons, .cruises, .dating, .degree, .delivery, .dental, .dentist, .design, .diamonds, .engineering, .expert, .finance, .financial, .flights, .fund, .furniture, .golf, .hamburg, .haus, .healthcare, .hockey, .holdings, .holiday, .insure, .io, .irish, .la, .lawyer, .lease, .legal, .lgbt, .limo, .ltda, .maison, .meet, .memorial, .menu, .mortgage, .nrw, .osaka, .partners, .pizza, .poker, .recipes, .rest, .restaurant, .ruhr, .salon, .ski, .surgery, .tax, .taxi, .tennis, .theater, .tienda, .tours, .ventures, .viajes, .villas, .vin, .vlnderen, .voyage, .wine |
| £29.99 | £49.99 | .bio, .vegas |
| £29.99 | £59.99 | .sexy |
| £34.99 | £39.99 | .barcelona |
| £34.99 | £69.99 | .hospital |
| £39.99 | £59.99 | .bzh |
| £39.99 | £69.99 | .health, .organic, .press |
| £39.99 | £79.99 | .accountants, .christmas, .credit, .energy, .eus, .gal, .gold, .host, .investments, .loans, .physio, .tires |
| £59.99 | £129.99 | .creditcard, .reise |
| £49.99 | £49.99 | .vc |
| £49.99 | £69.99 | .archi, .bar, .build, .college, .cricket, .fans, .green, .rent, .vote, .voto |
| £49.99 | £89.99 | .ceo, .doctor, .film |
| £64.99 | £129.99 | .casino |
| £79.99 | £159.99 | .audio, .blackfriday, .diet, .flowers, .guitars, .hiphop, .property |
| £89.99 | £89.99 | .ag, .sc |
| £109.99 | £199.99 | .hiv |
| £129.99 | £259.99 | .movie |
| £210.99 | £420.99 | .game |
| £249.99 | £499.99 | .hosting, .juegos |
| £499.99 | £499.99 | .luxery |
1 and 1 registration price and renewal price per domain
comparison table of 1 and 1 domain registration pricing against top competitors GoDaddy and Namecheap for 2023:
| Domain Registrar | Standard .COM Domain Price | Domain Renewal Price | Privacy/WHOIS Protection |
| --- | --- | --- | --- |
| 1&1 IONOS | Standard.COM Domain Price | $9.99 per year | Free with domain |
| GoDaddy | $2.99 for first year | $17.99 per year | $9.99 per year |
| Namecheap | $8.88 for first year | $9.88 per year | Free with domain |
Notes:
1&1 IONOS offers competitive first-year pricing at $1.99 but renewals jump significantly to $9.99 per year
GoDaddy has raised renewal pricing to $17.99 for .com domains making them quite expensive long term
Namecheap provides low promotional first-year rates at $8.88 and renews at $9.88 per year
All three registrars provide free WHOIS domain privacy/protection to hide owner info
The key insight is that while 1&1 IONOS is very affordable initially, buyers should factor in higher renewals subsequently. Namecheap presently has the best combo of low first-year and renewal rates among these major registrars.
1 and 1 Domain Transfers;
Unlike may companies 1 and 1 do not show you a price for a domain transfer, instead they show you steps to transfer your domain name to them. You are able to search your domain up to then transfer it to 1 and 1. The reason for not showing transfer prices is because 1 and 1 offer free domain transferring.
When you search for a domain to transfer, it will show you steps you need to take in order to transfer your domain. You will need to get authorization to transfer your domain. This can be done in one of two ways and both involve an authorization code. You can use an authorization code there and then or can use it later in the control panel. You then need to select your name-server settings and then authorize the transfer yourself.
On the transfer page, there are 5 step by step guide on how to transfer your domain from other registrars. These registrars include GoDaddy, NameCheap, Squarespace, Name.com and 123Reg. This is a great feature as it shows users how to move their domain and how simple it can be.
1 and 1 Domain's Support;
1 and 1 show great support features for their domain customers. Users of their domain services have a phone line they can call for support, can chat to their live chat, have many guides on transferring and also have an FAQ. There is also a help centre you can go to for tutorials and even more guides.
On the main page for transferring domains, one of the main topics is their customer support. Here there is a number users can call to gain assistance and help for their transfers. They also mention to connect to their live chat to get the answers you need quickly and that you can connect to it 24/7.
The FAQ's feature is also great for users as they can get answers quickly here without needing to connect to the support. In the FAQ's important questions such as 'What is a transfer domain' and how do I transfer a domain to a new host' are answered. All together in their FAQ's there are nine important and useful questions that are answered.
One of the best support features on 1 and 1 is the transfer steps feature on the transfer domain page. I have previously talked about above in the transfer section.
1 and 1 Domain Customer Support & Service Reputation
1&1 IONOS has not earned positive reviews for their customer service responsiveness and domain renewal/transfer support processes based on user complaints:
Response Times: Customers frequently report waiting multiple days to get responses to support tickets for routine domain issues. Live chat also has inconsistent availability.
Domain Transfers: Authorization codes for inbound transfers often take over 5+ business days to get issued, slower than competitors like Namecheap. This frustrates buyers.
Renewals & Billing: Multiple users have reported expired domains or difficulties updating payment info to renew registrations due to poor communication from 1&1's billing department.
Upsells: Some customers note getting frequent upsell attempts for add-ons like email, web hosting etc when contacting support regarding basic domain inquiries.
User commentary on third party review sites indicates a majority of issues relate to 1&1's renewal billing process and extremely slow transfer authorization responses. Even loyal customers with years of domains registered have reported domains expiring due to lack of renewal notices.
Compared to GoDaddy and Namecheap with 24/7 live support, localized contact options and quicker transfers, 1&1 IONOS falls short on customer service reputation in recent years. Responsiveness has been a historic pain point despite competitive introductory pricing.
key domain management capabilities offered by 1&1 IONOS versus competitors:
Domain Privacy/WHOIS Protection
1&1 IONOS – Free private domain registration included by default
GoDaddy – Domain privacy is $9.99 per year
Namecheap – Free WhoisGuard protection included
Specialized TLDs
1&1 IONOS – Offers registration for over 200 global and country code TLDs
GoDaddy – Extensive TLD catalog with over 400 domain extensions
Namecheap – Over 250 TLDs available; good coverage
Domain Forwarding
1&1 IONOS – URL forwarding and redirects supported at no added cost
GoDaddy – Domain forwarding/redirects for free. 301 redirects $1 per month
Namecheap – Free email and URL forwards; 301 redirects at $1.88 per year
DNS Management
1&1 IONOS – Provides full DNS management portal to edit records
GoDaddy – Free DNS management via GoDaddy resolver
Namecheap – Basic and premium DNS management available
In summary – the core domain management capabilities are quite similar across the major registrars compared here. Most offer free private registration, decent TLD support, free forwarding options and DNS editing portals these days.
However, GoDaddy leads in some areas like the size of their TLD catalog. And Namecheap offers capable product features at the lowest overall prices for savvy domain buyers.
1 and 1 Domain Additional features;
When you register a domain with 1 and 1 you just don't get a domain, you get many additional features. One of these additional features is private registration. Many domain registrars do not offer this for free and have a charge for this feature per month. This is a great feature as it protects all your private information associate with your domain. This means no marketing agency's or web builders can spam you with calls and emails.
Users of 1 and 1 also get access to a mail box with their domain. This will allow you to communicate effectively and professionally with clients with an address linked to your domain. The mailbox you will get access to is 2GB in size.
Users also get a free SSL certificate to help encrypt all data on their their own websites.
Updated statistics and facts on 1 and 1 domain registration business for additional context:
Over 8 million domains under management globally as of 2023
Average of 600,000 new domain registrations per month
Currently ranks among top 10 largest ICANN registrars in the world
Have operated as a domain registrar for over 25 years since 1988
Manage 12 million+ customer contracts globally
Posses an 18% market share of the European domain registration market
Registered domains grew by over 1.2 million in 2022
Over 1,000 employees worldwide across offices in Europe and USA
In terms of user base, 1&1 IONOS lags significantly behind category leader GoDaddy which manages around 86 million domains globally as per 2022 stats.
However, among European registrars, 1&1 maintains a strong market foothold as the second largest regional domain provider behind only United Internet's subsidiary EPAG.
With continuous growth in registration volumes since being founded in the late 80s, 1&1 IONOS possesses considerable domain management expertise even if lacking GoDaddy and Namecheap's customer service responsiveness. The numbers validate them as a top 10 global domain registrar.
1 and 1 Domain User Reviews
1&1 IONOS has scored mixed reviews historically across independent domain registration review sites based on customer experiences:
Positive Feedback:
"The initial domain pricing is very cheap – under $2 the first year." – Jake T., 1/2023
"I've registered 10+ domains with them over 5 years with no major issues." – Amy D., 12/2022
Negative Feedback:
"My .com renewals jumped from $9 to $15 after the first year which seemed like bait and switch." – Lucas P., 11/2023
"Transfers can take up to 5 days to process which is slower than other registrars." – Sayid A., 10/2023
Looking at the independent review site Domain Name Wire in 2023, 1&1 has just a 2.5 out of 5 star editor rating at present. Common positives cited are competitive initial registration pricing and free WHOIS privacy.
However, drawbacks highlighted include renewal price spikes, pushy upsells, and poor customer support responsiveness compared to rivals. 1&1's overall market reputation is mixed leaning towards negative among domain investors.
To exemplify recent negative feedback, user Martha K. reported waiting over 6 days to receive a transfer authorization code in January 2023 leading her domain to expire:
"Absolutely terrible customer support during what should be a simple domain transfer. Took over a week of back and forth just to get it moved."
So while 1&1 IONOS can offer a cost-effective starting price, long term renewal rates and mediocre support present issues for some customers.
Overall/My thoughts;
Overall I believe 1 and 1 offer a great service for registering domains. With 1 and 1 you just don't get a domain you also receive fee privacy and great support. Support is offered 24/7 for all users. The free privacy and mailbox is additional bonus features that really sell me. These free features are great as they are not features offered by all registrars for free.
Would I use 1 and 1 domains? Yes I would use 1 and 1 domains, with all the additional features I think they are very much worth it. Their pricing is quite simple and for .com and .co.uk domains are quite cheap. Their support is also exceptional.
1 and 1 Domain FAQ
Frequently Asked Questions about 1&1 IONOS Domain Registration:
Q: Does 1&1 offer free Whois privacy protection?
A: Yes, private domain registration is included for free with all 1&1 domain purchases.
Q: Can I transfer my domains to or from 1&1 IONOS?
A: Yes, inbound and outbound domain transfers are supported, though authorization response times are slower than average.
Q: What contact methods does 1&1's support offer?
A: The main options are web tickets, email support and phone support. Live chat availability is inconsistent.
Q: Does 1&1 allow domain forwarding to another site?
A: Yes, free domain forwarding and URL redirects are configurable for purchased domains.
1 and 1 Domain Conclusion
In closing, 1&1 IONOS remains a mixed bag for domain name buyers in 2023. While introductory registration pricing stands out very affordably, subsequent renewals see steep price spikes versus more consistent players like Namecheap. Customer service and support responsiveness also continue to lag behind category leaders GoDaddy and Namecheap.
However, 1&1 IONOS offsets some weaknesses with strengths like including free WHOIS privacy protection and supporting key domain management features from transfers to DNS configuration across a large portfolio of domain extensions.
For those prioritizing short term domain budget over long term ownership flexibility and service, 1&1 can still provide value. But buyers planning to invest and grow a domain portfolio over years may prefer more reliable and responsive registration experiences offered by the competition.
Check out our other Domain Reviews; 123Reg | GoDaddy | NameCheap | Name.com | Gandi | Hover | Flippa.com | HostGator | 1&1 | Dreamhost