Marketing strategy is an integral part of any business strategy formulation. It is the igniting factor of any industry that ensures its products reach the right customer/consumer. The film industry is no different. Besides the quality of the producers, directors and actors, marketing campaigns can either stress the value of the film and increase its profit or cause it to fail dramatically.
The competition in the film industry this year is unprecedented. Focusing mainly on two movies released on the same weekend can teach us a lot about marketing strategy formulation and implementation. Barbie movie starring Margo Robbie and Ryan Gosling, vs Oppenheimer, starring Cillian Murphy and directed by Christopher Nolan, is the talk of the hour these days. Their competition is known in the media, online and offline, as the Barbenheimer.
Let's explore in this article how the use of marketing segmentation and marketing mix empowered the Barbenheimer films. Their stamina has pushed both movies to top the Box Office in their first week of release, with more than $235 million for both films combined.
What Is Marketing Mix?
To sum up, it is building a marketing strategy focusing on the 4Ps of marketing. The 4Ps are Product, Price, Place, and Promotion. Though more Ps were identified, the 4Ps original Ps are an umbrella to subfactors like People, Process, Physical elements and others. Let's explore the marketing mix factors with a focus on Barbenheimer.
Product
Obviously, the Product element is a crucial factor. A marketer has to focus on the product type, how it will be distributed and may forecast its production cost. Therefore, working on a new product is a joint effort of management teams in different departments of the industry.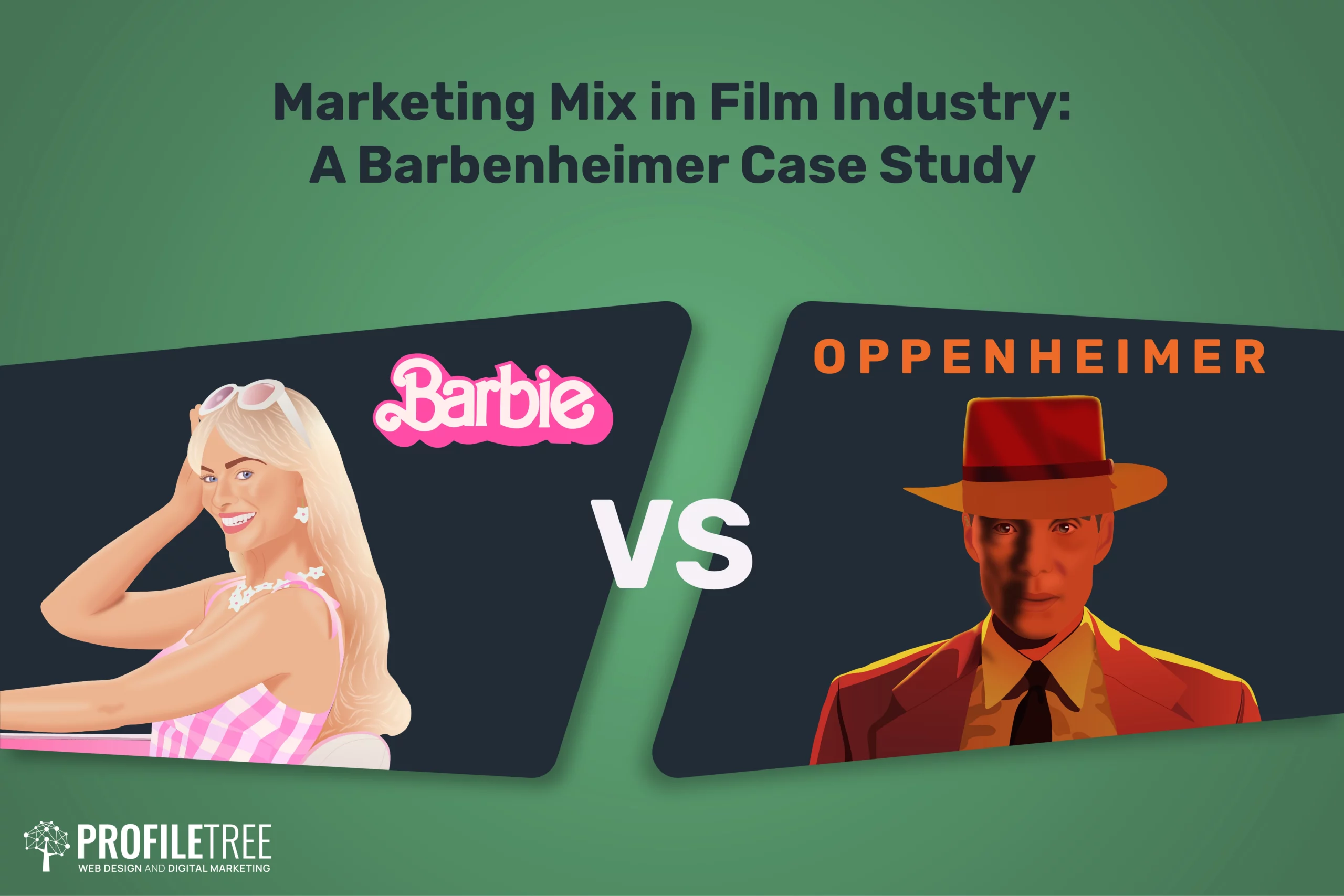 It is also important to brainstorm forecasting the product's life cycle to ensure its ultimate success. The life cycle begins with the product introduction, moving to growth, then maturity, until reaching its decline. The product life cycle forecast would help the marketers decide on the product release date, promotions, discounts, etc.
Barbie Movie Marketing Mix: Product
Barbie is the most famous doll in the last six decades. It was introduced in 1959 by Ruth Handler. Since then, each child has at least known or own one of Barbie's family dolls. They have used extensive marketing campaigns on television, which was a new platform for marketing for this industry at the time. Many parents have criticised the Barbie doll for its appearance and fashion. However, the product was successful, being marketed as the "Teenage Model" rather than the widespread baby dolls at the time.
Being the first Barbie movie to be brought to the theatre's screens created a competitive advantage for the film. The 2023's movie is directed by Greta Gerwig and created by Gerwig, joined by Noah Baumbach as a co-writer.
What would happen if the story of "Barbie" and her friend "Ken" were brought to the screen? And what about adding to the narrative a modern touch of the search for the self and individuality amid an existential crisis for both dolls in their world? It is no wonder that the movie gained massive publicity before its official release date.
Oppenheimer Marketing Mix: Product
Living in the 21st century, we all know about the beneficial and destructive forces of a nuclear bomb. Though this invention has had hands-on benefits in areas like medicine, it was also the cause of mass destruction that reshaped global political conflicts and wars.
Watching Oppenheimer would make you relive the period of creating this deadly weapon with the scientists. Their moral conflicts, struggles, success and failure will be brought on the screen. The nuclear bomb was made under the leadership of the sadistic, brilliant scientist Oppenheimer.
Now I Am Become Death, the Destroyer of Worlds.

Oppenheimer
A historical, biographical movie has no obvious competitive advantage as a film product. It is one that Christopher Nolan created by announcing the use of IMAX cameras in filming and gathering renowned actors to work with.
Place
Place is an essential factor in marketing strategy in any industry. It is not enough to work on the quality and competitive advantage of the product but also where this product will be sold. The place element takes intensive market research on the part of marketers. They investigate the need gap in a market and sometimes even create a need.
Most people think that this factor may not apply to the film industry, but this is far from true. Nowadays, films can be released through streaming or in theatres. Some applications offer short scenes for the audience from a specific drama series, for example. The choice to make a movie a theatrical movie or one that would be available for online streaming is a choice of place.
It is obvious that Barbenheimer's team has chosen the movie theatre for the Place factor. It is a successful choice as film products with such a unique storyline and considerable efforts in production and filming can hardly be viewed otherwise.
Price
Price is the amount a customer/client will pay for a specific product/service. The price has to reflect the product's value in order to be positively received in the market. This factor also takes intensive research on the part of marketers to be able to decide. They work cohesively with the company's Financial Department to ensure achieving the highest revenue.
In the film industry, the Price factor is not determined by the filmmakers but rather by theatres. Therefore, film industries depend mainly on global exposure. The film release and promotion efforts beforehand are determining factors towards achieving revenues compared to expenses.
Barbenheimer has achieved success in its first week of release. According to CBS News, Oppenheimer has gained over $80 million at the box office, while Barbie $155 million during their first three days of release. Putting in mind the age segmentation of both films, Oppenheimer is actually achieving colossal success despite the numbers that are in favour of Barbie.
Promotion
The Promotion factor is basically the means of communication between a company's product and the consumer/customer. It can be online, offline or both. There is a promotion mix that consists of advertising, personal selling, sales promotion, public relations and direct marketing. Let's explore each item in the promotion mix.
Advertising
It may be one of the oldest forms of promotion. Advertising is a paid form of presentation of a product on a specific platform. This includes commercials, banners, posters, social media ads, Google ads, and so on. Advertising is the core of a Pull Marketing Strategy. It is where the marketing efforts are directed to reach the final consumer/client. Advertising is an expressive and impersonal form of promotion. It reaches many buyers at the same time.
Personal Selling
From its name, it is a personal interaction between the producer and the buyer. It is a form of oral communication through presentations, sales team effort or other forms of interaction. This method builds rapport with the buyers, but it is costly. Personal selling is part of the Push Marketing Strategy. It is where the product is pushed through distributors and different channels to reach the consumer/client.
Sales Promotion
Sales promotion is a paid incentive to convince consumers to buy a particular product. It is usually done through efforts like trade shows, giveaways, demonstrations, motivations and so on. The problem with sales promotion is that it is a short-lived strategy. One excellent example is the sales period in different shops. Sales increase during this short period and then decrease afterwards.
Public Relations
Public relations is any means of communication to create a desired image for the company's product. This method can be personal or non-personal, paid or unpaid and controlled or uncontrolled. Its main goal is to create publicity for a specific product. This method is effective and economical since it aims to obtain due publicity. However, it is underused by many industries. A vivid example would be conferences, news and press releases.
Direct Marketing
A direct marketing promotion strategy is a more personal approach. It targets direct communication to obtain an immediate response. It has to be customised to the specific target as it is more interactive than the previously mentioned efforts. An example would be targeting customers through telephone calls, emails, or other forms of personal communication.
Barbie Marketing Mix: Promotion
Warner Bros team's marketing efforts regarding Barbie have been tremendous from day 1. We cannot escape Barbie and the spread-out pink colour. They used social media advertisements, teaser trailers, and captivating posters. Promotion Mix, explained earlier, is vivid in their campaign. For example, search "Barbie" on Google and enjoy the pink fireworks on your screen.
Oppenheimer Marketing Mix: Promotion
As opposed to Barbie's huge efforts in marketing and promotion, Oppenheimer used a silent strategy. They have taken advantage of the fact that the film will be released on the same day as Barbie and used their seem as a contrast. The first poster featured a man's silhouette and an explosion background. Later the poster featured Cillian Murphy with the bomb in the background. The gloomy and explosive poster colour, put beside the Barbie pinkish one, made it hard to miss.
Of course, the marketing team has depended on other factors like the actors' publicity and filming technology. Nolan insisted on using IMAX cameras for a more realistic experience and less CGI. They also used social media trends to their advantage.
5 Easy Steps to Follow When Creating the Marketing Mix For Your Product
If you want to know how to use the previously mentioned strategy to market your product, we have you covered. Here are quick 5 steps to bear in mind:
Create Market Segmentation by segmenting the consumer market into four categories: Geographic Segmentation, Demographic Segmentation, Psychographic Segmentation, and Behavioural Segmentation.
Focus on targeting the desired segment in the consumer market.
Start creating product differentiation or positioning strategy depending on the market segment and the type of the product.
Use a promotion mix to communicate your product in the market.
Try to increase your public relations efforts.
In conclusion, marketing mixing is an integral part of any marketing strategy. If thoroughly studied and considered, the marketing campaign for your product will exceed expectations. Barbenheimer is a very prominent current example. Both movie teams' well-designed marketing efforts culminated in a wide range of successes. The Barbenheimer battle is the talk of the hour, and both movies have risen to the expectations of the audience. It is truly a battlefield in cinemas this season. Make sure to bring your popcorn, book your tickets and enjoy.