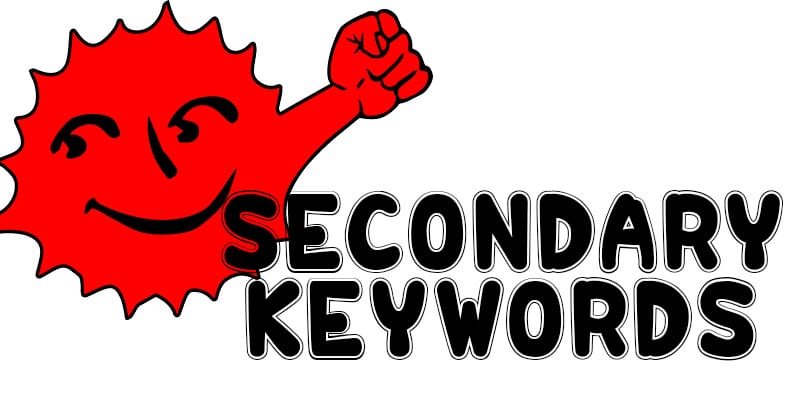 When setting up your webpage for Search Engine Optimization (SEO), keywords are extremely important. Primary and secondary keywords help direct traffic from search engines to your site when a specific keyword is searched. You might've heard of the use of primary keywords when setting up SEO, but you might not be familiar with the secondary keywords and the purpose they serve.
Along with other SEO technologies, keywords play and essential part in helping search engines find your site. If you've chosen to set up SEO for your site, post or blog (which you should by the way), choosing keywords might be the most annoying and challenging part of it. Your choice in keywords will determine the overall effectiveness of SEO. When optimizing your site for SEO, part of the process is choosing one primary keyword or phrase and couple of secondary keywords.
For each business niche, there is a special type of website, keywords and language to use. In order to make money through your website, you need to be directly the right audiences, meaning the ones who are searching for your content. This is where primary and secondary keywords play their part.
Keywords and SEO is especially important with Pay Per Click (PPC) campaigns, where a business puts up an ad and pays for the number of clicks the page receives. For rather reason, you'd want to make sure that the clicks on your site are leading to profit, and that the viewers being directed to your site are potential buyers.
Primary and secondary keywords are going to helpful throughout your entire online career. It is highly likely that you use keywords more than just once and on multiple (if not all) page on your website, and any website related items you post. They should be mentioned as many times as possible in your content, specially in the header, footer, and even the page's title.
In this article, we'll help you come up with these secondary keywords, understand their purpose and make the most use of them in terms of driving traffic to your website and making it accessible to the right audiences.
The Difference Between Primary and Secondary Keywords
Primary and secondary keywords go hand in hand. One won't do without the other, and they work very well in complementing each other like most SEO tools. They serve the same purpose however, they differ in multiple details. While many of us tend to differentiate to between primary and secondary keywords, it is solely for the purpose of understanding them. However, when it comes to SEO, when you're really putting in the work, you will find that they are both very similar and it is highly likely to distinguish between them on a practical level.
The main difference between primary and secondary keywords, is that for SEO, you usually have one primary keyword, but your secondary keywords are many. In order to understand the purpose of secondary keywords, you must firstly understand the purpose of primary keywords and keywords as a whole.
To reiterate, the purpose of primary keywords is to match potential customers with your site based on their search terms. They are considered to be the backbone for any SEO strategy, and an adequate use of them will lead to impressive results. A primary keyword is the phrase used before any other keyword for the SEO of a website or an article. It is essentially the most important keyword our of all of them.
The primary keyword should be presented as many times as possible on a page, including the site's title, the domain and surely its content. If it's an article, it should be in the first sentence and mentioned as many times as possible throughout. That way, the keyword used to describe the page reflects its essential purpose.
Now, as for secondary keywords, they serve the exact same purpose by supporting the primary keywords. A professional use of keywords will combine both the primary and secondary keywords to create a list of keywords that is both broad and effective.
A secondary keyword is mentioned after the primary keywords and it is not really linked to the SEO process. Yet, this doesn't diminish its purpose, as it is extremely influential in attracting visitors to your web page or article. You will need this when running a PPC campaign, or generally aiming to direct viewers to your site.
The Special Secret of Secondary Keywords
Coming up with a list of secondary keywords serve the sole purpose of specifying the type of audience you want to be on your site. While the primary keyword has an essential role in this, secondary keywords help further specify and narrow down your target. For a search engine like Google for example, pages rank higher when they are focused on one single topic. In order to match these specifications, your keywords should be just as precise.
When setting your primary keywords, the number one piece of advice given is to stay focused and steer away from being too general. The aim of primary and secondary keywords is to direct a specific target audience, therefore you selection of keywords need to reflect that. Otherwise, you will be directing aimless traffic on site.However, don't make the mistake of leaning towards the opposite extreme. Setting your keywords strictly specific could probably mean that none will ever search for it, and ultimately defeat its purpose.
The secret of secondary keywords is the freedom it allows.Unlike primary keywords, with secondary keywords you have a little more flexibility because of the greater numbers you can employ. This article will show you how to make the most use of these secondary keywords, starting with these tips and tricks:
Don't stop at just your website
As mentioned previously, you need to make use of secondary keywords in all your posts and as much as you can. Your content may differ but the goal is one, you want to gain the most views on your online posts, and direct the most traffic to your website. So don't forget to use your primary and secondary keywords with every link to your website, in blogs or newsletters or even RSS feeds.
Not too much, but not too little
The optimum number of secondary keywords to add to your SEO ranges from 4-8, depending on the content. You can go over 8 if necessary but never above 10, adding too many secondary keywords diminishes its purpose, and your results will disappoint you.
Stay on topic
When you're listing secondary keywords, it's easy to get sidetracked and start thinking outside outside the box. Set your mindset to someone who could be searching for your page, and list the search words they would use to find exactly what you're offering. In a sense, your secondary keywords need to be more specific rather than general, and when you feel like you're beginning to stray away from the topic, that's when you've come up with your secondary keywords list.
The don't really have to be words
Keywords are not specifically words, they can be phrases or short sentences. This applies to your primary as well as secondary keywords. A thesaurus would be helpful when deciding on your secondary keywords, because of the different words searchers could use. For example, if one of your secondary keywords is "advantages of mobile phones", you might want to switch "advantages" with "benefits" or "values".
Make use of both
Primary and secondary keywords and nothing without the other, and it's up to you to use that to your benefit. If you've chosen a primary keyword, try to branch out from that specific word or phrase to a more specific one. For example, if your primary keyword is "charger", your secondary keywords could be "phone charger", "laptop charger" etc. From that you can even branch out more, as long as your sticking to the main topic of what your site is offering.
Stay educated
You should always stay up to date with the most popular search terms. Being unaware of what your customers are searching for could lead to you selecting keywords are are basically useless. Selecting keywords that people don't really search for is one of the most common mistakes of SEO.
Make your content worth it
While good SEO could direct traffic to your site, making your content useful and engaging will increase your ratings and higher your ranking. Therefore, your web page, site, or article is bound to come up more often and generate more and more views.
Always remember your client
Whether you're creating content or working on the SEO process, always remember your audience. You need to connect with what they want to see and how they're going to reach it. This will help you stay accurate and focused on your content and what your audience is really looking for. Putting your mind in the head of a consumer will lead to the best SEO processes and generate the greatest results for your business.
Branch Out and Use The Tools
At this point, you might be thinking how on earth are you going to generate so many effective keywords. If you're not an SEO professional, generating keywords might be tough, but it's definitely doable considering the wide range of online tools you can use. Keyword generators are online tools that turn your single primary keyword into multiple secondary keywords using information they can gather online.
By looking at search trends and the current popular keywords, these tools can help you generate an effective list of keywords for your SEO. But, never leave it all up to technology, you need to closely look over the secondary keywords generated and decide for yourself whether or not they will be useful. Take a look at this list of keyword generators to help you pick your list on secondary keywords.
This free tool helps you generate a long list of keywords based on the primary keywords you put in. With a Google account, you can find out the monthly search volume, the competition level, and the suggested bid on all the keywords on Google AdWords.
Like any keyword generator, this tool helps generate a moderate list of keywords based on a primary keyword. While many of the keywords may be helpful, make sure to take a close look at them before applying them to your list of secondary keywords. Like most generators, this application is free to use.
Keyword Tool is another free application that helps you generate keywords based on your keyword entry. It gathers information from Google, YouTube, Amazon and other search engines to create a long list of auto-complete answered for any keyword. While you can use this tool for free, they do have an option for a paid membership which offers you more options. We've discussed some of the best SEO tools in our Ultimate Guide to SEO.
Another free tool is Wordtracker's Keyword tool. Very similarly, this tool can generate keywords based on the different levels of specificity. You can use this to determine primary, secondary or even tertiary keywords. It is free to use but make sure that your selection of secondary keywords remains relevant.
When you've generated a list of keywords, make sure to review them all and get rid of the ones you will not need. Get rid of anything too generic or irrelevant to maintain the specificity of your keywords and direct the most precise set of audiences to your web page. To determine whether or not the keyword is useful, ask yourself if someone searching this keyword is looking for the content on your site, and whether or not it is relevant to the content you post.
The most important thing to take away from this article, is to not overlook the power of secondary keywords. In addition to your primary keywords, secondary keywords play an essential role in directly the exact type of traffic you want on your site. There are many factors that come into play when talking about SEO, however never underestimate the power of secondary keywords.