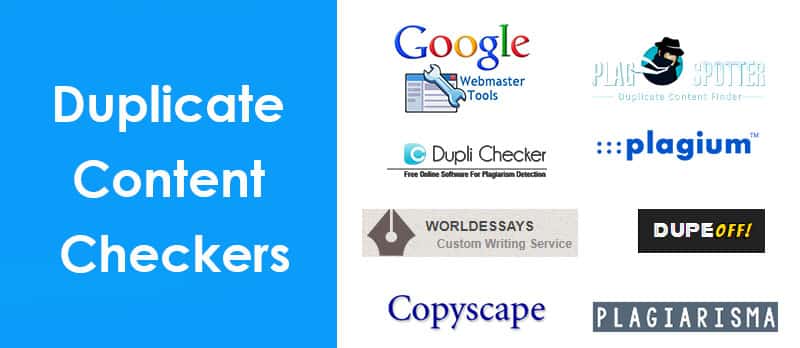 Duplicate content is content that appears somewhere on the internet in more than one URL. Duplicate content confuses search engines like Google. When this happens Google doesn't know where to send the search. Duplicate content is going to happen in today's digital world. Quotes from experts are used to give credibility to blogs, certain call to action words are commonly used and colloquialisms are used frequently throughout the big, big world wide web. That being said, duplicate content is a no no and must be kept to a minimum so Google doesn't either lower your rankings on searches or takes it out altogether. Google rewards sites with unique content with higher rankings. Unique content makes a company stand out among the thousands of others doing similar business.
Duplicate content can be found either onsite, a businesses website or offsite, on another website. The three types of duplicate content are true duplicates, near duplicates and cross-domain duplicates.
True Duplicates: True duplicates occur when the content is exactly the same as on another page, but has a different URL;
Near Duplicates: Near duplicates occur when part of a text, image or the content's order is similar to another web page.
Cross- domain Duplicates: Cross domain duplicates occur when two websites have the same content and could be either be true or near.
Some of the most common duplicate content are product descriptions because many different online stores sell some of the same products by the same manufacturer. For example, books, CDs are by the same author or library so the content is many times exactly the same.
Since this issue is commonplace there are websites called duplicate content checker that scan articles and report back for editing. Here are 9 Duplicate Content Checkers.
1.  Copyscape:  Copyscape is a reliable and accurate tool that provides the writer to search other published article for duplicate content. Copyscape will scan and search all pdf files, internet sites, forums, blogs and other sites for duplicate content and provide the locations for the writer to review. Copyscape is free with paid for upgrades for checking unpublished content.
2. Google Webmaster Tools:  Google Webmaster is a tool that will reveal the duplicate titles or descriptions so writers can identify the problem. It also searches everything causing visibility including backlinks, robots.txt, errors and query data. Sounds technical, we know but important information for content marketers to research and know.
3. Plagiarisma.Net: Plagiarisama is a free duplicate content checker trusted by more than four million professionals and students worldwide. This site detects copyright infringement in essays, research papers, article and other marketing content.
4.  DupeOff:  DupeOff is a funny name but is serious business when it comes to duplicate content. Simply log on and paste your content up to four sentences per week for free if not registered. DupeOff separates the content into smaller sentences and queries Google and Bing search engines for copies.
5.  WorldEssays.com:  WorldEssays.com is an online academic writing service whose mission is to help students with their writing needs. They also offer a duplicate content service allowing users to paste content that will be analyzed. There are more than 200 expert writers from all over the world workig for WorldEssays.com to assist writers with their questions, too.
6 Plagium:  Plagium is a tool that allows users up to 25,000 characters for a duplicate content check. Plagium features an email alert when the article is copied. It also offers premium memberships for a minimal fee.
7.  Duplichecker:  This free tool checks unpublished articles by either pasting or uploading the .txt file so the search can be completed. It will check the content and in seconds will report whether it is unique or not.
9.  Plagspotter: PlagSpotter is a duplicate content checking tool. It offers Instant copies of  web pages and automatically scans, detects and monitors a web page for duplicate content.
Many times bloggers will share their content with other websites and blogs. This would be an example of offsite duplicate content. There are pros and cons of sharing as far as SEO and Google is conerned. To make sure the content isn't tagged as duplicate, a link back to the original website must be used. These links are valuable because it expands the author's or businesses reach, but since the link takes the search back to the original site, keeps the content original. The con of sharing is that the search is going to an outside website, instead of the writer's company  and customers may be missed. To prevent this, bloggers can either save their best content for another blog and ask that it be linked back to your site or rewrite the blog so duplicate content issues won't happen. Or translate it into a different language and reach out to another market. Google doesn't recognize words is a different language as duplicate content.
Here are two more reasons to stay away from duplicate content
Duplicate content can make Google and other search engines think you are a plagarizer.  When you repost an article, search engines look at it as stolen or copied. This is called content scraping. so if you plan to repost an older one, reword and rework it to make it fresh and new. Add graphics that are linked back to the original post or website.
Duplicate content confuses everyone. Readers enjoy knowing whose material they are reading. If you repost content and link it different places the comments, likes and other sharing tools get separated and they don't know what is your content and someone elses.
There are some very easy ways to use previously posted material without worrying about duplicating issues.
Edit the Old Post:  Reword, rework and edit the old post with some new, fresh ideas. There's always something new and exciting to add. Give it a new name, a new tag and in no time you'll have a brand new post to share with your readers.
When Guest Posting Write New Content:  It doesn't matter is you are posting on your website or another's, all posts must be unique. This goes both ways. It's a great idea to invite a guest to write material for your blog and vice versa, but it must be unique to work for search engine rankings.
Refer to Analytics: Bloggers who use content management services like WordPress and Typed.com and email management services like MailChimp.com and Constant Contact have so many analytics and reports at their fingertips. Make it a part of your everyday routine to go to these reports and evaluate what blog content was successful and what content wasn't successful. These reports will share statistics like open rate, click through rate and bounce rate. Evaluating and reviewing these reports will assist you in future content creation .
Get to Know the Technical Terms Associated With Google:  Open a new door to search engine optimization and Google searches by researching and becoming familiar with technical terms. Words like keyword optimization, search engine optimization, crawling, canonicalization, canonical tag, URL's, 301 Redirect, back end and so many more. Understanding this terminology will help you become a more professional blogger and use your written craft as a way to increase traffic to your site, increase your conversion rate and create unique, valuable blogs for your readers.