In the rapidly evolving landscape of digital marketing, 2023 is marking the dawn of a new era. A time when Artificial Intelligence (AI) takes centre stage to revolutionise promotional campaigns and gain profound insights into the preferences of target audiences. The profound impact of AI is undeniable as it continues to transform the entire digital marketing industry. Today, numerous astounding AI marketing tools and solutions have emerged, each possessing distinctive features aimed at empowering marketers to conceive and deploy highly effective strategies.
Nonetheless, it is crucial to understand that AI marketing tools are not designed to replace marketers. Instead, they excel at enhancing their work by furnishing invaluable data and insights. These resources empower marketers to craft well-informed decisions and thereby conceive more impactful marketing strategies.
As we venture further into 2023, the usage of AI in marketing will surely gain even greater prevalence, effectively shaping the future of the industry. Embark on a journey to explore the finest AI marketing tools and solutions available on the market this year, and discover how each one can propel your business operations forward.
1. GrowthBar
In this continuously changing digital marketing landscape, GrowthBar has emerged as one of the best AI marketing tools and solutions in the market. Powered by generative AI and natural language processing (NLP), GrowthBar enables marketers to create blog posts 10x faster and optimise them for SEO. With its expansive keyword research capabilities, spanning across billions of keyword lists, it provides a comprehensive suite of tools that cater to all your marketing needs.
GrowthBar is not just an AI-powered SEO tool; it's a platform designed specifically for marketers and bloggers. It offers a suite of features that assist in creating content that ranks well in Google searches. The AI content generator draws on billions of data points to provide insights and recommendations, helping businesses, from blogs to e-commerce platforms and startups, uncover critical data points.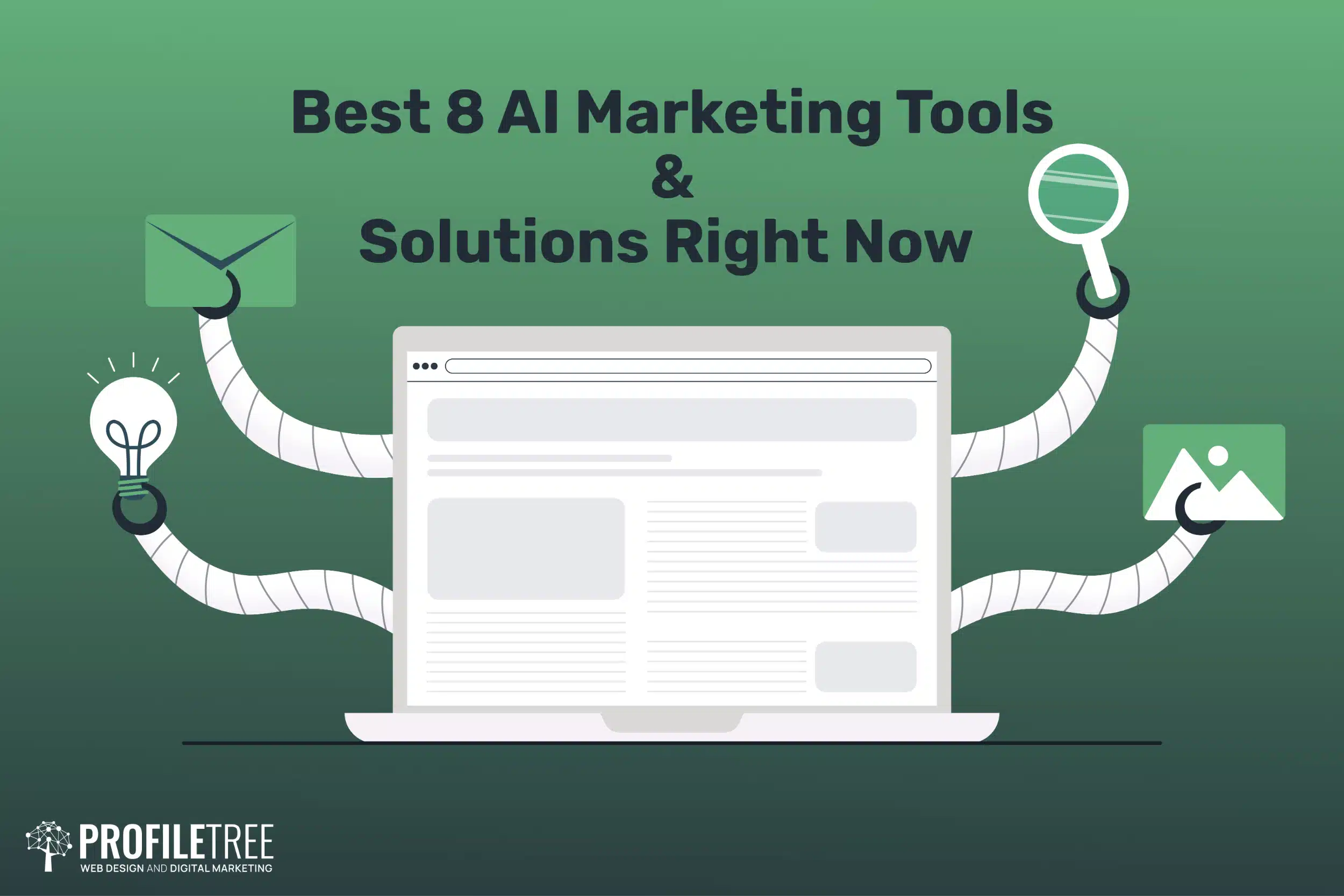 The seamless user interface makes GrowthBar super user-friendly. Simply enter the URL of the page or post in the Content Generator, wait a few seconds, and voila! GrowthBar imports your existing article so that you can add to it with AI writing and optimise by following GrowthBar's SEO best practices. This makes GrowthBar one of the most convenient and practical AI writing and content optimisation tools currently available.
In addition to its AI writing tools, GrowthBar also includes chat, product descriptions, press releases, and more, serving all your marketing channels. This makes GrowthBar an all-in-one suite of tools that supports your entire content marketing strategy.
In conclusion, GrowthBar's mission is to make it 10X easier for marketers and bloggers to get more customers. Its ability to help internet-enabled businesses uncover critical data points and create content that ranks in just one click sets it apart as one of the best AI Marketing Tools & Solutions in 2023.
2. Customers.ai
In today's fast-paced, data-driven world, Customers.ai has stood out as one of the best AI solutions for marketing needs. This innovative platform leverages cutting-edge AI technology to deliver personalised, eye-catching emails that are key to beating the competition to the customer. The tool's main strength lies in its ability to analyse vast amounts of consumer data and derive actionable insights that help businesses tailor their marketing strategies for maximum impact.
Customers.ai provides a comprehensive suite of AI-powered tools designed to streamline marketing processes and boost ROI. One of its standout features is the Email Generator, which uses AI to craft personalised emails that resonate with the target audience. By analysing past consumer behaviour and preferences, the tool can generate emails that are not only engaging but also highly relevant to each recipient, thereby increasing open rates and conversions.
But the benefits of Customers.ai extend beyond email marketing. The platform also offers robust analytics capabilities that provide businesses with a deeper understanding of their customer's needs and preferences. This data can be used to refine marketing strategies and ensure that businesses are delivering the right message to the right audience at the right time.
Moreover, Customers.ai is recognised for its user-friendly interface and seamless integration with other marketing tools, making it an ideal choice for businesses of all sizes. Whether you're a small startup looking to grow your customer base or a large corporation aiming to enhance your customer engagement, Customers.ai offers a range of solutions to meet your marketing needs.
In conclusion, Customers.ai stands out as one of the top AI marketing tools in 2023. Its powerful AI capabilities, coupled with its focus on personalisation and customer-centricity, make it an invaluable asset for any business looking to stay ahead of the competition.
3. Smartly.io
In the dynamic landscape of the digital world, AI is reshaping the marketing industry with remarkable advancements. Amidst this digital transformation, Smartly.io has emerged as a leading AI marketing tool, providing cutting-edge solutions that boost productivity, enhance ROI, and facilitate engaging customer interactions.
Smartly.io is a comprehensive social advertising platform powered by machine learning. It empowers businesses to automate ad creation, testing, and optimization, resulting in substantial gains in productivity. Additionally, the tool's predictive analytics capabilities further elevate decision-making, enabling marketers to target audiences more effectively and efficiently.
One standout feature of the platform is its AI-driven personalisation. By analysing user behaviour and preferences, Smartly.io delivers highly tailored ads that deeply resonate with individual customers, significantly enhancing engagement and conversion rates. This aligns perfectly with the growing trend towards hyper-personalization in marketing, which is considered one of the key AI trends of 2023.
Smartly.io offers flexible pricing plans tailored to cater to various business needs and budgets. Its effectiveness is strongly supported by numerous customer success stories across different sectors, where businesses have reported improved campaign performance and increased ROI after implementing Smartly.io.
The innovative approach of the company towards AI-powered marketing has earned it considerable recognition, including its inclusion in the 2023 Gartner Magic Quadrant for Ad Tech. This acknowledgement validates the company's comprehensive vision and exceptional execution capabilities.
In conclusion, Smartly.io is revolutionising the marketing industry with its AI-enabled solutions. Its unique blend of automation, personalisation, and optimisation features positions it as one of the premier AI marketing tools for businesses in 2023 and beyond.
4. ManyChat
In the bustling digital marketing landscape of 2023, ManyChat has emerged as one of the leading AI marketing tools. Harnessing the power of artificial intelligence, ManyChat empowers businesses to automate two-way, interactive conversations in Instagram Direct Messages, Facebook Messenger, and SMS, thereby fostering brand growth.
ManyChat is a cloud-based chatbot solution designed specifically to drive chat marketing campaigns through various social media platforms and text. These features make it a powerful tool for small businesses seeking to engage customers, generate qualified leads, increase product sales, and deliver instant support.
When compared to other AI marketing tools, ManyChat shines with its user-friendly interface and extensive integrations. It is well-regarded as a robust platform with a large user base and a growing number of partnerships, making it an attractive investment for businesses and organisations.
In terms of key metrics and analytics, ManyChat allows businesses to track user interactions, conversion rates, customer engagement, and much more. This data-driven approach not only improves efficiency but also helps businesses tailor their marketing strategies for maximum impact.
As for the future, ManyChat continues to innovate and evolve. While specific upgrades or features planned for the second half of 2023 have yet to be disclosed, the company's track record suggests that users can expect further enhancements to improve their marketing efforts.
In conclusion, ManyChat is a powerful, effective, and reliable AI marketing tool. Businesses interested in leveraging AI for their marketing campaigns should consider signing up for a demo or trial to explore the benefits of ManyChat. The future of marketing is here, and with tools like ManyChat, businesses are well-equipped to navigate the challenges and opportunities it presents.
5. Brandwatch Consumer Intelligence
In the constantly changing world of AI marketing tools, Brandwatch Consumer Intelligence has carved a niche for itself as an industry leader. With its innovative features and advanced capabilities, it is redefining the way marketers gather, analyse, and act on consumer insights.
Brandwatch Consumer Intelligence stands tall among other AI marketing tools due to its ability to track online conversations across millions of sources, including social media channels, blogs, forums, news, and review sites. This allows businesses to gain a deep understanding of their brand perception, audience sentiment, and emerging trends in real time.
In terms of customer satisfaction, Brandwatch Consumer Intelligence has received high praise for its intuitive interface, extensive data coverage, and robust analytics capabilities. Its unique benefits include powerful segmentation, trend tracking, and influencer identification features, which help businesses to tailor their marketing strategies effectively.
One of the key differentiators of Brandwatch is its commitment to continual innovation. In 2023, the platform introduced new features to enhance its image analysis capabilities and extend its data coverage, thereby providing businesses with richer and more comprehensive insights.
Brandwatch Consumer Intelligence has proven instrumental in maximising marketing strategies and improving ROI for businesses across various industries. For instance, Unilever used Brandwatch to track the success of their global campaigns and monitor brand health, resulting in significant improvements in their marketing effectiveness.
In conclusion, Brandwatch Consumer Intelligence is not just an AI marketing tool; it's a powerful ally for businesses in understanding and engaging their audiences. With its advanced features, constant innovation, and proven results, it is undoubtedly one of the best AI marketing tools in 2023.
6. Beacons AI
Among an array of honourable competitors in the AI marketing realm, Beacons AI has emerged as a standout player. As the landscape rapidly evolves, Beacons AI has consistently stayed ahead of the curve, offering innovative solutions that meet the changing needs of marketers.
One of the most significant trends in AI marketing this year is the shift towards greater personalisation. Beacons AI has been at the forefront of this trend, with its advanced data analytics capabilities allowing businesses to create highly personalised marketing campaigns. This level of personalisation enhances customer engagement and drives higher conversion rates.
Another key trend is the increased use of large language models to enhance conversational AI. Beacons AI has embraced this trend, offering real-time performance monitoring that enables businesses to refine their conversational AI strategies in response to evolving customer interactions.
Beacons AI also stands out for its commitment to hyper-automation, another major marketing trend in 2023. By leveraging advanced AI algorithms, Beacons AI automates complex marketing tasks, freeing up businesses to focus on strategic decision-making.
In terms of competitive differentiation, Beacons AI excels in its user-friendly interface, comprehensive features, and exceptional customer support. While other platforms may offer similar features, few can match the quality and depth of service provided by Beacons AI.
In conclusion, Beacons AI is not just keeping pace with the latest trends in AI marketing; it's setting them. With its advanced features and commitment to innovation, Beacons AI is well-positioned to revolutionise the marketing industry and give brands a competitive edge in 2023 and more years to come.
7. Ocoya
Ocoya is a comprehensive AI-powered content marketing solution that enables businesses to create, schedule, and post content across various social media platforms. What sets Ocoya apart is its ability to generate high-quality content, including banners, videos, music, and marketing text in 26 different languages. This multilingual capability expands the reach of businesses, allowing them to engage with a global audience effectively.
One of Ocoya's standout features is its AI-powered copywriting tool. This feature leverages advanced AI algorithms to generate creative and compelling captions for social media posts. Coupled with its built-in editor for creating graphical designs and short-form videos, Ocoya provides businesses with a complete toolkit to enhance their social media presence.
Ocoya's commitment to user-friendliness is evident in its easy-to-use app. The app allows users to automatically post content on multiple platforms, including Instagram, Facebook, Twitter, LinkedIn, and Pinterest. The scheduling feature enables marketing executives to plan their posts in advance, ensuring a consistent and engaging online presence.
Customer reviews and case studies further attest to Ocoya's effectiveness as an AI marketing tool. Users have praised Ocoya for its robust features, intuitive interface, and the value it brings to their social media marketing campaigns.
In conclusion, Ocoya's advanced features, user-friendly design, and AI-driven capabilities make it one of the best AI Marketing Tools & Solutions in 2023. Whether you're a small business owner or part of a large organisation, Ocoya offers a comprehensive solution to meet your content marketing needs.
8. Otter AI
Based in Mountain View, California, Otter.ai, Inc. is a technology company that develops speech-to-text transcription applications using artificial intelligence.
Otter AI is a leading meeting transcription and collaboration tool that assists teams in automatically capturing and summarising conversations from every meeting. Its capabilities extend beyond mere transcription; Otter AI offers real-time transcription, recorded audio, automated slide capture, and automated meeting summaries. This comprehensive suite of features allows businesses to focus on the discussion at hand, knowing that the meeting's details are being accurately documented and organised.
One of the standout features of Otter AI is its ability to transcribe audio and video in real time. Whether it's for meetings, webinars, virtual events, or in-person gatherings, you can see the transcription unfold in real time. This feature not only enhances accessibility but also enables participants to focus more on the conversation instead of note-taking.
In terms of user experience, Otter AI provides an intuitive interface and a range of functionalities that outshine many of its competitors. For instance, when compared to Zoom transcription, users prefer Otter for its larger display for the live transcript during a session and better control over editing and sharing transcripts after the meeting is complete.
The power of Otter AI lies in its advanced application of artificial intelligence. Behind the scenes, sophisticated algorithms work tirelessly to deliver accurate and reliable results. Moreover, the technology is continually evolving, with updates and improvements designed to keep pace with the ever-changing business landscape.
Several businesses have successfully leveraged Otter AI in their marketing campaigns. By providing a reliable and efficient way to capture and summarise critical discussions, Otter AI has proven to be an invaluable tool for marketers aiming to stay on top of their strategies and ensure nothing falls through the cracks.
In conclusion, Otter AI's innovative approach to transcription and its application of artificial intelligence makes it one of the best AI marketing tools in 2023. Its blend of real-time transcription, advanced search capabilities, and user-friendly interface makes it an essential tool for modern businesses seeking to streamline their operations and enhance their marketing efforts.
As we can all tell, the AI marketing landscape of 2023 is teeming with powerful tools that are transforming the way businesses approach their marketing strategies. As we progress further into the digital age, it's clear that AI is not replacing marketers but rather augmenting their skills and providing them with more efficient and effective ways to reach their targets.