There are countless content marketing benefits. In fact, today content is a mainstay of just about any marketing strategy. Still, there are plenty of large and small businesses out there who remain unconvinced.
Today, we're going to explore just some of the core reasons why content should be at the heart of your marketing efforts. Specifically, we're going to look at some concrete business benefits of content marketing.
But first:
What is Content Marketing?
It's useful to separate content marketing from other channels. Essentially, this is a strategy which involves creating online materials, like blogs, videos, podcasts and ebooks to help solve your audience's problems.
This differs from traditional advertising or marketing, in the sense that you aren't explicitly promoting your own product. Rather, good content seeks to identify your audience's pain points, and explain how these can be alleviated.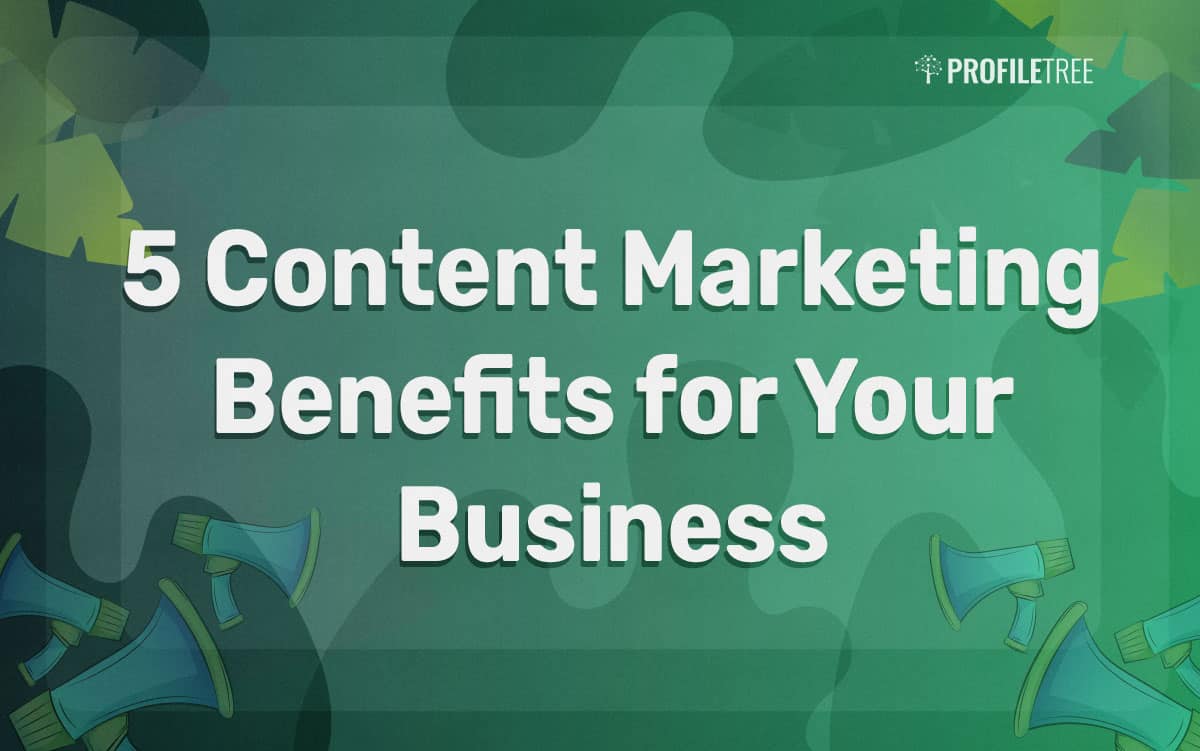 Actually promoting your products or services is secondary.
Content marketing has emerged in the last decade, as consumers have become more and more skeptical of hard selling. Additionally, high quality content can boost your performance across all channels, including SEO, email and social media marketing.
With that in mind, here are five concrete ways that content marketing can benefit your business.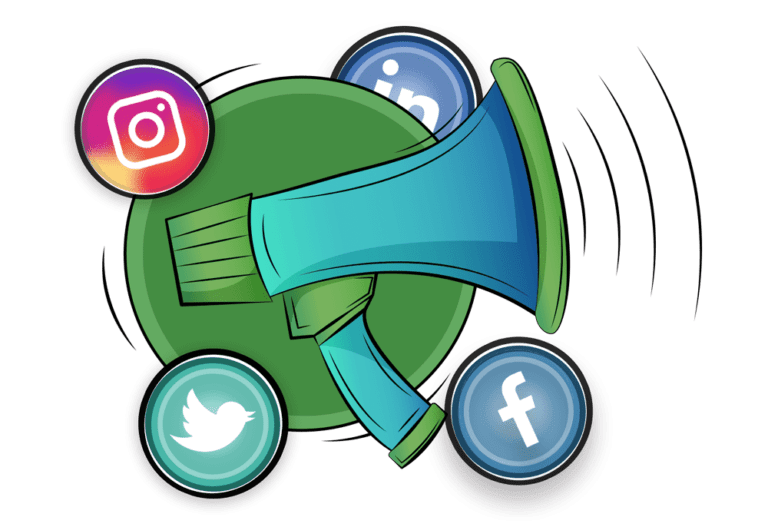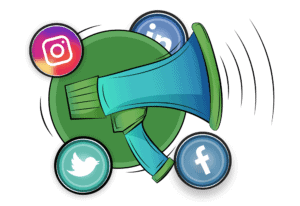 1. SEO and Content Marketing
The benefits of content marketing for SEO can't be oversold. The key thing to understand here is what's known as search intent. That is, what users want to achieve when they carry out a search.
The majority of the time, the central pages on your website, like your home page or product listings target either transactional or commercial search intents. That is, the user is either trying to buy a specific product or service, or at least research it before deciding who to buy from.
This is important. However, there are limited opportunities. Content marketing allows you to target users with an informational search intent. That is, users who have a particular problem, but don't yet know which products or services will solve it.
This naturally greatly increases the number of search terms you can rank for.
Additionally, content marketing helps greatly with domain-level ranking factors. Most important among these is domain authority. This is a measure of how credible your site is within your niche. The more high quality content you publish, the more this will improve.
2. Build Authenticity and Trust With Your Customers
At ProfileTree, we're big believers in brands acting as media companies. The reason that we put content at the heart of our marketing strategies is that this is the best way to build strong customer relationships, especially for online businesses.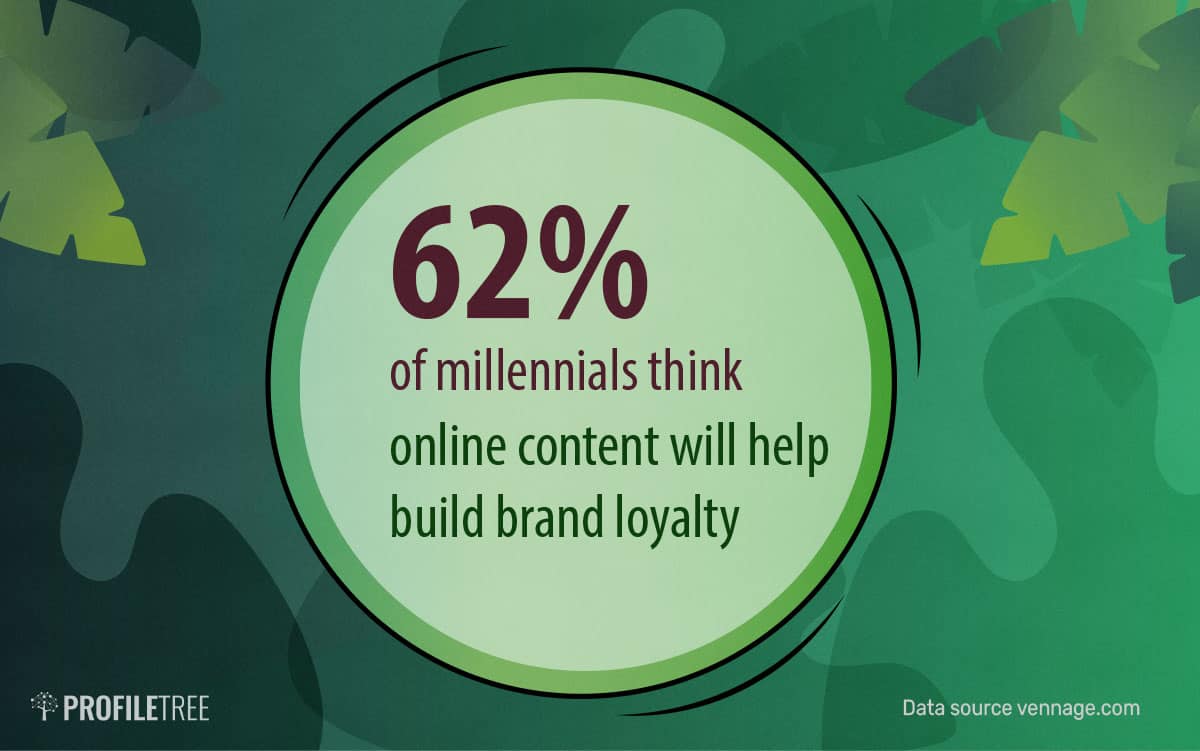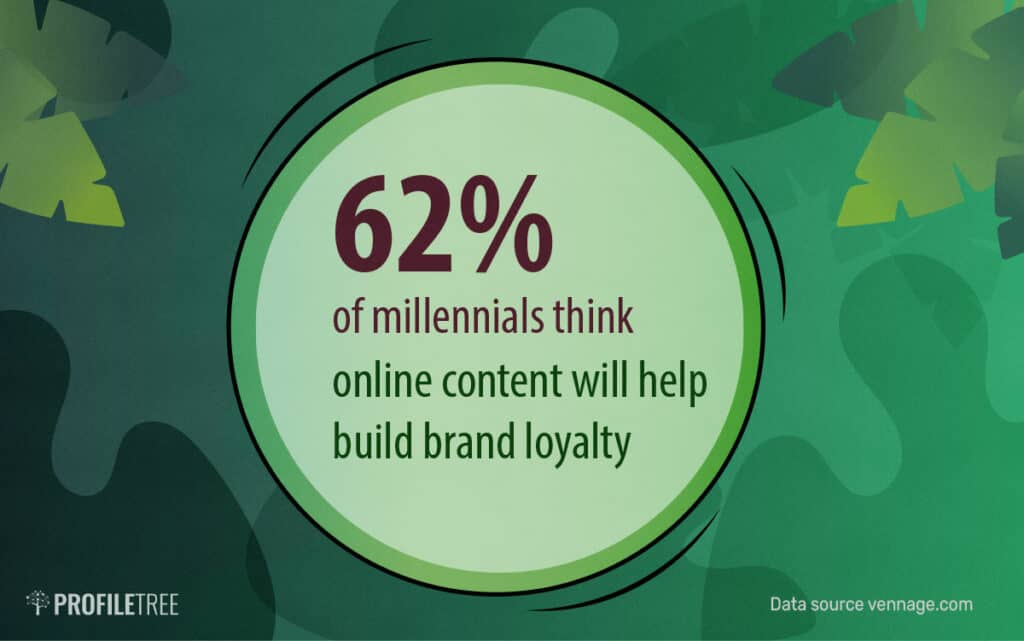 There are a number of reasons why this is so crucial. One of the most obvious is the amount of contact that content marketing creates between brands and their customers. Naturally, this creates plenty of opportunities to show off your expertise, or the benefits of your products.
Beyond this, more and more consumers take brand values as a top decision factor when making a purchase. As such, content marketing is a crucial channel for building trust in consumers and demonstrating your shared values.
3. Improve your Engagement Across Marketing Channels
It's no secret that engagement is more difficult to achieve on just about every channel nowadays. Social media algorithms are privileging sponsored posts. Email marketers are struggling to get recipients to open their messages, as they're bombarded with sales and marketing.
One solution here could be to pump more and more money into Facebook ads, or growing your mailing list. However, this is a losing game. It's always better to work smarter than it is to throw money at a problem.
Quality content marketing is the key here.
Besides written content, video and audio content are fantastic for boosting engagement across all channels. These both reduce the barriers to engagement compared to copy-based posts and emails, as users don't have to put as much effort into consuming your content.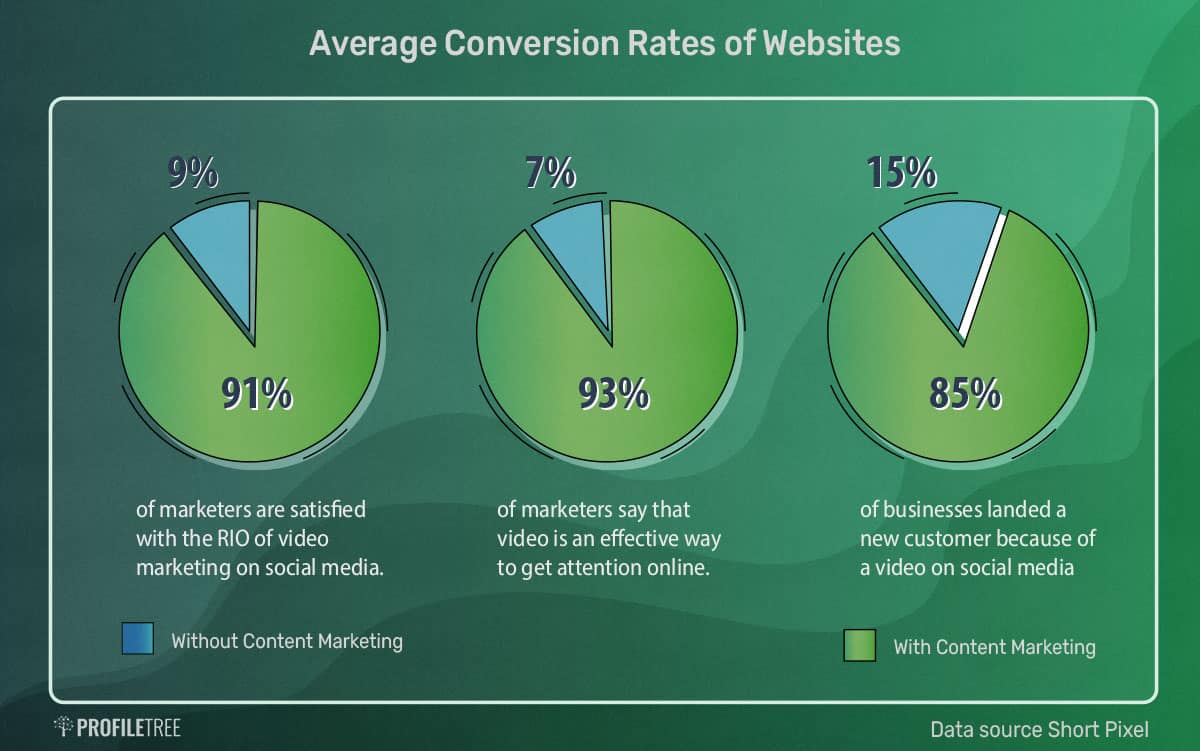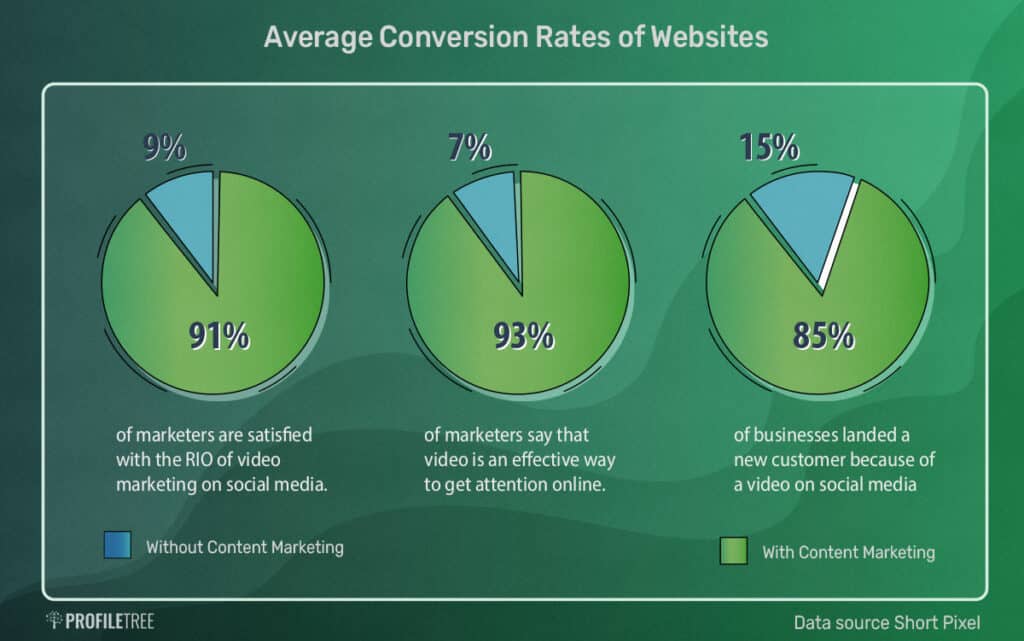 In other words, content marketing is a cost effective way to boost the success of your marketing campaigns, eliminating the need to spend big on the likes of lead generation or PPC advertising.
4. Content Marketing for Customer and User Retention
One of the great challenges for any business is to maximise the lifetime value of your customers. This is the total amount that the average customer will spend from their first to their last purchase.
There are two ways to increase this:
Increase average order values,
Improve customer retention.
Content marketing helps massively with both of these.
Another important thing to realise is that most people won't make a purchase the first time they visit your site. This proportion shrinks the more expensive your products are. As such, it's crucial to come up with a strategy to make users return to your site until they convert into customers.
This requires what's known as a lead magnet. This is anything that you offer to your customers in exchange for their email address. Premium content, like webinars, ebooks or whitepapers are an excellent option.
Even without using lead magnets, sites which regularly publish content are far more likely to convert users on the first visit: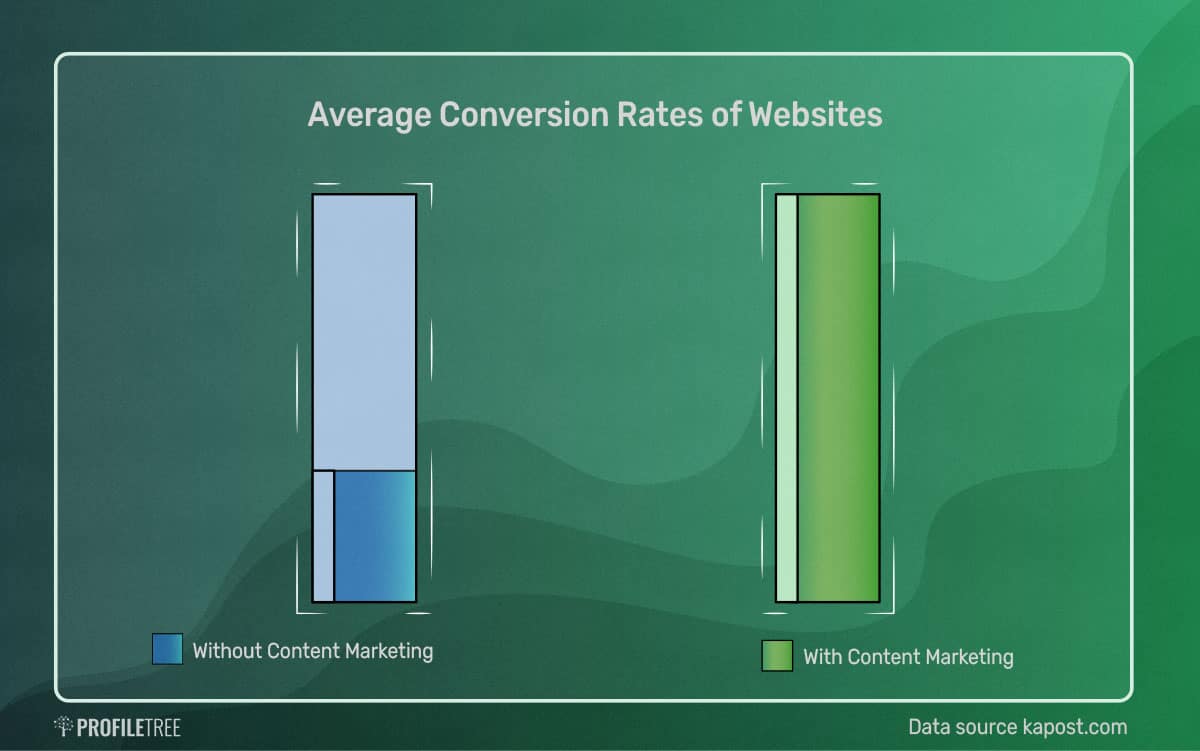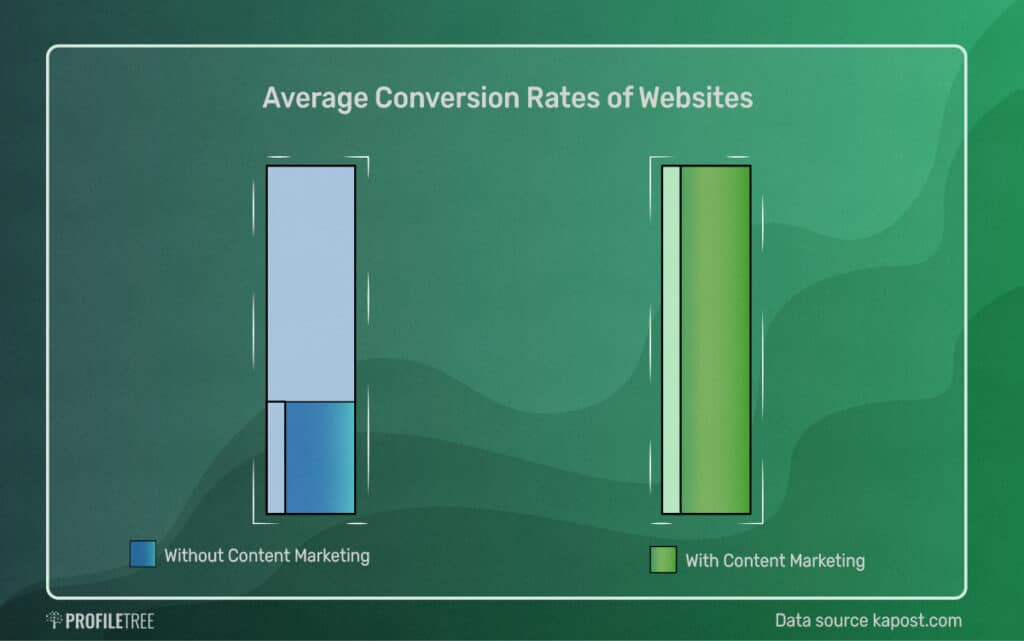 5. Future-Proofing Starts Now
One of the main reasons that content marketing has grown so rapidly is that it's what the major online platforms like Facebook and Google are pushing. This is because it suits their business models.
That is, these giant tech companies build their operations around maximising the amount of time that users spend on their platforms. As such, one of the main content marketing benefits is helping you to get in the good books of these platforms.
It's also important to recognise that they heavily push content marketing, because they have determined that this is what modern consumers respond best to.
Summary: Content Marketing Benefits
Designing an effective marketing strategy is all about determining what will deliver the best revenue relative to how much you need to invest. No matter what channel your targeting, content marketing is one of the best options around.
With a little bit of knowhow, content marketing actually costs very little. In fact, just about anyone with reasonable digital literacy can pick up the basics of SEO or video editing in order to take advantage of the benefits of content marketing.