In today's world, marketing is all around us. You visit your local shopping mall, and countless ads and promotions immediately bombard you. To meet the demand for marketers, many people are seeking out online marketing degrees.
With the hassle of everyday life, no one has the time to sign up for a degree, attend lectures and study for finals. Getting a marketing degree online sounds smart, but is it easier than the real deal?
More importantly, are online marketing degrees legit?
Today, we'll explore everything you need to know about studying marketing online. Specifically, we'll cover some of the core benefits of online education and where to look for the most reputable courses.
Let's dive right in.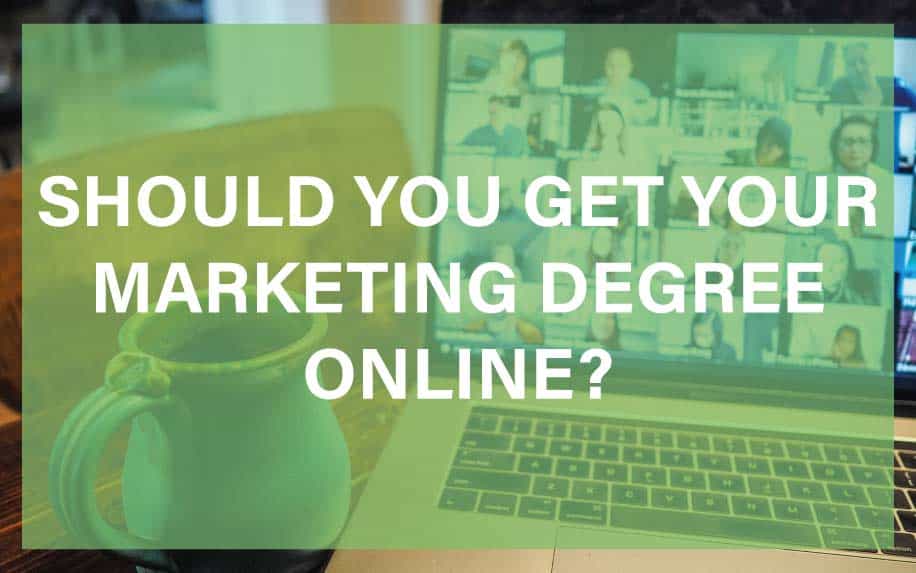 Table of Contents
6 Reasons to Get Your Marketing Degree Online
With technological advancements, economic disturbances, fast-paced lifestyles and the need for workers to possess new skill sets, the demand for online marketing courses has increased.
The traditional way of learning has always been problematic. You pay thousands to sit in a classroom and get graded on how well you were listening during class. Presentations, strict deadlines and late nights are all part of the experience of traditional education.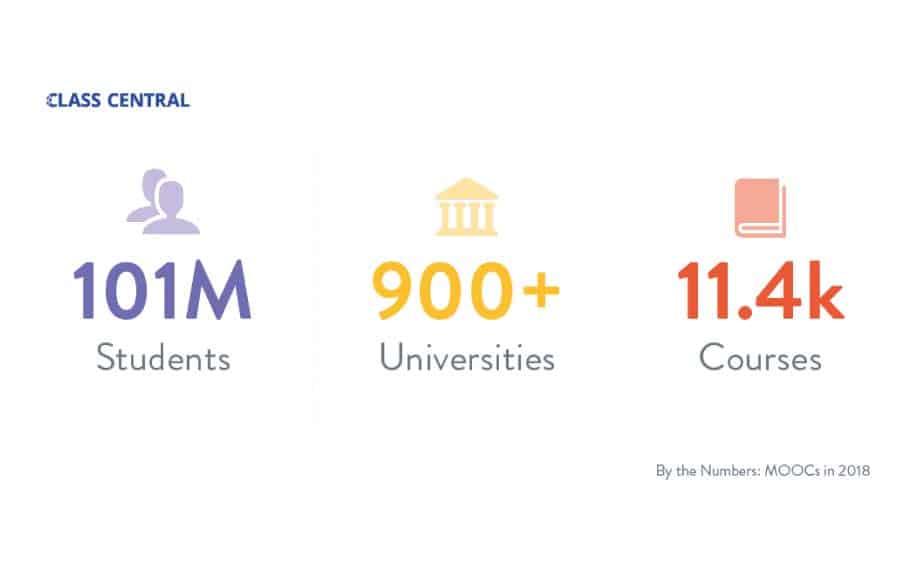 However, it doesn't have to be. Ten years ago or less, getting a bachelor's degree in marketing online sounded too good. Now, however, it is becoming easier, cheaper and more convenient to get a marketing degree online.
This trend in online education has only grown post-COVID. Most universities moved almost all of their learning online throughout the pandemic. This led people to realise that online learning is a viable option for students and teachers.
So, here are some advantages of opting for an online marketing degree.
1. Cost
Online marketing degrees typically cost less than traditional on-campus programs, reducing the financial burden on students. This affordability makes education accessible to a wider range of individuals, regardless of their financial background.
Skipping the early morning lectures and getting your marketing degree online is much less costly than a traditional university education. You will save on transport costs, but online learning is typically cheaper than a traditional degree, even from the same institution.
This makes getting a marketing degree online an excellent option for students who can not afford a traditional university education or don't qualify for student loans.
2. Condensed Learning
Online marketing degree programs allow the student to condense the learning process. This allows the student to earn the degree much faster. This is ideal for people who already have an existing career.
Learning quickly allows students to make a sideways move into a new role or industry without the need to lose their income for three years to gain a traditional marketing degree.
3. Go at Your Own Pace.
Whether you're a slow learner, an advanced student or an independent learner with an online marketing degree, you can go at your speed. The student oversees when and how the degree progresses: You have complete control over the learning material.
Of course, this makes online learning ideal for anyone with a tight schedule. For this reason, online marketing degrees are popular with many parents who wish to upskill but lack extensive free time.
4. Comfort
Online marketing degrees offer unparalleled flexibility, allowing students to pursue their education at their own pace and from the comfort of their homes. This adaptability caters to busy individuals, working professionals, and those juggling other commitments.
Getting dressed, commuting to college and attending class is part of the traditional education process. Getting your marketing degree allows you to work or study from the comfort of your own home.
Nowadays, distance learning is the norm. Just like working from home, many students have realised that there is simply no need to commute to receive a quality education.
5. Work/Life Balance
Having a social life while working towards a degree sounded impossible. Having the option to pause your degree and take a breath is one of the benefits granted by online marketing degree programs.
This is important if you want to study for your marketing degree alongside a full-time job, where it can be difficult to strike a good work/life balance.
6. Buff up Your Resume
Fresh grad with an empty CV? Online marketing degrees look great on a resume. Not only does this prove to employers that you have marketable skills, but online education demonstrates incredible determination, motivation and time management.
Where to Get an Online Marketing Degree
Of course, there are several ways to study for a marketing degree online. As noted, online education has exploded in popularity over recent years, partly because of the COVID-19 pandemic.
Even before this, though, online learning was increasing in popularity. Like in many other industries, new online providers have greatly changed how education is delivered, reducing costs and increasing convenience for countless learners.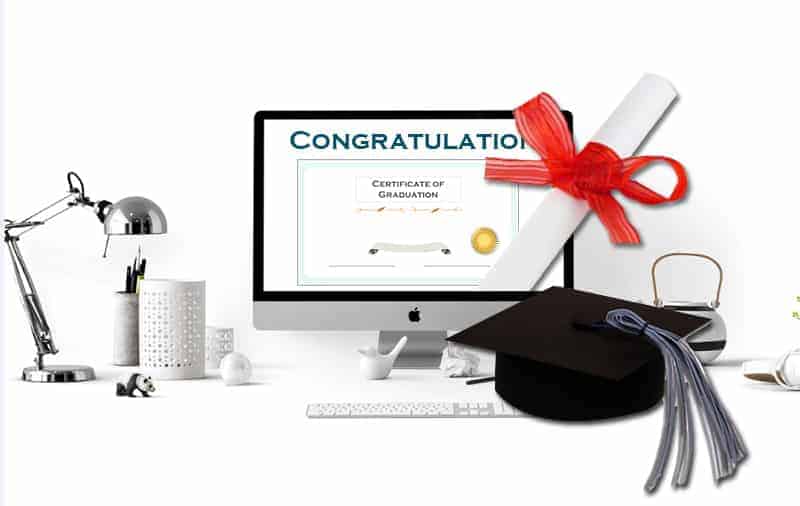 Types of Online Marketing Degrees:
Online marketing degrees encompass a variety of specializations catering to the diverse needs of aspiring marketers. Each specialization focuses on a specific aspect of the marketing landscape, preparing students for specific roles and career trajectories.
General Marketing Degrees: These foundational programs provide a comprehensive overview of marketing principles, covering digital marketing, social media marketing, content marketing, and analytics.
Digital Marketing Degrees: These programs delve into the intricacies of online marketing, equipping students with expertise in SEO, SEM, social media marketing, and email marketing.
Social Media Marketing Degrees: These specialized programs strategically use social media platforms to promote brands, engage with audiences, and drive business growth.
Content Marketing Degrees: These programs emphasize the creation, distribution, and optimization of compelling content to attract and retain customers.
Marketing Analytics Degrees: These specialized programs equip students with the skills to analyze marketing data, measure campaign performance, and make informed decisions based on insights.
Curriculum and Career Prospects:
Online marketing degree programs typically encompass a rigorous curriculum that covers the fundamentals of marketing theory, practical applications, and industry-standard tools and methodologies. This comprehensive education prepares students for various marketing roles in various industries.
Career prospects for online marketing graduates are promising and diverse. The demand for skilled marketing professionals is constantly increasing, driven by the pervasiveness of online platforms and the ever-evolving marketing landscape.
Graduates can pursue careers in digital marketing agencies, marketing departments of businesses, social media management companies, and consulting firms. They can also venture into entrepreneurial endeavours, establishing their own marketing firms or consulting practices.
Here are the two main ways to seek out a marketing degree online.
Traditional Institutions Offering Online Degrees
Today, many universities offer online and distance learning options. Many in-person degrees nowadays make heavy use of online learning. With improving technology, the line between online and traditional learning has become very blurry.
This means you can often get the same degree as someone who studies in person, but often for less money and hassle.
It's particularly common for traditional institutions to offer more professionalised post-graduate courses. This means there are many well-known institutions where you can study for your marketing degree online.
Online Education Providers
Of course, there are also several institutions which primarily offer education online. Some of these have been around for a long time. For example, the Open University has offered distance learning courses for over fifty years.
There are newer players in the distance learning space, too.
However, you need to be careful here. In the real world, or at least in most countries, there are strict regulations on what you can and can't call a degree. This is called accreditation. Your qualification needs to be backed by a standard body of some description.
For many so-called online marketing degrees, this is not the case.
As such, it's important to research programs thoroughly, especially if a less well-known site provides them.
The Stigma Surrounding Online Marketing Degrees
There is a certain stigma surrounding online education. People think seeking an online bachelor's degree reflects badly on the student—the stereotype of the lazy student who is not smart enough to get a "real" degree.
This stigma discourages prospective online degree seekers and forces them into the traditional education system, costing them money and years that could be better spent on actual work.
However, some experts have a different opinion. Countless studies have been done on the efficacy of online education. The controversies surrounding expectations of getting online marketing degrees have been a topic of wide debate.
When considering getting a marketing degree online, it comes down to three aspects: institution accreditation, reputation and interaction.
Seeking an online marketing degree from a reputable accredited institution gives positive employer perceptions and does not differ from a traditional degree in the eyes of the employer.
School Profiles:
University of Pennsylvania (Wharton)
Acceptance Rate: 7%
Total Enrollment: ~25,000
Faculty: 98 marketing faculty, top researchers in consumer behaviour, social media, analytics
Alumni: Elon Musk, Warren Buffett, Sundar Pichai
Concentrations: Marketing Analytics, Research, Strategy, New Product Development
Student Services: Career coaching, student clubs, alumni network
Outcomes: Average salary $77K, 95% employed at graduation
UC Berkeley (Haas)
Acceptance Rate: 16%
Total Enrollment: ~30,000
Faculty: 89 marketing professors, thought leaders in branding, eco-conscious marketing
Alumni: Co-founders of Instagram and Reddit
Concentrations: Brand Management, Market Research, Marketing Analytics, Product Management
Student Services: Global internship program, startup incubator
Outcomes: Average salary $105K, over 200 employer partners
Comparing Online vs. On-Campus Programs:
| Factor | Online | On-Campus |
| --- | --- | --- |
| Flexibility | Set class times requires adjusting work schedule | Set class times requires adjusting the work schedule |
| Location | Study anywhere with internet access | Must relocate or commute to campus |
| Cost | Lower tuition on average, no housing/food/transportation costs | High flexibility to fit classes around a work schedule |
| Duration | Typically 2-3 years | Typically 4 years |
| Networking | Limited in-person interaction makes networking harder | Clubs, events and in-person classes build connections |
| Learning Experience | Access to sports, clubs, and facilities on campus | Immersive, collaborative learning environment |
| Extracurriculars | Lack of campus life and extracurricular activities | Higher tuition, plus housing, meals, and commuting costs |
| Career Resources | Primarily virtual coaching and job boards | In-person coaching, interview practice, career fairs |
Obtaining Employment
When seeking employment, perceptions that influence employers are the names of the universities rather than the physical presence in one. How employers perceive the applicant is purely based on the degree itself rather than the way it was obtained.
These days, most employers don't care where your degree comes from.
Countless students have been opting to go for the online experience. Experts say that if more students decided to get their marketing degrees online, virtual degrees would become more acceptable in the eyes of the public.
Is an Online Marketing Degree Right For You?
Whether online or through traditional education, marketing degrees are a powerful tool in today's job market. Marketers are in high demand nowadays, and any marketing educational background is a huge plus for any job seeker.
The advantages of online marketing degrees have been highlighted in the article. Although not without its problems, online marketing degree programs are becoming a very viable option.
Employers no longer perceive online marketing degree holders as inferior to traditional university graduates. Saving time and money, boosting self-confidence and encouraging self-dependence are all reasons to seek a marketing degree online.
Whether "virtual education" becomes the future of higher education or not is yet to be determined by those who seek to do more with their time.
Marketing Degree Online FAQ
Q: Which online marketing degree is best for job placement?
A: Programs like Maryville University and Temple University are ranked highly for career outcomes based on employer partnerships and alumni salary data.
Q: Should I get a marketing certificate or a full degree?
A: Certificates provide specific skills quickly, but a full degree better equips students for management career tracks long-term.
Q: How much does an online marketing degree cost?
A: Costs vary, but most accredited programs range from $7,000-$15,000 per year for online tuition. More affordable than on-campus.
Q: How long does it take to complete an online degree?
A: Online marketing degrees take 2-3 years typically. Accelerated programs allow completion in as little as 12-18 months.
Marketing Degree Online Conclusion:
A marketing degree can provide knowledge vital for succeeding in today's digital landscape, whether through an online or on-campus program. When researching schools, look for respected faculty, career resources, flexible scheduling, and concentrations relevant to your interests.
Consider cost, location, admissions requirements, and program duration as well. An online marketing degree from a top-ranked, accredited university delivers the credentials to advance in marketing or related management roles.
To find out more about marketing training, contact ProfileTree today.