What is Google Maps? And, most of all, why is it an essential tool for your business? Well, with the help of Google Maps you can make sure your customer can not only find where your business is located but how to travel to your shop or office.
Read on for our essential QUICK READ overview to better understand the basics of this vital tool…
IN A RUSH?! Click for our <90 second snapshot
What is Google Maps?
As the name suggests, Google Maps is a digital navigation tool. Essentially, this allows users to access maps from all around the world, as well as directions, local business information, and a virtual street-level view.
Google Maps can be accessed on a range of devices, including desktops, phones, in-car entertainment systems, and even smart speakers.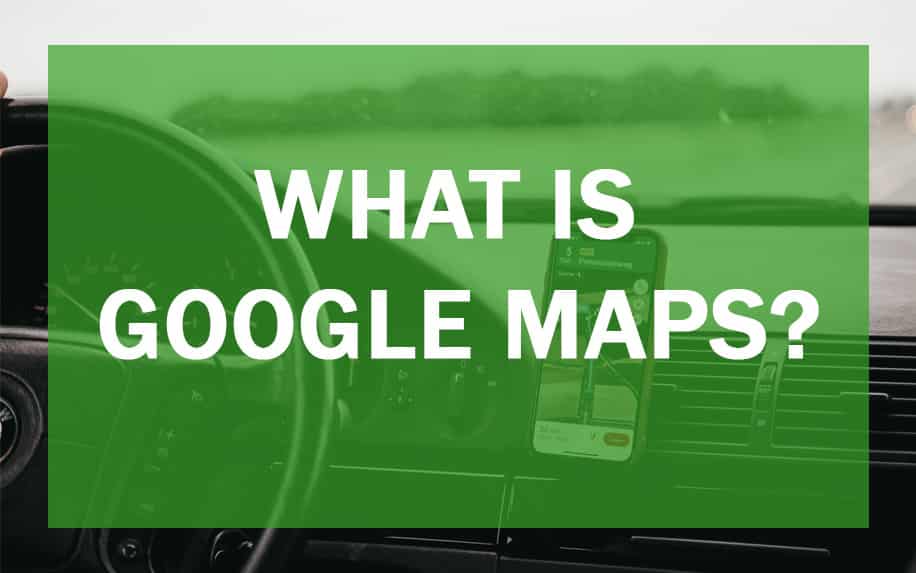 Additionally, Google Maps offers real time data on things like traffic, weather, and even using public transport.
At its core, Google Maps is all about finding the best way to figure out how to get to your destination.
Who is the Google Maps Pegman?
From there, they need to click on the "Pegman" icon (the stick figure in the lower corner of the map) and then drag the icon to the desired location. They then need to let go of their mouse cursor and the Street View will load. Arrows are visible on the Street View, should the user want to move back or forward on the map without exiting out to the regular map view.
If a potential customer is using an Android-based device they need to load the Google Maps application, then search for a place or address. Once at the desired location they need to then tap on the location and choose to drop a pin.
Once the pin is in place they can tap in the pin in order to load Street View. If someone is using the application on an Apple device (such as an iPhone or iPad) the process is exactly the same.
How Does Google Maps Work?
Google can see how fast someone is traveling and where they are traveling, based on where the information packets are sent from. When information packets begin to slow down, Google processes the information and identifies slower traffic problems, accidents and when there are more cars on the road than normal. The combination of GPS and data packets provides Google with all it needs
If another mobile platform, such as Apple's iOS, has Google Maps open, it does exactly the same. This is why Google Maps provides the most accurate, up to date traffic information. More mobile devices run the Android operating system, and even with that, a host of Apple products rely on Google Maps as well. The more people using Android and Google Maps, the more accurate traffic reports are.
Additionally, Google has saved traffic data history for years, so it knows almost instantly when a road is congested, when it's slowed down, when there's an accident and when there's road construction.
How Does Google Maps Know About Traffic?
Google Maps is able to provide up-to-the second traffic information. It even provides recommended alternative routes in order to avoid accidents, traffic delays and other problems (when available).
But how is it able to do this? This is where having Google Maps on nearly every single mobile devices comes in especially handy.
When an Android device has the "Location Service" turned on it sends small amounts of data packages back to Google. This includes the GPS location.
How Do I Get Street View on Google Maps?
Google Maps is designed both for traditional computers and mobile devices, so it's relatively straight forward to use, even for new Google Map users.
Users can either use an animated map or switch to Street View showing the photographs captured by Google in a 360-degree display.
Accessing Street View on Google Maps differs slightly depending on the platform in use. When on a traditional laptop or desktop computer, a user will need to log onto Google Maps and search for the desired location or address.
How Do You Get Voice Directions on Google Maps
Many states in the US and Countries around the World have now banned the use of mobile devices requiring drivers to go hands-free. This is designed to help reduce potential accidents by not allowing drivers to physically text and use their phones.
Google Maps helps with this by providing voice directions. With the help of voice directions, it's possible to have Google Maps read out upcoming traffic directions without ever looking at the map.
Setting-up Voice Directions
While many vehicles now have Google Maps built right into their car, there are still plenty of people who rely on their mobile device to provide them with map instructions. For anyone who doesn't have the voice directions coming up automatically, turning it on only requires a few additional steps.
When using an Apple iPhone or iPad, a user needs to launch the Google Maps application. From there, the individual needs to choose the "Menu" option and then select "Settings." When the new window appears they need to choose "Navigation Settings".
This brings up a host of navigational settings, including audio features. All they need to do now is choose "Louder," "Normal," or "Softer." This turns on the audio feature of the application on the phone. However, the user does need to make sure their phone is not muted or put on vibrate. They should also check the volume of the phone.
If there are still no voice directions, or if a user hears a "chime" sound when attempting to start voice playback it means voice controls are not yet installed on the device. In order to correct this they need to update their Google Maps application. Updating the application will install the latest voice commands.
Instructions for Android Devices
For anyone using an Android based device it's important to make sure the application is up to date. Any issue with the voice directions generally comes from the application not being up to date.
A user can navigate over to their Google Play icon on the device, choose the "Maps" application and then select the update feature. With the application up to date, the user can control the voice commands by selecting "Menu" within the Google Maps application.
From there, they need to choose "Settings," followed by "Navigation Settings" and finally "Voice Level." Once in, they can set it to "Louder," "Normal," and "Softer." As is the case with the iPhone, it's important to make sure the phone not muted or on vibrate.
How Do You Draw On a Google Map?
From time to time a user might want to draw directly onto a map. Whether they want to remind themselves of something or they want to add in notes, it's possible to draw in lines and shapes onto the maps. The process for this is going to vary a little, depending on the device in use and what kind of shape is desired.
When on a computer, a user needs to launch their Google Maps application. From there they need to either enter in a desired address, create directions or search for a point of interest. From there they can save the map to their account.
Once in the account they need to log onto "My Maps" through their Google account and open a map. Once the map is opened then should click on the "Draw a Line" option and then choose "Add line or shape." They can then select whether they want to add a line or a shape. With the desired shape selected all that is needed is to click and drag the shape across the desired location.
Saving Your Changes to Google Maps
It's possible to have up to 2,000 lines or shapes on a single map. When the user has finished drawing out their shape they just need to double-click to complete the shape creation. Once finished, they should choose "Save" to save the finished map to their account.
If a user is on an Android device then should launch their Google Maps application and save a map. They then need to choose the "My Maps" application.
If it is not yet installed on the device they can download it for free from the Google Play store. Once My Maps is open, they should choose the map, choose "Add" in the bottom right corner of the screen, then select "Add a New Line." They then need to tap "Add" when the map is positioned in the desired location.
They can then use their finger to draw a line. When the line has been drawn they need to tap "Done" to finish the line. If they don't like the line there is a "Backspace" option. Like with the computer, the map can hold up to 2,000 lines or shapes. After they have finished drawing, they need to select "Done" to save the changes to the map.
For Android Users
If someone wants to create a shape while on their Android device they need to load My Maps, then choose the "Shape" feature (instead of selecting the "Line" option). Then, they simply select "Edit" and they can begin to draw shapes onto the map. The rest of the instructions are exactly the same as drawing a line on the map. Once they are happy with the shapes they need to choose "Done" to save the changes to the map.
It is not possible to draw on a map within mobile apple devices. For someone who has an Apple iPhone or iPad and wants to draw on their map, it's necessary to log onto their Google Maps account on a computer, then save the map to My Maps and launch the program on the computer.
They can follow the instructions given for drawing on a map while using a computer. After saving everything they should then open their Google Maps application on the mobile device and select "My Maps" from the pull-down menu. With this open they can select the map they created and drew on while using their computer.
Using Google Maps as a Business
Additionally, businesses can benefit greatly from Google Maps. This works by increasing both organic traffic and real-life foot fall. The key to this is setting up your Google My Business profile.
This allows you to display all of your relevant information when users are searching for directions. Check out Profile Tree's Google My Business, as an example: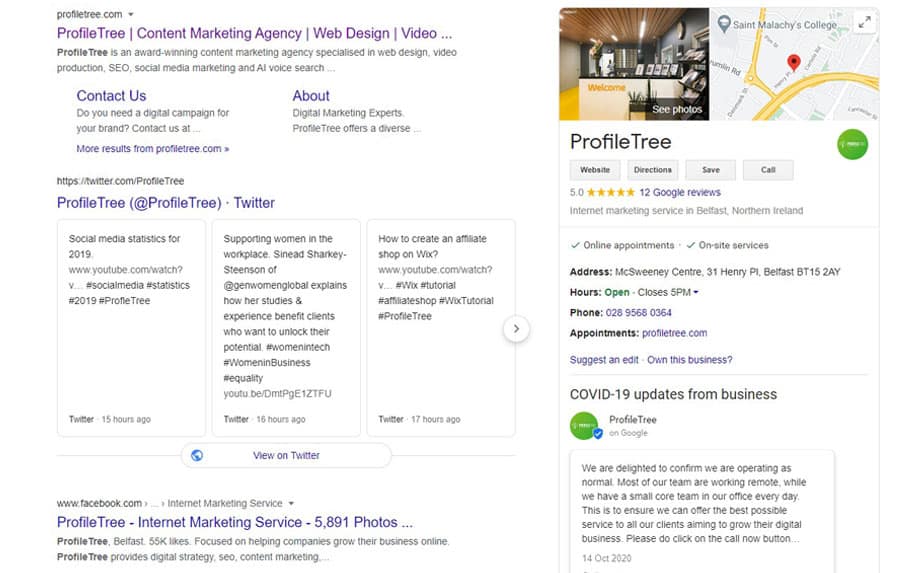 In fact, Google Maps offers an incredible range of benefits, especially for small businesses. For an overview of how Google Maps can improve your customer acquisition and revenue, here are some tips Profile Tree's Ciaran Connolly put together:
Google Maps: Take Action Today
When it comes to important applications, few programs are as helpful and widely used as Google Maps. However, not everyone is using it to its full potential.
Even other non-Google platforms (such as Apple's iOS) offer Google Maps. That's because the company has spent years building, improving and tweaking the services offered on the application.
For both new and current users, by following these different tips and tricks, it's possible to fully harness the power of Google Maps.
Additionally, for businesses, understanding Google Maps, and making sure your location is correct is an essential to help your customers find you every time.