What is it and what does it offer?
WP Engine was established in 2010, since then it has skyrocketed to becoming one of the most popular
WordPress
site hosts. With 70,000 plus customers in 140 countries. Finding out if you would like to choose WordPress Engine to host your site is something worth researching. Today WordPress Engine has evolved from what it once was, as it has modernised alongside technology. Users of the web host get many unique features including easy site migration, staging and backup.
What's Great about WordPress Engine?
WordPress engine has a lot of great features for its users. Without all these benefits they could become very lost within the hosting as there is a lot to take in. One of these many benefits is the staging websites they offer. This allows users to preview any changes to the theme, code or plugins without directly changing the website. A side note about the staging is not all plugins work as they are connected by a third-party service. To get this working a license can be bought to allow the use of plugins in the staging. The platform also offers an automatic backup feature. This is a great feature as it allows data to be backed up without manually doing it yourself. These backups, backup almost everything including your theme, plugins, posts and pages and some other files. You're also able to backup manually easily. There are also other features that I will talk about below, including the security and support WordPress Engine offers.
The Price or the Performance? What's your Main Consideration?
Some of the main factors when considering a web hosting service is the price of the service and what the service offers you for that price. Generally, they balance each other out, as if you pay more, you're more likely to get more features. WordPress Engine itself may seem quite expensive compared to others but taking in the consideration of its support you do see why.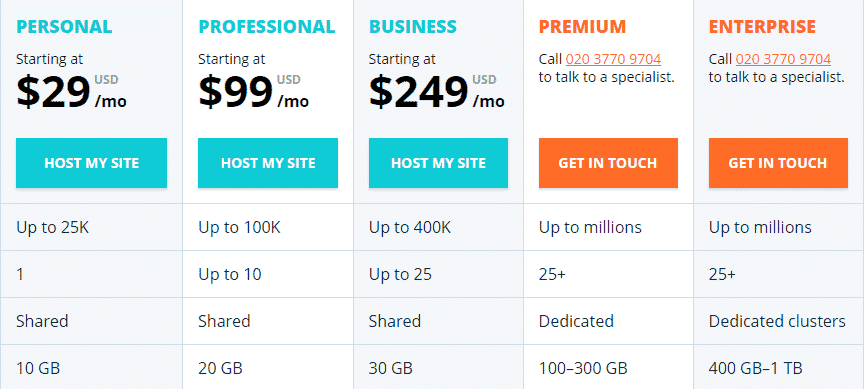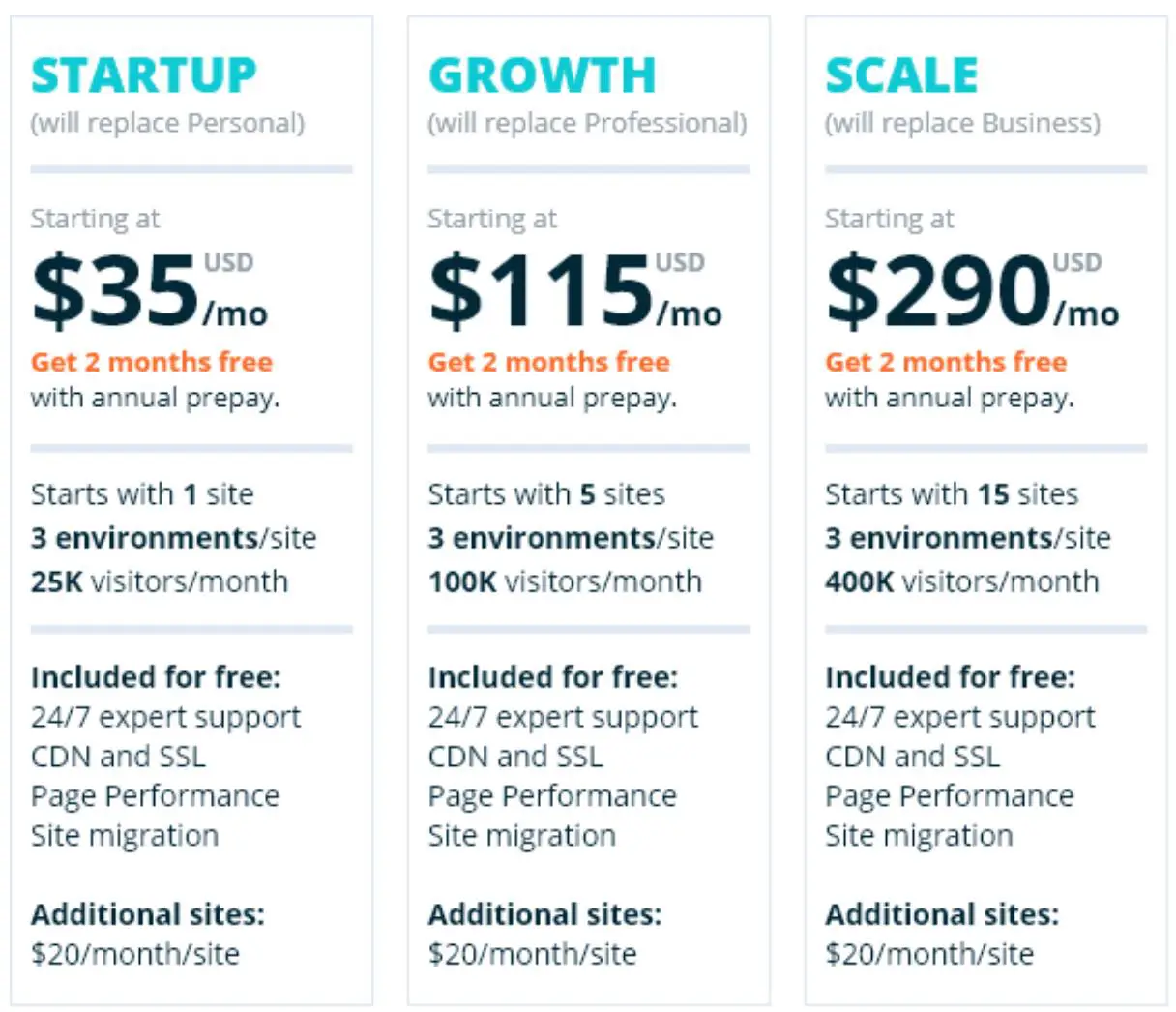 (Price Updates from 1st March 2018*)
With the different plans, each one comes with different amounts of visits per month, installs and storage. With the small startup plan, there is only one install which means it can only be used once. This compared to the professional/business packages seems bad as they allow up to 5/15 installs. Other additional costs include going over the limit of the max visits per month. This overage is a small fee per every 1k visitors to the site.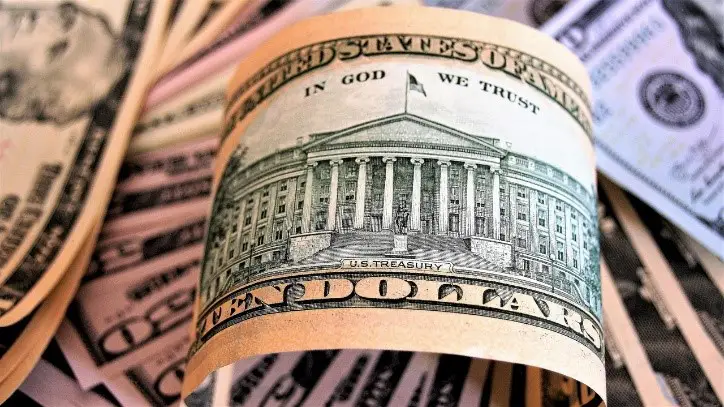 "When your number of visits exceeds your plan limit, we charge you a small overage of $1 for every 1,000 visitors over your limit. If your site gets on Oprah.com, and your site serves an additional  10,000 visitors over your plan limit, you'll simply see an additional charge on your bill for $10."
https://wpengine.co.uk/overage-pricing/
This means if your website takes off and goes viral and makes an additional one million visits, a cost of only one thousand on top of your original charge will be implemented. This to me seems very cheap. That's because of the extra million visits I'm sure you'll make your money back paying for them. WordPress itself also takes care of the performance of your website, if it is hosted by them. They can do this in one of two ways. The first way that they can do this, is the support they offer can access your Hosting and Install to point out any features, plugins or images that may be slowing down your website. This means smaller problems causing the slowdown of your website can be found out easily. It also means that problems can be fixed rather quickly. The second way they can help the performance of your website is with the servers and the caching they offer. WordPress Engine uses its very own customized servers to provide a unique way of caching, which other hosts cannot offer. This ultimately means that sites that are not very well made on WordPress can work to a great standard being hosted by WordPress Engine. WordPress Engine also experiences very little downtime, which is great news for its customers. Many sites even experience no downtime which means that you know that WP Engine will be reliable for you. The downside to the pricing is that if a site goes over its max number of visits per month an additional charge is added to the total bill for that month. All customers can get a refund on their purchase up to 60 days after the purchase, so it gives the user time to give WP Engine a good try and gain experience with it and within the end of the 60 days, they are able to decide whether if the WP Engine is right for them.
Who's the Target Market/Audience?
WordPress Engine targets three specific audiences. The three audiences they market to are the what the three different hosting plans are used for. The smaller startup plan targets a more personal site, such as a blog or portfolio site. As well as the personal site for a blog or portfolio, this plan also targets designers who are building a site for a smaller client who wouldn't outgrow the 25k visits a month quickly as they could be a start-up business or have only moved online. This is great as this plan allows its market to not worry about host updates and maintenance. This plan comes in from just under $35/£28.03* a month. If the site exceeds the 25k visits per month by a large amount, then a look at an upgrade to the professional plan should be looked at. The second plan in which WordPress Engine offer is the growth plan. This plan comes with a limit of 100k visits per month so in around three thousand visits each day average. Another advantage of this plan is that it comes with, CDN free of charge. This would be good for your website when your side becomes that small bit more popular that one day. The price of this plan is from $95/£76.09* a month including the CDN and it also allows up to 20GB local storage as opposed to the 10GB provided in the personal plan. This plan would be ideal for sites that are gaining more traction and traffic per month. With this plan, it means that the site owner doesn't need to deal with extra charges for whenever they go over the 25k visits per month on the personal plan, which could eventually become a bit of a nuisance after a while. The third plan that WordPress Engine offer is the Scale plan. It allows for up to 25 website installs, 30GB of local storage and 400GB of bandwidth a month. The cost of this plan is $290/£232.27 a month if you pay monthly or $193.02 a month if you pay annually. This plan would be great for a business that is looking to host multiple sites for different clients. If the amount of planned visitors is exceeded, plans up to 50 million visitors per month can be worked out by getting in touch with WP Engine. This is the custom plans which also allow for additional site installs.
What Support do they Offer?
One of the best parts of the WordPress engine would be the support they offer. This would be one of their selling points especially to me. They offer around the clock support 24 hours, 7 days a week, 365 days a year. That means if you're ever working on your hosting on a holiday such as Christmas and you need to hear the friendly voice of a WordPress expert, they have you covered. How do they cover their support 365 days a year, you may ask? Well WP Engine has a range of methods they use for customer support. WP Engine uses an online chat, in which customers can use to contact them. They also have a chat that pops up when you enter their site to see if you need help.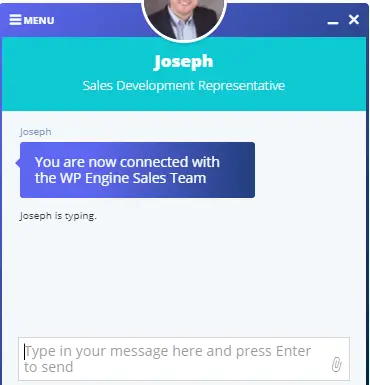 The online chat is used by WP Engine to connect to new possible customers. The image shown to the right is an example of this pop-up feature they use on their site. This feature makes you feel welcome to the site by asking do you need any assistance. You are also able to call them directly between the hours of 9 am-6 pm in the UK, every day, which is also a great support network to have for their customers. Although that sounds great, their support can only stretch so far, as they cannot help you out with any of your WordPress site design issues and code. This is quite understandable as WordPress itself can offer support on such issues. Other issues they cannot offer help with is web development, plugin customization, search engine optimization and user management as WordPress can also offer support on these issues. Another way that WordPress Engine supports its customers is the idea of having a resource and solution centre. Here you can research different topics about WP Engine and WordPress. They have a range of topics you can research, including SEO and site analytics. In the research centre, there are thousands of different articles, videos, case studies, info-graphics and Ebook, you can use to research the different topics. An easy way to navigate through the topics is by the search provided, so if you know a topic you need help with you can search for that topic and it will show you how many related results.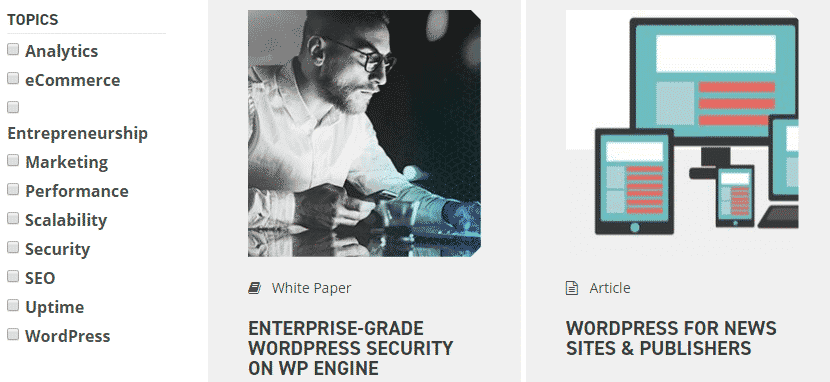 Is the Security WP Engine offer, any good?
With each plan, a free Secure Socket Layer (SSL) certificate is included. This helps to increase the security, speed and Search Engine Optimization (SEO). This allows a browser to gain a safe connection between it and a site or server. SSL is used during online transactions and when people change information such as passwords on different accounts. All that the SSL does is make the browser secure and encrypts the data being entered. Another way WP Engine heightens its security is with different plugins. WP Engine caps plugins as it reduces the chance that plugins cross and conflict with one another. The conflict between plugins can cause parts of sites not to work. It can even cause your site to crash completely which we definitely don't want. WP Engine also provides daily backups of your site, if it ever crashes or loses some of its data. The backups are done every night and a user can also do them manually to ease your peace of mind. They contain almost all your themes, files, plugins and database with a few uploads being the only thing not backed up. Although it is a great feature to disallow some plugins as they may conflict with other plugins, it can also be a disadvantage. It is seen as a disadvantage as many of the plugins that are disabled include backup and cache plugins that could potentially help your site.
Does WP Engine offer any other Features?
Other than the different plans, the performance, the security and the support, there are a few other features which are beneficial to having WP Engine as your site host. One of these features is its site migration feature. The feature uses an automated plugin feature to migrate your site to the platform itself. The plugin also keeps all links the same so there is no hassle when it comes to SEO. Another unique feature to WordPress Engine is the billing transfer feature. This feature allows your client to have an account and can then purchase everything that's needed without you having to spend a penny. This means that developers don't need to be chasing clients for information and money. This also allows clients to preview the site easily by getting a temporary URL.
What are the Negatives of WP Engine?
One big negative towards WP Engine is the price. Compared to its competitors WordPress Engine is that bit more expensive for what they offer.

Many competitors for a monthly cost under $5 compared to the $29 or more you could be potentially paying for WordPress Engine. It's just not cost-effective enough. This is a catastrophic difference in pricing, which will most definitely put potential customers off. Many potential customers may go to a competitor due to the extra cost of the CDN and the extra number of visits per month. Many of these competitors offer an unlimited amount of storage for a fraction of the price WP Engine charges for only 10/20/30 GB of storage. This limited amount of storage space and installs is another negative point for WP Engine. This is due to competitors offering the same or even more for a cheaper price. One large negative is for email and domains. WP Engine doesn't offer these features so a third party host will be needed… This is essential for when clients want to register emails and domains through their web host. WP Engine doesn't offer multiple currencies as payment which is negative, as other hosting such as
SiteGround
offers this.
What's my Opinion?
I personally believe that WordPress Engine is a hosting service worth considering. Just look at the reviews. WP Engine offers a unique service for a very competitive area, with its range of resources, solutions and support they offer. For me, their main selling point is their support. It is around the clock support every single day of the year, so "I'm on my holidays" is never an excuse you'll hear from the experts. They even provide support in their resource and solution centres. This is great as you can try and get help before contacting the experts… Others included features such as the SSL certificate, the unique billing feature, the site migration feature and the backup and staging make me feel like WP Engine is one of the top hosting services out there.
This article was last updated on 24th September 2019
*ALL PRICING WITHIN THIS ARTICLE  WERE ACCURATE AT TIME OF WRITING. ALL STERLING (GBP) AND EURO (EUR) WERE CONVERTED FROM DOLLARS (USD) USING GOOGLE'S OWN CONVERTER.
*ALL PLANS AND PACKAGES MADE BY
WP ENGINE
ARE SUBJECT TO CHANGE BY WP ENGINE THEMSELVES.
Check out other hosting reviews;WP Engine | SiteGround | GoDaddy | HostGator | iPage | Flywheel | DigitalOcean | Bluehost | DreamHost | InMotion | NameCheap| 1&1| Site5 | 123Reg | A2 | Liquid Web
To find out more about WPEngine and what they offer, check out WP Engine