Wix is a great website builder that anyone can use to build functional and appealing websites. Whether you are an absolute beginner with no knowledge whatsoever in coding or an expert who has worked in the industry for a decade, Wix's enormous library of design elements and professionally-looking templates makes building your own website a quick fun game rather than a heavy discouraging burden.
What is also so good about Wix is that it offers templates of all kinds of websites that suit all kinds of industries. Are you a writer and want to start your blog? An artist who hopes to showcase their work to attract new clients? Do you make scented candles and wish to sell them online? Whatever you want is there on Wix and all that will make your website functional, responsive, and attractive.
One of the greatest and most common elements that are a total game-changer for many website types is galleries. Portfolios, for instance, require photo galleries to present artwork and attract a wider audience. In this article, we are going to show you how to add a photo gallery to your Wix website and then turn it into a category area. So bring a cup of coffee and let's hop into it.
Wix Pro Gallery
Pro Gallery is an amazing app offered by Wix to showcase not only images but also video and text in one gallery area. Like anything else on Wix, your Pro Gallery is totally customisable. You can easily change its design, layout, media, and pretty much everything related to it, from how many images you include in it to where the gallery can be on your website.
What we are going to do is use a gallery as a category area. This means that every image in the gallery will be linked to one of the site pages. A category area like this one will make your website easier to navigate through and even look more attractive.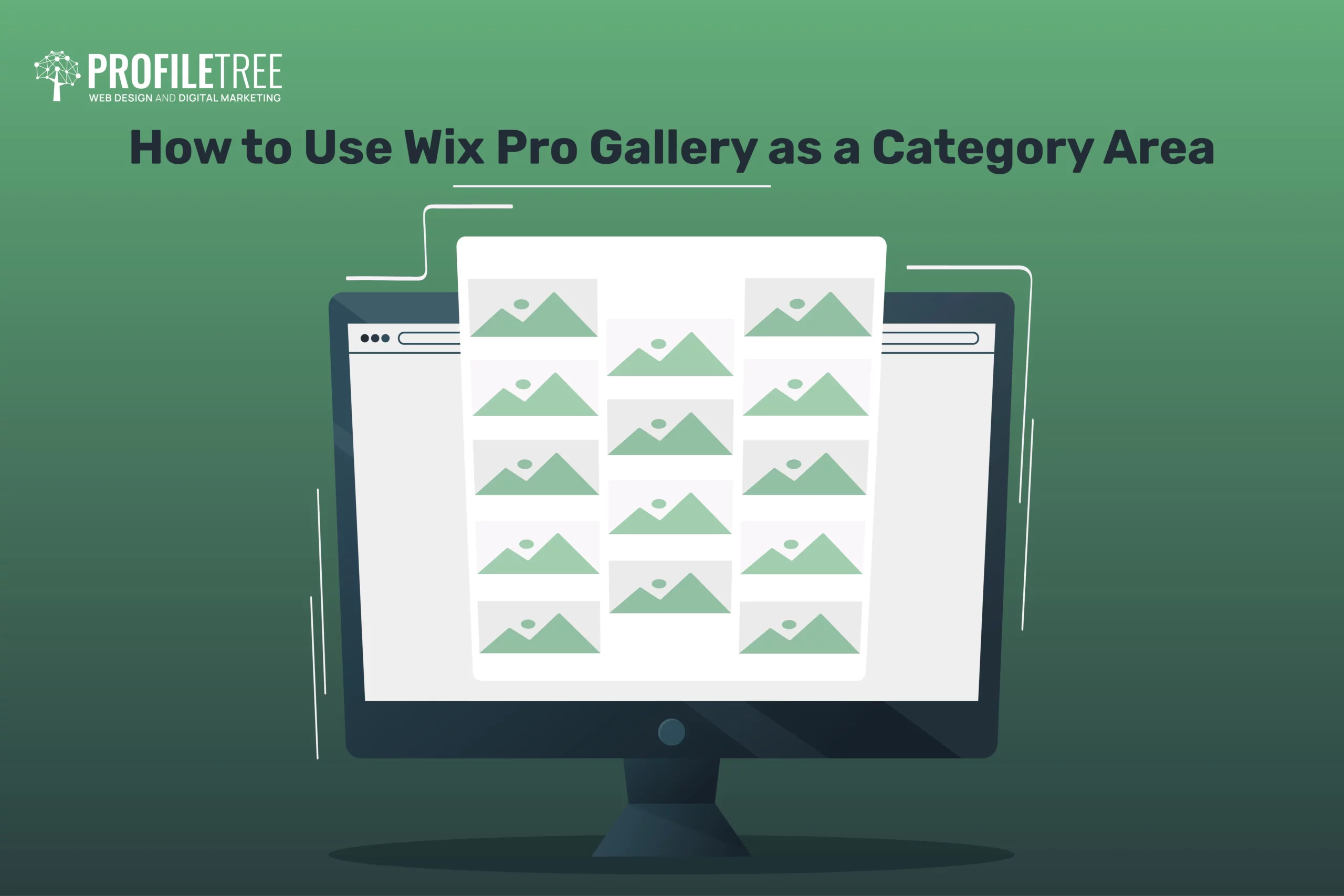 Adding a gallery as a category is part of the website building process. In other words, you should have already started creating your website on Wix, designed the homepage and added different pages before you can add a gallery that links to those pages.
If you have already done that, we can start adding a gallery to your website.
Installing Pro Gallery
Right at this moment, you should be on your Wix Editor where you are already building and designing your website. What you need to do first before officially getting started is to install the Wix Pro Gallery.
For that, go to Add Apps on the left bar and search for Wix Pro Gallery. Once you find it, just click Add to Site to install it. When this is done, click Open. If the app does not open, you can go to Add Elements and click Gallery and you will be able to access Wix Pro Gallery from there.
Secondly, you need to add a new section to your website's homepage to insert the gallery into. Decide where this is going to be and then click Add Section to free up some space on your homepage.
Once you are done with that, go back to your Pro Gallery from the left menu. A number of gallery templates will be displayed there. Choose the one you like the most and click it so it can be added to the newly added section.
Customising the Gallery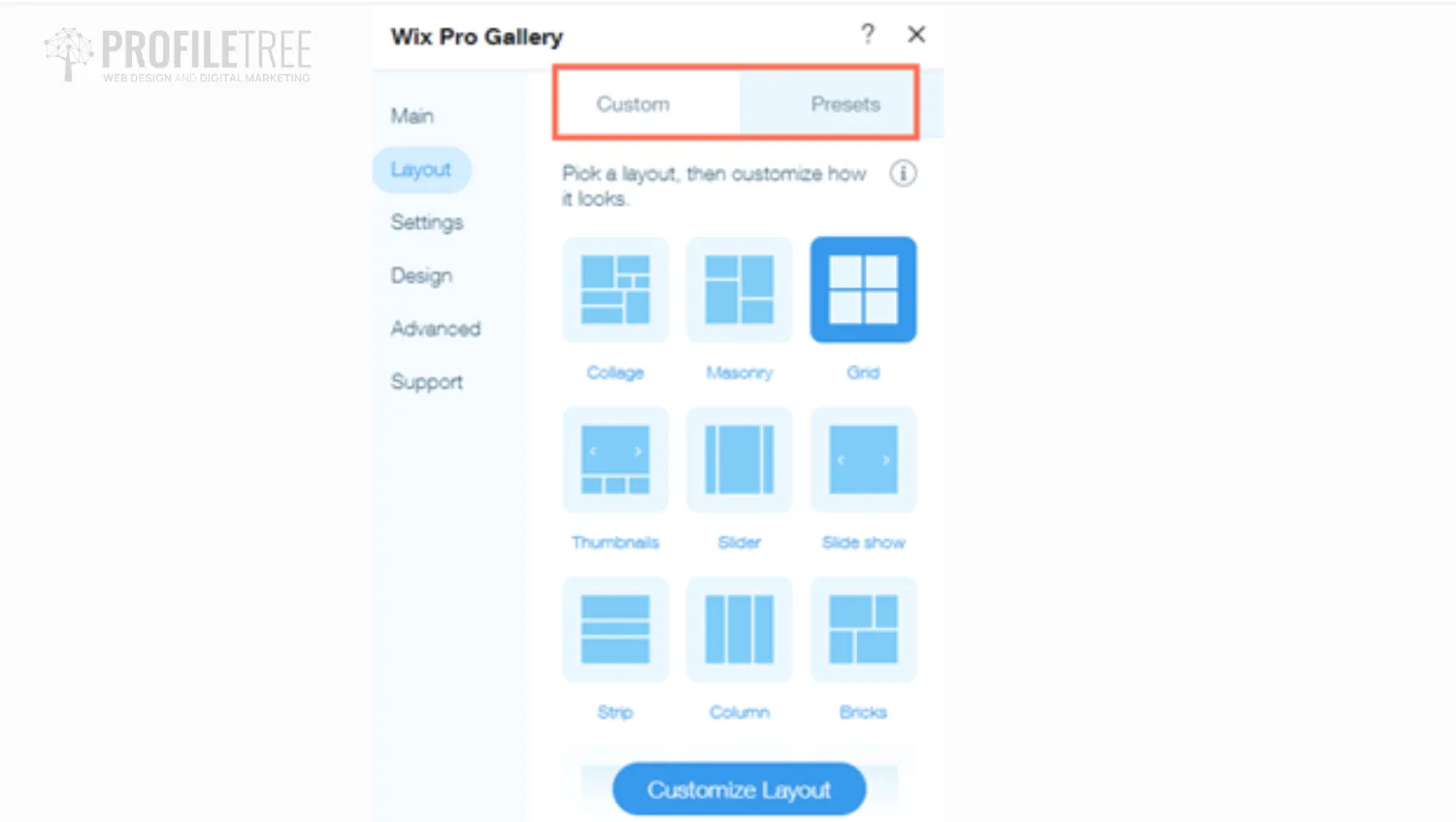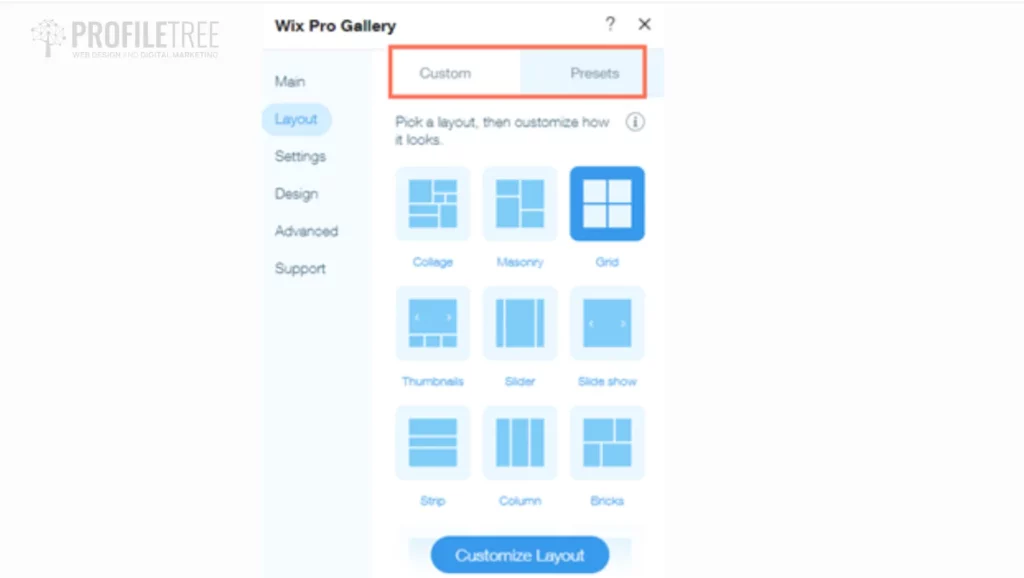 Now that you have successfully added a gallery to your website, it is time to customise it. What you want to do first is to make sure you stretch the gallery to full width to take up the entire width of the page.
To do that, click on the gallery itself and a few icons reading Manage Media and Settings will appear, besides which there is a stretch icon. Click this, push the Stretch-to-full-width button and set the Margins to 80 px. Your gallery will automatically enlarge and fit the entire section.
Managing Media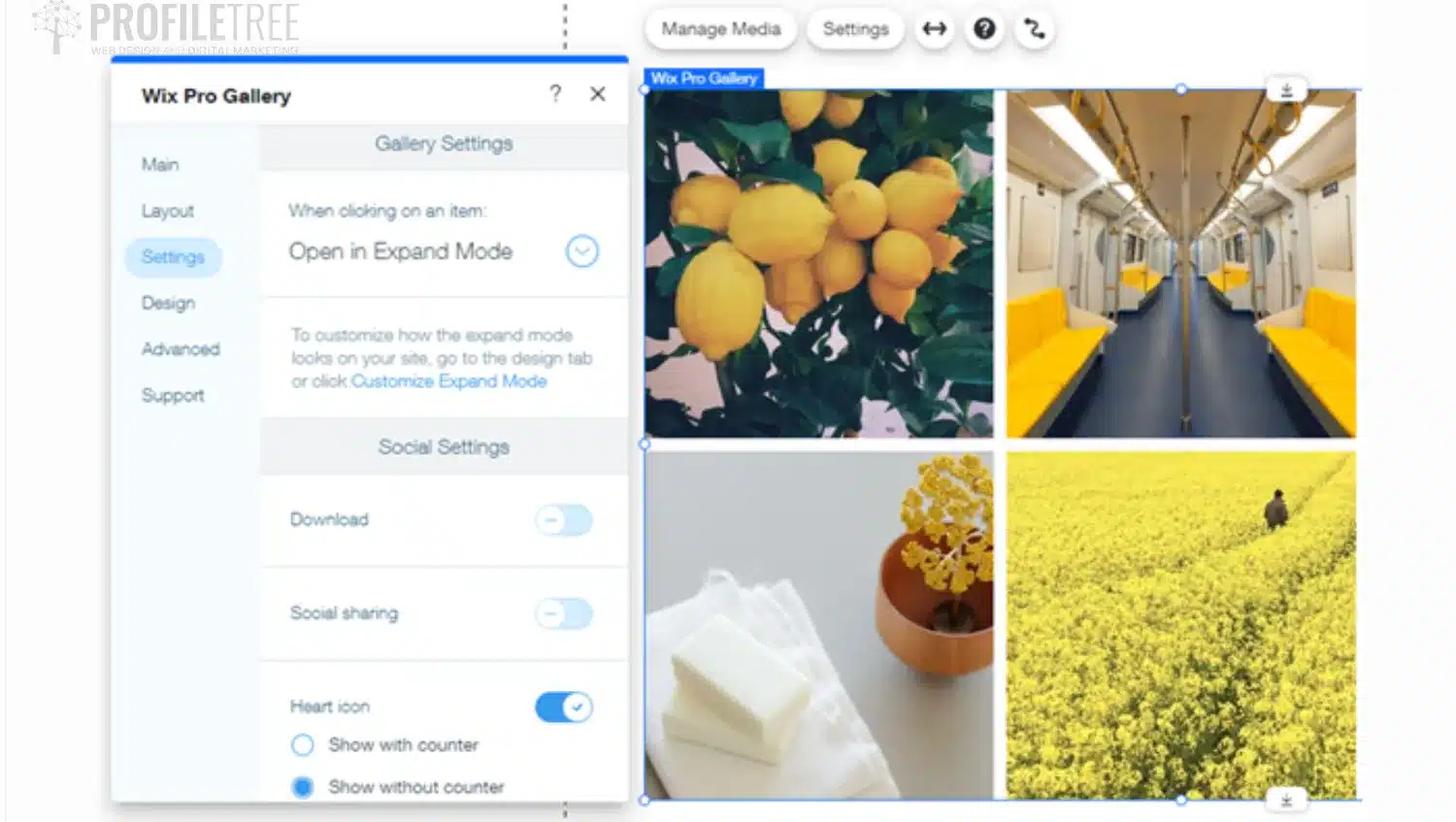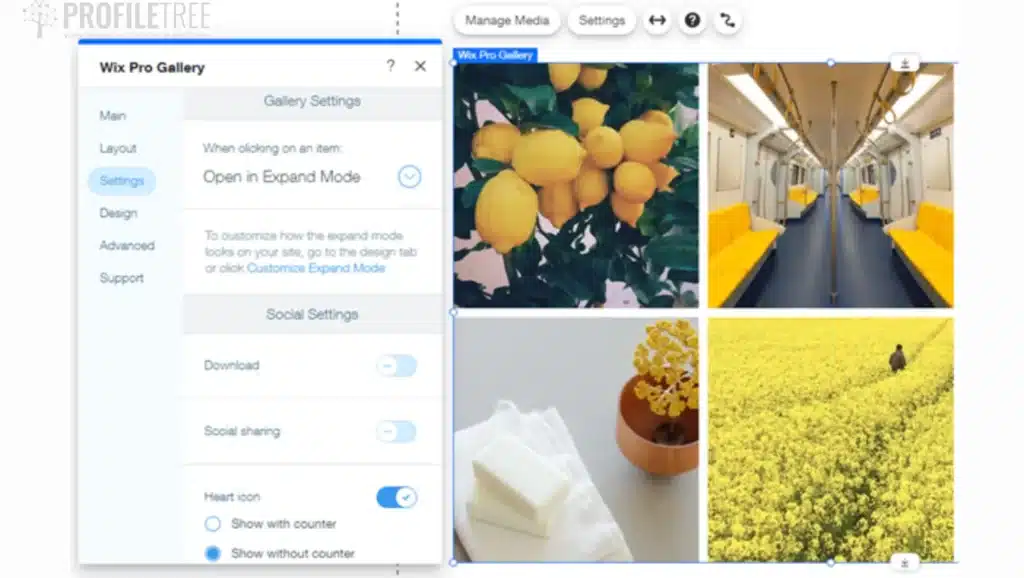 Now it is time to manage the media in your gallery and you can do that using a whole set of different options, which you can access by clicking on the gallery again and choosing Manage Media.
The first thing you can do is to increase or decrease the number of images in the gallery and you can do that from Manage Media. For now, let's just have four. When you delete the extra images, you can see that the look of the layout has changed. The four remaining images have become bigger to fill out the entire section.
Up next is to make the gallery yours. Given that this is a template and you are building a gallery to showcase your own work, you need to replace the default images in the gallery with yours.
For that, you should click on Manage Media, choose Replace Image and a new window will open. There, you can upload images from your computer or use images you have previously uploaded to your Wix dashboard.
If you do not have any images of your own to add, you can use some of the Wix designs or get images from other online platforms connected to Wix, such as Shutterstock and Unsplash.
Now that you have added new images, you need to work on their layout. Click on the gallery then Settings and the same Wix Pro Gallery window will open. On the left bar of that window, you can find different options: Main, Layout, Settings, Designed, Advanced and Support. We are going to use some of those to customise the layout of your gallery.
From Layout, you can choose from many grids. This is how the images will be displayed in the gallery. They can be all of the same size or you can change their arrangement making some bigger than others. Choose the grid that you find the most suitable for your gallery and the images will be automatically adjusted.
From this Layout option too, you can change the scroll direction from horizontal to vertical, resize the thumbnail, change the image ratio, set a number for images per row, and adjust the spacing between the images. When you customise these, you can click Preview on the top-right corner of your Wix Editor to see how the changes you have made will appear on the website.
One thing you may realise when you preview your gallery at this point is that there is a little heart icon appearing on the bottom-left corner of each image. Well, we need to remove that. So go back to your Wix Editor. Click on the gallery and choose Manage Media then Settings. There you can find a button for the heart icon. Push that.
From this window, too, you can actually make the images downloadable and shareable on social media.
Next is to optimise the design of your gallery. From Manage Media, click on Design. From there, you can control things like the overlay colour percentage, the overlay effect, and the gradient. You can adjust the text, choose if you want the title, description or both to appear on the images and even choose their position on the images. This can be underneath, above or on the image.
To make the text appear beneath, above or on each picture, go to Manage Media and click on each picture then type the text you want in the Image Title box. To change the font of the text, all you need to do is to go to the Site Design from the left bar. From the Site Theme, click Text and choose from the different font options and themes.
Linking to Pages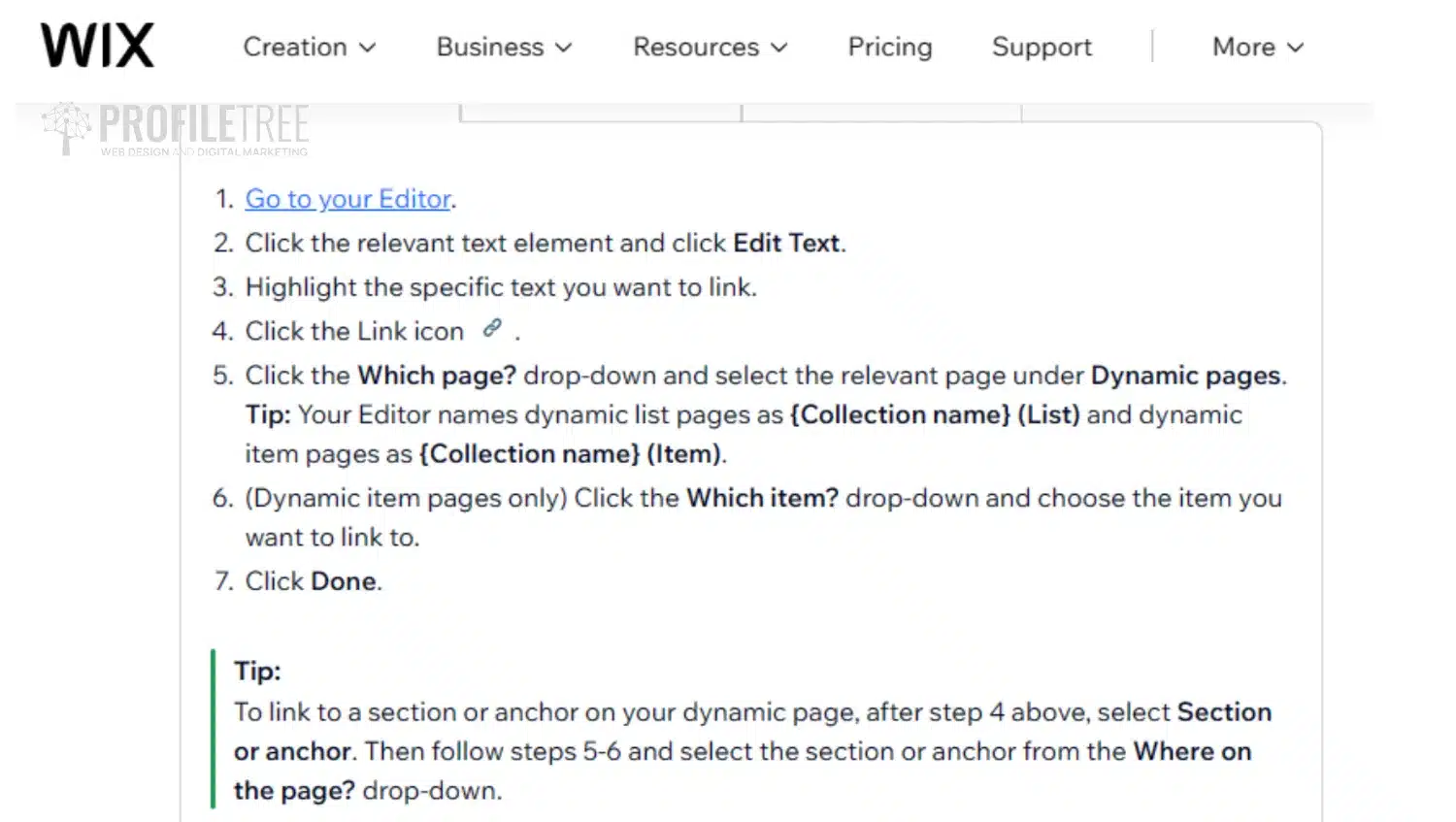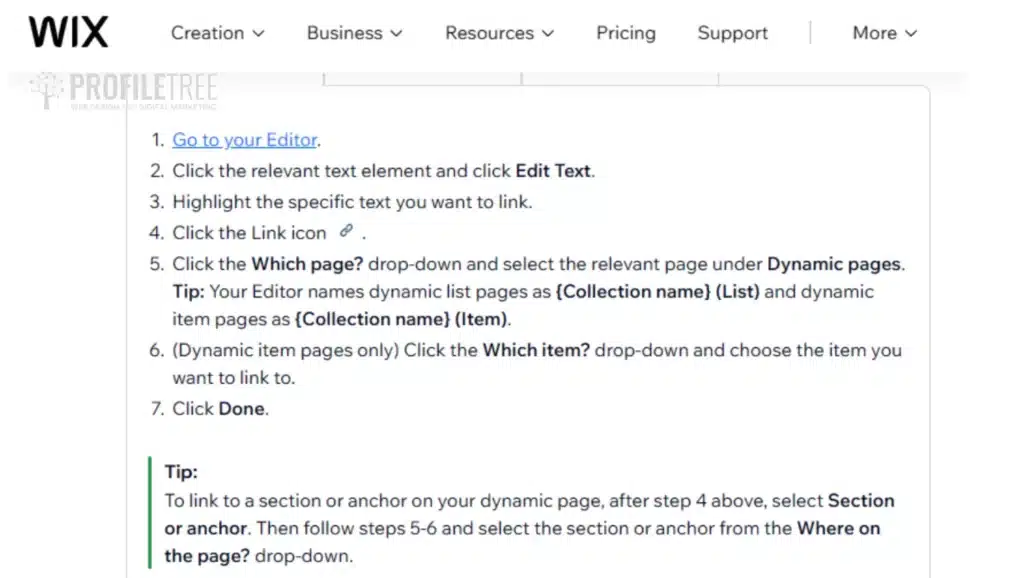 Now that your gallery is almost put together, we want to link each image in it to one of your website pages to create this category area.
Click on the gallery and choose Settings besides Manage Media to open the Wix Pro Gallery. There is an item called 'When clicking on an item'. This one has four different options so choose 'A link opens'.
Next is to go back to the Manage Media control where you can see all four images in your gallery. Click on the first image. If you scroll all the way down the options on the right side, you will see a 'Link' option. Click that then choose the page you want to connect to the first image then click done.
Repeat the same thing with the rest of the images. When you are done, preview the site. If all the steps were done right, the linked website pages should open once you click the images. If something is not working properly, go back to your Wix Editor and fix it.
Adding an image gallery as a category area is a fantastic feature you can insert to your website not only to present different media but to make your website function properly as well. Although it might sound complex, the many different options of Wix Pro Gallery make such a task a piece of cake that can be done in a matter of a few minutes.