For the hospitality industry, providing positive experiences is essential. Nowadays, when people visit the website of a highly-anticipated restaurant or a top-quality hotel – they expect the booking process to be seamless and straightforward. This experience is vital, as it can mean the difference between booking an entire party, or choosing a competitor instead.
There are a number of reasons this can happen. For example: one website may be better optimised compared to the other which has poor performance. One site may have all the facilities a user needs, whereas the other might be lacking. All it takes is one first impression of a website, which can cost a business greatly.
With these top 4 best Wix apps, you can ensure your website offers a simple yet slick experience for visitors when booking your services.
Top 4 Wix Apps for the Hospitality Industry
If you own a hospitality business, bookings and reservations will be the crucial link between you and your potential customers. Whether you own a hotel, are running an event or manage a restaurant – you must make sure that anyone and everyone can access your website and plan an experience with you.
Wix is an easy website builder platform that allows you to add specialist apps to enhance your site. If your business provides services and/or events, you should make the most of these top 4 best Wix apps.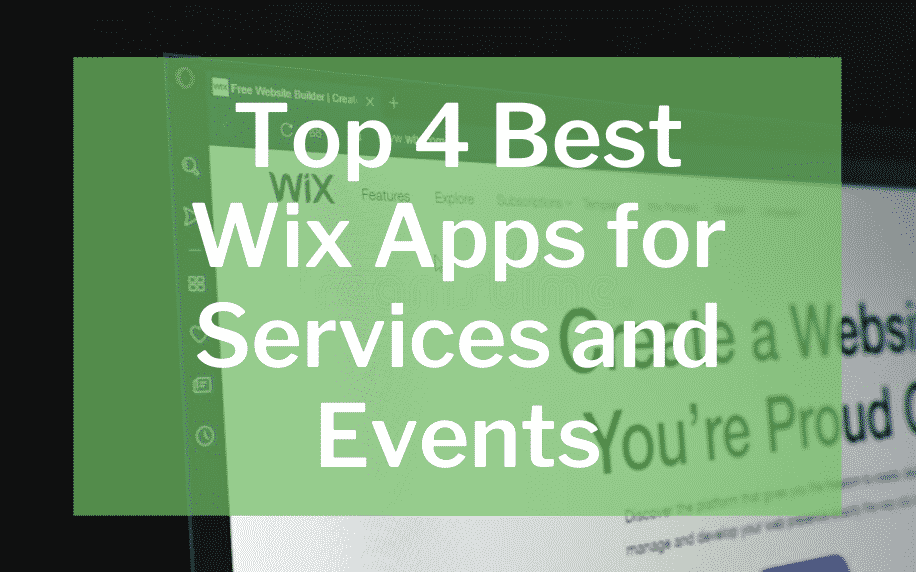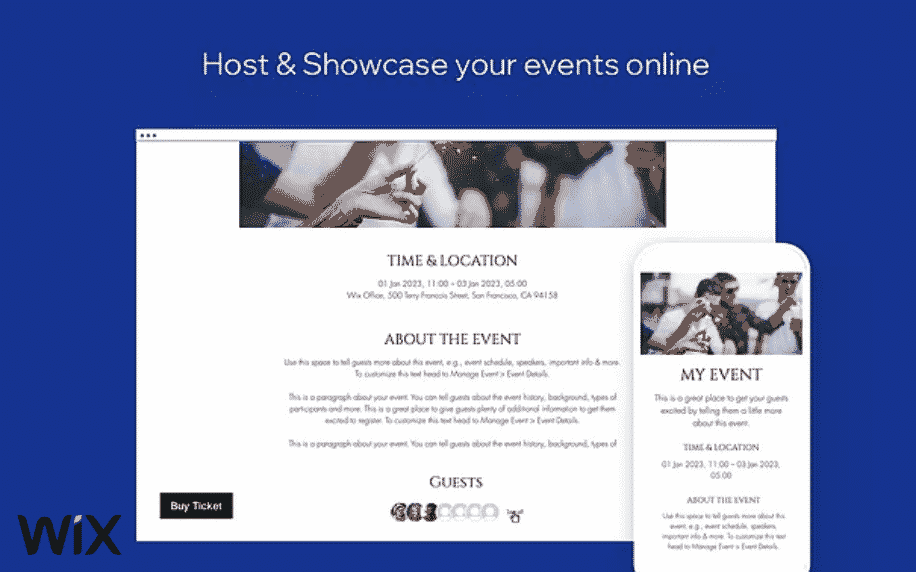 1. Wix Events
Before any event, there is an initial hype online to gauge interest and drive traffic. Whether it be a physical event or a virtual event, any business wanting to create a buzz online should implement the handy app Wix Events.
Wix Events is one of the best Wix apps because it allows your site to host and showcase events online. Beyond that, it enables you to collect RSVPs, sell tickets, manage bookings and check-in guests.
The app's key features include:
Hosting your event where you can create multiple events and showcase your listings;
Selling tickets where you can add tickets to your event, set your prices and instantly sell;
Accept secure payments where you can get paid with all major credit/debit cards – just choose a payment provider like Wix Payments, PayPal, Stripe and more;
Send invites where you can send attendees customised email invitations with your branding;
Collect RSVPs for events like weddings and parties;
Manage your event where you can track your orders, see RSVPs and organise guest lists;
Promote your event by offering coupons and sharing your event on social media;
Check in guests by scanning tickets or manually checking in guests at the door from any mobile device;
Track your sales, export ticket orders and guest lists for key insights about your event.
As you can see, Wix Events is an all-encompassing app, yet is tailored to suit the needs of any type of event. Wix Events is beneficial for businesses as it allows them to control all aspects, from spreading the word to assessing performance.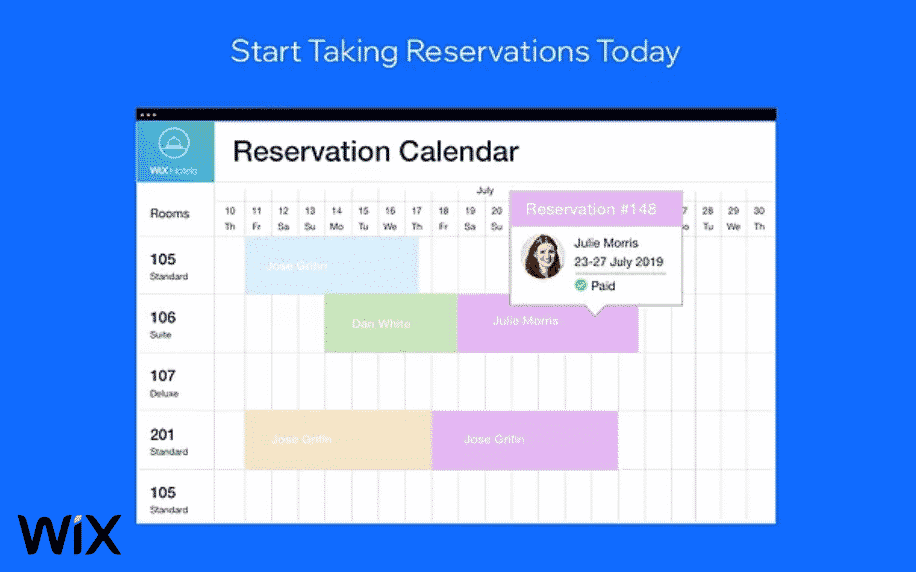 2. Wix Hotels
These days, all hotels market their services predominantly online. While it all comes down to the experience they provide offline – online is where hotels can give potential customers a taste of what they can expect. 
When people choose to stay in a hotel, they are looking for a hassle-free process and visitor-friendly experience. Therefore, this should also be reflected on a hotel's website. 
Wix Hotels is also considered one the best Wix apps because it is an app designed specifically for hotels. It offers an all-in-one online booking system that promises to revolutionise your hospitality business. It gives small properties (such as B&Bs, boutique hotels and vacation rentals) control of their booking and reservations management.enables guests to make reservations.
Wix Hotels key features include:
24/7 availability for reservations;
Give guests a seamless booking experience from any device;
Accept online and offline payments;
Manage all aspects including room types, inventory and reservations;
Tripadvisor Partner, offering another way to be seen and get bookings.
Wix Hotels is the perfect app to integrate onto your site if you want to boost your user experience, manage your bookings and gain new opportunities for new reservations, all from the one, handy platform.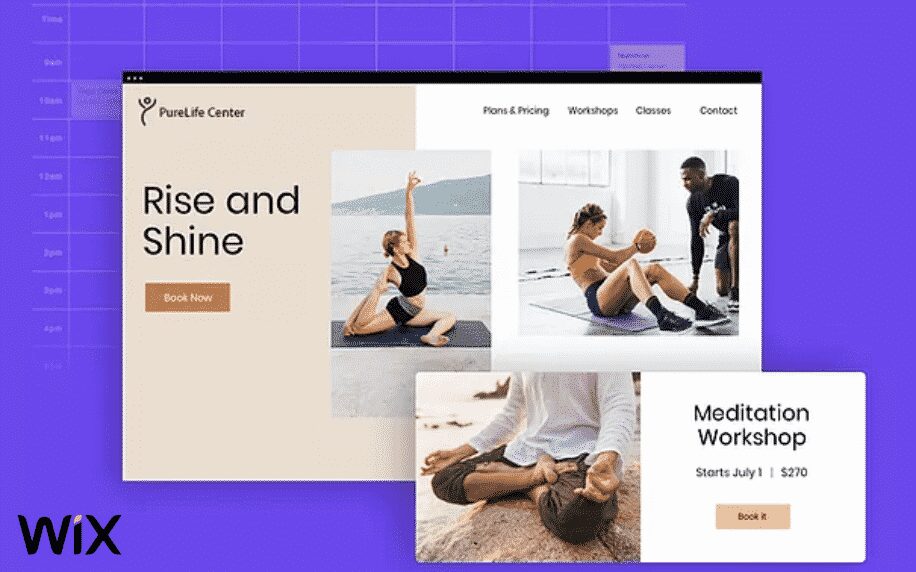 3. Wix Bookings
Offering a smooth online booking experience is essential for service providers. Not only does it save you time, but it also saves money and mitigates any possibilities for human error.
Wix Bookings is an easy-to-use scheduling system that lets customers book services online, so business owners can focus on other important aspects.
Key features of Wix Bookings include:
Offer different types of services, from workshops to private sessions;
Accept online and offline payments;
Customise membership plans and packages;
Manage your calendar and your staff schedule, with Google Calendar syncing available;
Create a branded booking form;
Offer discounts and coupons;
Send reminder emails or text messages to clients;
View client booking history.
Whether you offer workshops, courses, or private sessions – the Wix Booking app is a great way to present and manage these.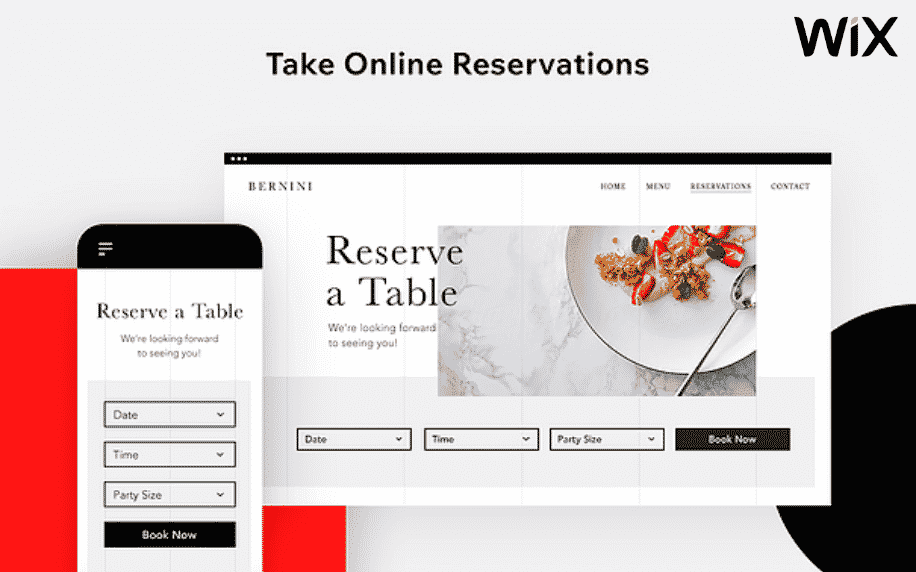 4. Wix Reservations
If you own a restaurant, online reservations are key for reducing clutter, improving accuracy and controlling capacity. By mastering your reservations process, this will help you maximise the potential and profits of your eatery.
To do this, you need an app that is flexible and reliable. For your website, Wix Reservations helps you manage and customise online restaurant reservations.
Specific features of Wix Reservations include:
Take reservations 24/7, allowing your customers to book a table directly from your restaurant's website;
Set reservation rules where you can define how long you'll hold customer tables, maximum party sizes and more;
Create a website widget where you can add a customised reservation form to your restaurant site;
Send confirmations via email or text to your customers, including confirmation numbers;
Keep track of reservations by receiving instant notifications when customers book a table and review every request;
Manage from anywhere, from desktop and Wix mobile apps.
No matter what service or event you provide, your website needs to be accessible and seamless. With the help of Wix, you can use one or all of these top 4 best wix apps to maximise your business's potential online. 
For more information about Wix, contact ProfileTree today.