Why are WIX Apps so Important?
To have a successful WIX Site you want to ensure you have the Best WIX Apps for the job, apps play a pivotal role in enhancing the functionality and effectiveness of WIX Websites. They extend the full potential of what your site can achieve, WIX is great for offering a wide range of features and tools that cater to diverse needs (especially for Services and Events). So Whether you're running an online store, managing appointments, fostering community engagement, or optimising your site for search engines, there's likely an app available to help you achieve your goals.
These apps provide customization options, improve user engagement, streamline processes, and support marketing efforts. They're particularly valuable for businesses, service providers, event organizers, and content creators looking to create user-friendly, efficient, and competitive websites. With apps, you can efficiently integrate third-party services, scale your site as it grows, and save time and resources compared to custom development. In essence, apps are the building blocks that empower you to transform your Wix website into a dynamic and feature-rich online platform.
For the hospitality industry, providing positive experiences is essential. Nowadays, when people visit the website of a highly-anticipated restaurant or a top-quality hotel – they expect the booking process to be seamless and straightforward. This experience is vital, as it can mean the difference between booking an entire party or choosing a competitor instead.
There are several reasons this can happen. For example: one website may be better optimised compared to the other which has poor performance. One site may have all the facilities a user needs, whereas the other might be lacking. All it takes is one first impression of a website, which can cost a business greatly.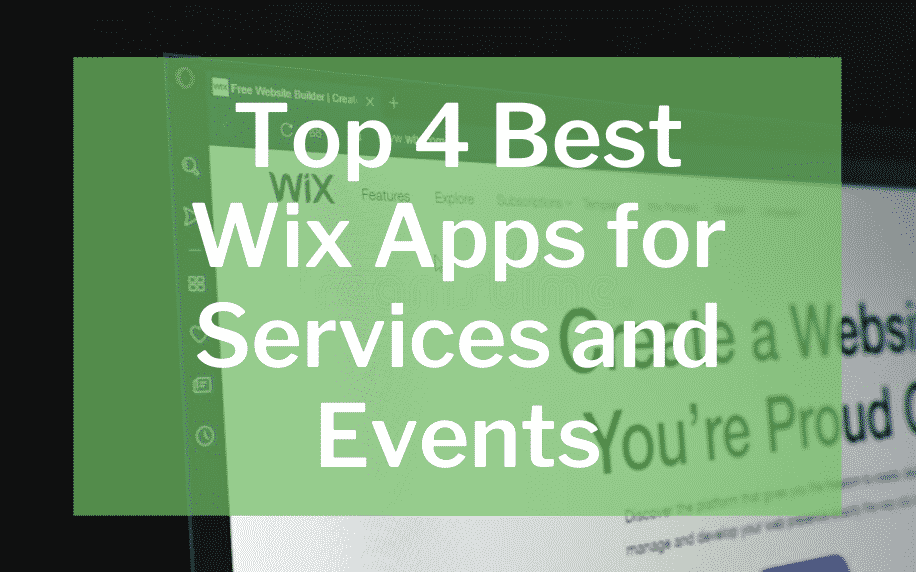 With these top 4 best Wix apps, you can ensure your website offers a simple yet slick experience for visitors when booking your services.
Table of Contents
Top 10 Wix Apps for the Hospitality Industry
If you own a hospitality business, bookings and reservations will be the crucial link between you and your potential customers. Whether you own a hotel, are running an event or manage a restaurant – you must make sure that anyone and everyone can access your website and plan an experience with you.
Wix is an easy website builder platform that allows you to add specialist apps to enhance your site. If your business provides services and/or events, you should make the most of these top 4 best Wix apps.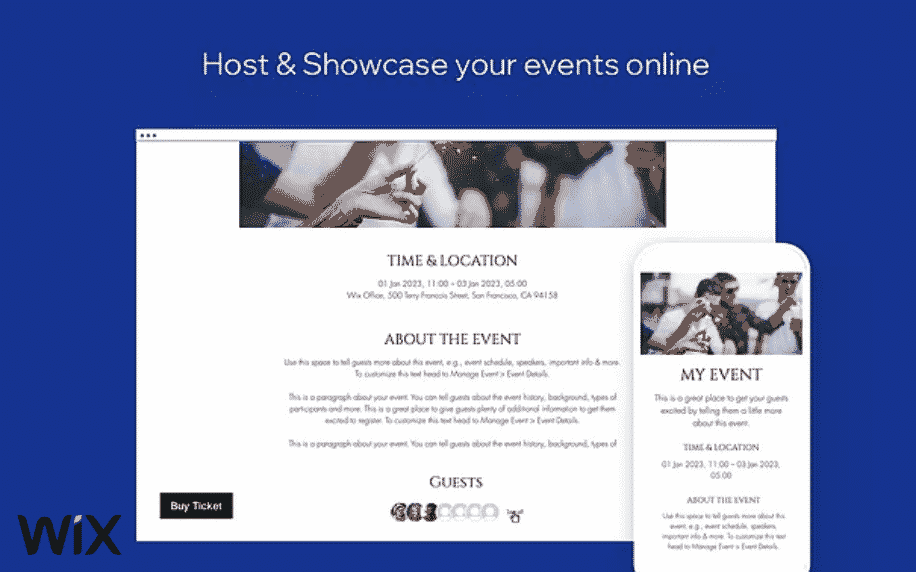 1. Wix Events (Best WIX Apps for Events)
Before any event, there is an initial hype online to gauge interest and drive traffic. Whether it be a physical event or a virtual event, any business wanting to create a buzz online should implement the handy app Wix Events.
Wix Events is one of the best Wix apps because it allows your site to host and showcase events online. Beyond that, it enables you to collect RSVPs, sell tickets, manage bookings and check-in guests.
The app's key features include:
Hosting your event where you can create multiple events and showcase your listings;
Selling tickets where you can add tickets to your event, set your prices and instantly sell;
Accept secure payments where you can get paid with all major credit/debit cards – just choose a payment provider like Wix Payments, PayPal, Stripe and more;
Send invites where you can send attendees customised email invitations with your branding;
Collect RSVPs for events like weddings and parties;
Manage your event where you can track your orders, see RSVPs and organise guest lists;
Promote your event by offering coupons and sharing your event on social media;
Check in guests by scanning tickets or manually checking in guests at the door from any mobile device;
Track your sales, export ticket orders and guest lists for key insights about your event.
As you can see, Wix Events is an all-encompassing app, yet is tailored to suit the needs of any type of event. Wix Events is beneficial for businesses as it allows them to control all aspects, from spreading the word to assessing performance.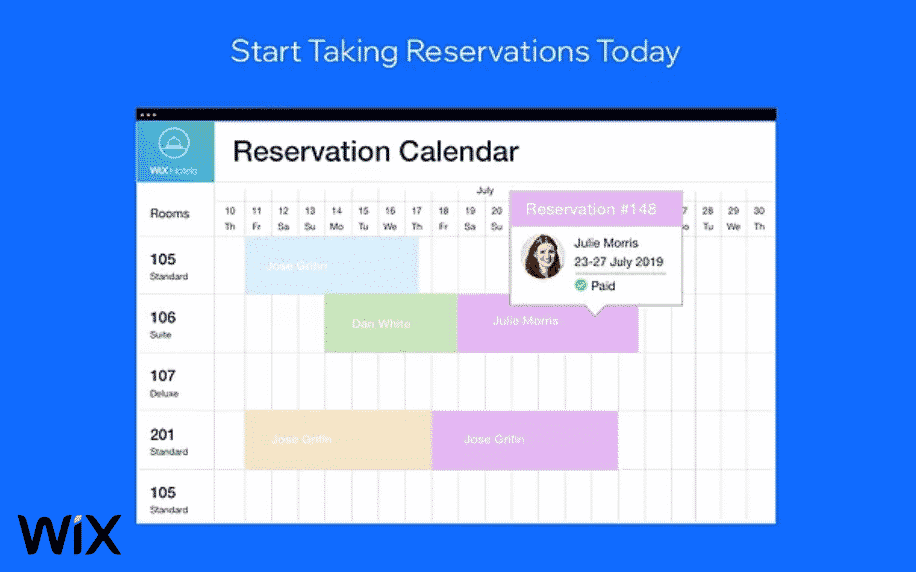 2. Wix Hotels
These days, all hotels market their services predominantly online. While it all comes down to the experience they provide offline – online is where hotels can give potential customers a taste of what they can expect.
When people choose to stay in a hotel, they are looking for a hassle-free process and visitor-friendly experience. Therefore, this should also be reflected on a hotel's website.
Wix Hotels is also considered one the best Wix apps because it is an app designed specifically for hotels. It offers an all-in-one online booking system that promises to revolutionise your hospitality business. It gives small properties (such as B&Bs, boutique hotels and vacation rentals) control of their booking and reservations management.enables guests to make reservations.
Wix Hotels key features include:
24/7 availability for reservations;
Give guests a seamless booking experience from any device;
Accept online and offline payments;
Manage all aspects including room types, inventory and reservations;
Tripadvisor Partner, offering another way to be seen and get bookings.
Wix Hotels is the perfect app to integrate onto your site if you want to boost your user experience, manage your bookings and gain new opportunities for new reservations, all from the one, handy platform.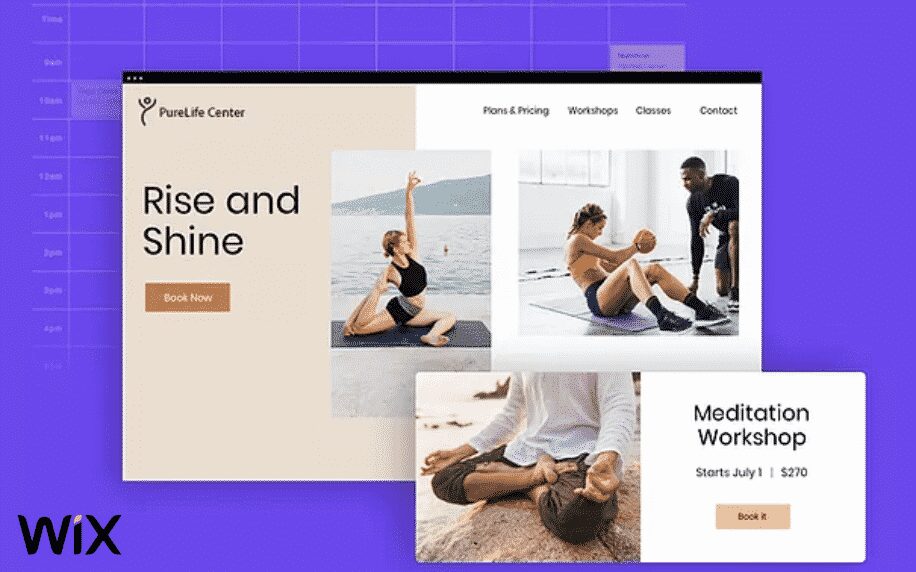 3. Wix Bookings (Best WIX Apps for Services)
Offering a smooth online booking experience is essential for service providers. Not only does it save you time, but it also saves money and mitigates any possibilities for human error.
Wix Bookings is an easy-to-use scheduling system that lets customers book services online, so business owners can focus on other important aspects.
Key features of Wix Bookings include:
Offer different types of services, from workshops to private sessions;
Accept online and offline payments;
Customise membership plans and packages;
Manage your calendar and your staff schedule, with Google Calendar syncing available;
Create a branded booking form;
Offer discounts and coupons;
Send reminder emails or text messages to clients;
View client booking history.
Whether you offer workshops, courses, or private sessions – the Wix Booking app is a great way to present and manage these.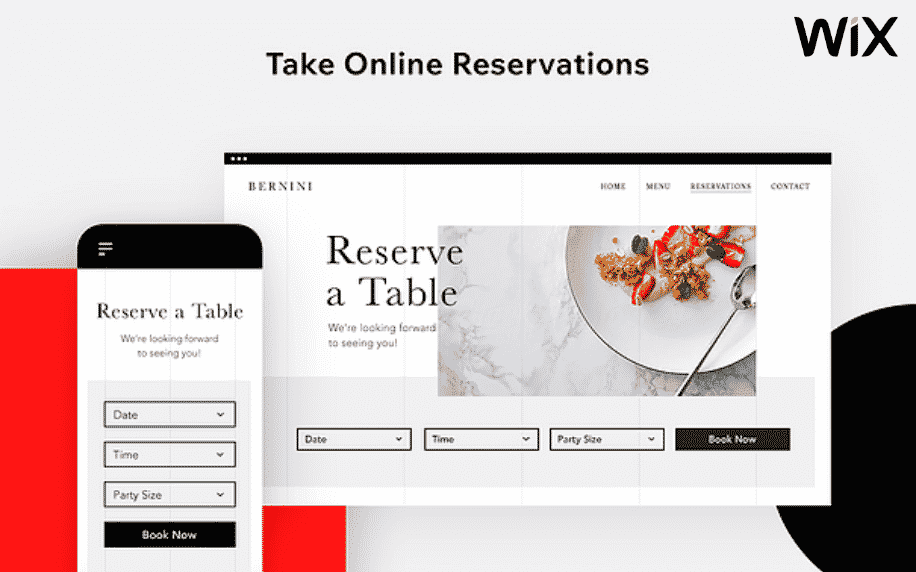 4. Wix Reservations
If you own a restaurant, online reservations are key for reducing clutter, improving accuracy and controlling capacity. By mastering your reservations process, this will help you maximise the potential and profits of your eatery.
To do this, you need an app that is flexible and reliable. For your website, Wix Reservations helps you manage and customise online restaurant reservations.
Specific features of Wix Reservations include:
Take reservations 24/7, allowing your customers to book a table directly from your restaurant's website;
Set reservation rules where you can define how long you'll hold customer tables, maximum party sizes and more;
Create a website widget where you can add a customised reservation form to your restaurant site;
Send confirmations via email or text to your customers, including confirmation numbers;
Keep track of reservations by receiving instant notifications when customers book a table and review every request;
Manage from anywhere, from desktop and Wix mobile apps.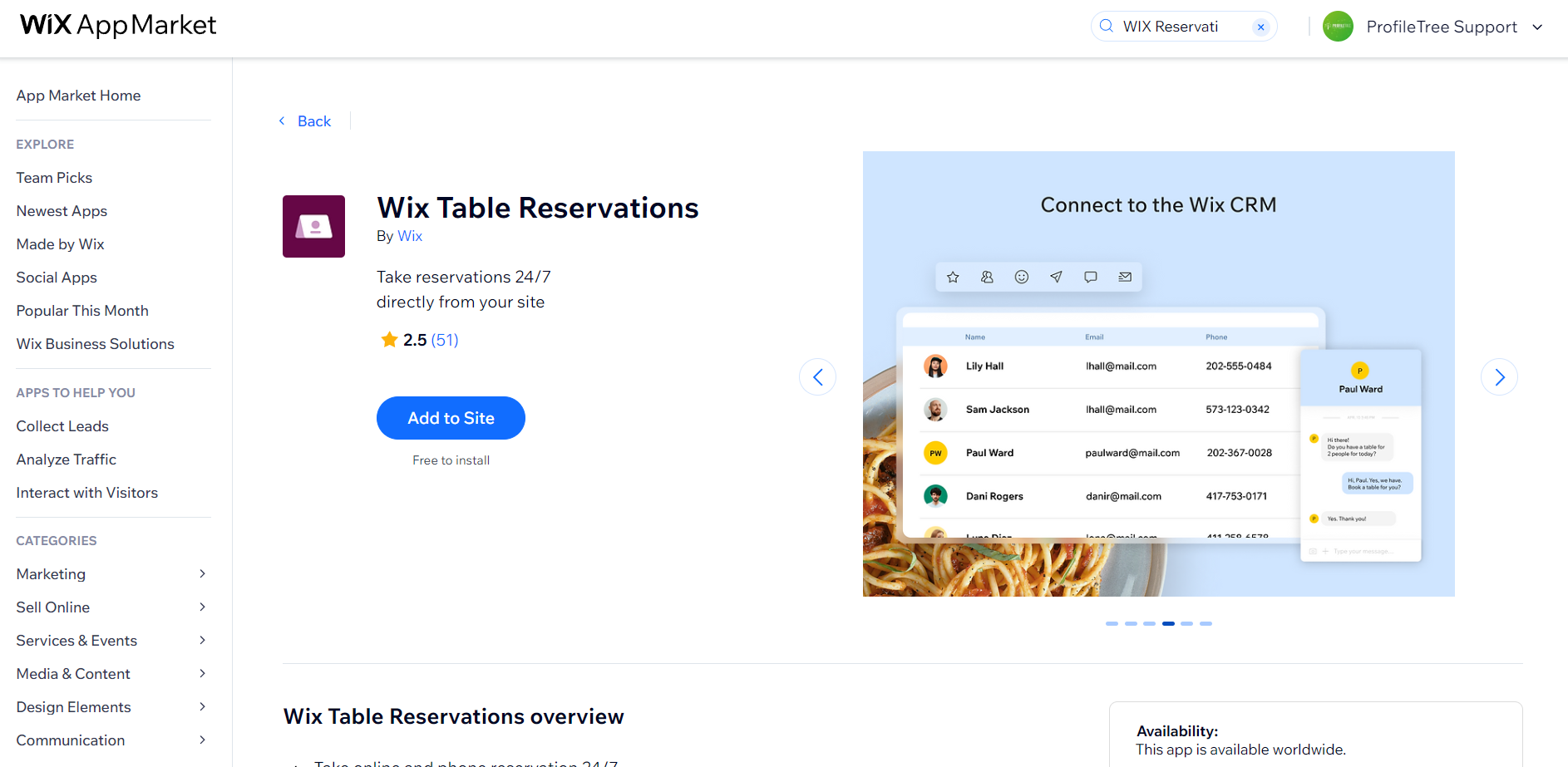 5. Wix Chat (Best WIX Apps for Services)
Wix Chat is one of the best Wix apps for communication with a customer, Wix Chat is a live chat application that allows you to add real-time chat functionality to your Wix website. It's a valuable tool for engaging with your website visitors, providing customer support, and enhancing the overall user experience. This would be ideal for both E-Commerce and Non E-Commerce Sites
Here are some key features and aspects of Wix Chat:
Wix Chat is a live chat application that allows you to add real-time chat functionality to your Wix website. It's a valuable tool for engaging with your website visitors, providing customer support, and enhancing the overall user experience. Here are some key features and aspects of Wix Chat:
Real-Time Communication: Wix Chat enables you to communicate with your website visitors in real time. When visitors have questions or need assistance, they can initiate a chat session, and you can respond immediately.
User-Friendly Interface: The chat interface is designed to be user-friendly for both you and your website visitors. It typically appears as a chatbox that can be easily accessed and minimized as needed.
Customizable Appearance: You can customise the appearance of the chatbox to match your website's branding and design. This includes changing colours, fonts, and chatbox placement.
Offline Messages: Even when you're not available to chat in real time, visitors can leave offline messages. You can then respond to these messages when you're back online.
Visitor Information: Wix Chat provides you with valuable information about your website visitors, such as their location, the page they're on, and whether they're a returning visitor. This data can help you provide more personalised assistance.
Mobile-Friendly: Wix Chat is optimised for mobile devices, ensuring that you can engage with visitors who access your site from smartphones and tablets.
Chat Automation: You can set up automated responses to frequently asked questions or configure chatbots to handle basic inquiries. This can save you time and provide immediate assistance to visitors.
Integration: Wix Chat can be integrated with other Wix applications and third-party tools. For example, you can connect it to your Wix CRM to manage customer relationships more effectively.
Engagement Tools: Wix Chat includes engagement features like typing indicators and read receipts, making the conversation more interactive and engaging.
Multi-Agent Support: If you have a team, multiple agents can handle chat requests simultaneously. This is especially useful for businesses with high chat volumes.
Notifications: You can receive notifications when a new chat request comes in, ensuring you don't miss any visitor inquiries.
Visitor Analytics: Gain insights into chat performance and visitor behaviour through analytics and reporting tools.
Wix Chat is a versatile tool that can be used for various purposes, including e-commerce customer support, lead generation, and providing information to website visitors. It's an excellent way to connect with your audience, address their needs, and improve their overall experience on your Wix website.
6. Wix Forum(Best WIX Apps for Services)
Wix Forum is a robust feature offered by Wix that enables you to establish an interactive community or discussion board directly on your Wix website. This versatile tool empowers your website visitors to initiate discussions, seek answers to their questions, and engage in meaningful conversations with each other. Here are some key features and insights into Wix Forum:
Key Features:
Community Building: Wix Forum is designed to facilitate the creation of online communities. It allows your website visitors to become active participants in discussions and connect with like-minded individuals.
Discussion Threads: Users can initiate discussion threads on various topics, enabling them to share their thoughts, seek advice, or simply engage in conversations of interest.
User Interaction: Members of your community can interact with one another by posting comments, sharing opinions, and even liking or disliking posts, fostering a sense of engagement.
Moderation Tools: To maintain a friendly and respectful environment, Wix Forum provides moderation tools. This allows you, as the site owner or moderator, to oversee discussions, remove inappropriate content, and ensure that the community remains a positive space.
Customisation Options: You have the freedom to customise the appearance and layout of your forum to match your website's branding. Tailoring the design helps in creating a seamless and cohesive user experience.
When to Use Wix Forum:
Community Building: If you want to build an online community around your products, services, or interests, Wix Forum is an excellent choice. It encourages users to actively participate in discussions and fosters a sense of belonging.
Event Updates: Wix Forum is a valuable tool for sharing event updates and facilitating pre-event discussions. It allows attendees to interact, ask questions, and get excited about upcoming events.
Niche Discussions: If your website revolves around a specific niche or industry, you can use Wix Forum to create a space for in-depth discussions related to that niche. It's an effective way to establish your website as an authority in your field.
Knowledge Sharing: Wix Forum can serve as a platform for sharing knowledge and expertise. Users can seek advice, share tips, and provide valuable insights to one another.
Customer Support: It's also a practical solution for offering customer support. Users can ask questions, and you can provide answers or facilitate discussions where users help each other.
Wix Forum is a versatile tool that enhances user engagement, builds a sense of community, and offers a platform for meaningful interactions on your Wix website. Whether you're looking to create a discussion board for enthusiasts, support your customers, or foster a vibrant online community, Wix Forum can be tailored to meet your specific needs.
7. Wix Blog(Best WIX Apps for Services)
Wix Blog is a versatile feature provided by Wix that empowers you to effortlessly create, publish, and manage blog posts directly on your Wix website. This intuitive tool offers a wide array of features tailored to enhance your blogging experience. Here are some key features and insights into Wix Blog:
Key Features:
Content Publishing: Wix Blog simplifies the process of publishing blog posts. You can easily create and format your content, add images and media, and preview posts before they go live.
Categorization: Organise your blog content by categorising posts into topics or themes. This not only helps in maintaining a structured blog but also allows readers to explore specific areas of interest.
Scheduled Posts: Plan your content strategy effectively by scheduling blog posts in advance. This feature ensures that your content is published at the optimal times for your target audience.
Reader Engagement: Wix Blog encourages reader engagement through the inclusion of a comments section on each post. This enables readers to leave comments, share their thoughts, and engage in discussions related to your content.
SEO Optimization: Wix Blog is equipped with SEO tools that assist in optimising your blog for search engines. This helps improve your blog's visibility and reach a wider audience.
Mobile Responsiveness: Your blog is automatically optimised for mobile devices, ensuring that readers have a seamless experience regardless of the device they use.
When to Use Wix Blog:
Content Marketing: Wix Blog is a valuable asset for content marketing strategies. It allows you to consistently publish informative and engaging content that can attract and retain your target audience.
Establishing Authority: If you aim to establish authority in your industry or field, Wix Blog provides a platform to share your expertise, insights, and valuable knowledge with your audience.
Audience Engagement: For service providers or event organisers, Wix Blog helps in actively engaging with your audience. You can share updates, news, and valuable information to keep your audience informed and connected.
Sharing Informative Content: Whether you're a business offering services or an organisation hosting events, Wix Blog enables you to share informative content that educates your audience and builds trust.
Community Building: By fostering discussions and interactions through blog comments, Wix Blog contributes to community building, allowing your readers to connect with you and each other.
Wix Blog is an essential tool for website owners looking to leverage the power of blogging for content marketing, audience engagement, and establishing authority in their respective fields. It offers an intuitive platform to create and manage your blog, making it an ideal choice for individuals and businesses seeking to share valuable content with their online audience.
8. Wix Social Feed (Best WIX Apps for Services)
Wix Social Feed is a valuable tool provided by Wix that allows you to seamlessly integrate your social media feeds directly onto your website. This feature is designed to help you showcase your latest social media posts, keeping your website visitors informed about your most recent updates and building a strong online social presence. Below are key features and insights into Wix Social Feed:
Key Features:
Seamless Integration: Wix Social Feed makes it effortless to integrate your social media content directly onto your website. You can easily connect your social media accounts, and your latest posts will automatically appear on your site.
Real-Time Updates: This feature ensures that your website visitors are always up-to-date with your social media activity. Any new posts or updates you share on platforms like Facebook, Instagram, or Twitter are instantly reflected on your website.
Customization: Wix provides customization options, allowing you to tailor the appearance of your social feed to match your website's design and aesthetics. You can choose layouts, styles, and formats that align with your brand.
User Engagement: By showcasing your social media feeds, you encourage user engagement and interaction. Visitors can view, like, comment, and share your social posts directly from your website.
Social Presence: Wix Social Feed contributes to building a strong social presence for your brand or business. It enables you to leverage your social media activity to engage with your website audience effectively.
When to Use Wix Social Feed:
Maintaining Online Presence: Wix Social Feed is particularly beneficial for businesses and individuals seeking to maintain an active and engaging online presence. By displaying your latest social media updates on your website, you ensure that your website visitors are well-informed about your recent activities and announcements.
Real-Time Updates: If you frequently share updates about your services, products, or upcoming events on social media platforms, Wix Social Feed is an ideal choice. It keeps your audience informed in real-time without them having to leave your website.
User Interaction: For businesses aiming to enhance user interaction and encourage social engagement, this feature is invaluable. Visitors can like, comment, and share your social posts, contributing to increased user engagement.
Brand Consistency: Wix Social Feed helps maintain brand consistency by ensuring that your website and social media channels are in sync. It provides a cohesive online presence for your brand.
Wix Social Feed is a powerful tool for businesses and individuals who understand the importance of integrating their social media activity with their websites. It offers a seamless solution to display real-time social updates, enhancing user engagement and maintaining a dynamic online presence.
9. Wix Forms(Best WIX Apps for Services)
Key Features: Wix Forms is a versatile tool that empowers you to create custom forms with various field types. You can use these forms for event registrations, inquiries, feedback collection, or any data gathering related to your services or events.
Customisable Fields: Wix Forms offers a range of field types, allowing you to tailor forms to your specific needs.
Seamless Data Collection: Efficiently collect user information, event registrations, inquiries, and valuable feedback.
User-Friendly Interface: The user-friendly interface ensures a seamless experience for both you and your website visitors.
Versatility: Whether you're organizing events or offering services, Wix Forms simplifies the process of data collection and user engagement.
When to Use: Wix Forms is particularly valuable for event organizers and service providers who need to collect user information, manage event registrations, or gather feedback seamlessly on their website.
By incorporating Wix Forms into your website, you can efficiently capture user details, registrations, and valuable feedback. This enhances your ability to interact with your audience and cater to their specific needs, making your website more dynamic and user-friendly.
These Wix apps collectively address various requirements, whether it's appointment management, event promotion, visitor engagement, or the overall improvement of your online presence. Choose the apps that align most closely with your goals, and in doing so, craft a more dynamic and user-friendly website tailored to your services or events.
10. Wix Video (Best WIX Apps for Services and Events)
Wix Video is a versatile feature offered by Wix that empowers you to display video content on your website. Whether you want to showcase promotional videos, educational content, or event highlights, Wix Video provides the tools you need. Here's a closer look at the key features and ideal use cases for Wix Video:
Key Features:
Video Hosting: Wix Video enables you to efficiently upload and host your video content directly on your website. You don't need to rely on external platforms to share your videos.
Organize Videos: This feature allows you to organize your video library with ease. You can categorize videos into playlists, making it simple for visitors to find and view content that interests them.
Customisation: Wix Video offers customisation options for your video players. You can tailor the appearance of the video player to match your website's design and branding, creating a seamless visual experience.
Playlists: Create playlists to curate a collection of videos on specific topics or themes. This helps in guiding viewers through a series of related videos.
Video Marketing: Wix Video supports video marketing efforts. You can use it to host promotional videos, product demonstrations, or video testimonials to engage and convert your audience.
When to Use Wix Video:
Video Marketing: Wix Video is a valuable asset for businesses and service providers who leverage video marketing. It allows you to showcase promotional videos, advertisements, or product demonstrations to engage and inform your audience effectively.
Educational Content: If you offer educational services or courses, Wix Video is an excellent choice for hosting and organizing your educational video content. Create playlists for different courses or topics, making it easy for learners to access relevant material.
Event Highlights: Event organizers can use Wix Video to share event highlights, recaps, or keynote presentations. It's an effective way to extend the reach of your events beyond the live audience.
Portfolio Showcase: Visual artists, videographers, and content creators can utilize Wix Video to create an impressive portfolio. Showcase your work, highlight your skills, and demonstrate your expertise through video content.
Enhanced User Engagement: Videos have the power to captivate and engage audiences. Incorporating Wix Video on your website can lead to increased user engagement, longer page visits, and a more compelling online presence.
Wix Video is a robust solution for individuals and businesses looking to make the most of video content. Whether you're aiming to market your products, educate your audience, or showcase your work, Wix Video provides the tools to seamlessly integrate video into your website and captivate your visitors.
No matter what service or event you provide, your website needs to be accessible and seamless. With the help of Wix, you can use one or all of these top 10 best Wix apps to maximise your business's potential online.
For more information about Wix, contact ProfileTree today.