We've been looking around a lot, and decent pandemic marketing advice is pretty hard to find.
'We live in unprecedented times'. That is a phrase that has become synonymous with the impact of Pandemic, including the deep and significant uncertainty that businesses are facing. Ongoing restrictions continue to close the doors of firms across Northern Ireland, and looking towards our European neighbours, it appears that many of us are facing the same struggle. During this time of economic and social upheaval, only one thing is certain: the businesses who will survive this pandemic will be those who adapt and modify their business models, at least temporarily.
At ProfileTree, we understand and sympathise with businesses who are facing adverse consequences as a result of the virus. As we undergo our own transformation behind the scenes, we're aware of the fact that businesses across the island of Ireland will be doing exactly the same thing.
With this in mind, we'd like to share a message with all of our current and potential clients: we are here to support you through the pandemic, working with you and your team to ensure that once restrictions lift, your business will be prepared and fighting fit to reenter the world of trade.
The Challenges We Face Together
However, now isn't a time for closing the shutters and merely waiting for the go-ahead from Boris Johnson. We've been inspired to see businesses from across the province adapt their business models in the face of the pandemic, with many exciting brands discovering the power of eCommerce and delivery services. Online shopping has become more important than ever, and even traditionally offline brands have reported major digital sales surges for the very first time. If there was ever a time to be online, it's now.

We are firm believers that every cloud has a silver lining. Whilst the devastating effects of the coronavirus are undeniable, many commentators acknowledge that for businesses, this can be used as a period of reflection, transformation and improvement. We're on hand to assist businesses across the country in taking their first brave steps out of lockdown. Bringing your product or service back into the public sphere is absolutely achievable, as long as the right infrastructure is there.
As a nod to the businesses who've encouraged some normality and as a thank-you to the followers and customers who've kept us ticking over these past few months, we'd like to share our own knowledge resources on adapting your marketing strategy; helping you to survive the lockdown and flourish when it passes. Feel free to share this advice with your colleagues and followers, and feel free to get in touch with us if you have any questions on adapting your marketing strategy in these strange times.
Business Has Changed, Consumers Have Changed
2020 has been a year of intense change already – and not that kind of change that we've hoped for. Besides wreaking havoc on health services across the world, measures such as the practice of social distancing (minimum of 2 metres); the wearing of masks, repeated hand washing and non-essential business closures have thrown our understanding of everyday life into the far-distant future. The results on the global economy have already been significant, and current trends suggest that we are entering a depression more severe than that seen in the Wall Street Crash of 1929.
Yes – it's true that each and every one of us are facing a joint challenge, and it may be the most significant challenge we face in our lifetimes. However, new headlines, social media posts and examples we see ourselves in our everyday lives have highlighted a spirit of community that ProfileTree is deeply proud of. Some of the most rewarding work is delivered at times of public strain and personal challenge, and a spirit of cooperation, giving and consideration for others has shown that the worst situations often bring out the best in people.
It's also true that the topics of hygiene, mental welfare and public health have never been more relevant. The spread of the virus has been accompanied by an increased awareness of the environmental and health effects of pollution; as well as the importance of respiratory and general health. Whilst there will be no real 'winners' from the pandemic, there has been a marked increase in interest around healthcare products, health foods and recyclable packaging – not to innovative collections of boutique fashion garments that offer facial protection with style.
Whilst it may seem odd to spot a silver lining in this situation, it's fair to say that your business or organisation can play a vital role in building a spirit which will help people and communities come together to help and support each other.
Indoors and Online: The Current Business Landscape
Unless you're lucky enough to have a spacious back garden, the vast majority of consumers are living a lifestyle that is indoors and online. This was certainly the case for the first months of the pandemic outbreak across Northern Ireland and the Republic of Ireland; and public health advice as of late May 2020 suggests that this may be the case – potentially at changing intervals – for up to two years. We all know the impact that these measures will have on our daily lives, including getting to our places of work. But what implications will this have on the current business landscape?
The most important impact that the pandemic will have upon businesses is that people will be spending more time than ever on their screens – be that screen on a tablet, computer or smartphone device. We'll also see significant changes in how we decide to connect with people, and the digital world is set to transform to meet the demands of a world in lockdown. Already we've seen huge offerings from some of the biggest players in tech, with Google now offering Google Meets premium services for free for six months and video conferencing software Zoom removing 45-minute time limits and pledging to overhaul its security infrastructure.
We'll look at some of these video conferencing solutions across the course of this guide, and we'll also share some of our own tips on building a happy and productive remote working team. However, before we do that, we'd like to share some baseline tips on adapting to the virus from a marketing perspective.
Adapting Your Marketing Strategy: 6 Guiding Principles
When it comes to driving a marketing strategy through the pandemic, there's a few things to bear in mind. We've seen many examples of marketing campaigns that have sunk to public opinion since the outbreak, and if one thing is true in advertising and marketing, it's that reputational damage can be a costly and difficult thing to receive. The public are unforgiving of poor messaging at times of crisis – and rightly so – so make sure that your business avoids a public messaging pitfall be following these key points:
Avoid exploiting the situation: This piece of advice will be obvious to the vast majority of our followers. However, time and time again since the outbreak of the virus we've seen huge blunders made in marketing and advertising campaigns, and some firms have been accused by the public of attempting to exploit the situation for profit. Supplies are running low across several industries, and non-essential deliveries are now a lower priority. We've seen grossly inflated prices for hand sanitiser, ridiculously expensive face masks and campaigns that appear to make light of the crisis. Avoid using the situation to boost profits! A quick buck won't last, and repairing that reputational damage could cost you heavily.
Be yourself: When it comes to drawing up and implementing a marketing strategy, you'll want to ensure that appeal to your target audience in a way which considers the effects of the pandemic whilst still retaining your own brand's tone of voice. More people are turning to the digital world than ever before, and well organised and professional external communication strategy can boost your online engagement and win the attention of potential clients.
Adapt to survive: Over the past few months, we've heard again and again that businesses must adapt their business models to survive the pandemic. Indeed, the same should apply to your overall digital marketing or content marketing strategy. Be sensitive to the situation without diluting your own messaging and use your content calendar to give consumers information that will help them get through this historic challenge. This includes engaging your audience with trusted and verifiable information, or even a little humour. However, before you roll out your adapted communication and content strategy, it is absolutely vital that all of your teams fully understand the new plan and how they can contribute to it.
Learn effective crisis management: If your firm isn't familiar with crisis management, now is the time to read up on the vast library of knowledge resources out there. In many cases, the key to effective crisis management is in fully understanding and accepting the role of your business or organisation in society. Are you a serious industry innovator or an online entertainer? Are you a caring charity organisation or an established legal authority? Your answer to this question should govern your approach to crisis management, and during the current pandemic this is an absolute essential.
Find creative solutions: This piece of advice might seem like a no-brainer. However, we are seeing examples of businesses across a range of industries who are offering creative solutions to deliver on their promises. This doesn't just include restaurants who have rolled out delivery services – it also applies to fashion houses who have produced their own face masks, for example; bars delivering cocktails, fragranced hand sanitisers, etc. Each business has their own creative role to play in this respect, and you should use this opportunity to innovate by offering your services in a way you've never done before. At ProfileTree, we've taken some of these measures ourselves, offering webcam consultations and seminars, whilst continuing our award-winning Business Leader series on a remote basis.
Don't be afraid to give a little: In the world of competition and business, this may seem a little odd. However, difficult times require a new response. Customers will always remember the effort you made to help them through the pandemic, and some companies are shining examples on doing this properly. This includes retailers offering significant discounts to healthcare staff, as well as prioritised delivery and other services for the elderly or vulnerable. Are you the developer of a mental health app? Consider offering free or discounted subscriptions. Do you run a successful eCommerce site? Consider including a donations box at checkout – you get our drift.
Whilst these six points don't inform us on how to shape and share digital content during the pandemic, they nonetheless form guiding principles that, if properly followed, can ensure that your business avoids making unintended marketing errors at a time of heightened public sensitivity.
Once you've understood these guiding principles, it's time to take your changes to the next level. At ProfileTree, we believe that adapting your marketing strategy to the outbreak should follow a three pronged approach, encompassing your business & marketing strategy; communication strategy and the general structure or organisation of your organisation. Keep reading to learn more about adapting your strategy using our three-pronged approach.
Adapting Your Marketing Strategy During a Pandemic
We are firm believers that everything a business does should begin with a strategy that is fully organised and properly resourced. This is especially the case with digital strategy and content marketing, and understanding how your market has changed as a result of the virus will be key to driving a successful campaign. It's important to remember here that markets across each and every sector of industry have been transformed by the pandemic, and your business won't be alone in charting some really unfamiliar territory.
One of the key market changes experienced by our clients is the clear increase of supply and demand in the online world. To fit into this new consumer landscape businesses must ask themselves a series of questions. For example, how have the needs, desires and budgets of your customer base potentially changed as a result of the virus? Has the virus changed who your typical customers are, and does your company still offer the right products to provide solutions to those customers? Look at all of your previous marketing efforts and ask yourself serious questions around your standard customer profile and if they're still a reasonable target. The world is changing, and so should the scope of your customer targeting.
Let's take a look at some core aspects of content marketing, and how we can possibly adapt that content in the face of the virus. Content marketing encompasses several forms of media, and frequently overlaps with digital marketing. Over the next section of this document, we will examine core marketing activities and how these have been affected over recent months.
Search Engine Optimisation During the Pandemic Outbreak
Today's marketplace is digital – and that is becoming increasingly true due to the effects of a Pandemic. To cater to the digital marketplace, the world's largest search engines run highly complex algorithms, connecting our queries with the most relevant search results out there – filtered out from billions of pages present on the world wide web.
How do search engines like Google, Yahoo! and Bing serves consumers with answers that are relevant, useful and instantaneous? The answer lies in a process called search engine optimisation (SEO) – a growing industry which has been predicted to reach an $80 billion value in the US alone this year. SEO is one of the most common services offered by digital and content marketing agencies, and by using a combination of data-driven and creative techniques, agencies like us strive to position your brand in optimum positions on Google search engines.
But how have agencies traditionally delivered SEO services to clients? In the vast majority of cases, SEO strategies are drawn up based on a number of market insights, using various platforms and research products to identify the most popular search terms submitted by web users. Understanding search engine optimisation and how the outbreak of the pandemic has affected the needs and desires of consumers will be a key point of consideration for your adapted marketing strategy.
We've published one the most comprehensive knowledge resources online around the topic, and we would invite all of our followers to consult our Total Guide to SEO. For now, however, break things down a little further. Here's a basic FAQ which should give your business or organisation a very basic overview of search engine optimisation.
Q: What is Search Engine Optimisation?
A: There's a lot of information out there on search engine optimisation, and many agencies and businesses will have different ways of approaching the concept. However, we think that SearchEngineLand's definition is perfect: "The process of getting traffic from the "free," "organic," "editorial" or "natural" search results on search engines."
Q. Why is positioning by brand on SERPs (search engine result pages) so important?
A: For many people, this one may be a bit of a no-brainer. In the world of marketing, a joking phrase is that "the best place to hide a dead body is on the second page of Google search results". Being in a prominent position suggests authority and trust. Besides those benefits, positioning on top means potential customers will see and engage with your brand first.
Q. How does Google decide to rank the content on my site?
A: This fact changes nearly every week, but at the time of writing this document, Google uses over 200 factors to rank and position content on search engine results pages. These factors include content quality and relevance; videos, secure and functioning links, image data, structuring and more. Google also uses a number of technical factors to rank content, including page structure, load time and various CMS plugins such as Yoast and RankMath.
Q. What are keywords and why should I care?
A. Think about how you search for products, services and other information online. For example, if you're feeling peckish, you might search for "pizza near me". If you are looking for a decent travel agent in Northern Ireland, you might search for "best travel agent Northern Ireland". These search terms would essentially represent the keywords, and there are keywords which often closely relate – think "pizza close-by" or "top travel agency Belfast" as examples. By carefully identifying the most popular keywords relating to your product, service or industry and embedding these at critical locations, Google is more likely to present your site to consumers.
Q. How can I personally improve how my brand positions on Google?
A. There are a number of actions that you can take that can push your online brand in the right direction. We've highlighted some of these actions in our Complete Guide to SEO, and how much time you invest in taking these actions will largely depend upon your businesses and the resources available to it. The highly complex nature of search engine optimisation often means that experienced digital professionals are the best people to drive a successful campaign.
Q. How can an agency transform my SEO prospects?
A. There's a lot of agencies out there who make huge promises around positioning your brand at the very top of search engine results. But it's important to have some perspective here: without an investment of millions, your small burger chain simply will not compete with industry giants like McDonald's and Burger King. However, an agency can use data-driven insights and creative edge to bring your brand to even more customers, and SEO is often one of the cheapest ways of competing with the serious competition that's out there.
These are some very basic pointers for understanding SEO, and anyone who is still under any doubt about the value of search engine optimisation should look at some of these statistics we've picked out. It's important to bear in mind that these statistics have been gathered in 2020, and much of the information below has been influenced by the online effect of the pandemic:
According to Internet Live Stats, Google has already received nearly 2.3 trillion searches this year (2020).
Research from Zero Limit Web suggests that on the first page alone, the first five organic results account for 67.60% of all the clicks.
Industry authority the Content Marketing Institute highlights that 57% of marketing executives say on-page content development was the most effective SEO tactic.
Finally, leading SEO software brand Ahrefs has stated that 91% of all pages never get any organic traffic from Google, mostly due to the fact they don't have backlinks.
You may have already invested significant resources into your brand's SEO strategy. However, the outbreak of the pandemic has utterly transformed the market, meaning that some of your past efforts may have lost their value (unfortunately). It also means that you must reassess your product, your means of delivering services and how you decide to engage potential customers. But how might the virus impact your search engine optimisation strategy?
The Role of SEO During the Pandemic
Markets across every sector of industry have transformed as a result of the pandemic, and search engine optimisation is no different. As marketing professionals, we're fully aware that keeping abreast with Google's algorithm updates is an absolute essential when it comes to positioning our content in the best possible position on SERPs. However, SEO is all about placing your focus in the right place. This means understanding how consumer demands have changed.
At ProfileTree, we can pick out some interesting examples about how search engine queries have really changed over recent months. One of the most prominent examples is how we have seen a significant decline in searches for "near me" terms – just like the "pizza near me" example we used in the previous section. In its place, we've seen a huge spike for "delivery" terms. This already gives huge hints about what has occurred since lockdown restrictions were put in place – delivery services are, at least temporarily, the biggest show in town.
Changing search terms aren't the only impacted elements of search engine optimisation. We've also seen big fluxes in web traffic which give more pointers towards how consumers are feeling, and how their demands have changed. For example, we've witnessed a marked increase in YouTube traffic, whilst revenue has simultaneously declined. What does this mean for businesses and marketeers? Whilst this isn't an established fact; based on this statistic it is fair to say that whilst consumers are spending more time viewing video content, they are less likely to spend money on the advertisements that accompany that video. What is the biggest reason for this? It's safe to say that this can be explained by a combination of three key factors:
Advertisements that don't provide solutions or demonstrate some sort of awareness of the pandemic won't be as relevant to what consumers want, and so won't generate as much revenue as they may have before global lockdown began.
Unemployment is skyrocketing, along with the vast majority of disposable income. People are more uncertain about their financial situations than ever, and consumers will be less likely to spend money on products they don't need. The key to overcoming this obstacle is to adapt your content and digital strategy – as well as your general pricing plans.
Search terms like "for delivery" and "available for collection" have been the big search engine winners of the outbreak. As such, agencies must change how they take clients to market. Furthermore, if your business doesn't offer delivery or collection services, now is the time to think about it. This can be as simple as notifying your customers via social media posting or a mailing list, or as significant as creating a new banner or eCommerce function on your website.
Whilst many elements of the public narrative suggest that the impact of the pandemic will be temporary, it's important to remember that we won't be emerging out of this situation any time soon. With this in mind, it is clear that your strategy for the next 18-24 months should be fairly swayed towards addressing the three points listed above.
Addressing Clients and Customers During the Crisis
As we've previously touched upon, the pandemic calls for a radically different approach to addressing and engaging your clients and customers. Adapting how you engage with clients and potential customers can come in a range of forms, some requiring more investment and resources than others. We realise that not every business or organisation can afford to dedicate significant resources to this change – so here's a few basic and affordable tips on amending some aspects of your strategy:
In a lot of cases, we've seen that businesses have added basic pages to their site which attempt to directly address the pandemic and how they are trying to support customers through the pandemic. At ProfileTree, we recommend taking this as a very basic step. If you decide to build a page on your site, it should be visible on every page (consider putting the page at the header or footer of your site's base template). Content-wise, your page should give detailed updates on how the virus may change your business and how you serve your customers.
Run a brand-new, fresh campaign that clearly states how your business or organisation is working to serve the public. When your new marketing strategy is devised and drawn up, it is absolutely essential that you bring it to advertising creatives, copywriters and content marketing experts – as well as television and radio services if your budget allows it. Regardless of who handles your new strategy, it is vital that the results of your campaign are properly measured. If your business or organisation drives a really successful campaign in the midst of the outbreak, you will be able to drive sequel content later on which highlights how you shone through for your customers in the most difficult of circumstances.
When you think of marketing campaigns, it's fair to say that meetings and conversations are pretty important. To drive a decent campaign, content writers, copywriters, video producers, graphic designers and social media executives must work in correlation with each other to deliver something that really engages, informs and inspires. However, with ongoing restrictions on social distancing, these meetings may temporarily become a thing of the past. However, various video conferencing solutions have vastly improved their offering, and organising creative campaigns over the likes of Skype, Zoom, Google Meet and Microsoft Teams has never been easier.
Meetings with clients are equally important, and that is just as true in the world of marketing as it is for any other sector of business. Whilst some clients may be 'old-school' and may insist on a socially-distanced yet face-to-face meeting, the vast majority of businesses will now have no choice but to meet using some of the video conferencing solutions we mentioned above. This will result in a significant cut in costs around travel, which is good. However, you'll have to seriously improve your strategy here. In our books, putting on a clean shirt and having a tidy background for a Zoom call is always worth the effort! The act of the video-call has become a new skill-set of its own. A good set-up will go a long way with clients – so hide that dirty laundry from their view.
At ProfileTree, we realise that not all businesses are in a position to continue working with clients during the pandemic. However, as a basic marketing essential, we advise all businesses and organisations to follow a policy of normalisation. That means calmly addressing your clients and customers on the ongoing situation, delivering products and services as efficiently as possible and engaging them with content that is sympathetic to the effects of the crisis.
Responding to a Pandemic with Content Marketing
At ProfileTree, we've built our business on online engagement and digital content. We believe that current trends driven by the Pandemic crisis suggest that more businesses will be adapting their business models for online trade. A basic principle of successful content marketing is that your website shouldn't just be on the web for the sake of it – rather, it should act as an online shop window for your business or organisation. Getting online shoppers and consumers in your local area to take notice of your brand in a sea of frenzied competition requires engaging content that truly stands out from the rest.
We realise that 'standing out from the crowd' is a bit of a cliché line. However, this can be actually achieved by combining data-driven insights with real, creative flair – and the results can be amazing. We've picked out some examples of the more prominent campaigns that have been launched over recent months, and many highlight the importance of what we touched on earlier: producing content that is sympathetic to the effects of the virus whilst retaining the unique tone of voice for your business or brand.
Pandemic Marketing Examples
We've listed some of our favourite examples of digital content that have been adapted to balance out these strange times. Some show how businesses and organisations can play a vital role in supporting communities throughout the crisis, whilst others demonstrate how a more lighthearted approach can deliver a really uplifting experience for the viewer. We'll update this list as we progress through the various stages of the pandemic, but for now, let's jump in.
A St. Patrick's Day Message From Guinness | Guinness Beer
In Ireland (and in most countries across the world), the tourism and hospitality mourned the absence of St. Patrick's Day, one of the most valuable, profitable and universally-loved events in the public calendar. Images and videos of a deserted Temple Bar District and quiet in the streets of Boston highlight the unprecedented impact of an unknown virus on the public sense of togetherness.
Guinness is a symbol of St. Patrick's Day and Irish heritage, and as a company were significantly impacted by the closure of bars, pubs and restaurants across the world. However, the world's favourite Irish stout has responded in typical character, fusing history, heritage and hope with an understanding of what their customers are going through. It's also important to note some of the finer details of the production: all footage was recorded prior to the outbreak; the message blends the past with the present and the overall production has undoubtedly been put together by a remote working team.
#CreateDontContaminate | RTÉ
Many consumers are spending more time than ever staring at screens – and that includes television. However, that doesn't mean the media industry isn't suffering from social distancing regulations. Ireland continues to regret the temporary pause on Gaelic sports, and filming has stalled on some of the island's most popular TV series. However, national broadcaster RTÉ has driven a campaign in partnership with Thinkhouse to launch the #CreateDontContaminate campaign to raise awareness of the virus amongst young people.
We appreciated this campaign for how it used homemade content for effective social media and television messaging. We see that the selfie-taking talents of Irish celebrities and social media influencers have been leveraged to empower and engage young people to take part in a creative challenge every day for 14 days. Some of the examples sent in by these celebrities are hilarious, and all of them aim to engage young people in a lighthearted way whilst raising awareness of a grave public health issue. Jane McDaid praised the campaign, highlighting how the campaign engaged over 10 million viewers in only 36 hours:
"The team has been incredibly supportive of the creative idea and the fact that together, we went from zero to social, PR, Giphy and TV campaign with well over 10 million reach in less than 3 days is a testament to two talented, ambitious teams working brilliantly together. Together we're taking learnings and applying them as the campaign unfolds to ensure the remaining 11 days are equally, if not more, successful."
Commercials Producers Ireland | Closer Together
Ireland has been enjoying a renaissance in film & screen over the past decade, and the nation continues to prove its worth when it comes to sheer creativity and video production talent. At ProfileTree, we thoroughly enjoyed Closer Together by Commercial Producers Ireland. The short video contains beautiful, high-resolution footage which perfectly captures the Irish spirit and public mood in the fight against the pandemic. The crisis has understandably had a significant impact upon the Irish commercials production sector, and Antidote's Andrew Freeman and Red Rage's Paul Holmes came together to see what was possible under lockdown.
The results were amazing, featuring collaborative work with over 20 Irish directors from Commercial Producers Ireland (CPI). The piece truly reflects the heritage of creative talent in Ireland, with a brief rooted in poetry and literature. It even features a gorgeous soundtrack courtesy of Irish composer Denis Kilty. Paul Holmes from RedRage was proud of the objective of the production:
"By making this film with over 20 Irish directors from CPI member companies, we are bringing our industry together to shine a small light of hope for the Irish people. We want this film to bring some good to those who watch it."
Pandemic Marketing Images
In some of the examples we picked out above, we highlighted instances where content marketing through video can remain faithful to its own brand tone of voice whilst acknowledging the difficult challenges we all face. Equally important to a successful marketing campaign in the midst of a pandemic is the power of the image. Below we've selected some marketing images that have strived to achieve those same powerful effects as video. Check them out.
Burger King | The Social Distancing Whopper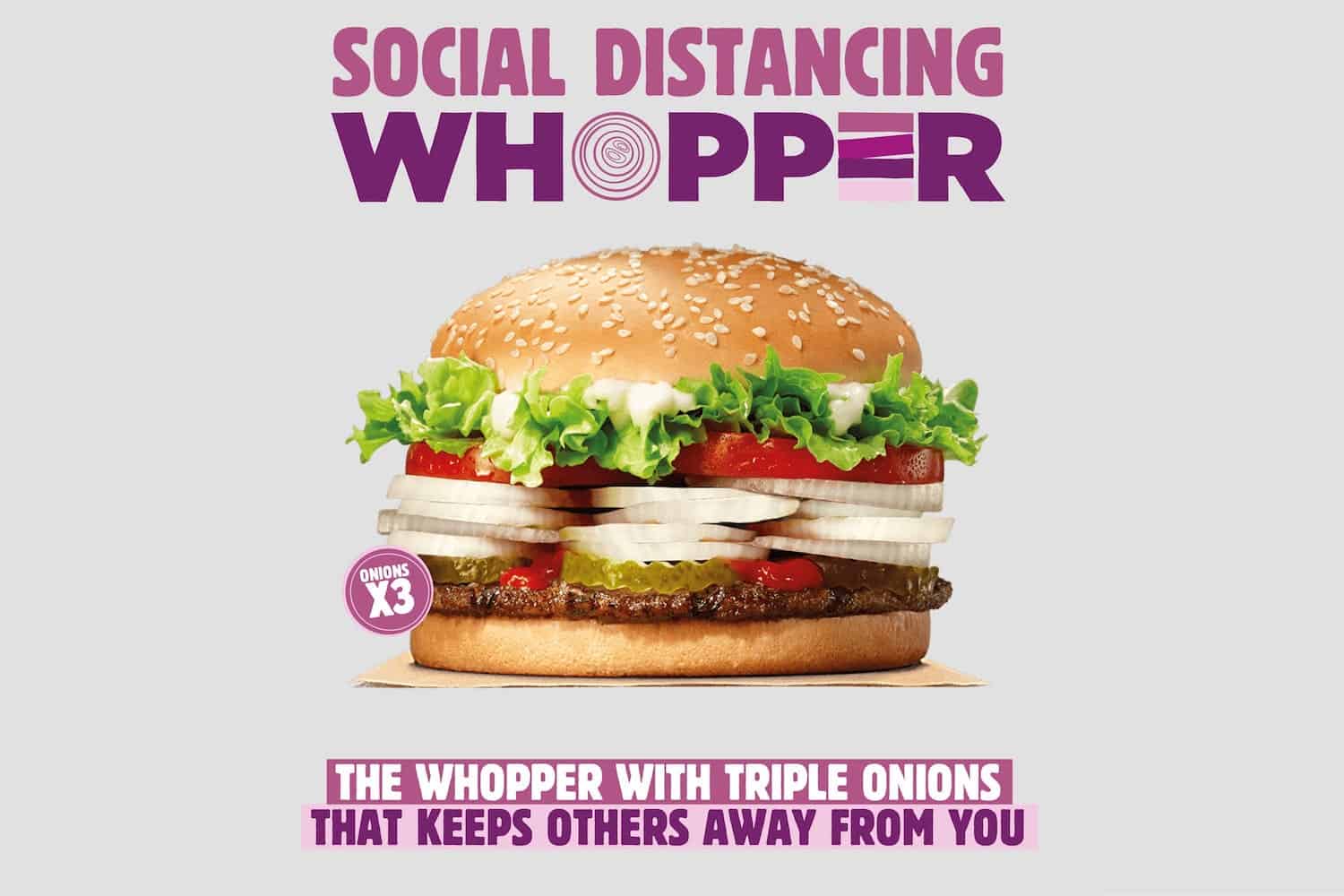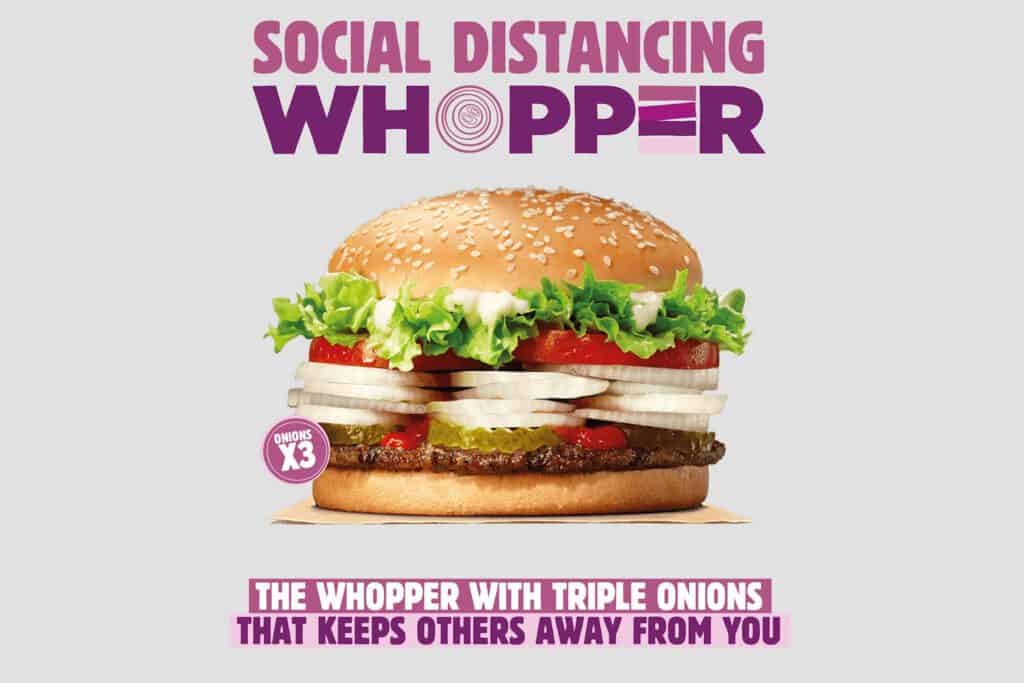 The virus has affected all sectors of business – and that's a fact. However, the effects of total lockdown and social distancing have wreaked havoc on the food & hospitality industry more so than most. Whilst many fast food chains and popular restaurants have adapted to offer delivery and collection services, the likes of McDonald's and Burger King closed down for weeks to protect the health and welfare of their own staff. As lockdown restrictions have gradually lifted across Europe, we've seen Burger King respond by launching a fresh campaign that succeeds by injecting a little humour into the situation.
Here we have The Social Distancing Whopper – a hilarious take on one of our favourite's – the Whopper. This image engages the consumer in classic Burger King style – chunky, capitalised lettering; blunt yet lighthearted messaging and an image of the product itself which makes the mouth water. We're seeing a lot of generic approaches to advertising during the pandemic, and it's been great to see Burger King finding a space for humour. Just as we appreciate accurate information and sympathetic messaging during this pandemic – everyone needs a good laugh (and not to mention a good burger).
Let's Dream Places | Toyota
The car manufacturing industry has been hit hard by the pandemic. Skyrocketing levels of unemployment, reduced income, travel restrictions and bans on outdoor gatherings have reduced traffic levels to record lows. Deserted roads and streets have became the norm for those not making essential travel, and as reported in Automotive Management Online, some of the industry's biggest players saw share prices decline by up to 43.8% (Pendragon's share price declined 32.5% to 8p; Vertu Motors by 24% to 24p; Marshall by 15.3% to 130p; Lookers by 43.8% to 22.45p; Inchcape by 11.5% to 517.5p; Cambria by 13.3% to 55.5p; and Caffyns by 16.3% to 335p).
Over the years, we've loved Japanese car manufacturer Toyota's Let's Go Places campaign, featuring beautiful images of cars travelling through some of the most majestic scenes on the planet. They have responded to the crisis with a fresh and relevant follow-up campaign: Let's Dream Places. These images highlight that advertising can play an important role in encouraging hope and continued commitment to public health, and we love it.
Snickers | You Stay You When You #StayAtHome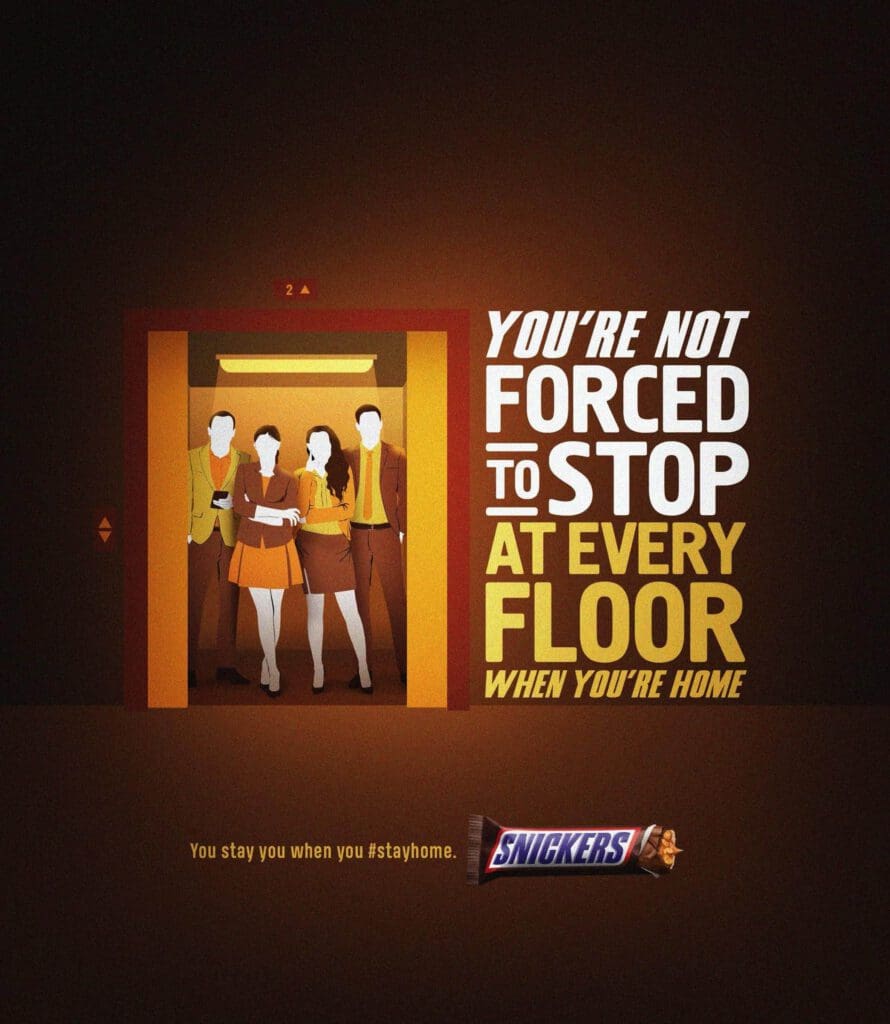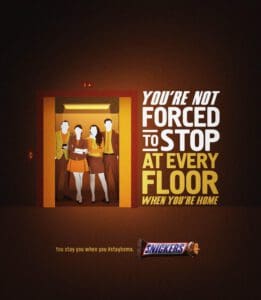 Snickers are known for their blunt, in-your-face approach to advertising, and it never fails to make us laugh. The confectionary brand has responded in classic Snickers fashion, targeting consumers with content marketing that uses imagery to an expert level. We love the sleek design behind the humour, and the designer's creation of characters and graphics is truly representative of the budget that Snickers can afford. Whilst not all businesses can afford campaigns on such a quality and scale, it ticks those all of the boxes when it comes to creating successful advertisements in the midst of the pandemic.
The campaign pokes fun at the situations we find ourselves in: working from home and largely housebound unless really necessary. This example highlights classic workplace annoyances, like sharing elevators, gathering at the water cooler and continuous and often pointless meetings. We love this campaign because it highlights that we can simply be ourselves when we are at home, whilst also protecting the general public. Another great call from Snickers which again highlights the value of humour in these strange times.
External Communications and Speaking to Your Audience
As the coronavirus pandemic continues to spread throughout Europe and the rest of the western world, remote working plans have been rolled out by businesses and organisations categorised as 'non-essential'. This means that millions of workers outside the realms of healthcare, food delivery and law enforcement will now be working from home, in what will be recognised as the largest uptake of remote working in living memory. But how can you adapt your customer service and marketing strategy to service and communicate efficiently and effectively?
Businesses and organisations across many sectors of industry are charting unknown territory, with many rolling out remote working arrangements for the very first time. For some workers, waving goodbye to the office in favour of working from home will be nothing new. However, for the vast majority of us, remote working will be a totally new experience, with its own range of benefits and obstacles to overcome. Handling complaints and taking sales enquiries is often achievable by phone and email, but for more complex products and services, a more face-to-face approach is required.
At ProfileTree, we've found that if the proper infrastructure is there, it is possible to hold client meetings that are productive and efficient. There's a whole range of tips we can disseminate here – but the main thing we'd say is that these communication challenges we all face can be beaten if you are prepared to invest the right level of time and resources into planning. Many social media campaigns can be driven from home, for example, and it's possible to organise a marketing strategy meeting using some of the awesome video conferencing solutions out there – and we'll touch on that later.
Depending on the nature of your business or organisation, the product or service you offer may be perfect for being in lockdown – or at least not as adversely impacted other sectors of industry. For example, ProfileTree regularly communicates with clients using the likes of Google Meet, Zoom and Microsoft Teams, and with a proper background setup we can visually plot a marketing strategy on a shared whiteboard, with clients able to revisit and edit the whiteboard. Whilst some clients will always prefer a face to face meeting, it's little innovations like this that can really take the pain out of your communication strategy during the pandemic.
Video Conferencing and Marketing From Home
One interesting result of lockdown has been the huge uptake in video conferencing solutions, including all of those big hitters like Skype, Microsoft Teams, Google Meet and Zoom. We've also seen a huge rise in video marketing from home, and some marketers are harnessing the power of the technology to record material from home that is, of course, relevant to the virus and working from home. Some really amazing results can be achieved, and different products offer different features around recording, downloading, editing and more. Combined with some basic video editing software, you'd be surprised what a remote-based marketing campaign can achieve. Here's a great example of a campaign from home launched by Age UK.
In partnership with creative agency Brave, Age UK have enlisted British film icon Jim Broadbent to support a £10m Coronavirus Emergency Appeal to support vulnerable older people through the crisis. Whilst we can't all enlist the support of celebrities, this production does show what can be done from home using basic video conferencing tools, impactful messaging and a bit of video editing.
At ProfileTree, we advise each and every one of our clients and followers to take a stab at trying this yourself for your own brand. All it takes is a few minutes and a laptop – or even your mobile phone. Here are some of the more obvious benefits of creating content from home during the coronavirus crisis:
It's cheap: When it comes to creating marketing content that engages, informs and inspires, it's easy to spend a lot of money on an agency with the right talent and knowhow. However, sharing branded messages using video conferencing tools is extremely cheap, and many solutions out there allow you to record, and even edit your own footage free of charge.
It means something: As the old saying goes, 'we're all on the same boat'. Each and everyone one of us are suffering as a result of the virus and the restrictions that come with it, and consumers appreciate a more personal approach that reflects the situation calmly. Recording a message from home sheds a humble light on your business or organisation and demonstrates your understanding of the urgency of the situation.
Show customers you care: Many customers complain that they have been left behind behind by businesses and organisations in the wake of the coronavirus crisis. Whilst many have been denied refunds, delivery services have slowed dramatically and production lines on certain products have completely halted. By targeting your valued customers with branded messages recorded from your own home, it proves that you care about them and are willing to invest the time and resources in communicating with them – even if it does seem a little rough around the edges.
Develop basic marketing skills: Appearing on camera can be a daunting experience, even for the most charismatic and confident people. Public speaking is also a skill in itself, and knowing how to address your target audience in a way that really appeals to them requires research, practice, practice and more practice. Taking those first brave steps towards recording your own messages from home will allow you to build these business skills which will become more and more essential as the effects of the Pandemic continue. By releasing steady streams of marketing content from home, you can develop camera manners and improve charisma when addressing your clients, customers and followers.
Follow-up content couldn't be easier: For many professionals, working from home has given them more time to think about and prepare their work. Recording a simple, branded message from home has never been easier, and having that extra time may allow you to plan a series. By putting out content on a regular schedule and sharing it properly on the right digital channels, your campaign can achieve maximum impact at a minimum cost.
Build your brand from scratch: It certainly is a difficult time to run a business, and under the current circumstances it's even harder to set one up. However, current trends suggest that the pandemic will see the meteoric rise of remote-based companies, and remote working roles have never been more popular. If you want to set up a remote company, now is the time. You can base your brand image on remote and cater to all of the challenges that carry with it.
You know the benefits of recording your own marketing material at home. But when it comes to video conferencing solutions, it's a world of choice. There's a huge range of webcamming products out there, and we've all heard of some of those really big hitters. We've picked out some of the more successful ones in the next section, highlighting some features which we think are great not only for recording marketing content, but also for communicating with clients and customers.
Video Production and Conferencing Tools: Our Favourites
Most companies have branched out their internal and external communications using video conferencing platforms such as Google Meet, Hangouts, Microsoft Teams, Zoom and Skype. However, some solutions on the market allow recording capabilities, allowing you to do whatever you like with that footage. Check out a comparative list we've made below which highlights the various strengths and weaknesses of these products. A lot of these products are available on a free trial basis – so, no matter what our opinion is on them, it's worth trying them yourself first before you decide to buy.
Google Meet
Google Meet is one of the search engine giant's most popular products, and currently serves as its main enterprise video conferencing solution. At ProfileTree, we frequently use this platform to communicate with our clients, but we've found it equally useful for organising remote team meetings. As one of the most popular platforms and under the current circumstances, the time has never been more appropriate to familiarise yourself with Google Meet.
Over the past few months, we've seen a real battle for supremacy amongst the video conferencing providers out there, with Microsoft Teams and Zoom releasing rafts of updates and new features. However, Google has responded to that battle with its own armory of free features and usability updates, and we love them. The product comes packed with collaborative, productivity-boosting features, and the best thing about it all is that it is completely free to all G Suite customers. Whilst the virus causes great difficulty for the vast majority of us, the time to be a Google customer has never been better.
Google Meets would certainly be our choice of video conferencing solution, and that's largely down to the four awesome features which were recently announced in new updates. All of these features make Google Meet one of the most robust and security-driven tools out there, and they employ some really cutting edge technology to deliver this. For example, the ever-evolving Google AI has been employed to improve video resolution and general user experience. These four new features demonstrate exactly why Google Meets is our favourite platform, and why it can be one of the most useful for recording branded messages at home:
Revised interface: Google Meet users can now enjoy a new, fresh layout which includes a sleek and expanded tile design You can also host up to 16 participants at one time, which is a great improvement from 2019 when only four viewable participants could appear at once. Plans are on the way to increase this number further. This is great for hosting larger team meetings as well as meetings with customers and clients.
Screen Share: The newly released 'present a Chrome tab' is really useful, and will be one of the most vital features in allowing you to share your broadcast with clients and customers. With this new feature, you can display marketing content to participants in the call, as well as displaying planning materials like social media statistics, performance measurement and more.
Improved light settings: Google have overhauled their lighting settings, and we're absolutely delighted to see this. Getting the right lighting for your meeting isn't easy, and Google has offered a solution to that challenge by releasing low-light mode as a new feature. The AI-enabled mode adjusts the lighting of your stream automatically, making your feed more visible in light-deprived conditions.
Block unwanted noise: One of the best features rolled out as part of the new Google Meets update is the noise cancellation setting. Recording marketing material from home as well as holding meetings with clients and customers can be made really difficult by the irritating noise of passing traffic or construction, and Google has responded by introducing an intelligent feature which filters out those disturbing noises. If anything was perfect for recording branded messages at home, it's this audio safety net.
Zoom
For many people, Zoom was an unfamiliar thing before the outbreak of a pandemic Now, however, the platform is one of the most commonly used video conferencing platforms in the world. Zoom allows your business or organisation to conduct meetings in a clear and efficient way without interruption. We've used this on occasion with clients, it's proven to be highly convenient during quarantine. At ProfileTree, we love Zoom for its sleek and simple interface that is gorgeous and easier to use than any of the other products on the market.
Learning to use Zoom takes no time at all, and the learning curve required to use the platform and its neat features is relatively short thanks to that sleek interface we mentioned. It's also one of the easiest to actually set up and get going. It's completely cloud native and allows you to connect and conduct meetings in a clear, undisturbed manner with very few interruptions. However, some of the more unique features like custom backgrounds and shareable join links really separate Zoom from its rivals and highlights it as one of the strongest video conferencing solutions on the market.
However, Zoom does have its weaknesses and it has faced quite a bit of criticism in the past few months, and there's a number of reasons for that. For example, larger calls are displayed in an awkward and confusing way which does take some time to get used to. Furthermore, call participants have complained consistently about the quality of audio in video conferences. Perhaps the biggest fault behind Zoom has been it's fairly lax security. Indeed, users have complained about strangers joining the call in a trend called 'Zoombombing'.
Zoom have been trying to make serious amends over recent months, pledging to make a series of updates to their security settings. Not only that – Zoom have removed the 45-minute limitation on video conference calls, and have released premium features free of charge to schools across Europe.
Microsoft Teams
Microsoft Teams has been popular for a number of years now, and the computer giant's messaging app is meticulously organised, clean, crisp and beautifully ordered. Whilst its larger interface may seem a little intimidating to beginners, we can assure you that once you know where to find everything, using Microsoft Teams is a breeze. When you do eventually master the interface, this is one of the most powerful video conferencing tools out there. If we weren't such big lovers of Google, we'd probably use this
There's a long list of features that we love about Microsoft Teams. Regardless of what we think, one thing is true – how quickly your setup agrees with you and your clients or customers can set the tone for your relationship over the next few months. If it goes down well, however, you'll love the chat for its awesome instant messenger and huge variety of integration options which allow it to work seamlessly with any other Office app. This is particularly useful in an agency setting or in a marketing campaign phase, in that you will be able to connect your conversation seamlessly with tools like Microsoft Word, Outlook, Powerpoint and more.
However, just like every other video conferencing solution on this list, Microsoft Teams isn't for everyone. For instance, whilst the platform is really tidy and super-clean to look at, it can sometimes be over compartmentalized, and in some cases you will have to progress through several pages and filters to find the conversation you were looking for (every time you create a new Team, the number of locations you have to visit to find information or answer a question increases significantly, and if you can't get over this obstacle you will hate Microsoft Teams). Whatever you want to say about it, Microsoft Teams is definitely the most fun.
But how useful is Microsoft Teams for recording branded messages from home? We've found it really handy, and being able to record and download footage has been a great help. A simple series of recording on Microsoft Teams combined with some very basic video editing has allowed one of our clients to build up a library of generic content to be used throughout the pandemic.
Marketing During a Pandemic: How ProfileTree Can Help
ProfileTree are proud to remain fully operational as we strive to deliver optimum results for each and every one of our clients. We know that these are the most challenging times that we will face, and we pledge to work with all businesses to support and help them grow online. The online world continues to run at full speed in the midst of the pandemic, and we encourage businesses and organisations of all sizes to take full advantage of this period of reflection.
We are an award-winning content marketing agency with our headquarters based in Belfast's historic Henry Place. We've been building brands online since our establishment by Ciaran and Michelle Connolly in 2011, and it's been a story of continued growth and advancement since then. We have grown our team from just a few dedicated workers to a sizable agency of 18+ staff, and this has all been achievable by driving content that engages, informs and inspires.
We live in unprecedented times – yes. But did you know that the vast majority of our digital agency services can be planned and implemented on a remote working basis? Our range of marketing services help companies identify and implement strategies that deliver real businesses benefits and an impressive return on investment. We've even grown branded online content from a mere start-up idea to digital powerhouses with over 1.6 million monthly visits. What can we say? It's what we do.
We offer unrivalled experience and expertise around core digital services including web design web development, content marketing, video production & marketing, social media marketing, digital strategy, digital training and Search Engine Optimisation (SEO). We've been celebrated for growing businesses to new and exciting levels, organically and from the ground up. Regardless of whether your brand is new to the market or long-established, we strive to enhance and improve your online positioning; translating online web traffic into increased conversions through responsive design, unforgettable content and digital marketing efforts that are creative, engaging and data-driven.
Business Survival Through Content Marketing
One of the beautiful things about content marketing is that it allows smaller brands with more limited budgets to seriously compete with more established rivals in the market, often driving campaigns that are spread across huge areas at a very low cost. There's a number of ways this can be achieved during the pandemic outbreak, including optimising a website for search engine optimisation (SEO) purposes; writing readable and shareable blogs; delivering beautiful video and image productions or by developing and designing a brand new website from scratch.
Since our launch, we've committed ourselves to delivering long-term, tangible online growth for companies across the island of Ireland, the UK and across Europe. Let's take a look at some of our award-winning marketing services and how they can help your business survive, grow and come out of this pandemic stronger than ever before:
Website Design: Back in the 1990's, the main purpose of a website was to simply be there as an online presence. Nowadays, however, consumer demands and expectations have changed, and web users now expect websites to be fully functioning extensions of a shop's front window. This will be true for decades to come – pandemic or no pandemic. Our talented team of web designers work with you and your brand to devise a design which is true to your business, building sites that are visually appealing and welcoming of incoming web traffic. Great design is often the core differentiating factor between a good business and a bad one – so give your business or organisation the digital presence it deserves with award-winning web design services from ProfileTree.
Website Development: Making sure your website looks great to incoming visitors is massively important to your overall SEO and content marketing strategy. However, it is equally important to ensure that your target audience arrives at a site which is secure, functioning and easily accessible. Our team of website developers work together to ensure that visiting your website will be a rewarding experience for the user, leading to increased sales, profits and overall revenue as a result. Perhaps your business requires a one-page advertisement site, or perhaps it is complex business requiring dozens. Regardless of your business needs, we can deliver.
Website Hosting & Management: The outbreak of the virus has highlighted an increased risk in cyber security attacks, and we've seen a marked increase in these attacks since lockdown began some months ago. Getting a visually appealing and user-friendly website are major steps towards driving a successful digital marketing campaign, but it doesn't start and end here. It's extremely important to remember that maintaining the functionality and security levels of your website requires dedication and consistent efforts. Depending on the size of your business and the resources available, a web hosting package may be good for your business. At ProfileTree, our team of website hosting & management experts are on-hand to maintain the security and functionality of your website, preventing the loss of profits and online engagement to 'downtime'.
Search Engine Optimisation (SEO): We've previously highlighted the importance of getting SEO right for your online business or organisation, and we're going to reiterate it here. By undertaking a well-researched and considered SEO strategy, you can compete with larger and more well-established brands with larger budgets and more plentiful resources. The time has never been better to launch a fresh SEO strategy which relates to the current situation we are unfortunately finding ourselves in.
Digital Marketing Strategy: Just 'doing' bits of digital marketing here and there really won't guarantee results for your online business or organisation. However, by charting and plotting a well-organised and well-researched digital marketing strategy, you can win, maintain and profit from the attention of your target audience. At ProfileTree, we are on hand to assist your brand in developing an extensive content calendar, using data driven techniques to bring your branded messages to new and exciting places.
Digital Advertising: Under the current circumstances, the vast majority of high streets, shopping malls, office blocks and motorways are deserted. This means that more traditional methods of advertising (think billboards and advertisements on the sides of buses) will be significantly less impactful than their digital counterparts. More people than ever are spending more time than ever staring at their screens, and your business or organisation should respond with advertising in digital locations that are relevant to your product or service. The team at ProfileTree possess the knowledge and expertise to carry your digital advertising campaign from start to finish, taking care of every aspect of the project, from creative to technical.
Video Production & Marketing: A video speaks a thousand words, and more people than ever before are consuming and engaging with video content. Indeed, this content is everywhere, from television screens and display advertising through to what we see on social media feeds and our smartphone screens. Our expert team of videographers and video editors are on-hand to advise and record content for your marketing or advertising campaign. We are currently making preparations to deliver video production & marketing services whilst adhering to social distancing advice – so watch this space.
Voice Search Marketing: How we decided to engage and interact with our favourite brands is changing – and fast. Current trends suggest that voice search marketing will become the dominating force in web searches, and now more than ever, it's important that businesses incorporate the demands of voice search marketing into their overall web strategy. Our team of voice search experts can provide a range of training modules around this service
Copywriting & Content Writing: Maintaining your brand's tone of voice during difficult times can be a difficult and expensive thing to achieve. However, ProfileTree are proud to host some of Northern Ireland's most accomplished and experienced digital content writers. Our team of wordsmiths and language experts can help you to determine and maintain your message under the most challenging of circumstances.
The key to getting your approach to content and copy during the pandemic is to be sympathetic to the situation without becoming fixated on it. Feel free to make bold decisions around your marketing decisions, and don't be afraid to inject some humour into the situation. This should always be balanced, however – no brand wants to be seen to be taking advantage of the situation.
Join Our Award-Winning Business Leader Series
Watch the ad yourself…
At ProfileTree, we're more than just a digital agency. We are proud to be one of Northern Ireland's foremost thought leaders on everything online, and our blog offers one of the largest knowledge banks on boosting your digital profile. We passionately believe in sharing the fascinating stories behind some of Ireland's most exciting digital brands. That's why we launched the Business Leader series on YouTube, recently recognised with the Best Content Marketing Award for a Video Series at the inaugural Irish Content Marketing Awards.
The Business Leader series features industry-leading insights from sectoral leaders and entrepreneurs across the country, truly highlighting the huge resources of talent, creativity and drive that Northern Ireland has to offer. We invite all of our clients and followers to view our collection of interviews, available for immediate viewing on high resolution via the official YouTube channel. If you think you have a story worth sharing or if you'd like to highlight the value behind your product or service, we invite you to be the next participant in the series. But what is the catch, how much will it cost and why should your business or organisation bother taking part?
There is no catch and there is no cost – and we promise to hold true to that. Your business or organisation is invited to join our mission to showcase the best businesses, strategies and ideas to an audience of fellow business owners and customers in Ireland and around the world. The advantages of taking part are significant: we are proud to have gained over 6 million views on our agency's YouTube channel in the past 3 years, averaging at over 2 million views each year. Our Business Leader series alone has attracted over 1 millions views, and that is a number that we strive to improve through strategic sharing and distribution on some of the online world's most important channels, including Facebook; LinkedIn, Pinterest, Twitter and more.
It's Business As Usual with Content Marketing
So, what will you be discussing if your pitch to join the series is successful? You will be invited to share exactly what your brand, product or service offers, providing a fantastic and valuable opportunity to highlight your expertise and current trends and opportunities within your sector of industry. Our community of followers are passionate on the subject of business, and the sharing and collaboration opportunities here are huge. We've been proud to host CEOs of major companies of over 600 staff, with participants travelling from all over the country to visit our Belfast-based studio.
ProfileTree continues to run the Business Leader series on a remote basis, and this can be a perfect opportunity for you to get your hands on some high-quality video marketing content at a time when such chances are quite sparse. Indeed, there are a number of measures we take to ensure that your interview is comfortable, accommodating and beneficial to your brand. Here's some reasons to consider taking part in the series:
No unexpected questions: If you haven't taken part in a video interview before, or if you have some anxiety or fear around public speaking, don't panic. Before we sit down to conduct the interview we will agree questions with you in advance. We'll even give you the opportunity to add your own questions in, allowing you to say exactly what you want to say about your business or organisation.
You have ultimate control: When we conduct your Business Leaders interview, we take responsibility for filming, editing and publishing that piece of content. However, before we share your video to thousands of viewers, we provide you with the original cut of the video, giving you a great opportunity to request any edits or content removals. You have full control over this process from start to finish.
Build your marketing skills: Previously in this guide, we highlighted the importance of developing personal marketing skills at home. By taking part in our award-winning series, you can build your first bits of experience in addressing an online audience; responding to consumer queries, public speaking and advertising your business or organisation yourself. If you have the time and resources, this can also be a great opportunity to experiment with social media sharing and maximising the impact of your interview.
Use it as you like: Some of our interviews stretch up to an hour's length, whilst some are only a short conversation of ten minutes or more. How long or short your video is is totally up to you and how much you contribute. You are also free to do whatever you like with the content. We have had several participants embed the interview in their own website, drastically improving engagement and citing increased revenue as a direct result using this content effectively. Share in on social media, include it in a press release, insert the video in your home page – it really is totally up to you.
Show your audience you care: Yes, business doors have been shut across the world. However, at ProfileTree, we believe that is no excuse for ignoring your content marketing output. By taking part in our remote interview series, you can highlight how your brand is navigating its way through the crisis and how it is supporting customers and followers through this time. Topical content is more important than ever, and your target audience will appreciate commentary and updates on the current situation.
Get your content marketing strategy off to a running start: Perhaps your business is newly-established, or perhaps you haven't started to plan or implement a content marketing strategy. This has been the case for many of the participants in the Business Leader series, and in some examples we've seen their video being used as a first major cornerstone in their content marketing strategy. The best way to kick your online brand off is by explaining its benefits in great detail, and there's no better way of doing this than taking part in an interview you have heavy control over. You should always be aiming to create a portfolio of engaging videos around your brand, and a strong interview is the best possible way to get your content marketing strategy off to a running start.
Videography and video editing, free of charge: Saying everything you want to say about your amazing brand isn't the only challenge behind completing an awesome video interview. Equally important is bringing all of that content together in a way that is flowing, visually appealing and high resolution. Following your interview, ProfileTree hands the footage over to our top-notch video team, who cut and edit the footage into something to be truly proud of. Please note that this is a premium service that is offered free of charge exclusively to participants in the series.
Establish yourself as a subject expert: The world of business and social media is crowded with opinion, and everyone claims to be an expert. Blogs and videos regularly circulate the online world with their authors striving to become experts in the field. By taking part in ProfileTree's award-winning Business Leader series, you can highlight your expertise and establish yourself as a thought leader in a way that truly separates you from the other 'experts' out there.
Boost your online positioning: Previously we touched upon the importance of engaging and relevant content when it comes to positioning your business or organisation in prominent positions in search engine result pages. This is a process called search engine optimisation (SEO), and targeting your audience using the right keywords and the right content can lead to massive online gains for your business. We've also highlighted how SEO has transformed following the coronavirus outbreak, meaning that content relevant to the pandemic is more important than ever. At ProfileTree, we combine relevant subject matter with video optimisation techniques to yield the best possible SERP positioning for your brand.
Assist like-minded professionals: We've already talked about the importance of community spirit during the pandemic, and content which aims to help and support people through these challenging times typically performs well. By sharing your story, tips and advice to our followers, you can inform and inspire others who may be facing similar challenges. It never hurts to give a little, and if you can't afford to help financially, then you will undoubtedly be able to assist your community or sector of industry with valuable nuggets of advice.
With our Business Leader series, it's business as usual – just with some minor changes. Whilst taking part in a Zoom interview for marketing purposes may seem a little unusual, we've already hosted a number of fascinating insights. Here's a few examples of recent interviews that have been conducted during lockdown, and we hope that these show the value of sharing expertise whilst highlighting the value of video conferencing tools in recording marketing material. Check out the examples below – will your business be the next contributor?
Sales Process for Small Businesses with Ray Tobin
Business has been affected by the pandemic, and that's true across each and every sector of industry. However, your business or organisation may be having some of its first experiences working from home and managing a sales strategy on a remote basis. With this in mind, ProfileTree CEO Ciaran Connolly sat down with Ray Tobin, Sales Director at SaleSource to discuss his business story, getting some expert advice on efficient sales, accurate time management and how small businesses can grow by improving their sales processes. Fundamentally, Ray highlights how coaching can give businesses an advantage over others.
For sales-focussed companies experiencing remote working and home-based sales strategies for the first time, this episode of Business Leaders is a must-watch.
Domestic Services Online – Rune Sovndahl
Whilst we're all feeling the pinch thanks to lockdown restrictions, some sectors of industry have seen an unexpected boom. This is particularly the case for Rune Sovndahl, who sat down to take part in a remote interview to highlight his personal background before launching his own cleaning business, Fantastic Services, in 2009. The demand for public hygiene and domestic cleaning services has never been higher, and the outbreak of the epidemic prompted Rune to adapt his business model to serve as a one-stop shop for domestic services.
This was a particularly insightful interview, highlighting how brands and organisations can really succeed with content marketing under difficult circumstances. Rune has succeeded by not only adapting his business model, but my making his audience aware of that change through engaging digital content. Across the course of the interview, he shares his business story and his thoughts on the value of digital transformation for domestic services businesses.
Recruitment and Women In Business with Ellie Doyle
Business has slowed down. But that doesn't mean that you can't use this time to discuss what the future of your industry will look like post-pandemic. In an instalment of the Business Leader series, we were lucky to sit down with Ellie Doyle, Founder and Board Director at the Talent Hub. The TalentHub is an award-winning recruitment agency based in Dublin, specialising in recruiting experienced professionals in the digital space.
This interview strikes a fine balance between discussing business before lockdown and what it will look like after. Across the course of the piece, Ciaran Connolly sits down with the recruitment expert to talk about recruitment, women in business and how her business will change and evolve after the pandemic pandemic, considering her valuable experience as an advisor for IrelandTogether along the way.
Importance of Sustainable Fashion with Jennifer Rothwell
Our interview with award-winning fashion designer Jennifer Rothwell highlights how each and every one of us can adapt our business models to offer people hope and happiness during these difficult times. Jennifer has used her collection of gorgeous fabrics to create face masks that offer some protection against the spread of the virus, without sacrificing style.
This can be a lesson for all of us as entrepreneurs – we all have something to offer people to support them through the crisis, and Jennifer's optimistic approach to adapting her business model is inspirational and symbolic of that Irish determination that we just love.
Showcase Your Tasty Brand with Amazing Food & Drink
Yes, we love sharing as much content as possible about business growth, marketing and anything digital. But we equally love good food, and we've launched our own internal brand which highlights some of the awesome businesses in Ireland's food industry; including bars, restaurants, chefs, food delivery businesses and more. Similarly to our Business Leader series, we invite you to showcase your food business to a brand we're really passionate about: Amazing Food & Drink.
One of our favourite instalments of the series features Danny Millar, celebrity chef, owner of Stock Kitchen, star of the Great British Menu and a client of ProfileTree. He leads a discussion on the importance of local produce, taking us on a bit of a cooking course on the side. Check it out!
We invite food business people to take part in remote interviews, highlighting their business story and the challenges behind owning and running a successful food business. However, Amazing Food & Drink doesn't start and end with tasty video content. This platform also allows food and drink businesses get creative with content in a range of formats including:
Branded cooking classes using your products – with video content published on our channels and supplied to your in-house marketing team
Expertly crafted articles around your food and drink brand
Standalone video content for tasty advertising campaigns or social media sharing
Social Media video content that is shareable and enjoyable
Launch events, including online launches and social media drives
In person cooking partying
Live Streaming events at your business premises
Influencer Marketing
Perhaps you have adapted your business model to offer delivery or collection services due to the effects of the pandemic. Inform your audience and maximise your lockdown profits by getting in touch with the team at Amazing Food and Drink today.
Supporting Car Sales Marketing with Amazing Cars & Drives
Through internal brand Amazing Cars & Drives, ProfileTree provides a platform for Northern Ireland's thriving automotive industry. The impact of the coronavirus outbreak has plunged the car sales industry into decline, and car dealerships and mechanics across the country will now be thinking about how they can survive and come out the other end of the pandemic in a strong and safe position.
Current lockdown measures offer the perfect opportunity to develop your content marketing at ProfileTree. We understand that the pandemic has hit this industry where it hurts. Get in touch with us today to explore how we can continue to expand your marketing efforts. Our team of videographers and content creators can work with your marketing team to record car advertising materials in a way that maintains social distancing whilst guaranteeing the best possible footage.
Don't Wait – Launch Your Adapted Strategy with ProfileTree Today
ProfileTree are on-hand to provide assistance, guidance and advice to any business which is struggling to adapt its marketing strategy to the virus epidemic. Get in touch with the team at ProfileTree today.