Hover Domain Registering-
Hover was founded in 2008 by Tucows Inc. Tucows Inc has been a company since 1994 and ever since they have tried to unlock the power of the internet for everyone. Not only do Tucows own hover they also own OpenSRS and enom.
Hover was established to merge all three of Tucows domain services together. All customers from NetIdentity, It's Your Domain (IYD) and Domain Direct were then forwarded to Hover for all their domains, email and service management. This made all Tucows domain customers be under one roof which ultimately makes it easier to manage for them.
Pricing;
All pricing by hover is in US Dollars which can be awkward for customers in the UK/Europe and further afield. Apart from this Hover have a very nice structure to their pricing with no awkward numbers, which does make you feel more comfortable.
Below is a table of all the pricing of every domain extension Hover offer. As you can see many of the prices have many domain extensions that cost that price, which I think is a fantastic structure to have. Many domain registrars usually have two prices that many domain extensions cost whereas Hover has more than two. The list below is ordered in the cheapest to most expensive domains.
.uk and .co.uk are priced at $9.99 and .com is priced at $12.99, which you can see below.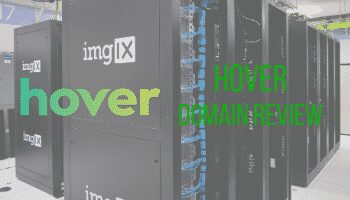 | | |
| --- | --- |
| Pricing | Domain |
| $9.99 | .casa, .co.uk, .org.uk, .me.uk, .uk, .work |
| $11.99 | .click, .link, .space, .xyz |
| $12.99 | .com, .pictures, .top |
| $13.49 | .info |
| $13.99 | .club, .koeln, .one, .org, .rocks |
| $14.99 | .ch, .cologne, .de, .eu, .futbol, .net.in, .org.in, .co.in, .in, .it, .li, .me, .nl, .observer, .realty, .tokyo, .us |
| $15.49 | .net |
| $15.99 | .asia, .biz, .blue, .ca, .mobi, .nagoya, .yokohama |
| $16.99 | .bet, .pet, .pink, .pro, .promo, .red, .shiksha, .vip |
| $18.99 | .moe, .ninja, .wales |
| $19.99 | .agency, .art, .asn.au, .id.au, .net.au, .com.au, .org.au, .band, .boston, .business, .bz, .center, .city, .cloud, .company, .cymru, .desi, .directory, .education, .email, .equipment, .es, .football, .gallery, .games, .gift, .graphics, .gratis, .institute, .international, .ist, .lightning, .management, .miami, .network, .photography, .photos, .pl, .reisen, .rip, .solutions, .supplies, .support, .systems, .technology, .tel, .tips, .today, .ws |
| $21.99 | .fyi, .group, .ltd, .reviews, .run, .soccer, .video |
| $24.99 | .at, .beer, .capetown, .dance, .earth, .exposed, .family, .fun, .istanbul, .jetzt, .joburg, .live, .moda, .news, .nz, .org.nz, .co.nz, .party, .report, .studio, .supply, .website |
| $25.99 | .co, .ink |
| $26.99 | .church, .fit, .fitness, .life, .wdf |
| $28.99 | .kiwi |
| $29.99 | .associates, .auction, .bike, .blog, .brussels, .buzz, .cab, .cat, .cc, .chat, .coffee, .community, .computer, .consulting, .contractors, .cool, .digital, .direct, .domains, .durban, .engineer, .enterprises, .estate, .events, .exchange, .fail, .farm, .fish, .foundation, .garden, .gives, .gmbh, .guide, .guru, .haus, .horse, .house, .how, .industries, .land, .limited, .market, .marketing, .media, .money, .nyc, .parts, .photo, .place, .productions, .properties, .pub, .quebec, .repair, .sale, .school, .science, .se, .singles, .social, .software, .soy, .stream, .surf, .tools, .town, .uno, .vacations, .vet, .wedding, .wiki, .works, .world, .zone |
| $4.99/$29.99 | .online |
| $30.99 | .date |
| $31.99 | .actor, .vlaanderen |
| $32.99 | .accountant, .builders, .cafe, .cards, .care, .cash, .catering, .cheap, .deals, .democrat, .download, .express, .faith, .fashion, .forsale, .gifts, .gripe, .immo, .immobilien, .kaufen, .love, .plus, .republican, .review, .rodeo, .sarl, .services, .show, .site, .study, .style, .team, .training, .vodka, .wien |
| $33.99 | .loan, .lol, .mba, .men, .racing, .win |
| $34.99 | .academy, .bargains, .bid, .boutique, .clothing, .cooking, .country, .discount, .fishing, .florist, .help, .menu, .nu, .pics, .rentals, .rest, .shopping, .trade, .tube, .tv, .vision, .watch, .webcam, .yoga |
| $37.99 | .holdings, .insure, .lease, .limo, .memorial, .pizza, .recipes, .restaurant, .tax, .tienda, .university |
| $39.99 | .attorney, .codes, .dating, .dental, .dentist, .design, .diamonds, .engineering, .expert, .healthcare, .irish, .la, .lawyer, .legal, .surgery, .ventures |
| $4.99/$39.99 | .shop |
| $41.99 | .courses |
| $43.99 | .vin, .wine |
| $44.99 | .bayern, .berlin, .black, .flights, .frl, .fund, .lgbt, .london, .mom, .paris, .partners, .poker, .scot |
| $49.99 | .amsterdam, .camera, .camp, .capital, .careers, .cleaning, .coach, .degree, .dog, .finance, .financial, .glass, .holiday, .hospital, .io, .kitchen, .ltda, .mortgage, .mx, .com.mx, .nrw, .plumbing, .ruhr, .shoes, .ski, .solar, .tattoo, .tech, .tennis, .toys, .villas, .voyage |
| $52.99 | .sydney |
| $54.99 | .apartments, .bingo, .claims, .clinic, .condos, .corsica, .coupons, .cricket, .cruises, .delivery, .furniture, .hamburg, .hockey, .maison, .salon, .taxi, .theater, .tours, .vegas, .viajes |
| $57.99 | .build, .jewelry |
| $59.99 | .alsace, .vc |
| $64.99 | .melbourne, .ngo, .store |
| $69.99 | .vote |
| $72.99 | .press |
| $74.99 | .bar, barcelona, .bio, .bzh, .college, .green, .rent, .sexy |
| $75.99 | .accountants |
| $79.99 | .ac, .aero, .gg, .organic, .sh, .voto |
| $83.99 | .fans |
| $84.99 | .christmas, .host |
| $89.99 | .adult, .fm, .investments, .porn, .sex, .xxx |
| $94.99 | .best |
| $99.99 | .am, .ceo, .credit, .energy, .loans, .physio, .tires |
| $109.99 | .gold |
| $119.99 | .coop |
| $124.99 | creditcard |
| $139.99 | .casino |
| $174.99 | .audio, .blackfriday, .diet, .flowers, .guitars, .hiphop, .property |
| $329.99 | .movie, .sucks |
| $499.99 | .game, .hosting, .juegos |
| $649.99 | .luxery |
| $699.99 | .theatre |
| $2499.99 | .auto, .car, .cars, .protection, .security |
Transfer price and renewal price;
As of 09/04/2018 all transfer and renewal prices were the same as the price of the domain. This means there is no confusing over pricing and you will not be left with a surprise of being charged more for any of these services. There is still a running theme of the most expensive domain extensions. These extensions are associated with protection/security and cars and I still haven't found out the reason why this is the running theme.
Hover's support;
Hover offers many support features for their users. All of these features add together to make a great customer support network. One way of connecting their customer support is through the phone. There are two different contacts numbers that you can call depending on which part of the world you come from. Both of these numbers are cost-free for calling them depending on your phone provider. This means to connect to Hover's phone lines it will cost you nothing from Hover's end but you may still be charged by your provider for calling an American number. One of the phone lines is dedicated to North American calls and the other line is for international/rest of the world calls.
A knowledge base is also provided for all of Hover's users. This includes many articles on various different topics including Domains, emails, renewals and transfers. Users are able to visit this knowledge base to get a better understanding of some of the features Hover offer them. In this part of the website, different questions are answered and many difficult features of renewals and transfers are shown how to work.
Users can get great help with transferring their domains with FAQ's on hovers website. In the frequently asked questions, it answers the real question of 'What is a domain name transfer?' Other questions such as 'How to transfer a domain?' and 'And if you need to wait until the domain is expiring to transfer?'. Altogether in the transfer FAQ's, there are 10 important questions that need answering. There is also a comments section that users can leave thoughts and other questions. Users can use FAQ's to learn which is great.
Altogether Hover offers great support for their customers. They could increase their support network by having live chat, so users can get answers to their problems quickly and easily, but other than this it is great. The telephone lines being free of charge is a great incentive for their customers.
Additional features;
Hover has some additional features that will help out their customers. This includes many payment options, a blog and WhoIs privacy.
By having multiple payment options, users and existing customers can pay in a method they would like instead of having to pay by their card directly. Recently apple pay has been added to the payment methods, which is great for all the apple users we have got out their and I can assure you, there are plenty. Customers can also pay by their visa, their MasterCard, American Express, Discover and PayPal. PayPal is one of the biggest online payment methods and by having this option, users will feel more secure and comfortable using due to PayPal having many additional safety measures. In recent times many more places are accepting Android pay as a payment method, so I would highly recommend this a future payment method Hover should look into.
Hover also have a blog in which users can follow. Within this blog, there are many different topics which Hover will talk about. This includes hover events, inspirational blogs, hover's sales/promotions and also small insights into the world of the internet. Something very similar to us here at ProfileTree.
A great feature which is included with every domain is free WhoIs privacy. WhoIs privacy replaces all personal information associated with that domain with the domain providers information. This will stop you from receiving spam emails and calls constantly from various companies and people looking to do work for you.
Any Improvements?
I believe that Hover could increase their service by including a few extra features. Extra features I believe that could be added are Android pay and a live chat feature for support.
One improvement Hover can make that would change the dynamics of their support base would be a live chat feature. Many companies offer this type of feature as users and customers alike can gain support and answers to their questions quickly and easily. Unless hover has many employees manning the phones then waiting times could potentially be long for customers and the phone lines are not available 24/7.
Android pay is another feature Hover should look at including in their service in the future. Android pay works similar to Apple pay. Including this feature will be great for Android users as they will have an additional payment method like Apple users.
I also believe that Hover should think about having more content in their knowledge base. Topics such as domains have very little content within them. At the moment they have just under 100 articles whereas many other companies have near a thousand or thousands of articles.
My Thoughts;
Overall I believe that hover is a great Domain Registrar. Being owned by Tucows makes them a great competitor to other registrars such as GoDaddy. This is because of customers of the other three companies Tucows owned were then made Hover customers. So in the beginning, they had a great number of customers.
Hovers support also seems excellent with the many different ways you can get help and support. Although for a better rating I would highly suggest a live chat feature. Other features such as the WhoIs privacy for free is an added bonus to them. This feature is a fantastic bonus to a customer.
Would I use them? I think I would potentially use Hover for domain registering. If they were to get a live chat I would for sure use them as a service. The reason being is I hate speaking on phones.
Check out our other Domain Reviews; 123Reg | GoDaddy | NameCheap | Name.com | Gandi | Hover | Flippa.com | HostGator | 1&1| Dreamhost