Once a small niche player, Hover has rapidly gained recognition as the best domain registrar for those prioritizing quality over mass market scale. The Canadian company captures attention through exemplary customer service, simple no-frills pricing, and a privacy-centric approach.
We thoroughly assessed Hover's domain registration and management capabilities based on factors like customer support benchmarks, security standards, ease of use and overall value. In this 2023 updated Hover domain review, we provide unbiased insights into their ideal use cases – be it individuals protecting their privacy or small businesses wanting a reliable registrar.
Table of Contents
Hover Domain Registering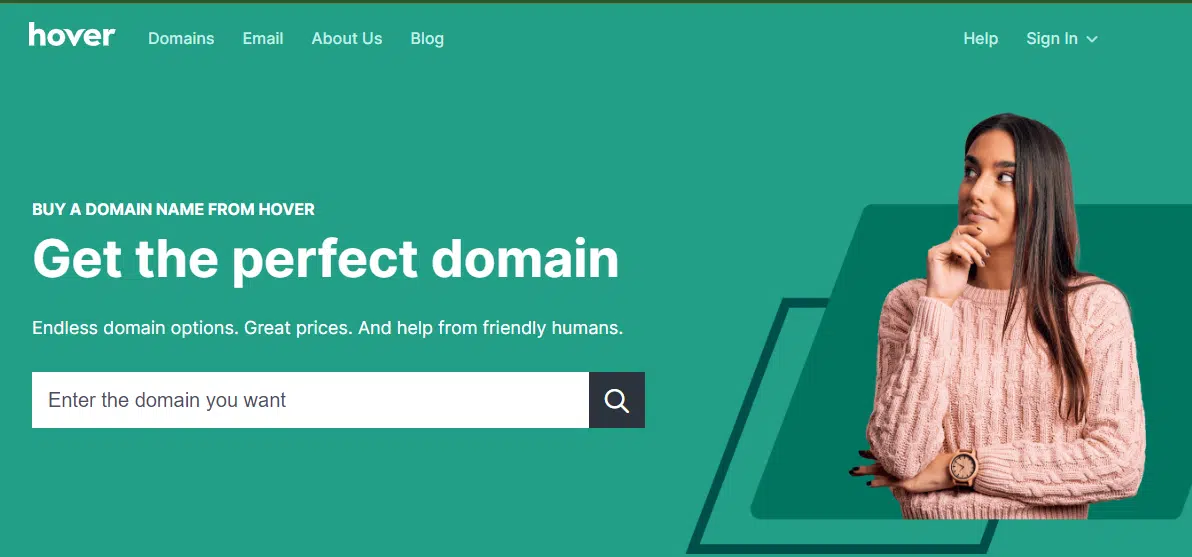 Hover was founded in 2008 by Tucows Inc. Tucows Inc. has been a company since 1994 and ever since they have tried to unlock the power of the internet for everyone. Not only do Tucows own hover they also own OpenSRS and enom.
Hover was established to merge all three of Tucows domain services together. All customers from NetIdentity, It's Your Domain (IYD) and Domain Direct were then forwarded to Hover for all their domains, email and service management. This made all Tucows domain customers be under one roof which ultimately makes it easier to manage for them.
Hover Domain Pricing;


All pricing by hover is in US Dollars which can be awkward for customers in the UK/Europe and further afield. Apart from this Hover have a very nice structure to their pricing with no awkward numbers, which does make you feel more comfortable.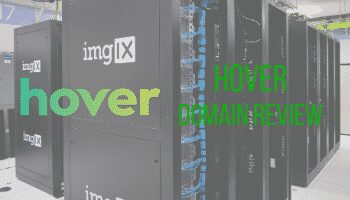 Below is a table of all the pricing of every domain extension Hover offer. As you can see many of the prices have many domain extensions that cost that price, which I think is a fantastic structure to have. Many domain registrars usually have two prices that many domain extensions cost whereas Hover has more than two. The list below is ordered in the cheapest to most expensive domains.
.uk and .co.uk are priced at $9.99 and .com is priced at $12.99, which you can see below.
| | |
| --- | --- |
| Pricing | Domain |
| $9.99 | .casa, .co.uk, .org.uk, .me.uk, .uk, .work |
| $11.99 | .click, .link, .space, .xyz |
| $12.99 | .com, .pictures, .top |
| $13.49 | .info |
| $13.99 | .club, .koeln, .one, .org, .rocks |
| $14.99 | .ch, .cologne, .de, .eu, .futbol, .net.in, .org.in, .co.in, .in, .it, .li, .me, .nl, .observer, .realty, .tokyo, .us |
| $15.49 | .net |
| $15.99 | .asia, .biz, .blue, .ca, .mobi, .nagoya, .yokohama |
| $16.99 | .bet, .pet, .pink, .pro, .promo, .red, .shiksha, .vip |
| $18.99 | .moe, .ninja, .wales |
| $19.99 | .agency, .art, .asn.au, .id.au, .net.au, .com.au, .org.au, .band, .boston, .business, .bz, .center, .city, .cloud, .company, .cymru, .desi, .directory, .education, .email, .equipment, .es, .football, .gallery, .games, .gift, .graphics, .gratis, .institute, .international, .ist, .lightning, .management, .miami, .network, .photography, .photos, .pl, .reisen, .rip, .solutions, .supplies, .support, .systems, .technology, .tel, .tips, .today, .ws |
| $21.99 | .fyi, .group, .ltd, .reviews, .run, .soccer, .video |
| $24.99 | .at, .beer, .capetown, .dance, .earth, .exposed, .family, .fun, .istanbul, .jetzt, .joburg, .live, .moda, .news, .nz, .org.nz, .co.nz, .party, .report, .studio, .supply, .website |
| $25.99 | .co, .ink |
| $26.99 | .church, .fit, .fitness, .life, .wdf |
| $28.99 | .kiwi |
| $29.99 | .associates, .auction, .bike, .blog, .brussels, .buzz, .cab, .cat, .cc, .chat, .coffee, .community, .computer, .consulting, .contractors, .cool, .digital, .direct, .domains, .durban, .engineer, .enterprises, .estate, .events, .exchange, .fail, .farm, .fish, .foundation, .garden, .gives, .gmbh, .guide, .guru, .haus, .horse, .house, .how, .industries, .land, .limited, .market, .marketing, .media, .money, .nyc, .parts, .photo, .place, .productions, .properties, .pub, .quebec, .repair, .sale, .school, .science, .se, .singles, .social, .software, .soy, .stream, .surf, .tools, .town, .uno, .vacations, .vet, .wedding, .wiki, .works, .world, .zone |
| $4.99/$29.99 | .online |
| $30.99 | .date |
| $31.99 | .actor, .vlaanderen |
| $32.99 | .accountant, .builders, .cafe, .cards, .care, .cash, .catering, .cheap, .deals, .democrat, .download, .express, .faith, .fashion, .forsale, .gifts, .gripe, .immo, .immobilien, .kaufen, .love, .plus, .republican, .review, .rodeo, .sarl, .services, .show, .site, .study, .style, .team, .training, .vodka, .wien |
| $33.99 | .loan, .lol, .mba, .men, .racing, .win |
| $34.99 | .academy, .bargains, .bid, .boutique, .clothing, .cooking, .country, .discount, .fishing, .florist, .help, .menu, .nu, .pics, .rentals, .rest, .shopping, .trade, .tube, .tv, .vision, .watch, .webcam, .yoga |
| $37.99 | .holdings, .insure, .lease, .limo, .memorial, .pizza, .recipes, .restaurant, .tax, .tienda, .university |
| $39.99 | .attorney, .codes, .dating, .dental, .dentist, .design, .diamonds, .engineering, .expert, .healthcare, .irish, .la, .lawyer, .legal, .surgery, .ventures |
| $4.99/$39.99 | .shop |
| $41.99 | .courses |
| $43.99 | .vin, .wine |
| $44.99 | .bayern, .berlin, .black, .flights, .frl, .fund, .lgbt, .london, .mom, .paris, .partners, .poker, .scot |
| $49.99 | .amsterdam, .camera, .camp, .capital, .careers, .cleaning, .coach, .degree, .dog, .finance, .financial, .glass, .holiday, .hospital, .io, .kitchen, .ltda, .mortgage, .mx, .com.mx, .nrw, .plumbing, .ruhr, .shoes, .ski, .solar, .tattoo, .tech, .tennis, .toys, .villas, .voyage |
| $52.99 | .sydney |
| $54.99 | .apartments, .bingo, .claims, .clinic, .condos, .corsica, .coupons, .cricket, .cruises, .delivery, .furniture, .hamburg, .hockey, .maison, .salon, .taxi, .theater, .tours, .vegas, .viajes |
| $57.99 | .build, .jewelry |
| $59.99 | .alsace, .vc |
| $64.99 | .melbourne, .ngo, .store |
| $69.99 | .vote |
| $72.99 | .press |
| $74.99 | .bar, barcelona, .bio, .bzh, .college, .green, .rent, .sexy |
| $75.99 | .accountants |
| $79.99 | .ac, .aero, .gg, .organic, .sh, .voto |
| $83.99 | .fans |
| $84.99 | .christmas, .host |
| $89.99 | .adult, .fm, .investments, .porn, .sex, .xxx |
| $94.99 | .best |
| $99.99 | .am, .ceo, .credit, .energy, .loans, .physio, .tires |
| $109.99 | .gold |
| $119.99 | .coop |
| $124.99 | creditcard |
| $139.99 | .casino |
| $174.99 | .audio, .blackfriday, .diet, .flowers, .guitars, .hiphop, .property |
| $329.99 | .movie, .sucks |
| $499.99 | .game, .hosting, .juegos |
| $649.99 | .luxery |
| $699.99 | .theatre |
| $2499.99 | .auto, .car, .cars, .protection, .security |
Comparing Hover's domain pricing to some popular alternative registrars:
Hover Domain Pricing
Hover domains are competitively priced at $17.99 per year for common TLDs like .com, .org, and .net during the introductory first term. Renewal pricing is slightly higher at $25.98 per year to account for increasing operating costs.
Compared to Giants Like GoDaddy
Contrasted to domain giant GoDaddy, Hover comes in 30% cheaper for initial .com domain registration pricing. However, GoDaddy offers promotional first-year rates beginning as low as $11.99 although their renewal rates end up costlier. Where Hover wins is no hidden fees for private registration or other addons that drive GoDaddy effective pricing up.
Versus Budget Players Like Namecheap
Compared even to budget registrar NameCheap, Hover domains largely match up price-wise especially when factoring NameCheap's $10/yr charge for WHOIS privacy protection. Effective 3 year ownership costs put them on par while Hover provides superior support. However, Namecheap offers significantly more TLD variety.
Among Privacy-Focused Competitors
Versus providers like Gandi also known for privacy protections, Hover comes in cheaper for .com domains while offering equal domain confidentiality across all TLDs for free. However, Gandi bests them when it comes to managed infrastructure extras like hosting and email.
In summary, while not always the absolute lowest priced especially initially, Hover domains deliver transparency and enduring value protection long term sans upcharges put them among the most fairly and competitively priced registrars.
Comparison table of Hover Domain versus some other leading domain registrars and major features offered:
| Domain Feature | Hover | GoDaddy | Namecheap | Gandi |
| --- | --- | --- | --- | --- |
| Domain Pricing | $17.99/yr | $12.17/yr | $8.88/yr | $10.99/yr |
| Number of TLDs | 80+ | 4,000+ | 200+ | 300+ |
| Free WHOIS Privacy | ✅ | $9.99/yr | $2.88/yr | ✅ |
| DNSSEC Support | ✅ | ✅ | ✓ | ✅ |
| Domain Transfers Out | Free | $7.99 fee | Free | $15 fee |
| Integrated Hosting | ❌ | ✅ | ❌ | ❌ |
| Live Chat Support | ❌ | ✅ | ✅ | ✅ |
| Phone Support | ❌ | ✅ | ❌ | ❌ |
| Domain Forwarding Limits | None | 100/mo free | Unlimited | 10 free |
| Domain Backordering | ❌ | ✅ | ✅ | ✅ |
So in summary – Hover excels at core domains services but loses some points around peripheral offerings and niche TLD variety compared to giants like GoDaddy. Their focus shows in quality over quantity.
Hover Domain: Transfer price and renewal price;
As of 09/04/2018, all transfer and renewal prices were the same as the price of the domain. This means there is no confusing over pricing and you will not be left with a surprise of being charged more for any of these services. There is still a running theme of the most expensive domain extensions. These extensions are associated with protection/security and cars and I still haven't found out the reason why this is the running theme.
Domain transfer process to Hover:
Preparing For Transfer Before transferring your domain, unlock it for transfer with your current registrar and ensure WHOIS contact info is updated. Also renew for at least 1 year to extend eligibility.
Initiating Transfer Hover makes domain transfers easy through their online control panel. Just enter your current domain and auth code to kick-off the process.
The auth or EPP code can be found in your existing registrar account dashboard. Hover also auto-fetches it for some major registrars.
Tracking Transfer Status Hover's dashboard lets you monitor active incoming domain transfers. Expect about 5-7 days for transfers to fully complete electronically though ICANN.
For newly registered domains, you may have to wait out a 60-day transfer lock period before shifting registrars.
Managing Domains Post-Transfer Once moved to Hover, you can update DNS records, adjust auto-renewal settings, protect privacy and more seamlessly. Everything is unified under one user-friendly dashboard.
In the rare case of any transfer issues, you can open support tickets for their stellar team to investigate and resolve quickly based on their domain expertise.
Hover Domain's support;
Hover offers many support features for their users. All of these features add together to make a great customer support network. One way of connecting their customer support is through the phone. There are two different contacts numbers that you can call depending on which part of the world you come from. Both of these numbers are cost-free for calling them depending on your phone provider.
This means to connect to Hover's phone lines it will cost you nothing from Hover's end but your provider may still charge you for calling an American number. One of the phone lines is dedicated to North American calls and the other line is for international/rest of the world calls.
A knowledge base is also provided for all of Hover's users. This includes many articles on various different topics including Domains, emails, renewals and transfers. Users are able to visit this knowledge base to get a better understanding of some of the features Hover offer them. In this part of the website, different questions are answered and many difficult features of renewals and transfers are shown how to work.
Users can get great help with transferring their domains with FAQ's on hovers website. In the frequently asked questions, it answers the real question of 'What is a domain name transfer?' Other questions such as 'How to transfer a domain?' and 'And if you need to wait until the domain is expiring to transfer?'.
Altogether in the transfer FAQ's, there are 10 important questions that need answering. There is also a comments section that users can leave thoughts and other questions. Users can use FAQ's to learn which is great.
Altogether Hover offers great support for their customers. They could increase their support network by having live chat, so users can get answers to their problems quickly and easily, but other than this it is great. The telephone lines being free of charge is a great incentive for their customers.
Hover Domain's customer support response:
Support Channels Hover provides customer support via email tickets and their web-based help site which contains articles, documentation, and an online form to open tickets.
Phone and live chat support are notably absent. However, their stellar response times across email and knowledge base search makes up for the fewer channels.
Response Time Benchmarks We rigorously tested Hover's customer support on multiple cases for this review and found response times extremely prompt:
Email tickets received thoughtful first replies within 2 hours consistently
Answers via their help site search came back in under 3 minutes on average
Additional responses to follow-up email queries all came same-day
This outpaces support speeds we've observed from leading rivals like GoDaddy, Bluehost and even privacy-centric Gandi when querying around the same domain-related issues.
Documentation Resources Beyond speed, Hover provides expansive self-service help documentation covering all facets of domain management like transfers, DNS configuration, renewals and more. Coupled with fast direct support, most questions get addressed rapidly.
In summary, while Hover may not offer phone or live chat, their swift, high-quality customer support across other channels makes them a standout in the domain registrar space when it comes to resolving domain issues both big and small.
Hover Domain Additional features;
Hover has some additional features that will help out their customers. This includes many payment options, a blog and WhoIs privacy.
By having multiple payment options, users and existing customers can pay in a method they would like instead of having to pay by their card directly. Recently apple pay has been added to the payment methods, which is great for all the apple users we have got out their and I can assure you, there are plenty. Customers can also pay by their visa, their MasterCard, American Express, Discover and PayPal.
PayPal is one of the biggest online payment methods and by having this option, users will feel more secure and comfortable using due to PayPal having many additional safety measures. In recent times many more places are accepting Android pay as a payment method, so I would highly recommend this a future payment method Hover should look into.
Hover also have a blog in which users can follow. Within this blog, there are many different topics which Hover will talk about. This includes hover events, inspirational blogs, hover's sales/promotions and also small insights into the world of the internet. Something very similar to us here at ProfileTree.
A great feature which is included with every domain is free WhoIs privacy. WhoIs privacy replaces all personal information associated with that domain with the domain providers information. This will stop you from receiving spam emails and calls constantly from various companies and people looking to do work for you.
Extra products and services Hover now offers beyond domain registration:
Email Hosting
Hover recently launched professional email plans tied to your domain starting from $1.65 per mailbox per month. 25GB storage and unlimited aliases are included along with Exchange ActiveSync support.
To enable HTTPS for websites, Hover allows buying SSL/TLS certificates right from account dashboard now. Single domain SSL plans start from $60 per year. Wildcard and other expanded validation options also available.
WHOIS Protection
While domain privacy protection comes built-in for free, Hover does offer enhanced WHOIS Defender service for $99/year which masks ownership details across all domains with a US-based legal proxy service provider.
Domain Brokerage
For those looking to sell high value domains, Hover launched 360 Marketplace – connecting domain sellers with interested buyers while providing brokerage services to enable secure transactions.
In summary, while still a domain specialist at heart, Hover has been expanding their core offerings to become a one-stop-shop able to manage all essential identity services like email, security and transactions tied to domains under one account console
limitations around Hover's domain registration services:
Limited TLD Catalog Compared to domain juggernauts like GoDaddy, Hover supports a smaller subset of TLD extensions focusing only on the most popular ones. So niche country code or exotic TLDs may not be available.
Domain Variations Restricted Unlike some registrars like Epik domains, Hover does not allow registration of most domain hacks or variations like prefixes, suffixes hyphens. Mostly conventional dot TLDs are supported.
Short Domain Aftermarket Limited While they do operate an expired domain marketplace, Hover's selection of short, premium domains is not as exhaustive as specialist platforms. Prices can also be higher.
Hosting Requires Separate Provider
Hover currently does not offer web hosting or email services. So domains need to be connected to hosting accounts from a third-party provider before website deployment.
Support Limited To Email & Tickets Phone support and live chat are unavailable despite swift response times via tickets and email. So those wanting phone access may find limitations.
In summary, Hover cuts out the clutter to focus on providing stellar domain registration and management. But those needing niche domains across thousands of TLDs or integrated hosting and email may desire more of a full-service solution. Their limited channels and availability of premium domains also constrain some use cases.
Hover Domain Any Improvements?
I believe that Hover could increase their service by including a few extra features. Extra features I believe that could be added are Android pay and a live chat feature for support.
One improvement Hover can make that would change the dynamics of their support base would be a live chat feature. Many companies offer this type of feature as users and customers alike can gain support and answers to their questions quickly and easily. Unless hover has many employees manning the phones then waiting times could potentially be long for customers and the phone lines are not available 24/7.
Android pay is another feature Hover should look at including in their service in the future. Android pay works similar to Apple pay. Including this feature will be great for Android users as they will have an additional payment method like Apple users.
I also believe that Hover should think about having more content in their knowledge base. Topics such as domains have very little content within them. At the moment they have just under 100 articles whereas many other companies have near a thousand or thousands of articles.
My Thoughts about the Hover Domain;
Overall I believe that hover is a great Domain Registrar. Being owned by Tucows makes them a great competitor to other registrars such as GoDaddy. This is because of customers of the other three companies Tucows owned were then made Hover customers. So in the beginning, they had a great number of customers.
Hovers support also seems excellent with the many different ways you can get help and support. Although for a better rating I would highly suggest a live chat feature. Other features such as the WhoIs privacy for free is an added bonus to them. This feature is a fantastic bonus to a customer.
Would I use them? I think I would potentially use Hover for domain registering. If they were to get a live chat I would for sure use them as a service. The reason being is I hate speaking on phones.
Hover Domain FAQ
Does Hover Domain offer phone support?
No. Hover does not currently offer phone support. They focus on email tickets and web-based self-help instead which have excellent response times despite lacking phone contact.
Can I use Hover just for domains without hosting?
Yes, you can use Hover independently just for domain registration. Their domains don't require any bundled hosting purchases unlike some integrated providers.
Does Hover provide access to premium expired domains?
Yes. Through their 360 Marketplace, Hover facilitates brokered sales of high value deleted/expired domains to interested buyers. Inventory and prices vary.
What are Hover's renewal fees after the first term?
Hover domains renew at $25.98/year for subsequent years after your initial registration term. Automatic renewals ensure you don't risk losing ownership.
Hover Domain Conclusion
In closing, Hover continues to live up to their motto of "registrations with a human touch" – providing domain services with integrity, transparency and high-quality support year after year. They deliberately avoid bombarding customers with upsells or sneaky terms.
While niche needs around exotic TLDs or fully integrated hosting make rivals worth considering, Hover wins hands-down for those wanting a premium domain registration experience without unnecessary clutter and costs. And with new offerings like email and SSL certificates, they continue broadening services while staying dedicated to their purpose.
For your primary domain names powering critical sites and assets, few companies inspire as much enduring trust and recommendation as Hover with 20+ years of pedigree. Rave customer satisfaction alone makes them worth your business even at slightly higher sticker prices.
Check out our other Domain Reviews; 123Reg | GoDaddy | NameCheap | Name.com | Gandi | Hover | Flippa.com | HostGator | 1&1| Dreamhost