Ever thought about a digital marketing career? Whether you're a new graduate or changing careers, considering a career in digital marketing is a great option, with excellent scope for growth.
Digital marketing, along with information technology, are among the most in-demand skill sets in today's digital economy. Let's take a closer look at the ins and outs of a career in marketing, including the best starting points for your first steps into the field.
A digital marketing career can be very fulfilling and – some good news – the initial skills to start your career are easily self-taught. This means the barriers to entry are very low. There are clear pathways to gaining the advanced knowledge and qualifications to process from there.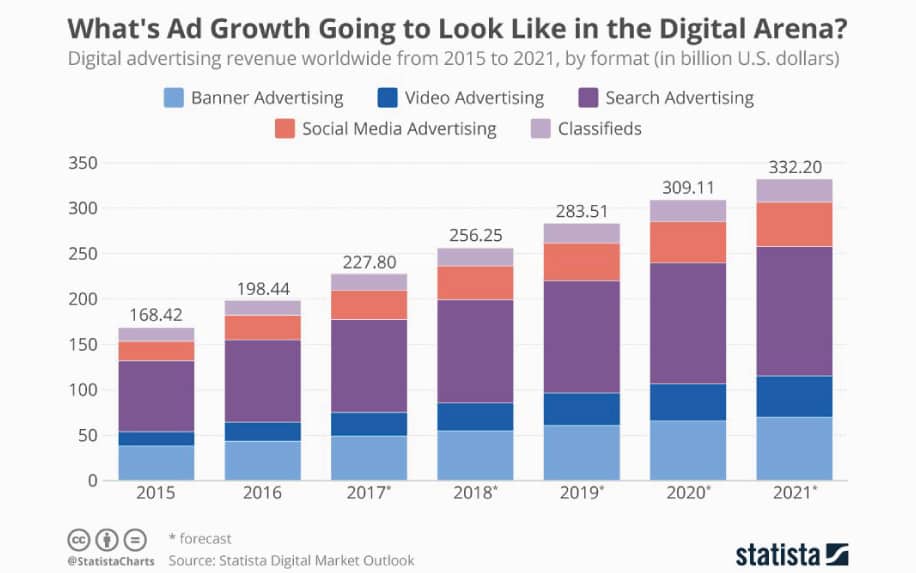 What Does Digital Marketing Involve?
Before you consider delving into the digital marketing world, you need to know what digital marketing is. According to Statistical Analytics System, digital marketing is "the promotion of products or brands via one or more forms of electronic media."
There are online marketing tools that make your digital marketing career easier and simpler for any task that comes your way.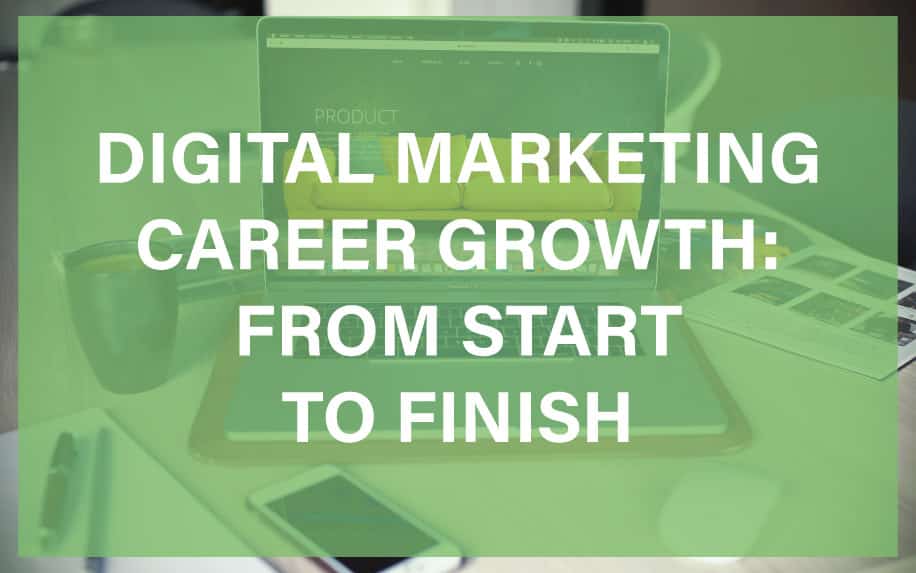 Meanwhile, your digital marketing career will revolve around creating, monitoring, and evaluating marketing campaigns. This might be done for agency clients, or in-house in a larger company.
There are also key differences between digital marketing and traditional marketing. The major difference is how the marketing campaign is offered to the audience. As the name implies, digital marketing prioritises digital channels, while traditional marketing is more likely to use print media, TV and radio.
So, digital marketing refers to the promotion of products or services through electronic media. By assessing campaigns, marketers then understand what works for clients and what doesn't.
Pros and Cons of a Digital Marketing Career
It is natural for you to be hesitant when you think about starting your digital marketing career. After all, this is a big decision. Our reasons showing why you should or shouldn't start your digital marketing career should help you make up your mind.
Benefits of Pursuing a Digital Marketing Career
Your digital marketing career takes work and effort, yet you can start at any moment.
You need to prepare yourself with all the qualifications needed to be a marketer. However, you don't need to spend another four years in community college to learn about digital marketing.
It is possible to take digital marketing courses and you'll be able to begin your digital marketing career. Digital marketing is also a pocket-friendly career. This means that almost anyone can start the career without spending a huge amount of money.
For professional marketers, most platforms and tools are free and accessible to the public. This gives you the ability to digitise your marketing campaign and promote your personal brand with little outlay.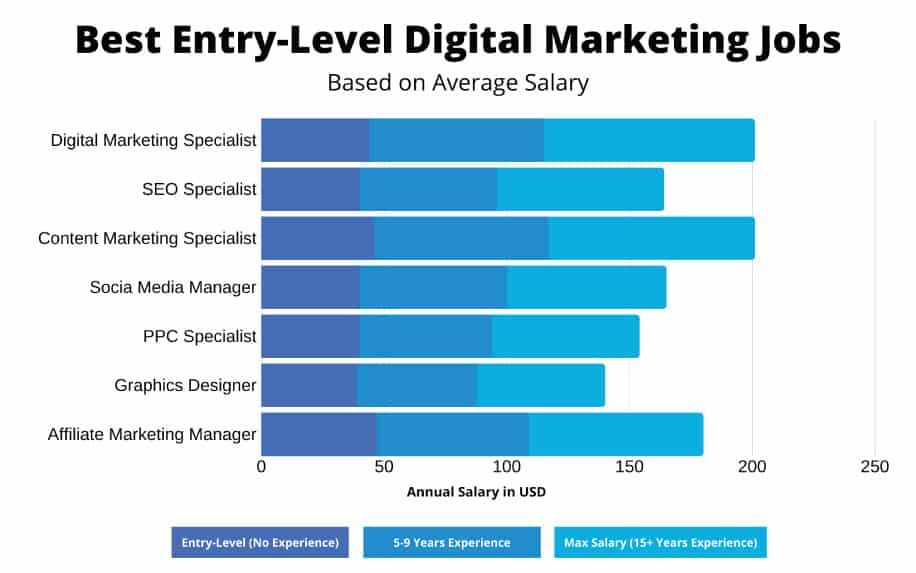 Digital Marketing Responsibilities
Marketers are responsible for reaching multiple demographics and audiences at once. This makes it easier to reach your target as fast as possible. In a digital marketing career path, understanding your audience is everything.
The more people you reach, the better you are at your job as a marketer. You will need to gain exposure and classify your company as a reliable source for information or production.
By doing so, you'll have credentials and qualifications in your digital marketing career.
In your digital marketing career, you'll be faced with the task of research. You'll need to know how to capture your audience's attention as fast as possible and as easy as possible.
According to the Brain Research Institute, an average online user has an attention span of 8.25 seconds.
This means that in your digital marketing career, you'll need to work at a fast pace and consistent with the trends that pop up on the Internet. A big part of digital marketing is done online, also known as eMarketing, where you need to be constantly updated by what attracts viewers on the Internet.
The Cons of a Career in Digital Marketing
However, there is always a downside when it comes to any decision you make. It is strongly recommended to start a digital marketing career, but you should know what you're getting yourself into.
Digital marketing is not as easy as some people make it sound. You will be judged based on first impressions and immediate results. Because the audience has a short attention span, viewers will judge your content – and its results – from the very start.
This means that you're only ever as good as your work.
Another issue is that digital marketing can easily be copied and traded off on another campaign. Many of the audience will be discouraged if they see the same content in every marketing campaign.
This causes your campaign to lose viewers and for your company to lose exposure for their product. Therefore, originality is needed.
Digital marketing also involves risk. Your marketing ideas will always go through a process of trial and error. This risk includes financial risk, since any sponsored campaign requires funding.
Sometimes, you will have to work more than eight hours in order for your marketing to campaign to be successful. In your digital marketing career, you'll need to be able to have a thick skin.
Your campaigns may attract negative responses or criticism sometimes. This is an unavoidable part of publishing in the online world!
How to Start Your Digital Marketing Career?
In order to start your digital marketing career, you'll need to acquaint yourself with its tools, channels, trends, and rules. You'll need to further understand the way social media channels operate and how to use them.
As a digital marketer, you'll need to learn how to interact with users online in a way that will attract their attention; you'll also need to avoid inciting a negative response from the audience.
This is not an easy task to do, because there is a fine line between good quality 'on-trend' content and content that is already becoming redundant.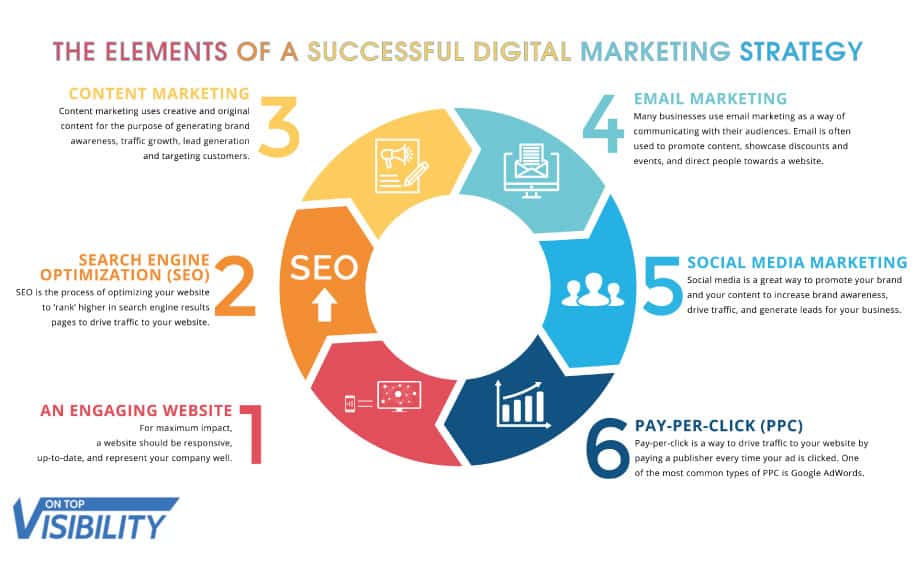 You'll also need to build a great personal virtual presence, in order to gain exposure. Just like with brands and products, sometimes you need to sell yourself.
You can do so and interact with potential employers or colleagues through hiring platforms, such as LinkedIn.
In your digital marketing career, you will face challenges that do not exist in other fields. A good suggestion is to familiarise yourself with the ethics and legalities of digital marketing.
By doing so, you're avoiding a mistake, or in worst case scenarios, a lawsuit.
Your digital marketing career is a road to pave, since you learn almost everything on the job.
You'll just need to understand your job description first. Next, you should build a strong online portfolio as you progress or execute projects. This shows potential employers that you are ready for anything that comes your way.
When to Start Your Digital Marketing Career
There are a lot of career opportunities in digital marketing in the current job market. Many companies are either selling digital marketing services or they are outsourcing digital marketing services.
In your digital marketing career, you'll find that your job is a product all on its own to be sold and traded with. A digital marketing career is an asset to any company, so, you must be able to adapt to any environment.
If you're going to take the career seriously, then start off with a few online courses about marketing.
It is never too late to learn new things, plus you'll have an advantage against your peers.In addition, when you finish your online courses, you shouldn't expect to become a manager at your first try.
Your digital marketing career has to start with you at the bottom of the food chain, as it is in any career field. You shouldn't be discouraged for starting too late or for turning a new leaf. A digital marketing career is an opportunity that you can branch out from.
Different Types of Digital Marketing
You may think that a digital marketing career revolves around sitting at your desk and working on marketing campaigns. Or, maybe you'll post on social media channels as a part of your daily quota. However, that's not all there is to digital marketing.
There are different types of digital marketing; it is a rather vast field of work. Among the most common types of digital marketing are Search Engine Optimization (SEO) and Pay-Per Click (PPC).
SEO is one of the most effective types of digital marketing that most marketers use for their benefit. Almost every person in the world uses search engines as a way to find information. By using SEO, you are encouraging users to promote your product and rank higher on the list.
As for PPC advertising, it is one of the most efficient ways to gain exposure in the digital world. If you see an advertisement while you're scrolling through your Facebook feed, that's a Pay-Per Click advertisement. PPC can be a good asset when you have money to spend.
A Digital Marketing Career: Looking to the Future
In the past decade, there has been a fluctuation in the economy in all corners of the world. But, it seems that there has been a career growth in digital marketing.
This is due to the unwavering growth of the internet. Your digital marketing career will flourish under the technological circumstances that we face today, especially with social media platforms and smartphones.
While the change is tough, and you may be worrying about what is yet to come, there's a guarantee that the dependency on digital media will continue to increase.
So, you're going to find that there are a lot of career opportunities in digital marketing. You'll be starting your digital marketing career in no time.
Start Your Digital Marketing Career and Never Look Back
Ready to make a decision about your digital marketing career? There are also many available articles and materials online to educate yourself more on the topic.
Digital marketing may not always be a traditional, 9-to-5 job, but it is a fulfilling one.
You will be able to interact and reach people from all over the world with just one click. That's exciting. You will also develop skills from WordPress to basic HTML, all while you're on the job and gaining experience.
The right time to start your digital marketing career is now, while the industry is booming. The career growth of digital marketing is expanding by the hour and you should be a part of it too.
Good luck!