Too much talking about SEO, right? We agree, yet this is another talk about improving your SEO strategy. One cannot deny the significance of SEO rankings. Google alone processes 40,000 search queries per second on average; you do not want your business to miss these chances, do you? Keyword targeting plays a major role in achieving high SEO rankings. How to build your content strategy? How do you come up with topics and keywords for your website's content? To do so, you need to plan a strong keyword strategy. A free keyword research tool is your keyword finder. Not only will it make your keyword hunt easier and more accurate, but also it will help you save the money you could be spending on keyword research tools. For start-ups, every penny matters. This is an easy, to-the-point guide to finding a reliable, free keyword research tool.
What Is Keyword Research?
This one is easy. You have a business, and you want people to find out about your services and products. In another scenario, you own a website or a blog and you are aiming for more viewers. In order to achieve that, you need to know exactly which keywords researchers are using to find out about your niche. By knowing what people are searching for, you will create suitable content that will lead potential customers to you. You need to find out what topics or keywords that will be useful to your content, based on your target audience's needs. Preparing the keywords you are going to discuss is called a keyword strategy.
What Is a Free Keyword Research Tool?
A free keyword research tool gives you all that you need to know about keywords. It provides you with valuable information about the volume of a specific keyword and all other words associated with it. For example, if your business sells sports shoes and you type "sports shoes," into the keyword search tool, it will give you all keywords that included "sports shoes" as shown in the image.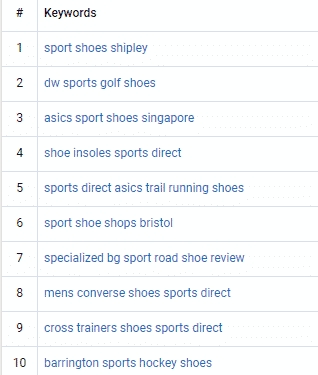 What Is the Best Free Keyword Research Tool?
The most powerful and well-known free keyword research tool. You probably have heard of it. Google Keyword Planner gives so many features to its users. First, you need to create an account for free and then you can start enjoying the benefits. The next step is to enter your product or service, your website's URL, and any other preferences. Google will do its magic and give you a detailed list of all relevant keywords. Moreover, it will give out information about each keyword's level of competence and the number of searches it gets whether on a global or a local level.
Golden tip: You can write down your competitor's website instead of yours to get results about the keywords which Google suggests to them. Since you both have the same niche, you can target the same keywords they use.
Google never runs out of useful options. This free keyword research tool will do you a favour when it comes to determining current trends in your niche. Of course, it will allow you to compare keywords to find out which one is more popular, but that is not all. The best feature Google Trends has is that it can predict future trends or keywords with increasing popularity in your field. This will put your SEO game one step ahead.
Golden tip: Include those keywords in your content and prepare for a trend before it happens. You owe Google.
Looking for an easy and simple free keyword research tool? SERPs is the right one for you. Extremely easy and basic for those who are interested in getting lists of keywords, be it head terms or long tail keywords. What are those? Head terms are keywords which are formed of one to three words tops; they are short and more general. On the other hand, long tail keywords are composed of three or more words; they are usually in the form of a WH-question like "What Is the Best Free Keyword Research Tool?"
Golden tip: Choose long tail keywords for gaining a quick and immediate ranking. Head terms are great for a long term SEO strategy. Make sure your keyword strategy balances between both types to balance between short and long term SEO goals.
SERPSTAT is a wonderful free keyword research tool which grants you a LONG report for the keyword you are searching for. You will be amazed at the amount of data you can get. It provides information about top organic and paid keywords, along with the volume of each one. On top of that, it gives you a "keywords-trends" graph, and a graph of keyword difficulty, too. Furthermore, it makes you a list of your competitors whether on organic search or paid Ads. It will even provide you with sample Ads related to your product. Too good for a free service.
Golden tip: Use SERPSTAT to find out the top achieving businesses in your niche. Use web traffic estimators to gather more information about them, you can learn a lot from their successful approaches and apply it to your own business.
Side Tools
A very easy, nice tool at everyone's reach. Whenever you perform a search, you will find Google's suggestions at the bottom of the results page; get keyword ideas from those. These are always straight to the point and related to the keyword you are targeting.
Make Use of the Asterisk (*)
This is a winning card. What is this? While you are googling any keyword, the asterisk acts as a fill-in-the-blank. To put it differently, if you write "What is the best*" Google will suggest the most popular words used in that same question form as shown in the figure. This can be beneficial for finding long tail keywords.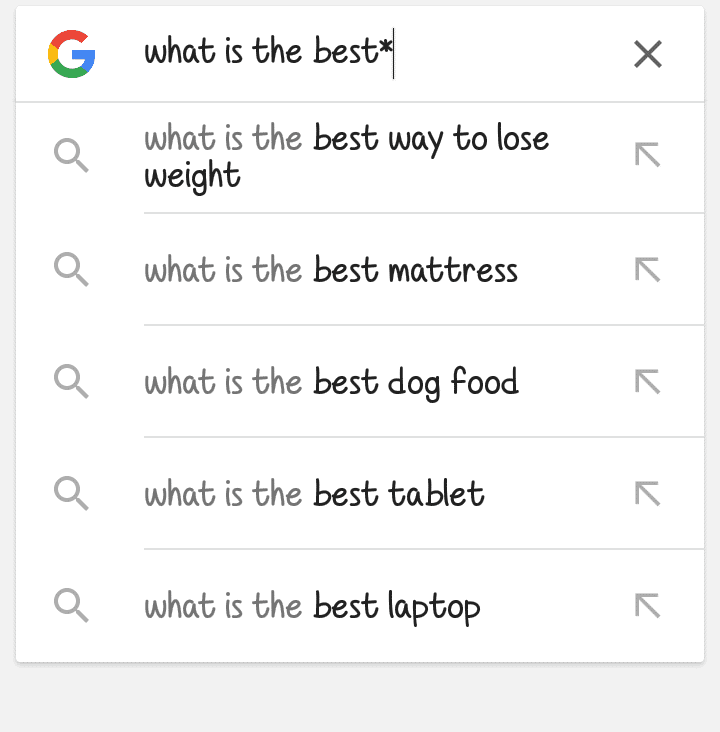 Most of the time when researchers are looking for a product or a service, they will add their location so they can get businesses near where they live. Like, "the prices of smartphones in -name of their city-." If your business is only available to a specific area, make sure you include that location in some of your keywords. That way, people would find your business when they are looking for local businesses.
How Can You Create a List of Keywords?
Create a list of topics that your business deals with.
Under each topic, create another list of relevant keywords.
Use a free keyword research tool to evaluate the effectiveness of those keywords using the tips mentioned above.
Take a look at your competitors' keywords and compare them to yours.
Cross out the keywords that do not match your criteria.
Finalize your list of keywords and get ready to create engaging content for them.
Summary
Producing an influential SEO strategy cannot be done without planning a strong keyword strategy. A good keyword research tool will make this step easy and accurate. You can know what to expect from every keyword and you can estimate the amount of traffic your campaign or website will get. A tight budget is what many businesses complain about. For that reason, using a free keyword research tool is of great help to your business, especially if you are a start-up. The free keyword research tool allows you to achieve your goal without needing to pay an extra amount of money.