Once you have your WordPress all setup and all the users you need, added to your site. It is then time to write and publish content on your site. To create content on your site, we use two key methods. The first method is by creating pages and the second method is creating posts.
Both pages and posts are vital to the hierarchy of your site. They allow search engines to crawl your site and understand what content has more importance and authority in your site. This allows for Google and other Search Engines to crawl your site and rank your site appropriately.
Importance of Pages and Posts Within a Website
Pages and posts within a site are very important. They help develop the navigation throughout the rest of your site, ultimately allowing Google and other search engines to understand the layout of your site. Most websites usually have around five key pages on their site. These pages should rank the best within search engines.
The first page of a website will always be the home page. This page is the most important page of your site. First of all, the home page should be the first page users reach your site. This is usually through ranking and search results. Secondly it should show the user, the purpose of the site. Lastly the page should link to all the other key pages of your site.
Think of your site as the US Government system. The home page would be the constitution, which is the basis of the American government and justice system. Linking off the home page should be other important pages, such as the about us page, contact page, blog and depending on your site, you may have others. These pages are key to your site and would be the likes of the Legislative, Executive and the Judicial branches within the American Government system.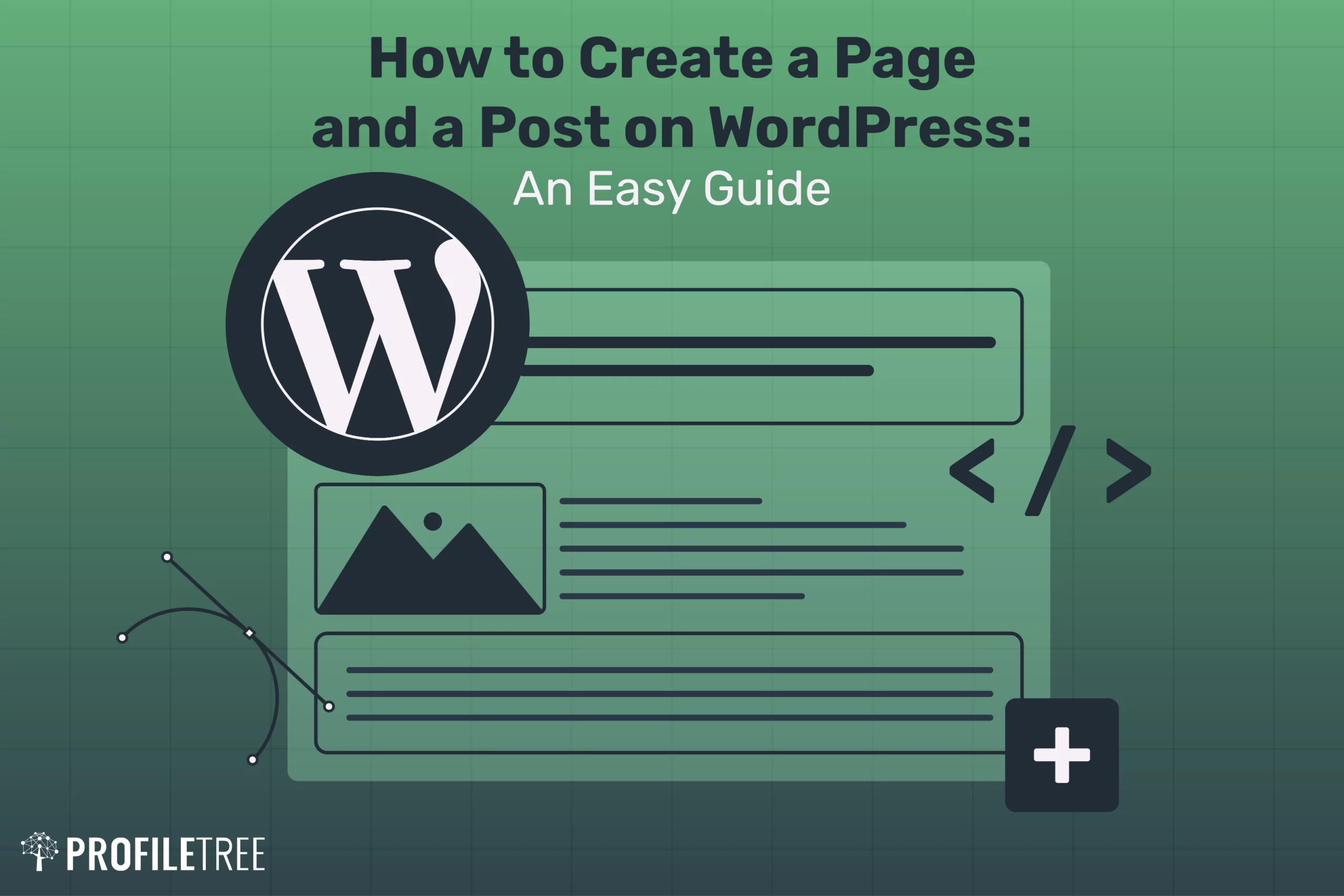 Underneath the three branches of the US Government, would be the likes of the President, Congress and the Courts. This would be the likes of previous work project pages, services pages and blog posts. Which is very similar to ProfileTree's pages and posts hierarchy.
Creating a Page in Your WordPress Site
As previously said, pages are very important to every website. Without pages, Google and other search engines wouldn't understand the importance of all the different content on your site. On WordPress creating a page is rather simple.
To the left of the WordPress window, you have all your site options. Within the options, you will see the option 'Pages'. Here is where you can create a new page and visit all your other pages on your site. There are two options 'Add new', and 'All Pages'. For the tutorial we are going to focus on the 'Add New' option. Whenever you click into the 'All Pages' you can add a new page from here.
When you've clicked on 'Add New', the 'Add New Page' window will appear. Here you can start to create your new page. You should start your new page by creating a title. When creating a new page, you should already have an idea of what the page is going to be called and the content it will include. You will need to add the content to your page.
Content can be the likes of images, videos and text. The content will be in ascending order. Also add a featured image, which is located within the right hand bar. The next step is to preview the page and if you're happy with the page, click publish. This means anyone who accesses your site, can see this page. And it can start ranking in search engines.
At ProfileTree we recommend using some sort of page builder plugin to create your page. We will learn more about plugins, within the next WordPress article/tutorial.
Creating a Post in Your WordPress Site
Creating a post on WordPress has a lot of similarities to creating a page. But what are posts for? Posts are very similar to pages, but unlike a static page, posts are commonly known as articles and blog posts. These posts are great for sharing information about your site, products, special offers, news, updates and much more. For instance a technology company might review new phones on their website, whereas us at ProfileTree share web building tutorials and different tips using the same method of posts.
Adding a post is just as simple as adding a page to your site. To the left of the WordPress window, where you find the place to add a new page, there is also an option for posts. Within this option, there are four more options. They're 'All Posts', 'Add New', 'Categories' and 'Tags'. The option you will need is 'Add New'. Once add new has been clicked, a new window will appear and here is where you can add a new post.
The Importance of a URL
With both pages and posts, the URL is always important. The URL is the web address of the page or post. For example this page is called https://profiletree.com/create-page-post-wordpress/. It is called this, as it describes to Google and other search engines what the post is about. This means that the URL can help Google and search engines rank the page or post online.
Every forward slash represents a new string within your site. The closer a sting is within the URL to the main website domain, the more important these pages and posts are to your site. An example of this from our site would be, https://profiletree.com/services/video-production-marketing/.
The URL is also important, as it should always be remember-able. To make your URL remember-able, you should always use less words in the web address. To do this remove any small words such as, 'a', 'it', 'and' and 'the'. With a remember-able URL, users can easily guide to your site.