When you run a WordPress, one of the most important things to consider is your user experience. A big part of this is creating navigation menus, so that users are always able to find the content they're looking for on your site.
The more easily users can find information, the longer they'll spend on your WordPress site.
The reason that so many business owners choose to build their site using WordPress is its ease of use. The main selling point is that you can essentially build a modern, professional looking website with very little skill.
This extends to creating effective navigation menus. But first, let's cover some theory.
What is a Navigation Menu?
Essentially, a navigation menu is a piece of HTML which gives users buttons to allow them to find and access key pages on your site. Most often, this is located at the top of the page. You'll also often find menus at the bottom or sides of websites.
Some menus are more advanced than others. For example, a very basic menu might only point to the 3-4 main subdomains on your WordPress site.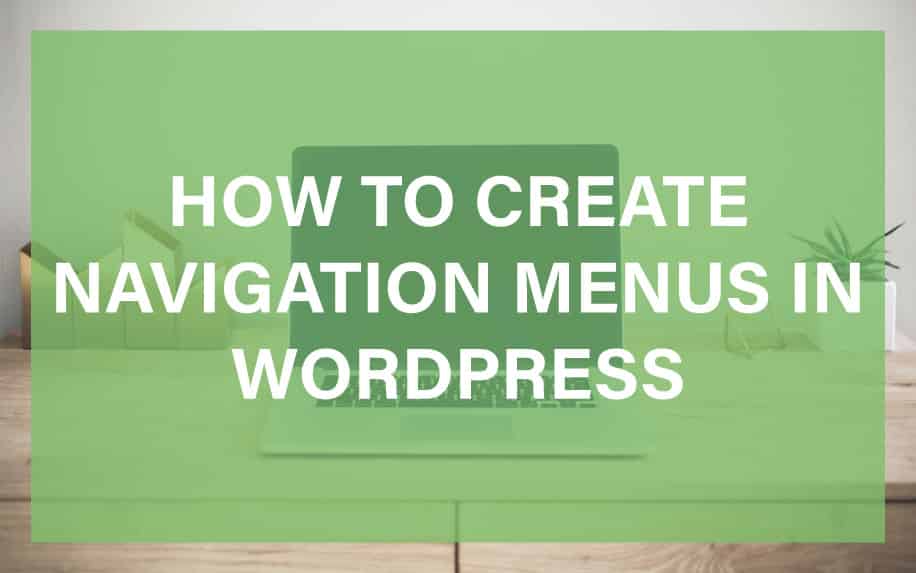 Others have more advanced features. For example, when a user hovers over the button for a section of your site, they might be presented with a dropdown list of all the main pages under that subdomain.
Often a full-size menu is displayed when a user first lands at the top of a page, but this transforms into a condensed version as they scroll down.
Now that you know what a menu is, and some of the key features, let's look at how to create a menu in WordPress.
Step 1: Where to Create a WordPress Menu
The first step when creating a new menu is to find the right part of your admin panel. You will need to customise your theme to do this. So to start off making a new menu you will need to go to customise in the personalise section.
The below image will show you this: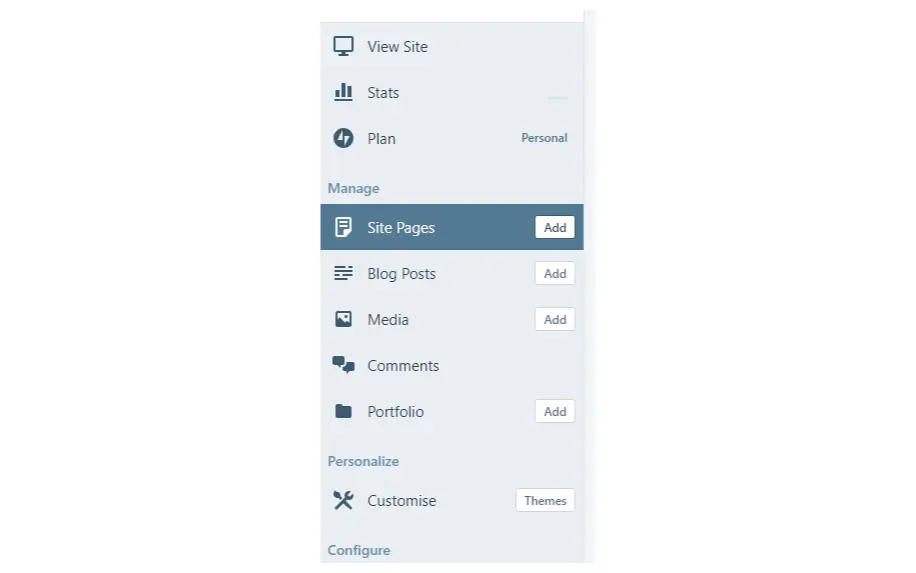 The above image is the control panel of your site. You need to go to the bottom, where it says personalise and then customise. When you click here you will be brought to the next panel. This will bring you to the control of your theme.
Step 2: Choosing Menu Under the Theme Control Panel
At this point, you may be thinking that this sounds a little bit too technical, especially when it comes to theme customisation. However, adding a menu to your WordPress site isn't that hard, so don't get disheartened.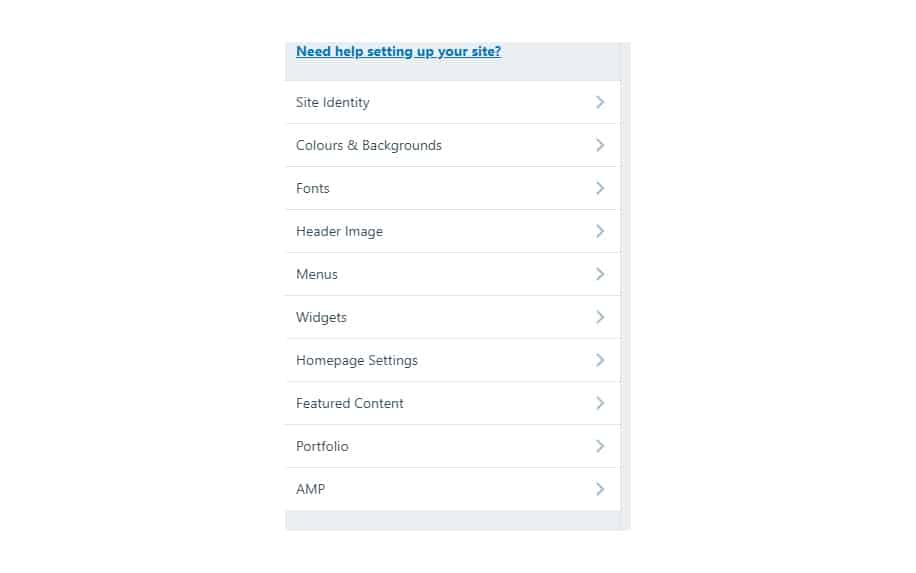 The next step to creating your new menu on your site is within the theme panel. In this panel there are 10 options. The option we need is menus. This will bring you to the menu panel. Here you can start adding and customising site menus.
Under the widgets option, you'll also be able to add menus into the sidebars across your site.
Step 3: Creating a Menu on your WordPress Site
Once you are in the menu panel of your theme, you will find a panel like the one above. All you need to do when you are here is to click on the create new menu button. You'll also be presented with your existing menus, which can be implemented across your whole site or certain groups of pages.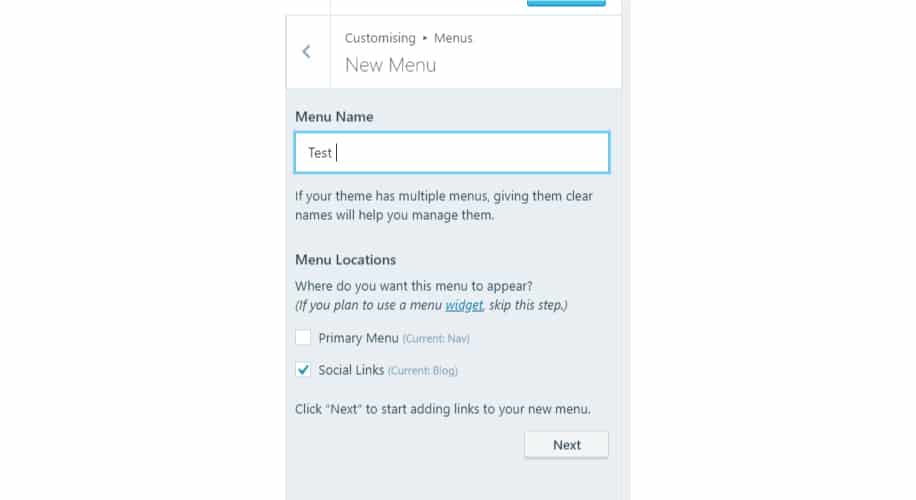 In this example, the menu is simply called 'test' as there will only be one menu for navigation on the site apart from the categories, which can be found under the blog subdomain.
You also are able to place your new menu, in one of a few places. Within this theme there are only two menu locations, but some themes also allow you to place additional menus across your site, for instance in side bars, or embedded on product pages.
The primary menu is the main navigation bar, which includes all the pages of our example site. For this menu we have included it as part of the social links, which will be talked more on later in the tutorial.
Step 5: Adding Links into your WordPress Menu
The next step is to add links to your new menu. Without links in your menu, there would be very little point in having one at all.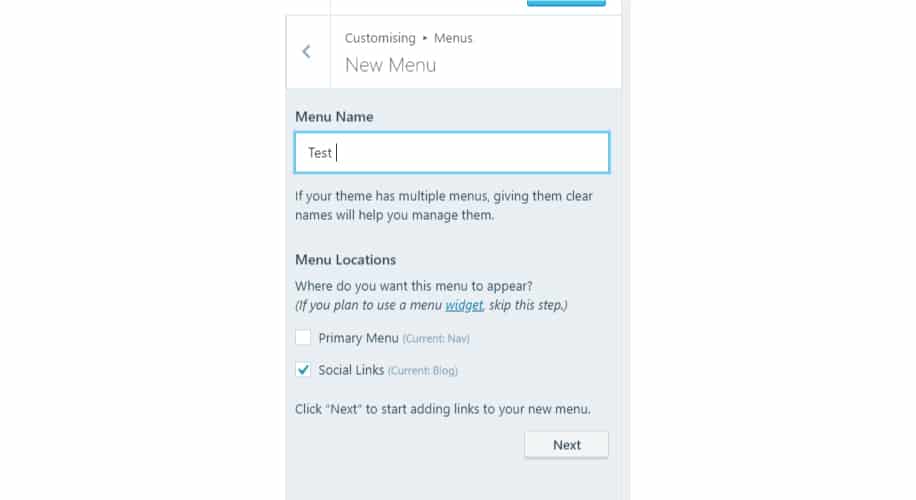 Having links is the whole purpose of having a menu. To add links all you need to do is click on the 'Add items' button seen in the screenshot above. You will then be brought to a panel to add different links.
It's crucial that these are kept up to date if you ever update the URLs of the main pages on your site. You may be tempted to do this using permanent redirection, but it's a much better option to update your menu links manually.
Redirections can cause a poor user experience, by slowing down your site's load speeds. Additionally, having too many redirections on your site can be bad for SEO. Using redirections in your menus will mean that they are present on every page on your site.
This can result in poor search engine rankings. Manually updating links doesn't take long, so there really isn't an excuse for failing to do it.
Step 6: Choosing your Menu Items
When creating a new menu, you should already know what you want to include in it. This includes which pages, posts, and social profiles you'd like your users to find most easily. The goal is to funnel them to the content which is best positioned to meet your goals.
This is essential as you can create your menu very easily then and will not have to keep on editing your new menu. It is also easier to create your menu if all the parts of the new menu are completed and published on your site.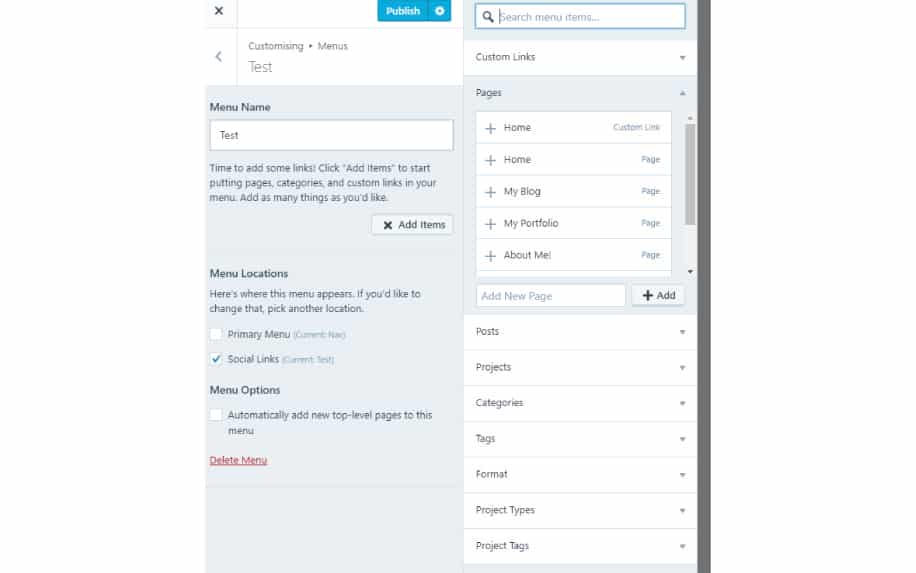 This is probably the most important step. It's where your new menu all comes together. You can add pages, categories, tags and posts to your new menu. This means you can tailor the menu to what you would like it to be.
Once you have created the right new menu for your site it is time to publish it. To do this all you need to do is click the 'publish' button at the top of the panel.
Step 7: Using your WordPress Menu
Once you have created a menu the next step is to see the test it and make sure it works the way you expected. You'll recall from earlier that our example menu is placed in the social footer section of the site
This means that social links are located within the footer of the site, and you will see this in the below image.
We have circled our new menu in the social links part of the site. The theme we are currently using for this tutorial only offers this one additional menu excluding the main navigation. Your theme may allow you to have more menus.
Once you're satisfied that the menu looks the way you want it to, you should then click through all of the links in it one by one, to ensure that they lead to the correct page on your site, or the right social media profile.
Specifically, you're looking for menu buttons which lead to the wrong URL, or bring up a 404 error. In either case, you can fix this by repeating steps five and six, and ensuring that you have entered the correct URL for each of your menu items.