WordPress.com or WordPress.org? If you're setting up a new site or blog you'll need to know which to choose. The good news? We'll make it simple!
Our specialist reviewer James explains all….
WordPress.com or WordPress.org – Explained
If you are looking to establish a new website or blog on WordPress, it would be worth noting two types of WordPress with distinct differences.
They both do very similar jobs but in extremely different ways. In this article, you'll learn the differences between both of the WordPress web builders: WordPress.com and WordPress.org.

WordPress.com or WordPress.org – The Differences
Hosting
One of the biggest differences between WordPress.com and WordPress.org is found in their hosting.
If you choose to have a WordPress.com website or blog, you have access to free hosting from WordPress itself. Whereas WordPress.org is self-hosted WordPress.
Which one is better? Ultimately it really depends on the situation you are in. 
For a smaller blog or website, I would suggest WordPress.com. If it becomes more successful and it takes over the world I'd then suggest moving your site to WordPress.org as you will have access to much more features.
This would also mean you will need to start to pay for your hosting.
With that being said a larger website, an e-commerce site and larger blogs can be made and hosted on WordPress.com, they may not just reach their full potential.
For larger sites I would highly recommend using WordPress.org which would mean you needing to get your own hosting. Their are plenty of hosting services out there and finding the perfect one for you may be a bit hard. To give you some help with picking your host, have  look at our 'WordPress Hosting' page. Here you will find small reviews of hosting companies with links to reviews on our site.
Domains
Along-side free hosting with WordPress.com you'll be given a free domain name, which is a sub-domain of WordPress. That unfortunately means that the web address is not yours.  To combat this, you can purchase a domain from WordPress.com when purchasing your plan.
For instance when I set up a personal blog for my hobbies, I wanted it to be called "James design blog". I was given jamesdesigndotblog.wordpress.com  for my web address which is not a great address.
So, I bought jamesdesign.blog to have a more re-memorable address to link to my blog. Both of the links bring you to my site personal blog. But the bought web address is just easier to remember and type.
On WordPress.org you will need to buy your own domain name before finding hosting. This domain name will be solely yours and it will not be part of a sub domain. There are many company's that offer domain names for sale.
Most of them offer a domain name along side their hosting. And if you really wanted to, you could even have an emoji domain.
FREE domain reviews:  123Reg | GoDaddy | NameCheap | Name.com | Gandi | Hover | Flippa.com | HostGator | 1&1 | Dreamhost
Who Owns What?
One of the biggest questions when it comes to WordPress.com and WordPress.org is, 'Who owns what?' And in theory you own everything, apart from the domain name WordPress.com give you when you sign up for free. Anything that you post to your site or blog that is hosted on WordPress.com is yours.
The only problem is that they own the rights to your site for instances as taking your site offline for reasons they see valid. That means if you own a website that insults people or promotes illegal activities it can be taken down by WordPress themselves. But all the content is still yours. 
If you want to move your site from WordPress.com to WordPress.org you can without running into any problems when transferring content. You made the content therefore it will always be yours. This content can be lost if a site is taken down by WordPress without backing up your content. You also get to keep the domain name if you have bought it. Buying it means it is yours.
When it comes to WordPress.org, the site is yours and every part of the site is also yours. This includes the domain name you have, the content and ultimately the hosting of the site.
Plugins
A big con of WordPress.com comes in the form of Plugins. On the platform users are limited to no plugins being allowed on their site. This means plugins such as Yoast and many other popular plugins cannot be used. A lot of people don't realise this fact and then need to move to WordPress.org in the future.
There are a number of plugin like features such as post settings that include categories and tags, which help your site/blog to rank. On the business plan which is quite expensive for a hobbyist blogger or website owner, you have access to third party plugins. (At this point it may be worth looking into moving to WordPress.org).
On WordPress.org you are allowed to install all types of plugins onto your dashboard for you site. These can help your websites perform better, check your sites comments for spam and many other possibilities.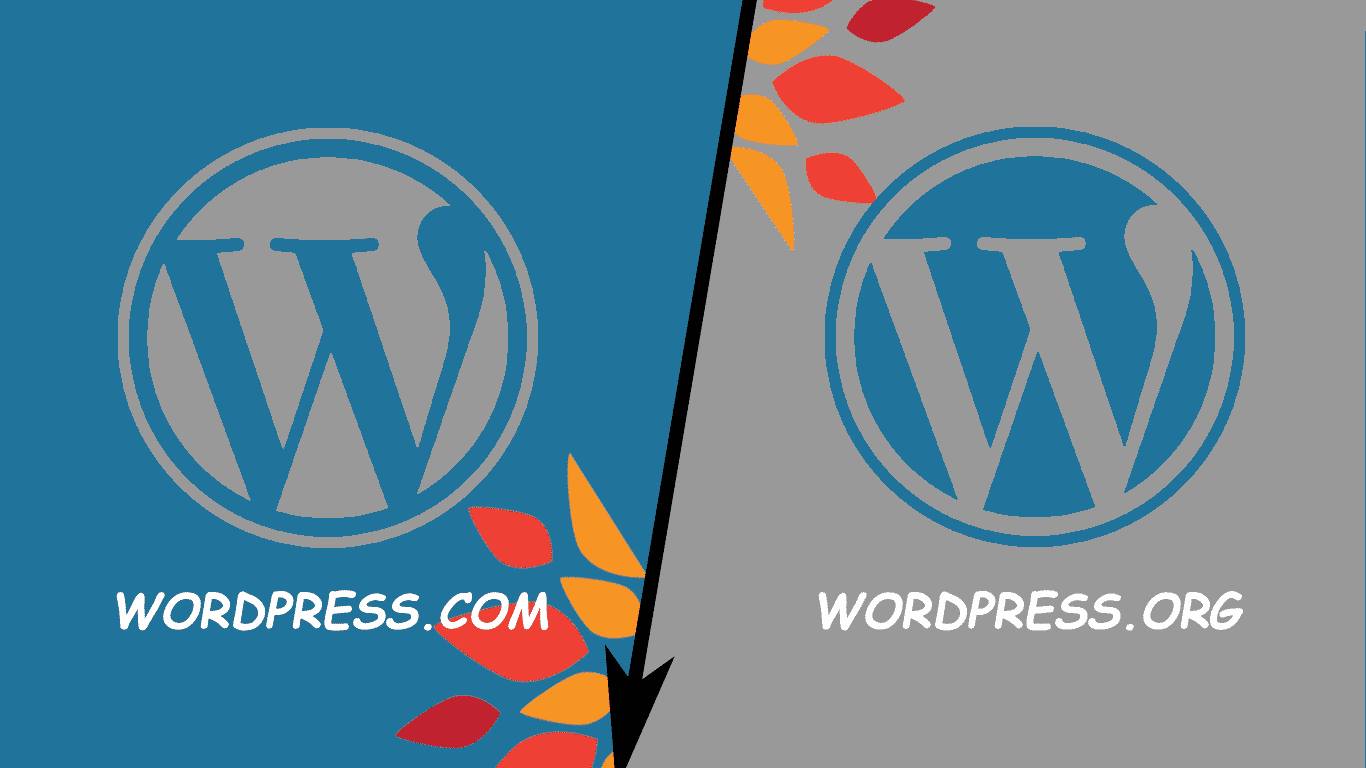 Limitations
As you can see from the above that WordPress.com has a lot of limitations and there are a few others. That's why I suggest using it for a smaller site, or for a starter site. 
Another limitation that WordPress.com has compared to WordPress.org is its theme support. On WordPress.com there is limited theme support, so finding the right theme for you may be a bit difficult. Whereas on WordPress.org has full theme support and you can customize these fully unlike on WordPress.com.
The free WordPress.com sites only have upto 3GB of storage space, which could prove a problem for sites with videos and lots of images. Therefore a WordPress.org site may be more appropriate and it might be a little expensive for smaller users. 
Your WordPress.com site is also not monetized which means you cannot promote adverts on your site. If your site reaches a user traffic of over 25,000 users you can sign up to revenue sharing for advertising on your site. But if your site reaches this amount of traffic, why are you not on WordPress.org yet?
On WordPress.com you only can see the analytics already installed for your site. No third party plugins are allowed. These plugins can really help your sites traffic. You also cant have an online store on WordPress.com. It would just be easier on WordPress.org. There is also no maintenance on your WordPress.com site and you can't gain members. Maintenance will have to be done by you. 
James' Verdict: WordPress.com or WordPress.org
Realistically, I recommend using both for different situations. I use a WordPress.com site for my own smaller personal blog, where I post content for fun. I don't plan on it taking off but if it does it would be something great. If it was to gain lots of traffic, I would move it to WordPress.org.
This is due to my experience with WordPress.org and the fact it has much less limitations. You can choose your theme out of thousands easily and create everything from scratch easily. Plugins are also a great help.
For a large company you will need a WordPress.org site. This is because you want and need the site to attract traffic and the best ways of doing this is making it your own with a personal touch which is much easier on WordPress.org. You can also have plugins which can up your stakes massively.
Good luck!
Our FREE WordPress knowledge bank… WordPress SEO with Yoast | Best WordPress Plugins | WordPress.com – How to setup | WordPress.com – How to create a post | WordPress.com – How to create a page WordPress.com – How to create navigation