A free, step-by-step guide to making a website in 30 minutes or less. You will never need any other tutorials after reading this one. Let's dive in.
Whether you're a freelance photographer, have a small business, or own a hardware store, a great website is necessary for your company's success.
As webmasters who have worked on building and marketing over 100 small and big business websites, we know what it takes to create really good and engaging business websites.
Here is the best part: you can create a website right now and don't need to be either a high-tech wizard or a starter developer— no need to be a fancy designer or hire an expensive builder. (confession: I create my personal one on my own.)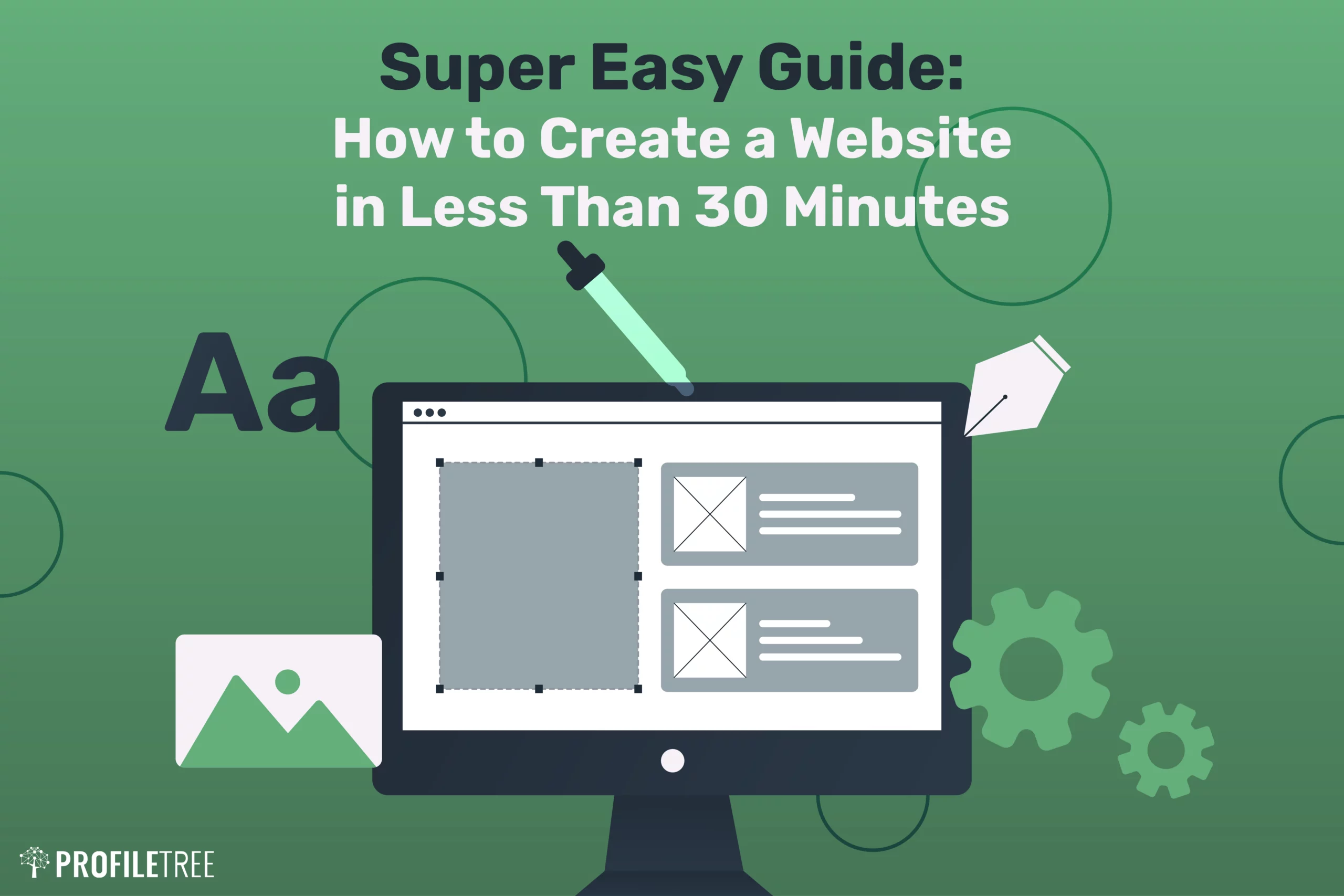 Whether you want to build a website for business or pleasure doesn't matter. Just follow the steps below, and learn the ropes of setting up your online presence in no time at all.
If you're looking to build a great website or make your current one more effective, here are key steps to getting started and helping your business website compete efficiently in the online marketplace.
But first, let's define what a good website is.
Note: before starting to read any guide, please make sure it's recently published or updated to offer the latest template to create a website. About this piece? Please rest assured this piece catches all updates, and we will tweak it frequently to make a fine-tuned article based on new programs and tools. And here we go!
What Makes a Website a Good One?
Creating a website is an exciting undertaking for any business owner or individual. However, with the proper knowledge and dedication, anyone can make their own website, regardless of their experience level. But what makes a website good?
Do you know your audience?
Yes, that's the first question you should ask if you want to set up a great website.
So, you need to understand the core message behind your business and what you contribute to this world.
Why should everyone come to your website and take the desired action?
And no! It's not about how fantastic your product is. That doesn't fly anymore.
So, you need to change the mindset of "Build it, and they will come?"
Again no!
That's different from how it works nowadays!
You need to have a goal and mission for your website.
That's how you can satisfy your users.
Indeed, a good website should be attractive and eye-catching, with an intuitive user interface that's easy to navigate. Consequently, you need to have a creative website strategy. It should also be fast loading with relevant content and updated regularly to keep visitors engaged.
Should your website be beautiful?
Absolutely yes. However, let's be honest; it's said beauty is in the eye of the beholder, right?
The design of your site needs to serve the goals you set. Meanwhile, your message should come across as clear and loud.
So, the design should be well-thought and on-brand. But most importantly, your site should be easy to use for everyone and explicit.
Functionality is also vital; the site should have interactive components such as forms that are easy to complete, helpful search functions, and appropriate links to other related resources.
In short, accessibility is not something you scrimp on.
Additionally, a good website must be optimised for all devices so it can be viewed on desktop computers and mobile devices.
For the last couple of years, smartphone traffic has kept growing and growing. Thus, if your website is not mobile-friendly right now, you should think twice.
Get it right and work on your mobile optimisation.
It's not new, but many businesses still overlook developing a site mobile-first. So, after designing the desktop front, the designer crams it down to be suitable for the mobile size, often losing its freshness and authenticity along the way.
Adopting a mobile-concept mindset helps you focus on what your users should be able to do within your mobile site.
That's how to clean up the clutter and create a fully-caused design. And always remember, less is more when it comes to website design and content.
Trustworthy, Secure, and Safe
Lastly, having proper security measures in place is essential; this will protect your site from malicious attacks like viruses and hackers.
Both users and search engines are looking for specific signals that will make them trust your website. So why should your website and content be authorised?
For example, regular downtime will indicate that maintenance is sloppy and you don't take the security of your users seriously.
All search engines want to give searchers the best possible result. Increasingly, if Google, for example, doubts the claims you don't care about this security issue, Google will never show your content.
Are Technical Skills Essential for Building a Website?
Before giving you our secret recipe to uncover how to create a website, let's answer one of the most important questions: do I need technical skills to create a website?
It depends entirely on how you will use your website. Well, I said before I created my own, but because I know my website's purpose- which is not for a business.
The most complex approach would understand how to code CSS, HTML, PHP, and JavaScript— the basics of practically any website.
Remember that it's not the only way to build a website.
Even if you don't have any technical background, you can easily establish a stunning own with the help of a website builder— a person and programmer to have a customised one.
But how?
If you can use Facebook or PowerPoint, you can do it without any problem. Many easy-to-use platforms offer a super visual drag-and-drop editor and web hosting; most importantly, you can take advantage of a custom domain name: literally all on one-stop-shop!
Does it Mean You Don't Need a Developer: Website Builder vs Website Developer
So, it should be clear by now that setting up a website builder and hiring a website developer are totally different concepts.
One is a software program that helps anyone create websites, while the other is a professional technician who creates websites using software tools or any coding language.
The confusion may come from the fact that depending on a website builder, you are the user and technically the builder.
So, why do all business owners hire a website developer?
It will take a developer a long time to create your website from scratch (maybe between two to six weeks on average.
Otherwise, several website builders allow you to establish and host a basic website in 3o minutes.
However, if you plan to customise and manage the website yourself, you'll need to set a lot more of your time aside, devoting yourself to creating a website.
Thus, you should consider what you want: build up a website quickly or keep spending your time on it.
Web technologies and the internet are constantly changing and updating. So, a custom website created upon code will be in need of constant manual updates and maintenance.
That means you probably need to keep paying a developer for technical support after your site is finished.
As you can see, going with a professional website developer or a website builder has critical implications for you and your site going forward.
While a developer will create a customised site that will provide you with a completely unique design with unique features, it will exclude you almost from the entire process.
But it will cost you more.
In short, neither one glove fits all.
How to create a website in MINUTES
Let's get started, shall we? Just follow these handy steps, and you'll make your website in minutes.
Choose the Right Website Builder
The two most popular website creation platforms are website builders and content management systems (CMSs).
Remember to conduct some research before deciding how to create a website. Then, make a final choice based on the platform that meets your needs appropriately.
Choose what makes your website-building process more manageable.
So, what is the difference?
A CMS is computer software for managing, designing, and publishing website content.
There are many content management systems, such as WordPress (powering over 40% of all websites on the internet), Wix, and more.
Otherwise, a website builder is a tool or program that simplifies the website creation process even more.
For example, Hostinger's website builder is one of these programs that offer a variety of templates and a drag-and-drop interface with user-friendly functionality.
Even though both platforms offer a way to build a website without coding, they are not perfect in all features. They differ here: search engine optimisation (SEO), eCommerce features, pricing, scalability, and control.
To choose the right platform, you need to consider the following factors:
Cost: Find a website-building platform suitable for your budget. Check whether you can upgrade to have more features, page templates, and more. Also, you should have the plan to make it more appealing once it gets more traffic.
Technician knowledge: A number of platforms have a steeper learning curve that requires to have some coding and technical skills than others to make the web development process smoother and more manageable. If you don't have any technical background, avoid these platforms.
Support: Depending on your website's type, some might require more help than others. For example, a busy business owner will need support immediately when there is an error. However, if you want to build a small personal blog, you can rely on community support alone to handle any issue.
The last thing you need to know to create a website is all web hosting services that will offer you the best options besides Hostinger:
Choose Your Domain Name
(If you already have a domain name, skip this step and move to step 3)
Every website needs a name, right?
This website address is https://www.profiletree.com. We also own another website as a backup.
This name is also known as a domain name; your website can not function. Or in other words, they can not exist. Instead, imagine it as a street address for a house. So, the address is the domain name, and the house is your website.
Think of it! Can you invite someone to your house without telling him the address? It's impossible. It's the same when inviting website visitors.
You'll always have control over your entire website by having a domain name. In addition, you will be fully armed with tools to save your house— actually, your website! No matter what happens.
But wait, before choosing a domain name, you should keep in mind a few rules.
If you're establishing a business website, your domain name must match your company name— for instance, YourCompanyName.com.
If you're planning on owning a personal website or blog as a personal brand, then YourName.come is always a perfect option.
The essential thing in this part is to get simple. But the truth is most of the more unique domain names were purchased long years ago. So, go with something that matches your business's and website's tone and purpose.
Pro tip: You can use many tools to check if your domain is available. Or go directly to Godaddy to check it out.
But how much does a domain name will cost you?
Generally, it might cost around $10/year and will automatically renew until cancelled.
Also, you can choose from many extensions (domain endings). For example, Domainname.com (global), .net, .co, .uk, .org (for the United Kingdom), .ca (Canada), and .de (Germany).
What does it mean for you?
If you want your domain ending to be aimed at a larger scale (global population), try getting a .com version.
If you're targeting local users from Germany or Canada, choose the .de or .ca extension for better targeting.
Note: before choosing your business name and creating a social media page, make sure to double-check its availability for building your domain name. Over 100M + active domain names are on air now, and the best ones were already taken decades ago. So, go all out to find the best company and domain name.
General tips when choosing your domain name:
Easy to spell
Short as possible
Use the right extensions
Prominently Show a Clear Description of You and Your Business
It's important to display what you're doing and let people know who you're, what you offer, and what you do right away.
Don't make your users feel confused when they visit your business site. Instead, make sure your main homepage banner (sometimes known as a hero image) is clear enough. Also, the subsequent banners are beautifully visualised to represent your service.
Plus, ensure both your main and footer sections have an "About Us" page that is easily accessible. These navigation menus should link people to your business to read more about your mission in depth.
Eventually, you have an introductory text blurb next to the top of the page, which describes who you're and what you actually do.
Choose a Theme and Customise Your Design
The way forward is now based on your preference.
If you've selected a website builder like Wix, you will be in the right hand because you have a range of templates and designs to choose from, no matter what you're offering. Wix will help you design a perfect-looking website; let's see how.
Foruntanlty, these themes are organised by category (sport, blog, shops, portfolio, etc.) Once you've picked your favourite template, the magic starts.
Now, creating your website is a pretty straightforward task:
Choose your preferred colour scheme
Set up the general design
Establish all pages you want
Customise the content and images (you should have a website content strategy in place)
However, Wix is not the only builder loaded with website templates. This is the case with Shopify (best for eCommerce website solutions).
If you chose a CMS like WordPress, you would need to have a theme. You can also find a bunch of options, ranging from free to premium ones.
How Can Profiletree Help You?
Have you created your website? Wow, congratulations!
But if you need to create a more professional website that aligns with your identity and generates leads, you need more than just a website builder and a domain name.
You need someone to operate it, create customised and unique pages, design an easy payment gate, and establish your brand.
Our team is here for you!
We build digital business tools and services for your business with growing pains. With a design-centric software consultancy, you can create a competitive image to tackle any challenges that come with growth.
Scale up your business, and let's talk today.