What is Google Assistant? The arrival of voice activated search makes Google Assistant an essential if you have an interest in keeping your website up to date with the shifting trends of internet search.
Voice assist and digital assistants have made it possible to perform searches without the aid of a keyboard. While there are a number of different voice assistants, one of the most popular is Google Assistant.
Today, we'll explain what Google Assistant is and how it can be used…
IN A RUSH?! Click for our <90 second snapshot
What Is the Difference Between Google and Google Assistant?
Google is the world's largest search engine. It performs more searches than all other search engines combined. Google Assist is the digital voice arm of Google. In a way, it is an application that runs off of Google. Instead of using a mouse, keyboard and monitor to access information, it uses the voice.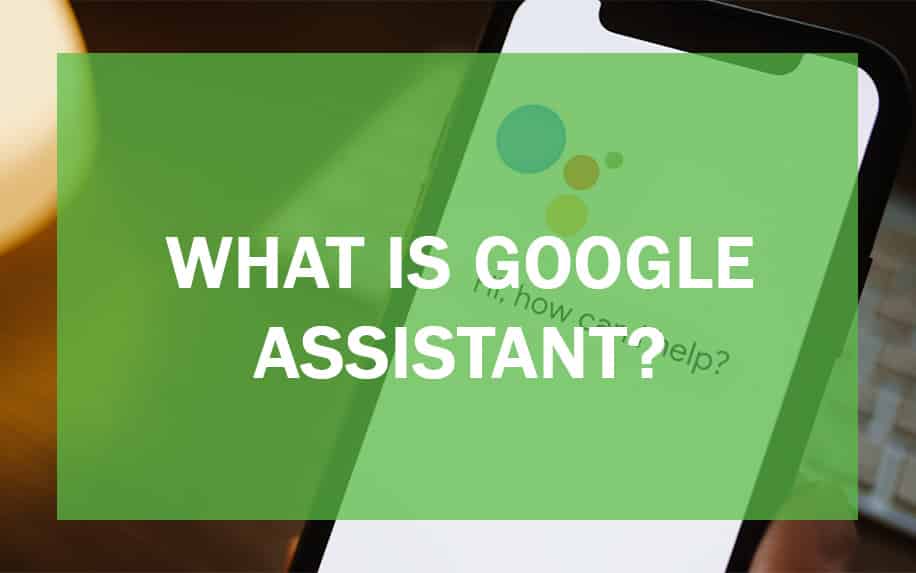 Google Assistant connects to Google, so when someone asks Google Assistant a question (such as what the weather is going to be like) Google Assistant will connect with Google, find the answer and read it out loud.
Connecting Appliances
Google Assistant does more than just connect to its parent search engine though. It can control and interact with a number of external applications. It's possible to sync up email addresses with Google Assistant and have the digital assistant read emails out loud.
The same is true with text messages. It's possible to ask Google Assistant to launch applications and to send out emails or messages. There are now third party appliances, such as coffee machines and refrigerators that can connect with Google Assistant via Wi-Fi.
By integrating these features into Google Assistant, a user can send out instructions to the connected devices without physically being in the room, or even in the same building.
What is Google Assistant?
In short, Google Assistant is the voice assistant of Google. It originally started as Google Now.
It is on most recently released Android devices, and it supports the latest Apple iPhone devices. There are also stand alone Google Assistant devices, such as Google Home.
Google Assistant is voice activated and responds to questions through a responsive voice that learns the more a user interacts with it.
How Do I Know I Have Google Assistant?
It is important to realize that Google Assistant doesn't come as just a standard application. It is part of the operating system and downloads through the operating system. Very similar to Siri for Apple it is built into the operating system.
The best way to determine if someone has Google Assistant or if the phone is even capable of using Google Assistant is to check for an operating system. If Google believes the device can handle Google Assistant, it will make it available within a system update.
If Google does not believe a user's phone is able to handle Assistant it will not patch the service.
Google Assistant Requirements
There are some basic requirements a phone needs to have in order to run Google Assistant. It needs to have at least 1.5 GB worth of memory and a screen resolution of at least 720p. It also needs to run either Android version 6 or later.
Sometimes Google Assistant installs onto a device without the user knowing. In order to check to see if the service is available the user needs to hold down the "Home" button for a few seconds. If a "New! You just got the Google Assistant" window pops up, it's on the phone. If nothing does, than Google Assistant is not available on the phone.
For individuals who use phones that are not capable of running Google Assistant, it is possible to test out the service using Google's Allo application.
This is a streamlined version of Assistant and while it does not have all of the same features, it does provide a bare bones option of Google Assistant and is worth checking out. It is a free application and is even available on Apple iOS devices, for anyone who wants to check out a version of Google Assistant.
How do I Turn on my Google Assistant?
Google Assistant now comes programmed onto newly purchased Android devices. However, for devices a year or two older it is available through an operating system download. Each Android based device releases updates at different times, so it's important to check with the service provider to see when (or if) Google Assist is available.
With Google Assist on the phone, an individual needs to press down and hold the Home button on the device. It is best to do this in a quieter location as it does require the individual to talk into the phone.
After the several seconds, the device will automatically prompt the user to say "OK Google" three times. Once this has been completed Google will inform the user it is time to "Meet your personal Google Assistant."
Once this has been accomplished, users will then need to choose "Continue" and allow Google Assistant access to their applications and email address. This simply allows Google Assistant to open, unlock and read out loud emails received. After this setup is finished it is possible to begin using Google Assistant whenever necessary.
How do I Use Google Assistant?
It is easy to launch Google Assistant. An individual just needs to hold down the Home button for a few seconds. Google will then ask the user what they are interested in and, if possible, will perform the search. It is also possible to say "OK Google" followed by the question.
However, this feature may not work if the phone is locked. Often times, it is best to ask the phone a question or a desired search after it is open. Newer phones will not have this problem.
Additionally, Google Pixel phones will not have the issue with this as well, unless a user has gone into the commands and locked out service features when the phone is locked.
What Can Google Assistant do?
Google Assistant is now able to process thousands of commands. From opening emails to controlling home ovens on Wi-Fi, Google Assistant has more command now than at any time previously (it also has more control command features over all other digital voice assistants as well).
Due to this, listing off the thousands of available commands would take a considerable amount of time, especially as many of these commands would never be used.
However, there are a number of helpful Google Assistant commands well worth looking into.
Unlock Feature And Apps
For individuals using the Pixel phone from Google, it is possible to unlock the phone using voice command instead of dealing with a PIN, face scan or fingerprint scan. This is especially helpful when driving and in need of using features within the phone.
One of the most used features on Google Assistant is the ability to open apps. Whether this is opening Gmail or looking into new text messages and content sent through another application, Google Assistant is able to do it all.
Locations
When visiting a new location it can be difficult to know what's good to eat and where the top shopping outlets are. However, it's possible to ask Google Assistant for information on local restaurants.
It is even possible to view restaurants based on user ratings. This way, it's always possible to check out what's good and discover something new, without sifting through the less than desirable restaurant and shopping opportunities.
Netflix
For anyone who enjoys watching Netflix through their phone, they are able to launch Netflix via voice command. Beyond this though they can even select a television show through Google Assistant.
By telling Google Assistant to "Play Breaking Bad on Netflix" the application will open and the desired television show will start up.
News
Sometimes it isn't possible to sit down and read the news. There are times where a user is getting ready but still needs the latest information read back to them. Google Assistant can do this. It is possible to program Google Assistant on the mobile device to read top stories from certain news sources.
This way, all someone needs to say when they wake up is for Google to tell them the news.
Sports
For anyone who has tried to look up sports scores, game times and other important information, it can seemingly be difficult even when it's a simple request. Google Assistant can help.
All someone needs to do is as Google when a game time is, what the score is or any other bit of information.
Information
Google Assistant can also provide weather information. If someone asks Google what the weather is going to be like on a certain day and in a certain location, Google will reply with all the desired information a person might want.
If the phone is active Google will also display the full weather report as well as read the weather information back to the user.
Bookings
For the movie fan out there who doesn't want to sift through all the ticket websites (or maybe they want to buy tickets on the way to the theatre and can't do it while driving), it is possible to have Google book tickets through Fandango.
This way, all a person needs to do is say where they want to see the movie and then follow the prompts for buying the tickets.
Summary: Voice Is Here To Stay!
Google Assistant is a helpful tool designed to allow individuals to search Google without the aid of a computer or keyboard. Everything is voice activated and Google Assistant provides information through voice commands and spoken responses.
Google Assistant also learns from what a user asks and and how users interact with the digital voice assistant in order to evolve, learn and develop new features and responses based on these changes.
As the Internet and Internet search continues to evolve, so too will Google Assistant.