You've probably heard a lot about optimising your website for search engines and how this optimisation could be a game-changer for your online presence. That's why it's essential to implement a website audit. But what does a website audit mean? In this article, you will get an answer to all your questions about launching a website audit plan.
Occasionally, websites require some adjustment to help improve their efficiency and experience. Conducting a website audit is crucial to fix any issues that prevent generating traffic for your website. No matter what size your business is or how big your site is, audits are crucial to assess whether there are problems in your website associated with technical issues, SEO, or user experience.
Your website is your brand's representative. It is an avenue through which your audience knows more about your business, and you cement your online reputation. So, do you plan to audit your website? This guide sheds light on what you have to consider and avoid while designing an audit plan to ensure your website is up to par.
What Is a Website Audit?
Before tackling SEO and website issues, a website audit is a process that examines your website's performance. It gives you reports highlighting the key points you should frequently review to implement a comprehensive examination.
In other words, auditing your website entails analysing each asset to discover errors. These errors might be the reasons why your website doesn't perform well on search engines or, even worse, why your marketing campaigns are just money-wasting. Therefore, you must examine three main areas: your SEO performance, user experience, and website functionality.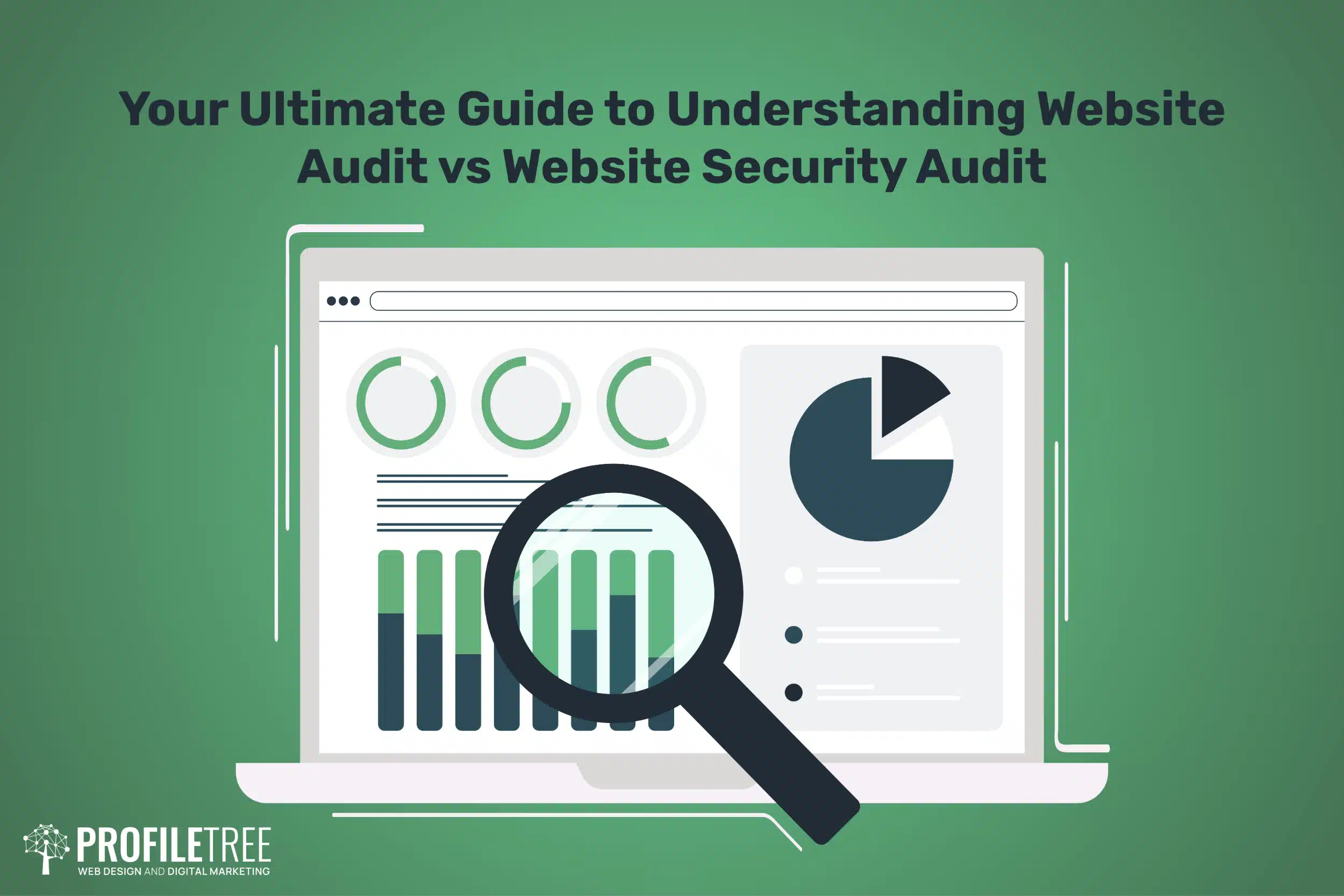 Signs That Tell You Need to Run a Website Audit
You need to know first that optimising or auditing your website is a long-life process. You have to keep your eyes on numbers and reports generated by different tools, such as Google Search Console and Semrush. Below we have listed a few signs that indicate your website health:
Your search visibility still falls behind even though you've invested so much in creating well-targeted content based on a data-driven strategy for your audience.
The conversion to your website doesn't achieve any positive results.
Your website visitors leave immediately without navigating any other pages. This sign serves as a warning that your website has a problem that makes you lose visitors.
What Should You Always Check When Conducting a Website Audit?
When you run a website audit, there are key performance metrics that you should always analyse, which are:
Website speed: Speed absolutely refers to how long it takes for website components to be loaded, including images, titles, and content blocks. It also refers to "render time", which measures the time between a user request to access your website and when the page is loaded. This is really important as you don't want your audience to leave your website since your website's attention span is getting shorter.
Content complexity: Adding so much content to your website leads to slow page loading speed. It is a good idea to equip your content with videos, infographics, and audio files. However, you should test your website speed score to ensure you are on track.
User behaviour: User behaviour explains how long visitors stay on your website, which is bounce time, or how they navigate pages. It hints at what content is more compelling and which category is more important to your audience.
Performance metrics: Reviewing performance metrics helps you explore how many unique visitors come to your website and to what extent your content convinces them to buy from you. However, many factors, such as user experience, search engine ranking, and how much you invest in brand awareness, may affect this rate.
Acquisition: It's time to find out the traffic source to consider when designing a new content strategy. For example, if you see loads of traffic coming from Facebook, then you need to launch your next ads campaign on Facebook.
Mobile performance: Many business statistics show how many hours people spend on their phones browsing the internet compared to personal computers. This number has been dramatically surged during the last few years. So, unless you are okay with zero online purchases through mobiles, you should consider how your website optimises everything for different screen sizes and resolutions.
How to Find Out Performance Metrics
When it comes to analysing your performance, an excellent free tool you should use is GTmetrix. It can help you understand how fast a page loads and what the most common or significant issues that cause performance load time on your website are. It will also help you prioritise the tasks based on how many critical errors your website has. Here is how to use it:
1. Enter Your Website URL
Submit a URL into the GTmetrix tool and click on Test Your Site. The tool will start scanning your website to see if there are any complex issues. Powered by Lighthouse, it will analyse your website and make a list of all the improvements that need to be made.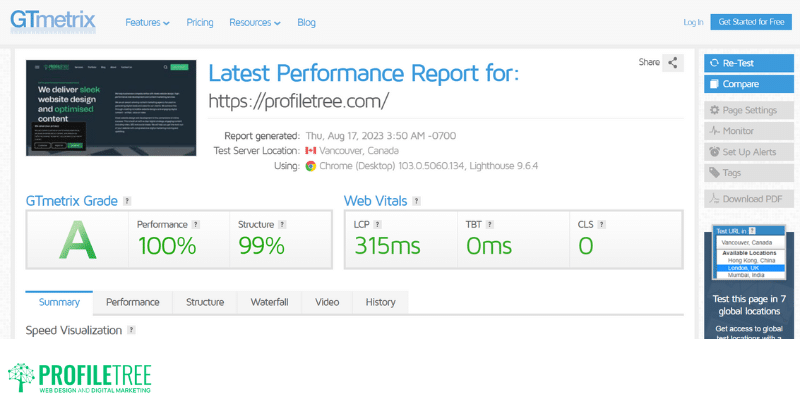 2. Check Out Reports and Numbers
The tool will then give you performance and structure grades and scores that you can use to gauge your website speed. Scrolling down, you can see a list of the top issues on your website sorted on a scale ranging from low to medium and then high. Anything that is ranked as a high-impact issue is something you need to fix immediately because it is usually a fundamental problem that causes a hindrance to your website. All fundamental issues slow your website down, making people leave it.
What Is the Best Way to Read GTmetrix Reports?
Now, let's analyse the best way to read a GTmetrix report.
General GTmetrix grade: A-to-F grades reflect two main components: the overall performance of the reviewed website and its structure. Grade A tells you that you have nothing to do with your website, and Grade F gives you a considerable alarm that you have to make many adjustments to your website.
Performance score: The performance percentage assesses loading performance, interactivity, and visual stability, telling you how your website performs on search engines and from a visitor's perspective. It also gives you different metrics that affect the rank and hold back more traffic generation.
Structure score: The structure score gives you more insights into how your web pages are built to achieve optimal performance. In general, it doesn't affect your website's performance; however, you need to uncover all web hierarchy drawbacks to improve the overall GTmetrix grade.
Web vitals: Web vitals mainly measure your web pages through different metrics, including Cumulative Layout Shift (CLS), Largest Contentful Paint (LCP), and Total Blocking Time (TBT).
Before you move on, check out the summary tab, which gives you direct actions you need to take right away for better performance.
Website Audit vs Website Security Audit
A website audit gives you insights into how each page on your website performs on search engines. Conducting a website security audit is also important to ensure your website caters for security. It examines your files, plugins, server, and website core to figure out any possible vulnerabilities. All these issues can massively impact large companies.
Research from the National Cybersecurity Alliance found that 60% of small businesses close within six months after a security breach. Finding out what sections of your website are vulnerable allows you to identify violations, like a data breach.
Regarding website security, there are two ways to ensure that your website, especially WordPress, is entirely secure.
One way is to choose a good hosting provider that is well-equipped to understand the common security breaches that can happen with WordPress websites and be able to accommodate and protect your website against them.
Another way is to ensure that your website has plugins that help protect it. There are good free or paid plugins that you can use to ensure strong security on your WordPress site, like Sucuri and iThemes Security Pro.
How to Test Your Website Security Using Sucuri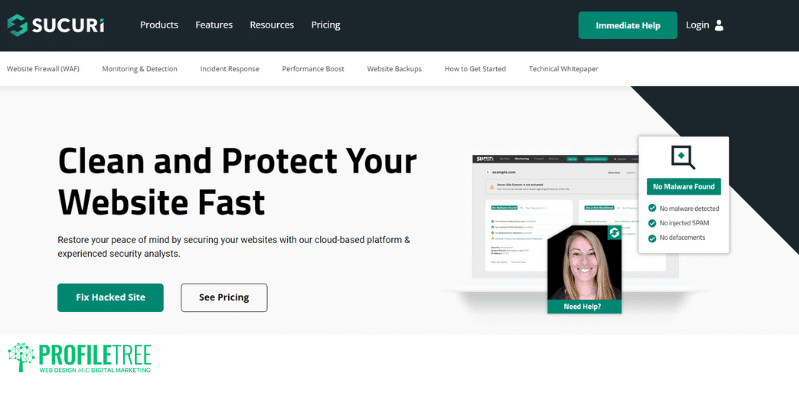 Sucuri is one of the top free WordPress security plugins. This all-in-one security solution is popular for good reasons. You can get some great free features or invest in the pro version if you're willing to implement a large-scale security audit. Some paid plans offer DDoS protection.
What Does Sucuri Offer for You?
Sucuri has an easy setup on your WordPress dashboard and web application. It allows you to clean up your WordPress site at no additional cost if infected with malware. The plugin lets you conduct file integrity monitoring and malware scanning and removal. It is an excellent strategy for detecting plugins and themes that might have malicious software.
Using firewall protection, you can block brute force and DDoS attacks and prevent hackers from accessing your website. However, your security plan should include emergency response, error detection, server scanning, and backups.
What Is the Difference Between Sucuri and Malcare?
Sucuri and Malcare plugins come with different features to enhance your website security. They have effective security hardening and keep track of everything on your website, including file changes, last logins, and failed login attempts.
Sucuri is better in terms of customised plans. It fully protects your website from cyberattacks. However, if you want to upgrade your subscription, it might be slightly costly. On the other hand, Malcare comes with reasonable pricing plans but with limited features regarding blocking malware and spam. It is only effective in terms of scanning your website and tracking vulnerabilities.
What Are Sucuri's Pricing Plans?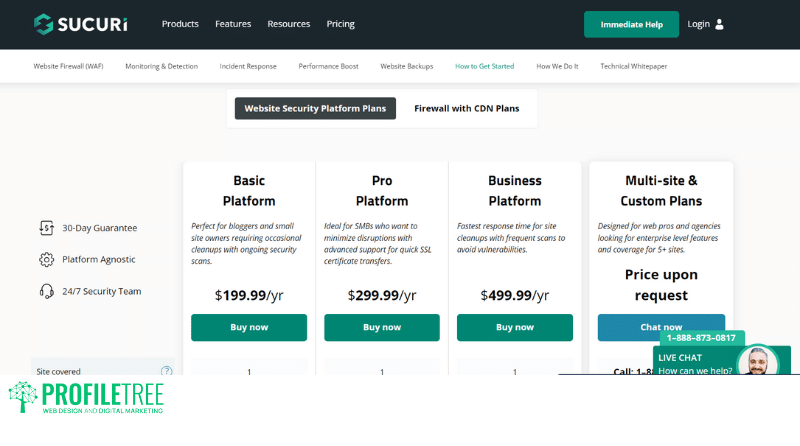 Go to Sucuri's pricing page, and you will see its pricing plans and what it is offering if you upgrade to one of its premium plans. The pro version may start from $200 (approximately £157) per year up to $500 (approximately £393) per year, depending on how big your website is and how many features you'll use.
Some plans offer advanced DDoS protection, such as reducing the server load time and improving your website's performance because they block all malicious traffic. Their server static content uses CDN servers. If you want more protection, you can choose a package that will keep your website safe against SQL injections, XSS, and all other common attacks. The major differences between these two plans are the hours of malware removal and how frequently they run their security scans.
What are the Cons of Sucuri?
The main downside of Sucuri is that its plans are pricey. Although it has a free version, many features can only be used in the premium plans.
How to Test Your Website Security Using iThemes Security Pro

Another plugin that is strongly recommended if you want to improve the security of your website is iThemes Security Pro. It is a product by WordPress that protects you from getting hacked. The plugin offers many features to enhance your website security level, including two-factor authentication and suspicious IP address blocking.
What Does iThemes Security Pro Offer for You?
iThemes Security Pro offers an easy-to-use interface for security protection scanning and detection. What makes it perfect for your website security audit is that it integrates with other plugins, such as BackupBuddy (to provide an instant backup of your WordPress website), iThemes Sync (to keep your WordPress website on only one dashboard), and LearnDash LMS (which is a fully integrated learning management system).
iThemes Security Pro is equipped with strong password enforcement, 404 detection, and plugin scan. It can also handle scheduled WordPress backups, so you don't have to worry if your hosting provider doesn't offer this feature.
iThemes Security Pro is perfect for looking for any suspicious IP. It also looks for vulnerabilities on your website to prevent hackers from gaining unauthorised access. The tool will notify you by email if any file updates that may be malicious were uploaded to your website, and it will automatically limit login attempts.
What Are the Pricing Plans of iThemes Security Pro?
The basic plan costs $99 (approximately £78) per year and can secure only one website. If you need to secure more than one website, you can go for the plus or agency plans that cost up to $299 (approximately £235) per year. You can visit their website and see what they offer within each plan and what features you're not getting if you stick to the free version.
What Are the Cons of iThemes Security Pro?
Like Sucuri, iThemes Security Pro's main downside is that its pricing plans are slightly expensive. It also covers a certain number of websites. For example, the basic plan will only cover one site, and the agency plan will cover ten.
How Can ProfileTree Help You?
Bring your long-waiting website project to life with a team of super developers who can help you in different scopes, from building your business website from scratch to front-end and back-end development. ProfileTree empowers your business with a high-quality online presence that perfectly serves your sales and marketing objectives.
Do reach out if you want to:
Conduct a competitive analysis to uncover your website's strengths and find out its pitfalls.
Build a data-driven website strategy that highlights the best approach to keep your customers engaged with your content and guide them to make a purchase.
Analyse your online identity and find the best way to reflect it on your website.
Implement a go-to website audit plan to be aware of any issues, and improve speed and performance rate to achieve your desired conversion goals.
Find the best practices to establish a website the audience and search engines will love.
Let's work together!