Project management training has never been handier for your career path. It is one of the areas of expertise companies commonly seek, and you could even find that demand isn't meeting supply: an opportunity for you.
Organizations run projects in order to achieve their strategic goals. These projects include everything from market expansion to the introduction of a new product and even crisis management after a major challenge.
Maintaining an up to date training in different areas of your business is important as the business world as well as the technology associated with your business evolves. As there are a variety of areas of expertise needed for each of these types of projects, project management is a constant area of skill required in all of them.
That means that the existence of competent project managers is crucial to achieving an organisation's goals, despite their industry.
Because of this, demand for skilled project managers is growing. This is reflected in the steady growth in salaries for professionals working in project management roles: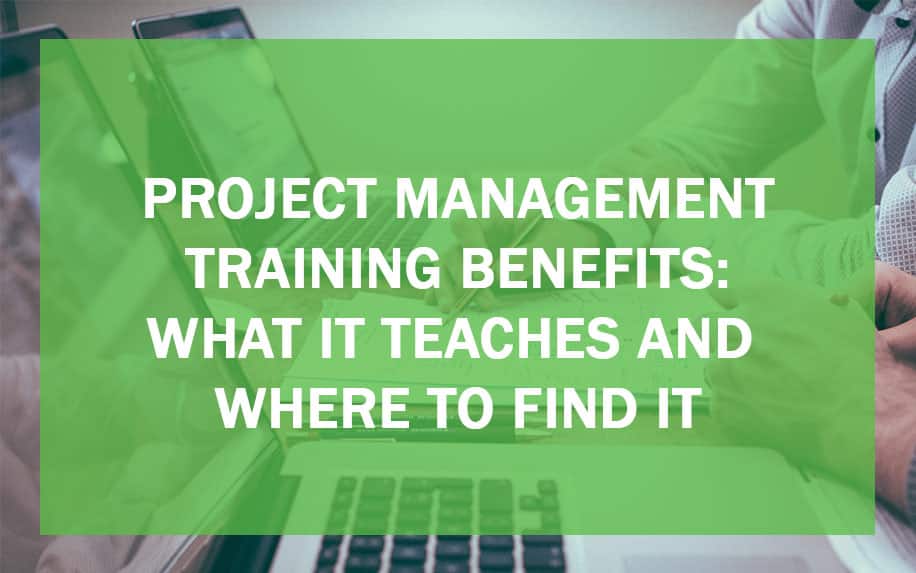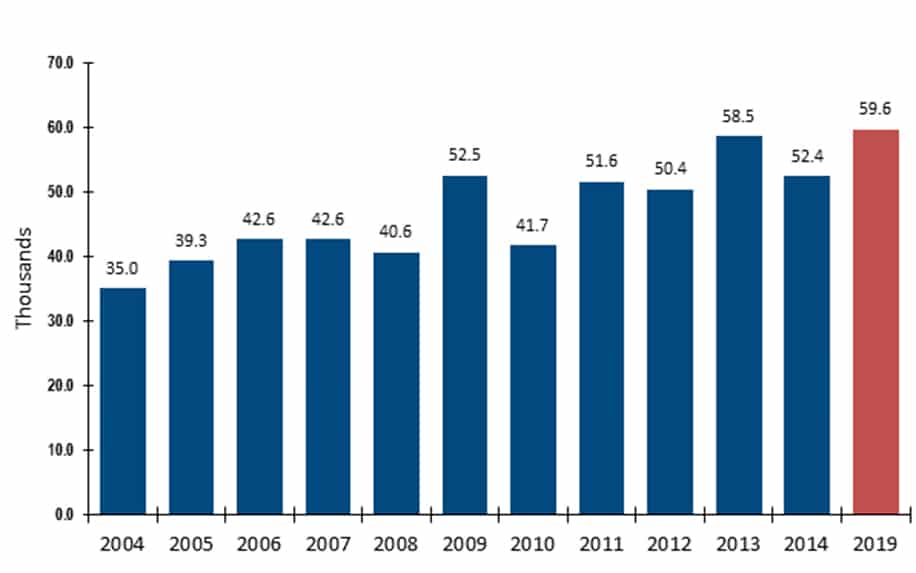 Similarly, this has led to an increase in the number of people seeking to build a career in project management. More and more non-specialists are also seeking to acquire project management skills to perform their own jobs better.
With that in mind, let's dive into the benefits of project management training.
What is Project Management?
The first question you may have if you are new to this area of business is, what is project management? You could be forgiven for being confused. Professional project managers often have varied roles, and a diverse set of skills.
A simple definition of project management is the practice of initiating, planning, executing, controlling, and completing work from a team within a business to achieve specific goals set. In project management, teams and project managers are expected to meet specific success criteria within time constraints set on a project.
If a project involves delivering a product or service to a client, project management is all about ensuring this process runs smoothly, and meets everyone's expectations. Often, this means that a project manager is the go-between for clients and the technical or creative staff in a company.
There are a variety of project management software options as well as project management tools that can be used by a business to support their projects and complete them successfully.
What Does Project Management Entail?
A professional project manager needs to have enough knowledge and experience to be able to wisely exploit the resources and tools allocated to the project. As simple as that might sound, the project management process is quite complex.
That's why project management training has become essential for landing a position in any big organization. In earlier years, you would land a job as a project manager solely by experience and seniority.
But things have changed drastically in the business world. It's no longer easy to land a project management role without specific training and experience. Project management is now more of a science than a craft, and people spend big effort into learning that science properly.
Essential Project Management Skills
To give you a better idea of what project management entails, it's worth considering the kinds of skills which are necessary to succeed in a project manager role. Generally, these are the kinds of transferable skills which will benefit just about any professional.
This means that acquiring the core skills of project management through training is a sound investment, pretty much irrespective of your job title or career goals.
Let's take a closer look.
Communication
Proper communication ensures that the project's objectives are clear to everyone involved. This avoids confusion which does not only waste time and resources, but might also be demoralizing to the individuals who did not get a clear message.
A poorly received message might cause the individual to question their importance in a project. This individual might distance themselves from the other members. This does nothing but create differences and cause inefficiencies.
Making sure that your message is received by the team is not the only use of communication. Good communication must be two-way. Any individual in the team should have no trouble expressing their concerns about any aspect of the project.
After all, each member has their own specialisation which may provide useful insight when something is wrong. This saves you valuable time and resources which would otherwise be wasted on a not so optimal plan.
Team Management
To create a productive project team, it is important to focus on teamwork. A project manager should be able to identify members that will work great together. Creating a team identity is a major motivator to individuals where they feel like their group is responsible for the success of the project.
This turns it from an assigned task to a project that they care about.
However, this is not an easy task as it is also necessary to assess both team and individual performance. It is up to the project manager to provide feedback to improve performance. This might prove to be tricky since feedback might sometimes be taken personally if the message is not delivered properly.
Leadership
A good leader does not only tell people what to do. It is important to ensure that every member of the team is dedicated to the product. Good leadership involves resolving conflict, delegating tasks to its most relevant member and ensuring that the project's goals are being met in a timely manner.
Another crucial element of leadership is getting the most out of team members who are working on a project. This requires good project managers to keep team members motivated, and ensure they have all the resources they need to do their job properly.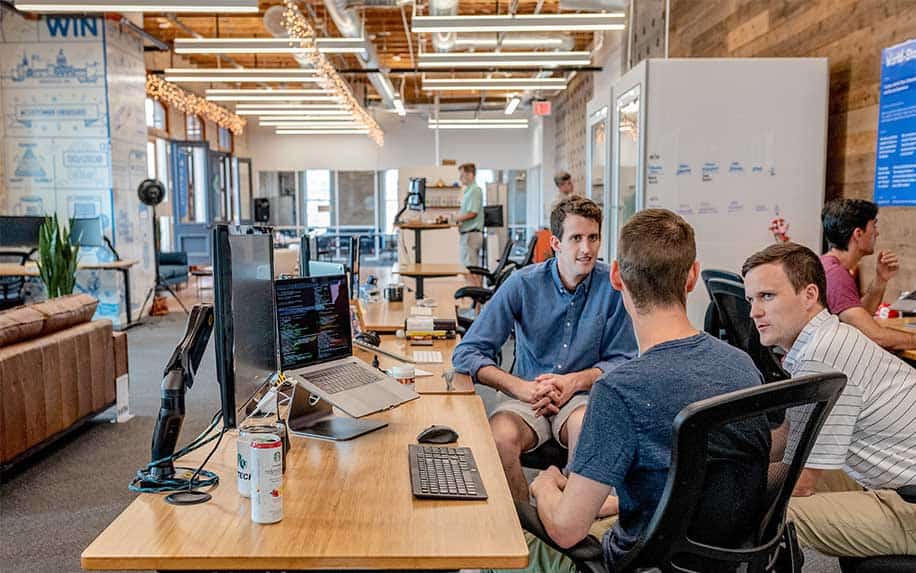 Resource Management
It is not possible for the project manager to be experienced in every single thing involved in the project. However, they should be able to assess the necessary resources needed to accomplish a certain task.
This allows the manager to create a project plan to estimate the amount of resources that this project will require. Setting realistic dates will ensure that the productivity of members is kept high as they have to abide by these dates.
On the other hand, if the project time table is unrealistic, your members will slack because they know that it will be delayed regardless of how hard they work. Moreover, determining the necessary budget and its distribution is important to ensure the success of a project.
It is not uncommon for a project to be terminated because of exceeding its expected budget or allocated time frame which only costs your business. Additionally, if you get a reputation for poor delivery, you'll struggle to gain new business in future.
Risk Assessment
A great approach to ensuring the success of the product is to predict obstacles and start working on their solutions pre-emptively. This is a good utilisation of the manager's time since they should be delegating current tasks to their team anyway.
The manager is then able to have a clear overview of the whole project allowing them to predict most future obstacles. Early observation of these hurdles gives the manager time to consider the pros and cons before it's time to make a critical decision.
The Process of Project Management
Project management training aims at preparing the person for handling all five steps of the project management process. The goal here is to divide all projects down into a similar framework. This makes the process of delivering projects much more efficient.
Here are the five stages of the project management process.
Initiation
This step, as should be clear from its name, is the first step in the process of project management. With project management training, aspiring project managers should be prepared for how to create a project and set it in place.
The initiation step entails setting a general compass for the project to follow. This includes the project's final objectives, as well as the methods and project management techniques the team will adopt.
The initiation stage is also when clients should be made aware of what is required of them. For example, it's incredibly common for projects to be delivered late because clients fail to provide their required inputs.
The project manager is then responsible for explaining this. As such, it's much simpler for everyone to have clear expectations from the outset.
Planning
Here is where the detailed tactics that the project manager and the team will be using to achieve the pre-set objectives are decided upon. This includes specific methodologies, approaches and techniques.
This is an important element of project management skills to improve as the details you need to consider during planning can make or break a project. It is also helpful for explaining to clients why a project takes as long as it does, or why it costs what it does.
In planning, a project manager needs to incorporate everything from the time needed to complete each element of the project to team members needed throughout the project. This also helps with planning for future road bumps, by helping you identify where specific problems may arise.
Execution
Once the planning of the project has been confirmed and set in place, this is the step where the project manager implements the plan and tasks begin. Typically, execution is split into pre-agreed milestones, or phases of deliverables.
During this stage, it is essential that high-quality maintenance is carried out to ensure no mistakes or delays will affect the success of the project. For instance, it's worth creating contingency plans for if one milestone overruns.
Controlling
Project managers usually bear a major part of the burden in this step. That is where they monitor, evaluate, and take corrective action if necessary. Essentially, this is all about ensuring that the goals of the project are actually met
This could be, for example in construction project management, if there is a delay in the delivery of building materials which could delay the project. Alternatively, in a software project, it's all about ensuring that the product works properly in situ.
Closing
This is the final phase of any project, and it is where the evaluation takes place. That is where a project manager needs a sharp eye for detail to gather information and highlight what worked well and where there were weaknesses within the project.
This information will be used to report back to management and to improve future project planning and project management. Good project managers understand the importance of constant improvement to their processes.
Project management training intends to install all of the skills necessary for each of these stages into the mind of a future project manager. Additionally, it provides theoretical knowledge for each stage related to the practical elements of project delivery.
By the time one has successfully passed a project management training program, they should be able to systematically handle each and every phase we mentioned above. They can then build on this knowledge with industry experience.
Additional Skills for Project Management Success
Among the most essential project management skills for any competent manager is risk mitigation. That is a set of skills that no practical experience can teach in the systematic manner a full project management training does.
You might be curious to why this is. The answer is that risk management primarily entails mastery of research, analytical abilities, and the concept of educated decision-making. These are all skills that rarely come from practical experience alone. You need to support them with an educational background with project management qualifications.
Another set of skills anyone can acquire from a proper project management training course are planning, execution, monitoring, and evaluation.
Basically, each of the phases mentioned includes its own set of skills to support it, and project management courses not only teach you these skills, but they also teach you how to practically combine them.
These are but a few of the business skills that project management training has to offer you. So are there any recommended project management courses?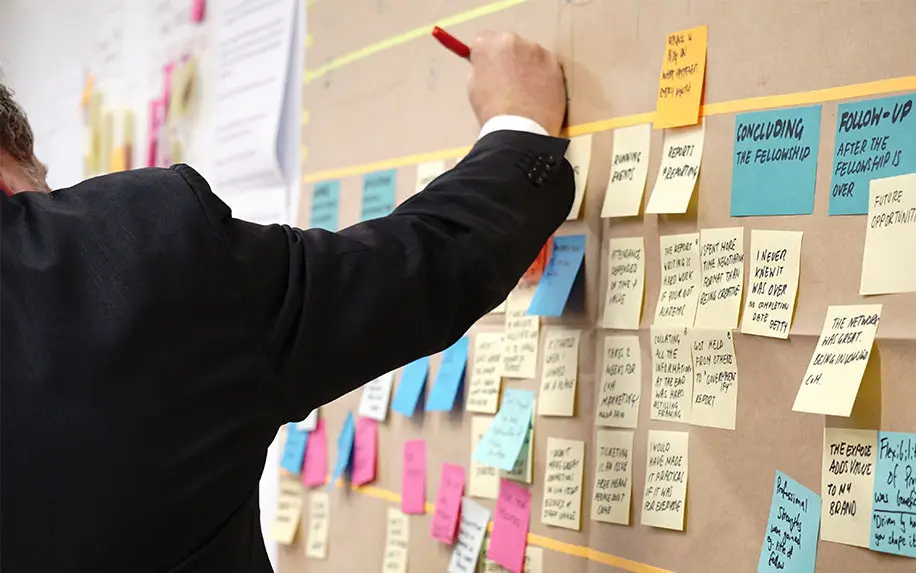 Popular Online Project Management Training Courses
The next thing to think about is which project management training course is right for you. Naturally, this depends on a number of different factors, including your specific needs, goals, practical concerns and availability.
BrainSensei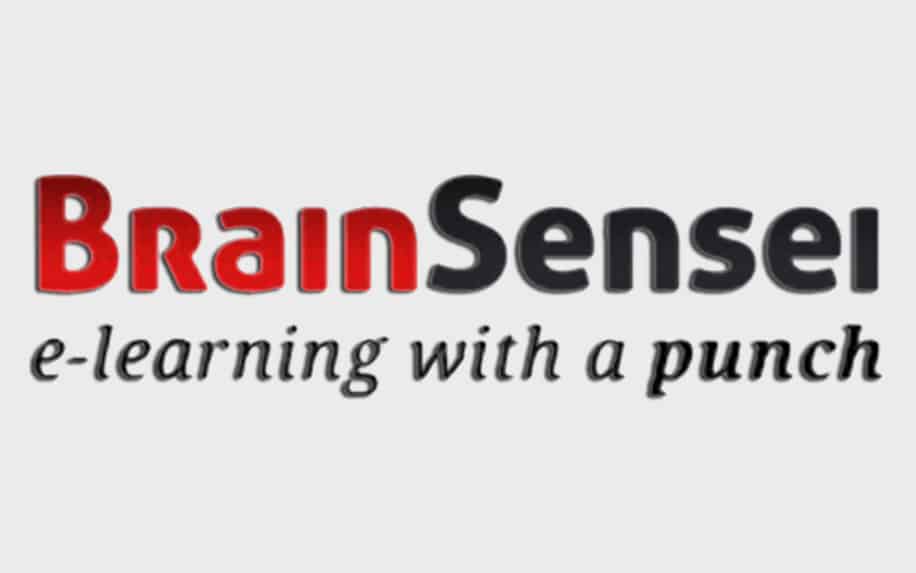 BrainSensei qualifies you to pass the PMP test. This project management course is somewhat intensive, but that is without rushing through topics. The course is just smoothly designed to take you on a fast-paced yet comprehensive journey through the concepts and techniques central to project management.
It is pretty fun, too. You would expect project management training to be a set of tedious lectures, but this one is actually far from the case. This course is given through a series of animated stories.
Another good feature in this course is that you get to evaluate yourself. The course doesn't include dated tests or anything of the sort. You get six modules and more than 900 self-assessment tests to cover them. That gives you the flexibility to finish up the course according to your own schedule without pressure.
Simplilearn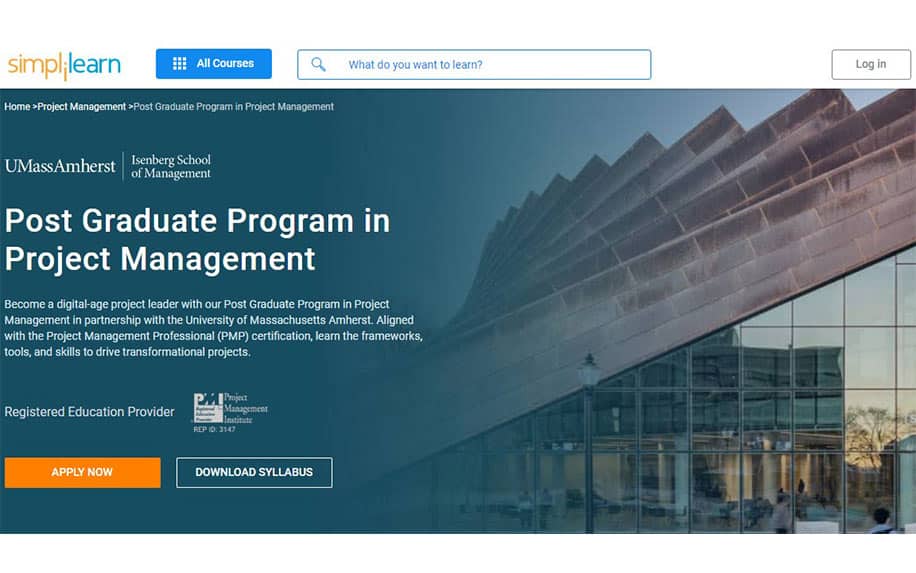 Simplilearn has the advantage of variety. It offers both self-paced courses that you get to access and finish up according to the timeframe you find suitable and instructor-led project management classes.
The latter is great if you are one of those people who enjoy group-learning. These ones have specified start and end dates, though. So, if you are looking for a more time-flexible course, you should probably go for the first option.
The Project Management Expert bundle they offer would get you fully qualified for a PMI certification. That bundle consists of six project management modules and a software course.
That last one would definitely better your profile as a project manager. Software knowledge has never been more highly demanded especially in management positions like the ones you would pursue after finishing the project management training.
The Junior Project Manager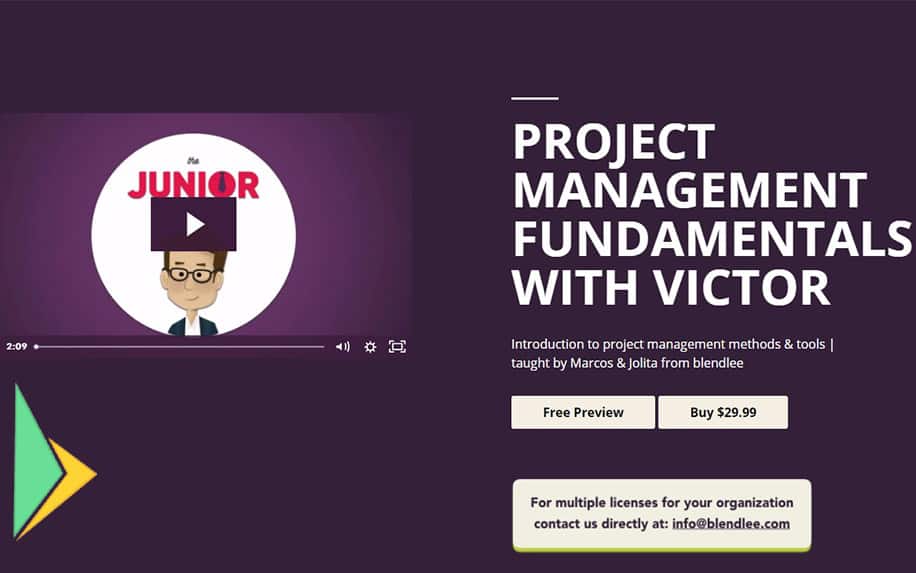 That is another project management course that delivers its material through storytelling. It is definitely the most effective learning method we know at the time. The Junior Project Manager is provided by Blendlee Learning Technologies UG in Berlin.
The name of the course is actually the name of the character teaching it. The Junior Project Manager is a character that in every class gives lessons in project management through the day-to-day stories he tells to his audience.
There are both an introductory course that gives you knowledge of the basic project management techniques, principles and concepts, and more in-depth modules that qualify you to pursue a PMP certification.
There are hundreds of other online project management classes, but these ones have been hailed as some of the best courses available on the web right now. The cost of taking one of these courses is not high at all, too.
If you're willing to expand your knowledge, you could be the next person to meet the job market, or your employer's needs for project management skills.
Why to Take Project Management Training
Project management can be intimidating for anyone and the format can change as each project is different. Taking on project management training will support any project manager in carrying out a successful and effective project no matter what industry they are based in.
The core role of a good project manager is ensuring the client's goals and expectations are met in the most efficient and cost effective way possible.
This requires a pretty diverse range of transferable skills, as well as knowledge of the most effective frameworks for delivering projects. Additionally, industry experience builds on these skills to help you grow into a well rounded professional project manager.
You should also check out this article on what is Scope Creep and how to avoid it?