Before you take a look at how you can use Kotter's 8 Step Model for Leading Change within your own organisation, you may want to check out other business strategy tools such as Scenario Planning and Porter's Five Force Analysis. Each of these have been created in line with supporting you through a Digital Transformation journey.
What is Kotter's 8 Step Model?
Whether you think change is good or bad in business, sometimes it is necessary. Some businesses change to become more efficient or reach their customers in new ways, or in some cases they have been forced to due to certain impact to the business. 
With technology advancing and customers buying habits constantly changing, many companies find it important to change to make sure they are always meeting their customers' demand and providing them with a product or service that satisfies their needs.
It can be difficult to know where to start when it comes to change, no matter how small or big it is. In addition to this, it can be equally as hard to see your change process out through to the end, while making sure you are successful in meeting your key goals and objectives. Therefore, what we need is a step by step guide on the different stages of change which your company should follow.
Upon researching change and understanding the most effective way to go through this process within your business environment, Kotter's 8 Step Model has been selected as the best way to direct and implement change within your own business. 

Kotter's 8 Step Model: This plan was developed by John Kotter within his book titled 'Leading Change'.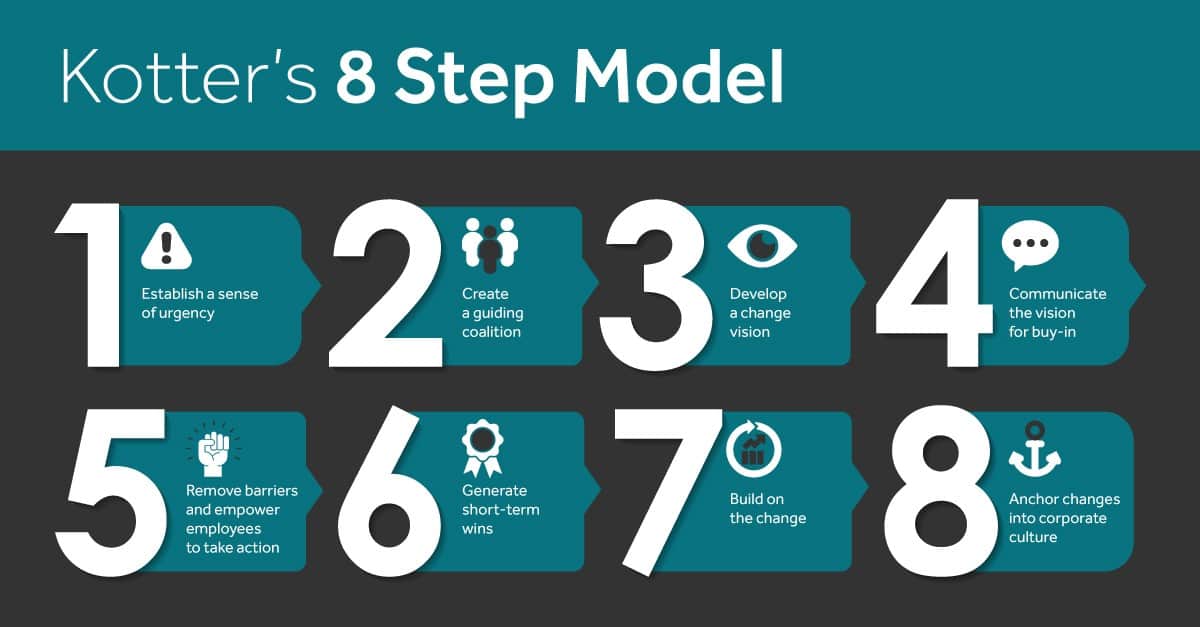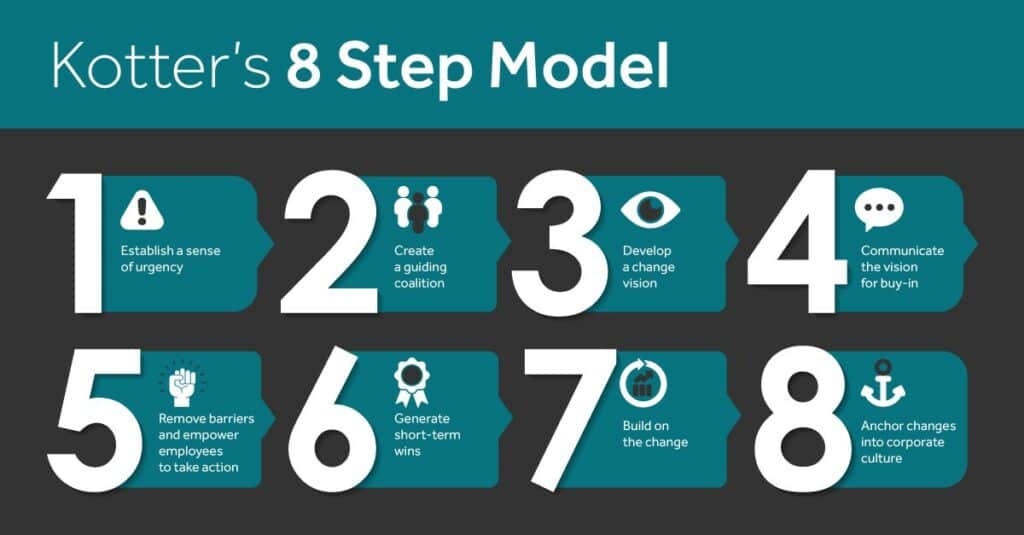 Kotter's 8 Step Model Explained
Step 1 – Create a sense of urgency
The first step in Kotter's 8 Step Model is to create a sense of urgency around the change which is about to take place. You want to ensure people within your organisation are talking about the plans which are being made and you are as transparent as possible with your communication. Where there is a sense of urgency, motivation towards acting in accordance to this will follow. 
It should also be noted that within his book, Leading Change, Kotter states that 75% of your company's management team must actually buy into the change in order for it to be a success. Therefore, prioritising how you are going to communicate with these individuals or groups is going to be very important.
Wondering how you might do this? Check out these following steps
Carry out a Scenario Planning Analysis and identify and show your business employees what the ideal scenario or outcome will look like 
Carry out a PESTEL Analysis and identify what opportunities currently exist with the change and how you may exploit these, and identify the threats which exist with the change and show how you plan to mitigate these
When you are confident you have the correct preparation completed, open forms of communication across the business setting up meetings to inform all your managers first, then the various team members of the future changes
Step 2 – Form a coalition
The next step of Kotter's 8 Step Model is going to be key to having the correct people in place to direct the change and make sure you are reaching your goals and objectives on time. Therefore, forming a coalition should see you identify who the key people are within your business who have strong leadership skills and would be capable of directing and managing change. 
You want to try to get a diversity of people to form your coalition, possibly from different job levels or titles, however these people are trustworthy and reliable individuals. Each of these individuals will then work as a team where they will meet regularly and form plans on how urgency and future planning will be developed.
Wondering how you might do this? Check out these following steps
Identify those leaders who have the skills and expertise to lead on change
Select a diverse groups across different departments, ensuring a broad range of strengths and capabilities are included
Give them a sense of power, motivating them to deliver effective results
Set up team building initiatives to ensure there are no communication barriers between the group
Step 3 – Create a compelling vision for change
Without a vision it will be difficult for your business and your teams to have awareness of where your change is going, or what the outcome is likely to be. Creating a vision will also offer clarity of why your groups of people should act in accordance with the changes you are making. Therefore, a clear thought through strategy will have to be formed with key goals and objectives and a plan to achieve these will be key within this stage of Kotter's 8 Step Model.
Wondering how you might do this? Check out these following steps
Follow an informed strategic framework to achieve your vision
Clearly identify what success looks like, showing what the end outcome should look like
Understand what your business values to get them bought in to your vision
Make sure your coalition can communicate the vision to your business
Looking for an effective strategy to follow? Why not check out the EAS3EL Conceptual Model developed by Dr John Bustard of Ulster University to support ProfileTree's Digital Transformation Project as part of the mKTP Programme funded by Innovate UK.
Step 4 – Communicate your vision
Once you have your vision in place, Kotter's next step mentions that it is now time to put it into action. You will want to communicate your vision in an inspiring way, encouraging your company to buy into what you are saying. It is also important to do this as frequently as possible so that people can become embedded with the changes in plan.
Communication is always considered in a verbal context, and within this step group information meetings and workshops initiatives will be a good opportunity to talk to your coalition and other team members about your vision, however equally important is that you behave in a manner which aligns with your vision which will encourage others to take the same action. 
Wondering how you might do this? Check out these following steps
Talk about your vision any chance you get
Make a point to address all your business teams concerns, queries or frustrations in relation to the changes taking place
Don't over complicate your vision statement, keep it clear and concise
Express passionate behaviour towards your vision, using stories and visuals to inspire everyone to get on board with you
Step 5 – Empower others to act in accordance to the change by removing any obstacles
When it comes to change within businesses, no matter how well you have carried out the first four steps of Kotter's plan, you are likely to be faced with some form of resistance along the way. For many people, they will find it difficult to adapt to change where they have maybe become comfortable with working a particular role for some time. However, it is important that you identify these obstacles and act in a way to remove them before they develop any further. 
Resistance to change can be seen for many different reasons such as fear of potential job, lack of trust with those people directing the change or poor timing. Therefore you want to analyse the change and ask why they are resting, is it in relation to people, technology or structure?
Wondering how you might do this? Check out these following steps
Analyse any forms of resistance, who is it coming from and why is it happening?
Use your coalition to effectively manage change and remove obstacles
Create rewards and incentives, motivating people to act in a certain way
Be fast and responsive, acting in a proactive way to avoid any obstacles developing any further. 
Check out our video on how you can effectively manage resistance to change while implementing Kotter's 8 Step Model.
Step 6 – Create short-term wins
Defining what success looks like in the short term can be a highly effective way to guide you on achieving a desired outcome. Creating Key Performance Indicators (KPI's) will be an effective way to measure success and celebrate early wins within this step of Kotter's 8 Step Model. This will positively inspire your teams, showing them that their time and effort is being praised, allowing them to become confident in the work they are doing.
Therefore, maintaining motivation and the momentum of the change process will be key within this stage where enforcing beliefs and attitude upon people will play a crucial role in seeing out the overall change process. 
Wondering how you might do this? Check out these following steps
Look for opportunities to promote progress and work ethic
Align your KPI's with your goals and objectives allowing you to measure success
Set SMART goals, starting with easier goals to be achieved as you don't want to hurt momentum
Reward and make examples of those individuals who are achieving these wins and are embedding with the change 
Step 7 – Build on the change
Kotter's 8 Step Model emphasises that you don't want to finalise changes and claim success too early in a change process. Although short-term wins can be seen as an effective success measure, achieving your desired outcome will be more difficult.
It may be good practice to change your coalition during this stage, taking on new leaders to enforce the last phase of the overall change process. This will help take in new ideas and keep everyone motivated and moving in the right direction.
Wondering how you might do this? Check out these following steps
Analyse progress and identify areas which need improvement
Explain how early wins was achieved and set new goals
Make any required adjustments and build on the change
Step 8 – Embed the changes within the company culture
Within the final step of Kotter's 8 Step Model you want to ensure you've developed a culture of change, where the values with your vision have been clearly embedded with your new ways of working. Once the vision which was set in place has been achieved, you want to ensure your key leaders continue to act in a way which ensures this remains consistent within the company culture. 
You want to approach this step with a mindset of continuous improvement where your business can see your continuous efforts to ensure the change makes its place in the future of your business culture.
Wondering how you might do this? Check out these following steps
Ensure the new culture change is integrated into your processes, workflows and procedures
Continue to make an effort to talk about the new ways of working, pointing out what success looks like
Hire new employees in line with the cultural changes made
Encourage key leaders to act in accordance with the change which has been created
Reward those who directed the change process
Summary
That's an overview of how you could Kotter's 8 Step Model to lead change within your own business environment. If you would like some support and guidance in around this, or other areas within Digital Transformation, contact ProfileTree today and we would be happy to help. Don't be afraid to check out our videos on our Youtube Channel too.