Static marketing content is not recommended anymore. Actually, it's outdated as print-only magazines. Instead, building an interactive blog in today's market can be a lifesaver for many businesses.
Equally to day-old newspapers become litter in the streets, unilateral digital content is useless to the average user. With such an inundation of tedious content, one piece hardly stands out from others, meaning ideas fade and brands blend without a unique character.
All numbers explain how readers crave the dynamic nature of interactive marketing content.
For example, a study by Rock Content to measure marketers' success and the general feeling towards different blogs regarding interactive content found 93% said an interactive blog is excellent for educating buyers.
In terms of effectiveness, 88% say it's effective for different brands, whereas static content was found to be only 55% effective.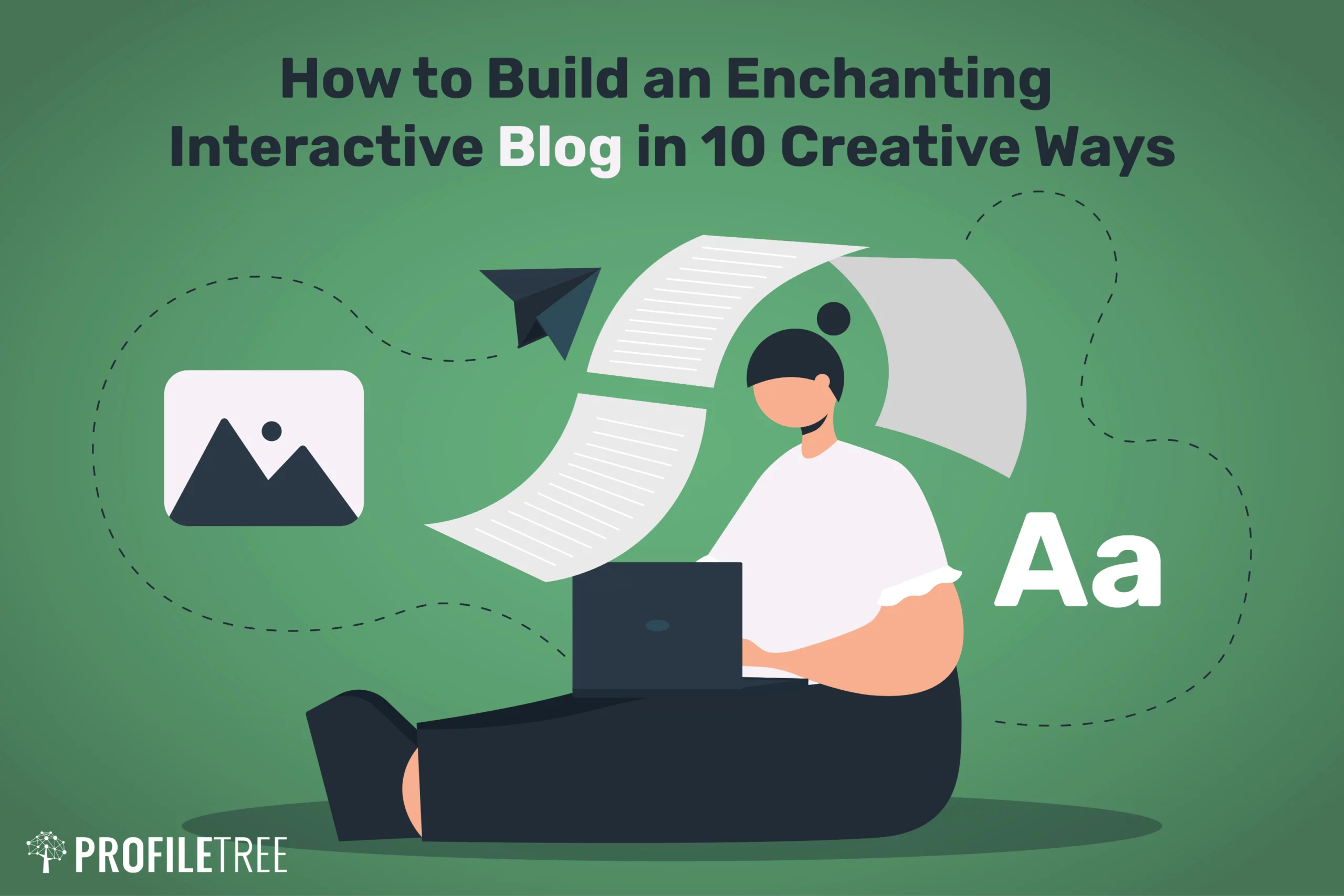 So what?
Well, if you haven't been convinced yet, take this: interactive blog also drives 2X more conversions than any other.
However, did you know that despite these findings, many marketers seem to shy away from interactive digital content? It can be for many reasons— maybe because it has a reputation for being labour-intensive or expensive.
People still think you need a large-scale team of creative professionals to have an interactive blog. But it's an unfair reputation. Including interactive elements, in fact, is fast, easy, and even free.
Let's find out these ten creative ways and tools that allow you to start instantly interacting with users, which draws them in, gives feedback to improve your business, and converts at high rates.
But first, we need to define an interactive blog and what it looks like.
What is an Interactive Blog?
Interactive blog posts are different from any other forms of interactive content. Interactive social media posts, for example, are a complete strategy on their own.
On the other hand, at its core, an interactive blog is static content pieces that include interactive elements added in.
These elements help make your static posts more engaging while still preserving the blog format.
Adding these interactive elements to traditional posts helps you improve the overall reader experience with your articles while keeping a blog post's integrity.
The post remains static but introduces itself as a more engaging content genre that creates a positive and effective user experience.
In that sense, an image or GIF is not a good option to push up engagement and use in place of an interactive item.
Simply because a reader can not interact with a GIF, even if it's in movement, funny, and more interesting than a static image.
We're talking here about a way that requires more active participation from website visitors through different interactive elements.
A calculator- to name a few- that helps calculate a breakeven point in a blog about the importance of conducting forecasted sales to track ROI is a better option.
What else? Read on to explore more ways for an interactive blog.
Creative Ways to Build an Interactive Blog
The more time people spend engaging and reading your posts, the higher rank you'll take on search results.
Having an interactive blog has countless benefits; let's dive in and explore how we can do it.
Start With Basic Interacting Features
First, check you've enabled all the simple interactive features your blog already has. You can start with your overall design, for example. Next, your readers need to follow a clear navigational path. One way to do this is always to suggest related content at the middle and end of each blog post so that your users know where to explore next.
Of course, be sure you've enabled the comment session so your visitors can talk to you directly and other users. That will open a public discussion that can be helpful for other visitors.
Also, you can add other basic tools like contact forms for messaging and social media buttons for sharing. All of these will boost your blog engagement.
Another way blogs can enhance interactivity is to allow readers to highlight and tweet sentences directly from the page.
That's how readers can select any part of the text and then highlight it, quote it, or tweet to add to their feeds with a click.
It's great to support your brand awareness through Twitter, especially if you create statistics or quotable content.
Being social with your audience is about more than just broadcasting content out on social media channels. How about being more interactive with someone online?
How about being available to chat through your website? That's as social and interactive as it gets. But everything starts with a conversion, and it will be your chance to maintain visitors to your website.
You can combine automated chatbot-type technology and have someone online when a conversion is needed.
Many marketing platforms offer this service, but Drift is outstanding at combining automation with real people. Instead of a customer service employee filling out a form online, you can initially get to interact with a smart bot to help you figure out what your users exactly need.
Then the users can talk to a real person if the automated bot doesn't have answers to their questions.
The bot will allow you to find qualified leads because it will open the door for people by directing them to the right content or sales rep. In addition, people want instant answers to their questions, which is a great way to learn more about your potential customers.
Display Social Media Posts
Aside from just adding social buttons to share your blog across platforms, embed social feeds directly on your page.
Why?
Doing this helps you in two important ways:
You're adding fresh content to your blog, which will automatically update when you post on your social profiles.
It's highly interactive, as your visitors can explore your content and engage with you on social media.
Adding a social media feed lets you create a more casual yet personal touch on your blog. You can experiment with emojis, hashtags, GIFs, and more colourful tools that seem to come right from social media but are out of place in a blog.
Additionally, you'll create a brilliant opportunity to keep your users on your site for longer by creating an all-in-one blog for your content.
Also, you can add posts from other accounts when referring an influencer or a company as a reference.
Clickable Table of Content
You can build an interactive blog by including a clickable table of contents placed at the top of each blog post. These are known as anchor links, allowing readers to instantly jump to the sections of the piece that interest them most.
At Profiletree, we typically add a clickable table of contents to all longer articles, just like this one.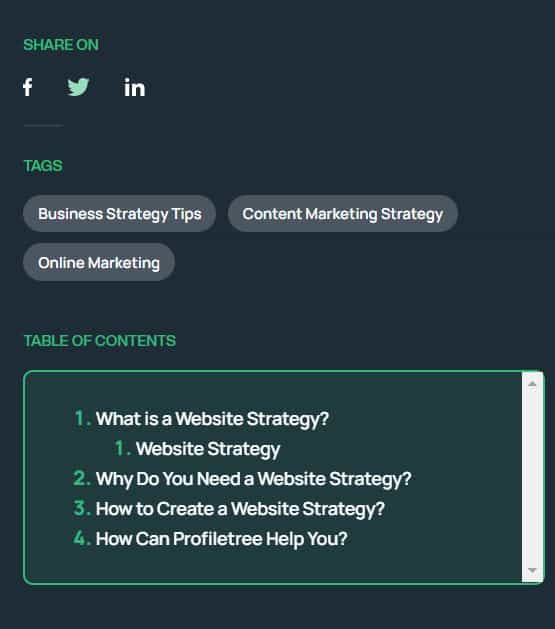 Because we know how busy we are, we might only want to read some of the sections of a long post.
So, these anchor links make it easier for site visitors to find the information they're searching for. Eventually, this will keep them engaged on your page for longer.
Users spend 2.6x more time on pages that include video than without, according to Wistia.
Based on our experience, it works. Obviously, we regularly add videos to our posts to keep you reneged.
If you want people to stay on your page and engage with it for much longer, embedding video is the way to go.
For example, in this post, we've embedded a video tutorial explaining how to set up an ecommerce website on Wix.
And it keeps our engagement rate high.
Videos can do wonders for your numbers. Not only do they turn your posts into more interesting pieces, but they also make it easier for viewers and readers to consume your content.
A quiz is an attractive method to build an interactive blog. We all love games and will be glad to share when it discusses something relevant to our interests.
In fact, 96% of people that start answering a quiz on Buzzfeed finish them, meaning you have a huge potential to keep a lot of visitors on your website because once they jump into a process, they are likely to finish it to see the results.
Along with generating engagement and potential leads, you will keep people longer on your content which is perfect for ranking on Google.
There are endless tools available to set up a quiz, such as Qzzr, enabling you to build a quiz up and running in a minute.
While you discover ways to create an interactive blog, slideshow presentations should be on your list. They're a great way to condense ample information into an easy-to-read collection of images or pages.
Also, the slideshow allows visitors to interact with your pages by clicking through the slides.
For instance, if you're writing about a topic that seems hard to understand, consider inserting a slideshow to highlight your points better. For more exciting content, you can add this slideshow at the end of your article to summarise it.
The good part is that there is no need to be a presentation maser to create this slideshow. Instead, use Google Slides, or Canva, which include a free feature to have an outstanding show to illustrate your idea.
Another excellent tool for interactive content to add to your posts is a calculator.
These calculators conduct calculations based on data input and integrated data formulas. That creates a fully customised user experience, even more so than a quiz. For example, people might revisit your site whenever necessary to make this equation.
However, it might be challenging for developers to build a calculator. While interactive quizzes have common answers based on some results you program in, a calculator is a completely unique tool based on the previous input of individual users.
For example, a calculator can have a programmed formula that helps get a sales margin based on the initial campaign budget and sales outcome. Each customer will have a different sales margin rate based on the data they enter.
With these personalised experiences set up in your interactive blog, readers will apprentice the content you provide and will come back to the same calculator again if it shows accurate results. You will be a reliable and authorised source for them to calculate discounts, finance, quantities, and measurements.
Plus, these calculators are great for end-of-funnel blogs since they can help you close a deal or help potential customers decide to use your service.
Everyone needs to feel special. In general, people like belonging to a community or group. So add a membership section on your blog to create this sense of exclusivity, belongingness, and interaction!
The idea here is to encourage your audience to participate in discussions and threads through space for members only.
It will be a sharing area where users can ask questions, reply to topics and get answers from others.
This form of interactivity is especially useful when you're targeting a niche industry or dealing with a particular pain point.
However, it may take some effort at the beginning to kickstart topics and tempt the audience to participate. But you'll receive rewards at the end.
Remember, you also need to moderate content and engage with comments and people on a regular basis.
Optimising the right tool from the onset will make managing and designing your membership section easy. You can start with MemberPress, a complete all-in-one plugin that will allow you to build any membership you desire and offer the flexibility to scale up if required.
Creating Interacting GIFs
When videos become difficult and time-consuming, animated GIFs are brilliant alternatives.
Yes, we agree that videos are highly engaging, but sometimes, we don't have the luxury to shoot, edit, and upload.
Instead, GIFs can help you capture attention and fire up your blog posts with zest. They're also much sharable than normal static images and can better demonstrate concepts and ideas.
But we are here not to talk about normal GIFs; we want you to use animated graphics instead of just capturing static screenshots to explain an action, such as how to use a feature or navigate through a tool.
Also, using animation can help readers digest and retain information for longer.
A well-crafted GIF can be the key to unlocking user engagement and loyalty. Even if text-heavy material isn't interesting enough, pairing it with a relevant GIF will give viewers something eye-catching and entertaining.
Pro tip: if you want a quick solution for an interactive blog, search websites like GIPHY to find something cool and relevant to your target audience. These GIFs are more flashy, hilarious and have viral potential, but only if these kinds align with your brand voice.
How Can Profiletree Help You?
In this digital world, having static content will only get you so far. So instead, start creating interactive content and penetrating this age flawlessly to turn the entire learning process into something extraordinary, sharable, and memorable to bring an exceptional experience to your audience.
Indeed, having an interactive blog have many benefits for you and your brand image, such as:
Increase time on the page: your audience will love to spend more time on a page when you use interactive elements because the embedded content gives them enough reason to stay as they can click, learn, play, engage, read comments, leave a review, share ideas with other users. That will affect your conversion and engagement rates.
Increase brand awareness: an interactive blog will enable you to have an easily-recognisable style and message that helps your user identify your company among competitors. Then you will be able to stand out. This kind of content gives you new areas to grow your brand voice and provide excellent value to your visitors.
Enhance click-through rates (CTR): Improving CTR is often a significant marketing objective in companies of all sizes. It's a conversion metric that helps you trace your customers' journey to know what they like or not. Interactive content helps readers find a new perspective on your website, leading them to click through different links to explore more.
Improve your sales: Done well; you will improve your user's experience when engaging with interactive content. But most importantly, it will help you indirectly gather key data to boost your sales because you will be able to move people through the sales funnel and understand your weakness and strengths points by analysing data from quizzes, forms, and so.
Have insightful data: as we said, you will have a free tool to gather data about your audience, as well as they will be happy to leave their email for subscription, and that's how you can target them in different campaigns.
Ready to take this leap? Our team will help you make interactive visual content everyone will love to check, read, and share to keep your audience coming back for more.
Not just that? We will help you create a content strategy to maintain interest in your offering, including social media, Youtube videos, and how to run a successful blog to stay ahead of your competitors.