Many are underestimating the power of hashtags nowadays. Meanwhile, others are wondering how to look up hashtags. Between them, you need to know what works for now and what you should leave.
Social media platforms have witnessed the rising prosperity of hashtags, especially Instagram. This one gives you the ability to use an entire whopping amount of 30 hashtags for even each post. That enables anyone to market their brand appropriately, increase awareness, and reach new potential customers.
Indeed, using hashtags on social media is still essential for increasing your followers and generating better engagement for your daily posts.
However, it can make or break your social media marketing strategy. With ever-changing algorithms, you need to keep yourself posted with new tactics.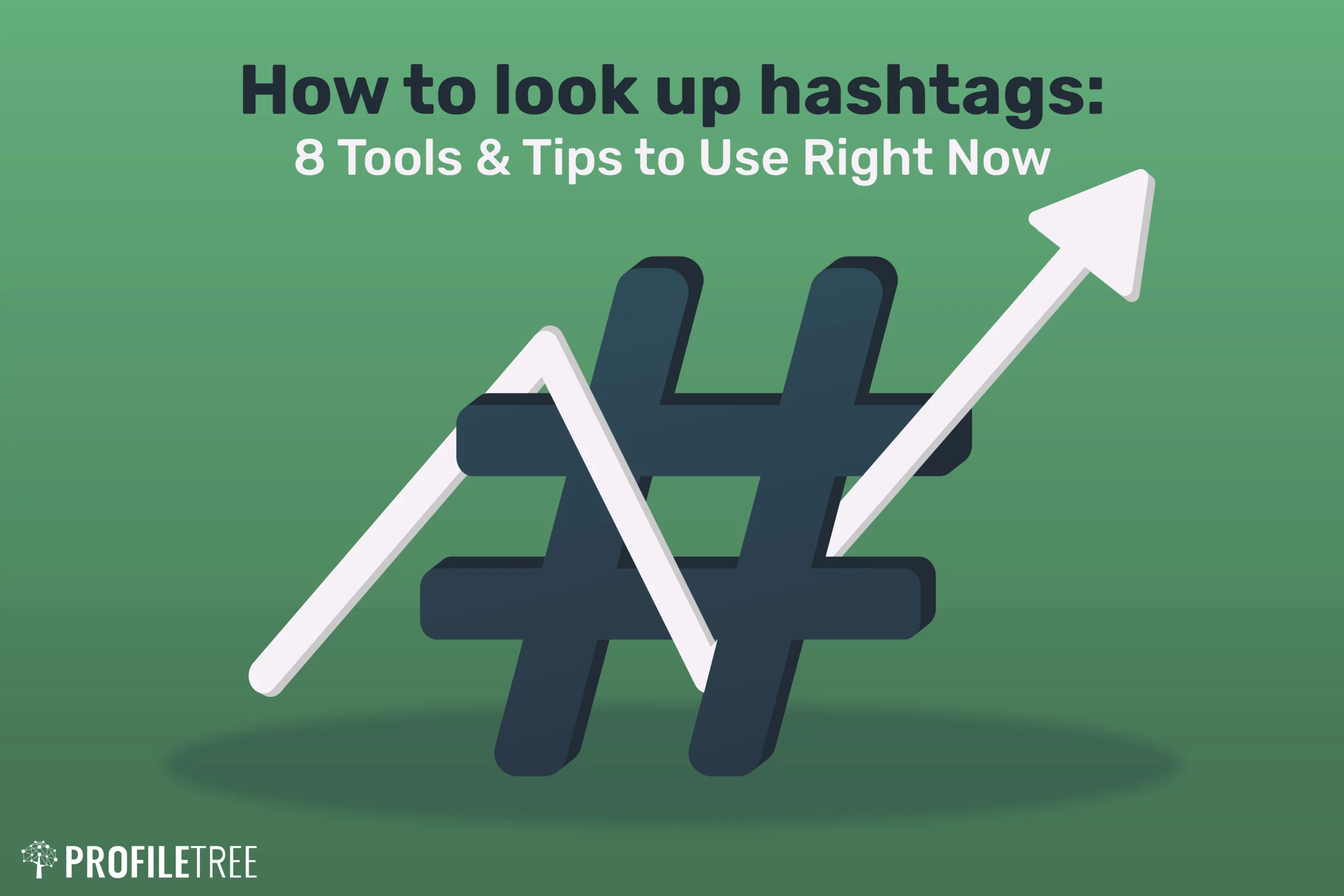 To find the right hashtags, consider these general practices to use the most suitable hashtag strategy in your content plan. Additionally, you need to respect the hashtag requirements based on every platform's nature, keep your hashtags short, use niche and industry-specific hashtags, and learn to look up hashtags.
What's more, in this article, we will review the best parties to look yo hashtags and what you should consider when creating branded hashtags.
Let's get started.
What's the Purpose of Hashtags?
Well, hashtags can quickly identify conversations on social media platforms such as Twitter and Instagram. Hashtags are also an effective way to categorise content and make your posts more visible online.
However, a lot of hashtags are used in a wrong way that was not intended.
For instance, imagine this post:
"We all deserve time to relax! # let'sgo
That is an example of the sort of nonsense hashtags that are shared everywhere. These kinds of hashtags probably add a bit of colour or motivation to your post, but they don't offer any value.
The real purpose of a hashtag is to help people sort out relevant discussions and content. On the other hand, it filters market segments to help you reach out to people who're interested in your content topic. # Let'sgo is a big failure!
For example, if you organise an event and want people to register, you can assign a hashtag tailored to this event. So people can view all the tweets and posts related to that event— even if they don't follow anyone attending it. That's how you should use hashtags. And that's how you can make hashtagging very useful for you.
Thus, before creating hashtags, think of how they can work for you and people who want to filter relevant conversations. You want to help your audience find your content when doing a hashtag search. Unfortunately, no one is going to search for generic hashtags like #party, so don't think for a second about using something so broad-ranging will get you additional traffic.
In real life, you're more likely to attract spammers following you, as they might be tracking some of these general hashtags.
Are Instagram Hashtags Still Working?
Yes, it is.
Hashtags are a significant way to expand your Instagram audience, increase exposure and get more reach because when you use a hashtag, your photo or video will appear on the page created for that hashtag.
If you use this hashtag on your story, it will be included in the relevant hashtag story— which also appears on the same hashtag page.
Moreover, people can choose to follow these hashtagged pages, which means they might see your post in their feed even if they still don't follow you.
Consequently, Instagram hashtags remain a great way to establish an online community, so people are motivated to fund your brand and get engaged with your content.
For example, as the way people live and work out suddenly changed in 2020 due to the pandemic, people started using the #playinside hashtag to post something about their new lifestyle and feature local people on how they become active in their homes.
However, all that being said, times and tactics have been changing. For example, people are recently talking about how hashtags have become useless, and there are many better ways to reach your audience.
Yes, it's true. You need to have a good content strategy for Instagram.
But it's not the whole story. Hashtags are used as a reference for Instagram to target accurate users.
Hootsuite has recently run an experiment to look for especially efficiency and effectiveness of Instagram hashtags, and the outcome, well, let's say, was outstanding.
If you want to know the tip general hashtags on Instagram, here we go:
#love (1.835B)
#instagood (1.150B)
#fashion (812.7M)
#photooftheday (797.3M)
#beautiful (661.0M)
For B2C businesses, these hashtags were used the most
#training (133M)
#smallbusiness (104M)
#business (101M)
#sale (95M)
#onlineshopping (85M)
For B2B business, let's see the top ones
#business (101M)
#entrepreneur (93M)
#success (82M)
#onlineshop (70M)
#smallbusiness (104M)
These results were eye-opening because many people still use hashtags, and many other people still follow them.
However, remember that the previous most popular Instagram hashtags are not significantly the most effective.
Also, many posts might mean lots of people follow this hashtag. But, on the other hand, it means a ton of content on it, and your posts probably need to be noticed.
The perfect strategy is to use a combination of popular and niche hashtags to introduce yourself to different audiences, from broad to specific.
4 Key Benefits of Using Hashtags
Besides reaching new audiences, why should you consider using hashtags if you perform well on social media?
Fundamentally, the most significant benefit of using hashtags on Instagram and Tiktok is branding and building an identity for your business.
Hashtags are an opportunity to increase brand awareness and expand your audience, which can occur in two ways. First, when a user finds your brand page, they will see the hashtags you're using.
Second, they'll see your posts in the relevant results when looking for a specific hashtag. That optimises your content's visibility and enhances your brand character and awareness.
Hashtags are a great tool to spy on your competitors. You can check out the competitive landscape and determine your brand strategy.
You can use these hashtags to gather data on your competitor accounts, other hashtag use, and posts. This information can then be optimised to gauge audience interest and what is the best working with your consumers.
Using this strategy will also help your business stay atop and keep updated with constantly changing hashtag trends on social media platforms.
Hashtags have a huge benefit to the promotion of a campaign. It's the Instagram way of word-mouth. For example, a brand can post about any topic with the hashtag, which followers pick up on using the same hashtag. Then it can speak like wildfire when more and more users use it.
So, when you're digging to find how to look up hashtags, use the right one to create visibility among your potential customers and connect you with a new stream of followers.
Embedding Hashtags on Your Site
A lesser-known advantage of Instagram hashtags that should be mentioned for your business is by embedding them on your site. For example, a brand can embed hashtag feeds directly into its website, generating and collecting additional content from customers and followers.
These feeds are engaging and will grab traffic's attention quickly. That can lead to longer visitor time on the site and increased customer retention and engagement.
Utimilay, you will also add rich content to your website that builds trust with the readers.
How to Look Up Hashtags: Most Powerful Tools
Here, you will learn more about websites that can help you capture the best hashtags for your marketing activities and campaigns.
It's one of the heightened hashtag tools for every hashtag for social media. It comes with extended plans that you can choose from based on hashtag usage and reach volume. This platform will also help you discover insights and real-time data depending on all hashtags on social media channels like Instagram and Twitter.
It's not necessarily regarding using the same hashtags, but you will have an idea about popularity, trends and ranking.
SocialBee's Hashtag Collections
You suggest a new post and ask your team to create it. So, your marketing team needs to write something, and SocialBee will take care of the rest.
The hashtag collections provided by this smart system can give a nice boost to your reach using the right hashtags.
However, it works based on your content type. For example, let's assume you're planning a post about an easy recipe to prepare Irish wheaten bread on multiple social media. SocialBee generates the best hashtags for each social media channel. Plus, you can create a collection of hashtags to implement similar posts with a single simple click.
Another hashtag generator for Instagram to improve your reach for the next drastically. After months of using #HashMe, it's the most exceptional and accurate hashtag finder for social media platforms.
Using it will allow you to search hashtags and upload images and text inputs backed by powerful AI technology.
Then you can unlock endless searches by image to find trending hashtags by investing in a #HashMe subscription.
If you're not planning to buy a hashtag generator, you can start with this random lookout. It will help you understand how the thing works if you're a beginner and want to use hashtags for Tiktok and Instagram.
It gives you essential strong groundwork, which is enough for a massive amount of success in the context of content engagement and posts.
Looking up hashtags calls out to try out this website. You will get hold of the most relevant business hashtags showing you suggestions depending on the most searched hashtags. It's a highly functional tool for creating a list to copy and paste and add to your posts. A very straightforward tool that does what you exactly want.
Copy over plenty of trending hashtags with this fantastic tool, which is accessible in the Apple app store. You will get a plethora of suggested topics to write about once you investigate a particular hashtag. This application produces 30 associated hashtags associated with your content.
Also, choosing hashtags from a bunch of categories with a simple user interface is crucial.
You will receive what it promises, especially if you earn your bread and butter from Instagram and Tiktok. However, you will need to find the best hashtags again because you will get immense help from Ritetag, as it provides instant suggestions for photos and texts on mobile and desktop.
It lists out a plethora of recommendations that always depend on instant engagement. Also, the app colour-codes the hashtags by which you can know a heap of trending ones.
When you want to study all your hashtags in-depth so that you're at the heart of your marketing tactics, then All Hashtag is the best for you. You will be on point with a fantastic feature, namely, Hashtag Analytics, so you will learn how to pick hashtags that work for your content.
What Are the Best Practices to Look Up Hashtags?
Now, after we dived into useful tools to learn how to look up hashtags for more efficient search, let's look at some of the powerful practices for figuring out popular hashtags:
Before using any hashtags, you want to double-check to see if your target hashtag has been created. For instance, if you're thinking of starting a specific hashtag for an event (let's see #realestateexpo), search for the hashtags you have in mind to ensure it's already in use.
Pro tip: sometimes, you can find a hashtag in existence for an entirely different subject, and you don't want to create a duplicate hashtag if you can avoid it. So, always research.
If that's possible, make it easy to spell and remember. If it's difficult or easily forgettable to spell, then people are most likely to mistype it. As a result, you'll lose the value, and your hashtag will be impossible to track.
Long hashtags combining multiple words might add colour and vibrancy to your conversations; however, they will not be searched by anyone. (hashtags like #wecandoit)
How to Choose Your Hashtag Mix
Hashtags a wide range of information about your content subject and style. Here are 10 categories of Instagram hashtags to add to your list when creating a mix:
Branded hashtags that define your business and industry
Campaign hashtags that are specific to a marketing initiative
UGC hashtags are uniquely designed for customers to use
Industry hashtags that explain your speciality or type of work
Daily hashtags that reflect cool themes like #goodmorning or #mondaymotivation
Event hashtags that promote holidays and happenings
Phrase hashtags that combine a message or an inspirational statement
Location hashtags that indicate a particular place where something is happening for local customers
Community hashtags to share information and amplify voices, such as #blacklivematter
Descriptive hashtags to clarify the content topic
However, the total number of hashtags used on Instagram and Tikton varies depending on the content type. For example, feed reels and posts support 30 hashtags, while stories give you access to only 10.
Even though it's easy to assume that it would be better to add as many as possible, that's not necessarily the best practice— or, to be honest, it might hurt your reach.
Important: The consensus is that using nearly 11 hashtags is an excellent number to post. But the most common number of hashtags, on Instagram precisely, is between 3-5, based on a feed post by the official Instagram creator's account. So you'll need to do some testing to define what works best for your business.
Many seasoned markets recommend maxing out hashtags, which means using a certain number of keywords from different categories.
So which strategy should your team follow?
The general rule of thumb is to rely on official advice and keep hashtag usage to a minimum; however, feel free to experiment. Test out different numbers of hashtags and watch and learn. You can compare engagement and reach metrics to see what works for your brand.
How Can Profiletree Help You?
Want to stay ahead of the curve?
Grow your business steadily by discovering the most relevant trends to take your business to a new level where you can find qualified leads.
We will help you drive more traffic to your website by increasing your search engine ranking. Then you will follow this traffic until to generate conversions.
Don't have a website?
Fret not— you will do it for yourself all by building a website strategy and business objectives, defining the best style and creating engaging content from beginning to launching.
How it works
Listen to your pain points, and define your weakness and strengths compared to your competitors by conducting a competitive analysis.
Determine the best solution that fits your budget and objectives
Design metrics to know where you're standing and how you can get your best designation
Create a data-driven strategy explaining each step before we jump into next
Set a digital marketing analysis and strategy to deliver a strong return and increase your ROI
Looking for branding, rebranding, and creative identity, or any of our services, let's chat.
Call us, drop us a message, or pop in for a brew!