The hotel industry is one of the pillars of the hospitality industry, a powerful industry that contributes to the development of their countries and the overall economy. The hospitality industry is expected to bounce back after the Covid-19 Pandemic and continue powerful growth to reach $4,699.6 billion in 2023. Furthermore, the booming hotel market reached more than $1.5 trillion in 2019 before dropping below $1 trillion during the pandemic. This market will hopefully regrow to reach more than $1.2 trillion in 2023.
The hotel marketing statistics we're bringing you in this article will look in detail at the hotel market. We will mention the different types of lodgings, their ratings and how they used the power of social media marketing to boost business.
Hotel Marketing Statistics: General Statistics
We discover the size of the global tourism market, the number of accommodations worldwide and even the most successful food services.
To keep up with the increasing use of technology, 57% of hotels planned to make check-in and check-out services available online. Seventy per cent more hotels pursued the services of digital marketing agencies to make their information and services available online.
There are nearly 8 million people working in the hospitality business in Germany, Spain and Italy, which is the highest number in Europe.
The world's no. 1 hotel companies are Wyndham Hotels and Resorts, Marriott International and Choice Hotels. Wyndham owns around 9,000 properties worldwide, while Marriott owns 7,662, and Choice owns 7,111 properties worldwide.
The world has more than 187,000 hotels so far.
Guestrooms top the list of vacation properties, with 17.5 million guestrooms worldwide.
McDonald's and Sodexo are the two highest food service groups in Europe. The former generated nearly $30 billion in 2019, while the latter generated three times less than that number.
There are almost 8 million people working in hotels and restaurants in Spain, Italy and Germany, which makes it the highest number of people working in the hospitality sector in Europe.
In 2022, the travel and hospitality sectors contributed to more than 7% of global GDP.
Hotel Marketing Statistics: The Power of Technology
Technology helped shift the world of hotel bookings, with more hotels, restaurants and services using it to their advantage. More accommodation establishments began focusing on their online presence after the pandemic when the world had to open its door online.
As they sought the digitisation of their services, only 24% of hoteliers in North America, Asia and Europe aimed to make obtaining their services better for their customers, an indication of the hoteliers' dedication to providing their customers with the best experience. An even less percentage of hoteliers, 5%, aimed at saving time.
Customers continued to visit hotel websites after the pandemic, pushing website sessions by 37% for 4-star hotels and 7% for 5-star hotels in the fourth quarter of 2022. The overall increase stood at 19% for all properties. Bounce rates increased for 4-star properties by 5% and decreased by 2% for 5-star properties, but the overall bounce rates for the industry websites decreased by 3%.
In the fourth quarter of 2022, 4-star hotel websites revenue jumped by 112%, while 5-star hotel websites grew even further by 168%. This brings the total growth of hotel website revenue to 99%, compared to the same time as the pandemic started in 2019.
Hotel online bookings increased during the last quarter of 2022, with 5-star hotels seeing a 14% increase in online booking, while 4-star hotels suffered a 6% drop.
As more people are planning extended travels after the pandemic, many combine business trips with pleasure by adding a weekend to their trip. This increased by 38% in 2022 from 31% in 2019.
Even though countries worldwide have lowered Covid-19 precautions, travellers still worry about new unpredictable pandemic waves putting their travel plans on halt. As a result, more hotels and hospitality businesses, 96%, are offering free cancellation and refund policies or awarding credits. This helps these institutions maintain the customers in the long run, increasing revenues down the road.
Fifty-one per cent of families announced they planned to spend more time and money on travelling in 2023.
The UK will welcome more than 35 million visitors this year, which represents an 18% increase from 2022 and an 86% increase from pre-pandemic levels.
An ABTA study of travellers in the UK showed that 61% of people planned an international trip in the following 12 months, compared to 57% of individuals planning a national break.
Generation Z is making a mighty contribution to the boom of the hotel business, with traffic increasing by 189% and transactions increasing by 257%.
A recent survey by Expedia showed that almost 96% of travellers prefer to sit back and relax during their vacation.
When you take high-quality photos of your hotel, rooms and available amenities, you're likely to increase reservations through your website by 15%.
European hotels top the list of the highest occupancy in the world, at 72.2%, followed by Asia and the Pacific of 69.3%, the Americas at 65.6%, and the Middle East and Africa at 64.3%.
Hotel Marketing Statistics: Employment Numbers
By the end of 2022, there were more than 330 million people working in the travel and hospitality sector. These numbers are still recovering after the major blow of the Covid-19 pandemic.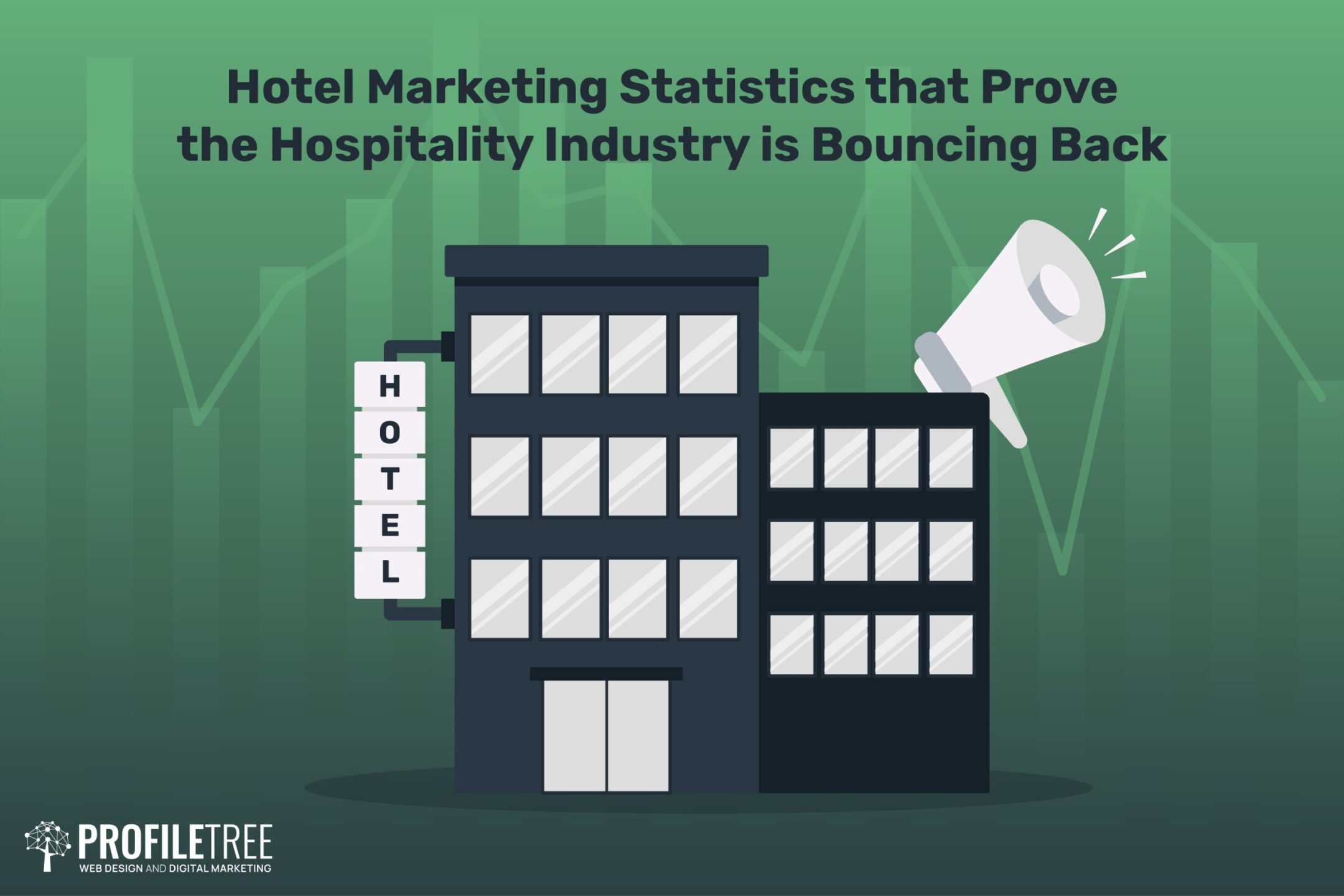 As economies attempt to recover from the impact of Covid-19, more than 23% of the new jobs expected to be created in the US between 2021 and 2031 will be in the hospitality business. This number indicates that the sector will grow at an average rate of 1.3% a year.
While there are more than 1.6 million people working in the accommodation industry in the US, this sector still suffers from an 8% unemployment rate, which is double the national unemployment rate.
In 2021, the hospitality sector in the US gained more than 1.7 million jobs. Adversely, the same sector lost more than 984,000 jobs.
An individual working in the hospitality sector in the US earns $19.5 an hour while working an average of 26 hours per week.
More than 32% of individuals working in the hospitality sector in the US benefit from their employer's healthcare. Forty-three per cent benefit from paid leaves, while 50% can get sick leaves.
Hotel Marketing Statistics: Marketing Strategy
As a hotelier, in addition to building up your brand and website, you need to benefit from the endless possibilities that social media, email marketing and Google Ads offer you. The following statistics will put these forms of marketing into perspective.
Surprisingly, the traffic social media platforms attracted to hotel websites decreased in the last quarter in 2022 to 1.7%. This figure stood at 2.3% in the last quarter of 2019. Both 4-star and 5-star hotels suffered decreases, with the former going from 2.2% to 1.7% and the latter dropping from 2.5% to 1.8%.
Social media incentivised more than 50% of consumers to buy products in real life through marketing strategy.
Travel content on Instagram has the highest engagement rate at 1.41%.
With TikTok influencing more than 34% of travellers as they plan their trips, you might want to add this social media platform to your marketing strategy.
Compared to pre-pandemic numbers, hoteliers had to more than double the budget they spent on Google Ads to attract more reach. This new average stands at around $5,760 compared to $2,627 in 2019.
Mobile devices are used to conduct more than 60% of searches on Google.
Travellers are now using their mobile phones more to book their entire vacation, from plane tickets, hotels, landmarks and even special trips. This translates to a 34% increase in the last quarter of 2022, compared to 25% in 2019. The increase was significant for 4-star properties, with 38% compared to 26% pre-pandemic, while 5-star properties had a 30% increase only, compared to 23%.
Before the pandemic, email adverts drew in merely 0.61% of reservations, and this number decreased further to 0.54% in the last quarter of 2022. Unfortunately, utilising email as one of the cornerstones of your marketing strategy is highly underrated.
Email users worldwide exceeded 4 billion users, and nearly 49% of these users check their emails on their mobile phones.
More than half of global mobile phone users cite their mobiles as their only means to access the internet. By 2025, this number is expected to reach more than 72%.
Eighty per cent of social media platform log-ins happen on mobile phones, while email checking stands at 75%.
Seventy-two per cent of marketers using SEO improvement in their marketing strategy said that their primary goal was to build content similar to the services they offer.
As a hotelier, you will need to keep your website's blog active as the latest data shows that when you post an average of 16 posts per month, you're likely to engage customers more and increase traffic to your website by 3.5 more times than businesses that post nothing or four posts only per month.
Written and video content still attracts the most traffic; they attract more than 80% of online viewers, compared to podcasts and infographics.
Utilising travel websites, such as TripAdvisor, will help you increase website traffic, engagement and reservations. If your establishment has more than 100 photos on TripAdvisor, your engagement rate will increase by 151% and you are 283% more likely to receive a reservation inquiry. These numbers drop to 138% engagement rate and 225% reservation inquiries if there's at least one photo of the establishment.
As you consider the best route for your marketing strategy, we hope you take the aforementioned statistics into consideration.