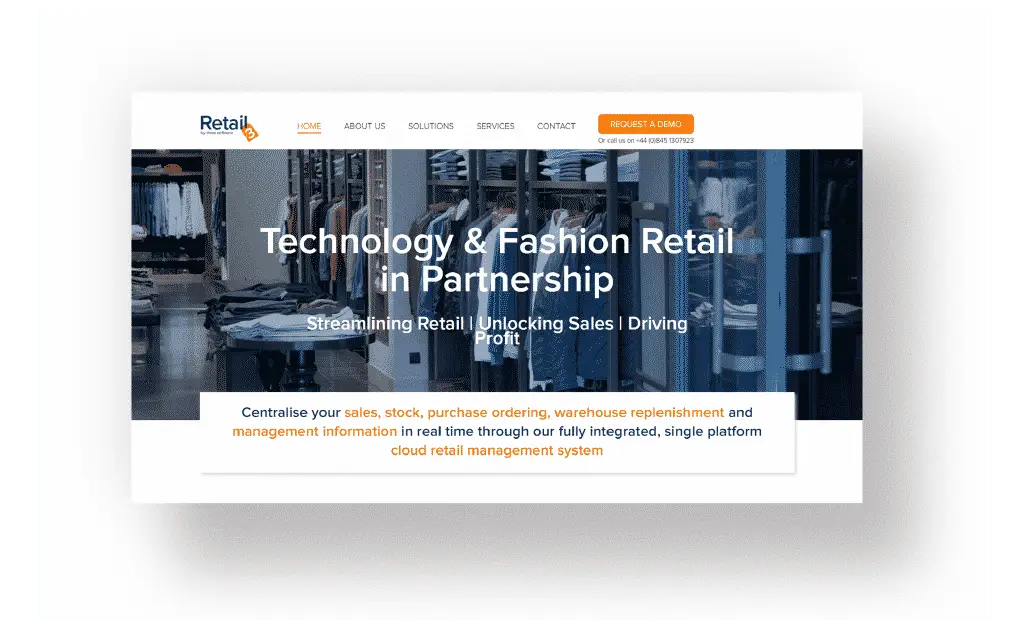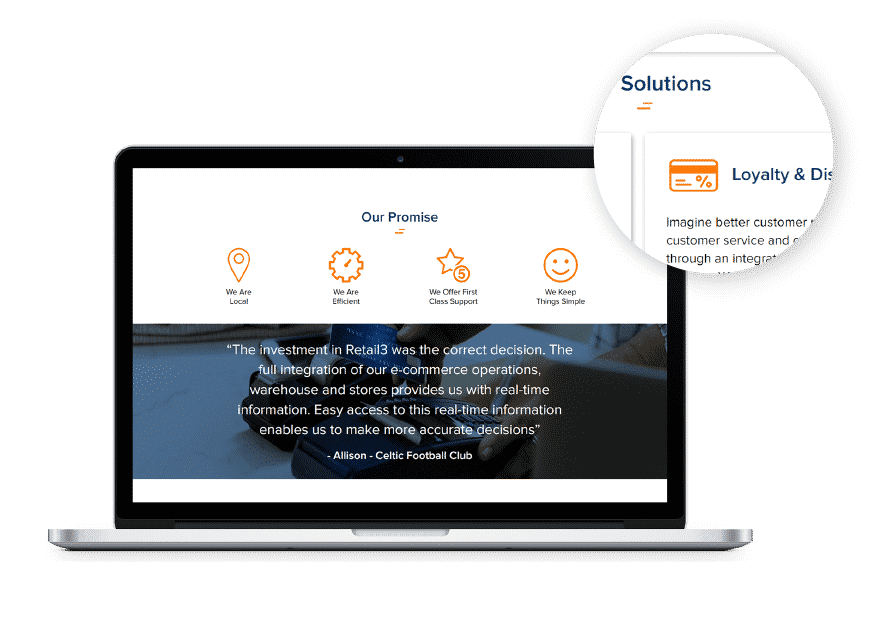 Our Approach
Optimised Content and Social Media
Three Software's huge range of services required several landing pages, including pages for point of sale & story systems; loyalty & discount cards, gift cards, e-commerce systems and inventory management, with calls to action included with each service. ProfileTree conceptualised a fresh company logo along with sleek navy and orange branding, contrasting against a white background. Whilst highlighting the company's fresh branding, opting for such a website design clearly separated the company's services.
The content writing team at ProfileTree consulted with the company and articulated their story on an extensive and visually appealing 'About Us' page. Across each of the major landing pages, content was fully optimised: a crucial step in ensuring our client met Search Engine Optimisation (SEO) requirements. A combination of content and design efforts significantly boosted Three Software's position on Google Search rankings, helping the company achieve the prominence they truly deserve.
Beyond building a secure and digital showcase for ThreeSoftware, ProfileTree provided guidance on an extensive content and social media strategy. Producing shareable content in a variety of formats allowed the client to carry on with a lengthy social media strategy engineered for growth and a focus on generating leads. By devising such a strategy, ProfileTree were able to ensure that Three Software remained competitive in the present and into the future.
Results
Boosting engagement and sales
An extensive and expertly devised website strategy, geared towards lead-generation and organic growth.
An engaging and visually appealing website, showcasing services and fresh brand design.
A well-resourced and shareable social media strategy, boosting engagement and sales.
A fully optimised content strategy, boosting rankings on all search engines.
Digital marketing for software companies
Here at Profile Tree, we have helped many software companies conceptualise and deliver a successful digital marketing strategy in order to enhance their digital profile and help them to compete online.
Think about what software companies are offering, it's primarily an online service and as such, it should be promoted and advertised through online means – very rarely are people calling into stores to ask about software programmes or to browse various software companies.
Digital marketing plan for software company
Unsurprisingly, as we become more a digitised society, there will be an expected increase in the amount of software companies on the market. In fact, one industry specialist has supposed that there will be approximately 1 million software companies by 2027 – and that's a lot of competition.
In order to remain competitive and seen in an over-saturated market, software companies will need to invest in a digital marketing plan. But how do you start devising a marketing plan for a product and service that is intangible? Luckily ProfileTree are experts in that!
Developing a digital marketing strategy for software promotion
Developing a digital marketing strategy for a software company is a tricky ordeal. You have to balance using technical terms whilst still explaining what it is that your business provides.
At ProfileTree, we can help you promote your software business in a way that is meaningful and relevant to potential audiences. We help your business explain its expertise and why your specific software company is the best choice out of a myriad of options.
Check out these tips for developing a strong digital marketing strategy for promoting your software business.
Identify the market
It's important that you identify your target audience in order to create content that they are interested in. Different markets will hold different values and when marketing software, it is important to provide information that audiences will find meaningful and relevant.
If your software business primarily supplies to B2B customers, then you need to explain how your software is useful to their business, helping to improve work processes and increase workplace efficiency.
If you primarily supply software services to B2C customers, then you need to take a more personalised approach, understand how it benefits them personally, makes their life easier and improves their personal security.
Explain what is that your software does
This may sound like stating the obvious, but this point is particularly important when promoting software. The typical person doesn't know everything about software and unless you are an expert, it is quite a complex topic.
When developing a digital marketing strategy for software promotion, you need to state in layman's terms the uses of it, try to avoid using jargon or complex terms as this will only confuse the audience.
You are the expert
The good thing about promoting software programmes and your software brand, is that it gives you the opportunity to show off your expertise to audiences. You can inform, guide and explain software products in a way that positions your brand as industry experts.
When customers gain knowledge, it creates value that is associated with your brand. In a digital marketing strategy, you can create resources of information that will provide audiences with knowledge and an insight as to what you provide.
What type of content should you create for promoting software?
Content creates value and for software promotion, the content that you create can help convert casual viewers into purchasing customers. But what type of content works best for software promotion? Check out our suggestions below!
Blog posts about software
Blog posts are great for providing audiences with answers to their questions. It gives your business an opportunity to show off its expertise and it helps to create a positive experience that's associated with your brand.
Blogs answer the queries that people are searching for, e.g.) File Recovery Software: How to Protect Important Files
This type of content is useful in a digital marketing strategy because it is a long-lasting piece of promotional material, meaning that it will continue to attract visitors, for as long as it is available on your website, or other blog posting platform.
Video content for software promotion
Video content is another great option for promoting software and it doesn't need to be state-of-the-art creations. The video can simply be a screen recording that shows audiences how to use and interact with the software. This is a great resource for a novice who is exploring their software options.
Another option for promotional video content is to interview industry experts that discuss software topics that are of relevance to potential audiences. This creates value and increases your brand's reputation as industry experts.
Check out this video interview with a software developer:
Website design and development for software companies
As a software company, audiences will be expecting a website that is of high quality, easy to use and well-presented – it needs to be expertly developed and well-designed. A lack of website design and development will only serve to frustrated users, resulting in them losing confidence in your available software products and services.
Website development for a software company
Website development refers to how the website is built – the security, hosting capabilities, speed and performance. If your software company website lacks in any of these areas, then visitors are going to equate that with your services.
At ProfileTree, we can help you build websites with custom-built features, incredible performance and expert web development, ensuring that visitors to your website have a pleasant user experience.
Website design for software company
The website design refers to everything that visitors will interact with – the buttons, toggles, drop-down menus, videos, etc, it's literally everything that visitors see and interact with. For a software company website, the web design needs to be expertly constructed, ensuring that content is well presented, engaging and attractive to visitors.
The website is the main platform on which you will sell your software products and services, it's the portal that introduces you to audiences, and as such is an extremely important part of a digital strategy.
Digital marketing agency for software company
At ProfileTree, we provide digital marketing for software companies. We know how to best communicate your value to audiences, create content that highlights your expertise and help your brand carve out its own digital identity. View our web design projects for past projects which utilised web design to achieve this.
We also design and develop high-performing websites that attract users and convert website visitors into paying customers. With a range of digital marketing expertise and talent, your software company has every chance to become a leading competitor within the software market.
Check out our full range of digital marketing services.
More Case Studies