A battle between superheroes? Precisely. The good news is that users can never go wrong with choosing either Excel or Google Sheets. Both softwares are credited with making people's lives easier when it comes to complex equations and mighty data archives.
Excel and Sheets share various common aspects and most of the defining features. However, they do have differences that could potentially be the key selling points for your business. The comparison between both programs started when Google began re-shaping the idea of spreadsheets as users knew and liked them.
After years and years of getting accustomed to Excel and its style which is a better fit for one-man work, Google presented an interesting alternative. This new program emphasised collaboration, sharing, easy access, and ease-of-use.
What Causes the Feud? 
Google introduced Sheets in the market as the easiest, most convenient, and modern spreadsheet service there is. What helped in validating Google's claims very quickly was that Sheets seemed to provide everything Microsoft Excel lacked.
Although Excel has been around longer, Google Sheets took over with its then editing and sharing properties. As time passed, Excel and Sheets began to offer similar features which made it difficult for users to pick sides.
The race between the two software remains heated because each one of them is renowned for a specific feature.
When Google Sheets first came out it replaced the process of having to work individually on Excel sheets and then pass them on to colleagues or partners. Google Sheets made the entire process so easy that users started taking it for granted.
On the other hand, Excel appealed with its processing power and capability to remain fast and efficient in spite of how large the document being worked on was. This was a unique advantage that maintained Excel's value in the eyes of numerous users and especially accountants and finance managers.
Then, Excel managed reach their audience more through releasing their Online version. This web-based version started matching with Sheet's features and advantages – and still continues to do so till today.
This thorough guide will help users select between both software based on each individual or business's needs. Excel and Sheets will stay head-to-head for quite a long time, but still, their minor differences could potentially be the deciding factors for various users.
Common Grounds between Excel and Google Sheets
Before exploring into the pros and cons of each software, this comparative list shows the shared features between them:
Compatibility (Android, iOS, Windows and Mac OS X)
Autofill options
Helpful templates
Web-based versions
Auto-saving capability
Collaboration (noting that Google Sheets enables users to edit at once,  MS Excel solely allows editing to Office users while the online version has got similar editing properties as those of Google Sheets)
Why Go for Google Sheets?
Some people seek Sheets just because it's part of the Google Suite. It also has a reputation for being extremely easy to use compared to its counterpart Excel, which might require looking at how-to guides or video tutorials to get a good understanding of it.
Google Sheets was designed for sharing. Moreover, it enables amazing collaboration possibility between individuals. It is great for team communication as it allows numerous users to access the document and edit at once. Sheets also enables live chat between users. Say goodbye to long email threads!
In addition to its unmatched user-friendliness, sheets integrates other Google applications such as Google Maps, Translate, and Google Finance.
Even if a version is missing on needed interfaces or add-ons, Sheets enables quick installations. One of the major perks of using Spreadsheets is that it's feasible to access from any computer via Google Drive.
Sheets, just as other Google platforms, automatically saves and generates revisions to allow easy tracking of work. As mentioned, Sheets is compatible with Android, iOS, Windows and Mac OS X.
Google Sheets became so popular among students, freelancers, and rising start-ups as it provided all the basic requirements in a spreadsheet app free-of-cost! Of course, mid-sized start-ups and working individuals do not have it as mega companies and high-caliber practitioners.
So, by time, people started shifting to Google Sheets to save money and time; they were not disappointed.
Why Go for MS Excel?
Excel is an extremely powerful software, but with that power comes a great price. Not only is Excel much more complicated to manage than Google Sheets, but it could require a bit of practice and study to master. Some people even go through classes to learn the tips and tricks of this mighty app.
What truly signifies MS Excel is its variety of customisation, formulas, and equations, and visualisation options. The app is extremely strong; built for handling a great amount of work. Accountants appreciate how Excel can pretty much do anything, including automating most work itself.
Furthermore, the MS app is accustomed to heavy-duty data; without showing a sweat. It spares users the constant crashes and lags they might face if they try to work on Google Sheets.
Avid users are sticking with Excel because of its hacking shortcuts and automated features which Google started to pick up on only recently.
Excel started to keep up with demanded adjustments by launching an online version, but still, this version does not perform as consistently as the native app nor does it transform all the work from the desktop version to the cloud.
According to ComputerWorkUK, "Excel can support over a million rows and has a whole host of advanced options for expert users."
Google Sheets 101: Personal And Business Use
Sheets requires no installations or fees. On the contrary, it offers a wide array of facilities for Google users; sharing, online storages, real-time editing and chat, and lastly, offline access. Users just need to connect to the internet, create a Google account, and connect via a web browser.
Plus, it is the perfect option for business students, rising start-ups, young entrepreneurs, or even individuals working with a tight budget.
Getting started with Sheets:
Step one – create a basic spreadsheet after logging in with a Google account.
Two – fill in the file, create formulas, and perform necessary calculations. Utilise the integrated Google features and finish off with formatting, improving visualisation and customisation as needed.
Step three – download the file if needed or save it on Google Drive under the designated Google account for easy access anytime through various devices.
Four – collaborate on the sheet with peers through sharing the spreadsheet link or simply adding the team by sending them an invitation via Gmail.
Microsoft Excel 101: Personal And Business Use
Excel is part of the Microsoft Office suite of programs. If it's not installed with the windows version then it has to be purchased via Microsoft website or from a hardware computer shop. Excel is typically harder to use, especially for beginners, when compared to Google Sheets.
The beauty of Excel is that it's really versatile and users just need to exert a bit of effort at first to understand how this powerful program functions.
Among the most significant topics is understanding the ribbon, how the worksheet works, selecting from the customisation options, and finally, familiarising with Excel shortcuts.
Next, it offers numerous option for customising the ribbon. It enables the user to set their colour themes, set their formulas, plus, additional proofing and saving settings.
Excel is not exactly the easiest program to master.
People who actually do get a good grip of it wear that privilege with utter pride. Excel savvies advise that users save their workbooks with backward compatibility in mind (2003 *.xls format) when working with earlier versions of Excel.
Also, using descriptive names for worksheets and columns to keep track easily of sequences and changes.
Another tip is to steer clear from working with complex formulas with many variables. According to Guru99, breaking the formulas down into manageable results is more effective. Finally, using built-in functions is better than writing own formulas.
Where Excel Really Shines…
A feature like Power View, allows users to create interactive charts, maps, and complementary visuals that are not available in Google Sheets.
One of the reasons why Excel is perfect for heavy-duty work is its unlimited storage. Meaning that users could save up all their work in one sheet without sacrificing the speed or the efficiency of the app.
In addition to a huge selection of charts and graphs, Excel also offers hundreds of colors, animation, logos, and fonts to customise presentations freely.
Some consider Excel as the practically the professional version of Google Sheets. It mainly targets and interests companies that do a lot of complex data analysis and deal with huge spreadsheets on a daily basis.
Therefore, most of the logistics and financial departments are avid Excel users as they understand what the software is really capable of.
More Excel tips and tricks here:
What Is the Difference Between Excel And Spreadsheet?
There are minor differences between both software. Each one of them has its own niche and masters it very well. Whole Excel continues to provide the unparalleled performance to large professional businesses, Google Sheets offer quick, easy and convenient capabilities for free.
The comparisons between Excel and Spreadsheet often fail to point that the two apps target different segments and that the question of choosing just one software is highly subjective.
Still, what often strikes potential users most is the pricing difference between Excel and Spreadsheet. Although Excel offers a cloud version, it remains nowhere near the programs real offline capabilities. So, Excel fanatics have to purchase the £119.99 native app.
However, this very pricey software works for only one PC or Mac and is compatible with Windows or MAC OS. But, it promises to turn data into useful insights.
On the other hand, the G Suite, which includes Gmail, Docs, Sheets, Drive and more is free for all users. Start-ups and working individuals can purchase more storage space for a small monthly incentive. Around £3.30 per user per month for 30GB or £6.60 for unlimited space.
Here are the pros and cons of each program:
Excel in a Nutshell:
More functional than Sheets
Unlimited space
Less lags more responsiveness
More visualisation
Various customisation options
Better formulas
Works offline
Expensive
Less communication and collaboration ways
Hard to use
No archives
Less accessible than Sheets
Google Sheets in a Nutshell:
Free of cost
User-friendly
Emphasizes collaboration big time
Integrates Google apps
Auto-saving and archiving
Real-time chatting
Add-ons
Easy accessibility
Not suitable for large data sheets
Limited visualisation
Fewer customisation options
Fewer formulas and equations
Who Is Excel for?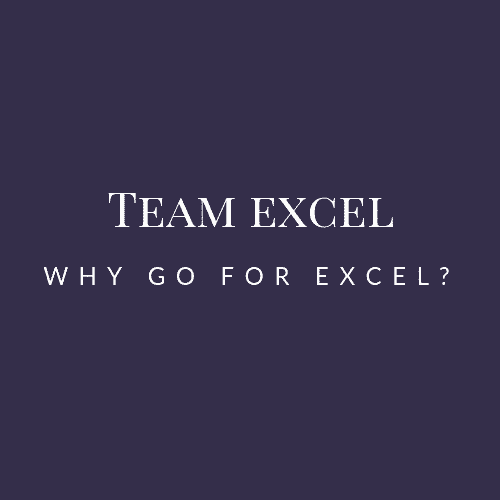 Excel is for anyone who believes the native app is an investment. The powerful software meets the requirements and sophisticated needs of corporates and working professionals whose needs go way beyond basic equations and formulas.
It provides a steady performance that can deal with gigantic workloads and data without showing any sign of exhaustion. Excel is pricey, so, it primarily targets users who can afford it in exchange for its great capabilities.
Finally, Excel will never run out of style. Whether because of its signature strength or for its advanced features, numerous customisations, and visualisation options that qualify it as a lone-wolf who's ready to create and finish up everything – including professional visual presentations.
As GoSkills boosts the program, they stress on the following: "Investment bankers and accountants aren't the only ones who rely on Excel; scientists, teachers, business owners, graphic designers, and so many other people turn to the program for help…chances are there's some way for Excel to be helping."
Lilly Herman of GoSkills continues: "Excel can make you the go-to person in the office; you never know when your boss or a colleague needs someone with some Excel know-how to work his or her magic, and that person could be you. Who doesn't want that gold star?"
Who Is Google Sheets for?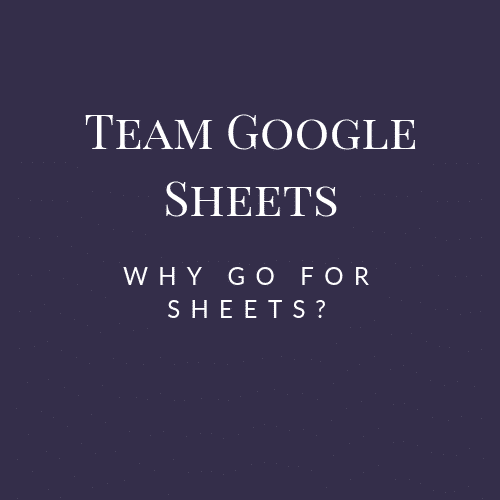 Sheets counts as an excellent alternative to Excel for users who seek less complex work done as well as collaborative teams who need to work and edit one spreadsheet simultaneously or at once. Moreover, Sheets makes your data accessible from various devices at the same time.
Here are a few of Google Sheets most useful formulas.
It offers great options such as auto-saving and revision history, as per Digg.com: "Google Sheets can function as a literal timeline: you see every edit made by every user at the time that it was made, and owners can choose to revert back to a former version or accept changes if they look good."
Sheets also has downloadable add-ons and access to all Google integrations (e.g. Translate, Search, and Finance). Opposed to MS Excel, Google flaunts a free of cost, an extremely easy tool, practical, and convenient browser-based app that carries out work perfectly.
Can I Open Google Sheets in Excel?
Yes, it's possible to open a Google Spreadsheet in Excel. A spreadsheet can be exported into various formats such as Excel (.xls), PDF, Text, HTML* and CSV. just by clicking on File> Download as and selecting the desired file type > Save.
Opening Excel in sheets is also possible: How to Quickly Convert Excel Spreadsheets to Google Sheets
Will Google Sheets Replace Excel?
This is a highly unlikely probability that people are just fussing over. Sheets and Excel are keen on updating their features consistently. After all, Sheets can handle up to 5,000,000 cells and Microsoft Excel can handle 17,179,869,184 cells.
While Google Sheets has revolutionised the accessibility and collaborative options for spreadsheets, Microsoft Excel remained the strongest app to handle sophisticated formulas and heavy loads of work.
But people who believe Google Sheets will win the world over and replace Excel eventually stand on some valid points.
"Google's scrappy little spreadsheet service could actually be the better choice if your needs play to its strengths," Michael Ansaldo, a freelance contributor to PC World argued in his article.  Here's what Ansaldo explains as Google's edge:
Being free of charge is an underestimated quality in today's world. Not only is Sheets the more responsive option for freelancers, SMEs, and students, but it is also the alternative to extremely expensive software and that is a killer advantage that can easily put Excel out of the grid.
Here's how some users perceive it as retrieved from tillerhq.com: "I like that I can connect to my budget from anywhere, including my desktop, which I never bought Microsoft Office for.
I've also found there's a lot of help in online forums if I run into trouble with formula.
I started with my budgeting system about six years ago, and every year, usually around the holidays, I take some time to update my spreadsheet and make improvements. I don't think my spreadsheet would work for many other people at this point, but it's been highly customized to suit my needs." — Louis DeNicola, personal finance writer
The ability to view and edit at once was not available before the introduction of Google Sheets, for that the Internet will remain grateful. Sheets represents everything the crowds need; efficiency and time convenience, with the least costs possible.
A group working together on a spreadsheet are likely to save tons of time and can also access the same document across different devices (desktops, laptops, or tablets) and without even having to have a Google account.
Perks of Google Sheets as stated by PC Mag, "Free, powerful, online office apps accessible from Web browsers and portable devices. Visually elegant designs. Excellent feature set. Effortless collaboration with easy tracking of changes made by collaborators. Exports in multiple formats."
Having other Google apps integrated is neat.  They are a potential lifesaver and can allow users to work more efficiently. Working on Google Sheets enables quick references to Google Translate, Google Finance, and Google's search engine, too. The app automatically scans for typos and understands slang and jargon because it relies on Google search as a source of info.
Returning to older versions was once a privilege. When a team works collectively on one spreadsheet, it's vital to keep track of changes and refer back to older revisions if necessary – an advantage that Google Sheets allows freely.
This feature is one of the most popular options highlighting the G Suite. With spreadsheets, previous revisions and archiving can act as the team's references and point of modifications and edits.
Offline and Online Capabilities
What is the Offline Access to Google Sheets?
As an attempt from Google to cope with bad Internet connections or unconventional work times, editing was made available for Docs, Slides, and Sheets. For sure, the features offered in the offline version are limited, but still, they come in handy in times of need.
Editing is only supported for Chrome browsers.
Offline editing should be enabled on each computer for one person to access the doc on multiple computers.
Access will give access to stored sheets on shared computers.
Offline access includes installing an app then activating offline access.
More information is available on Google's help page for setting up offline access.
What are the features Of Online Excel?
When Microsoft launched Online Excel as part of Office 365 everyone was stoked. The ability to work collectively on workbooks online was overwhelming for Excel fanatics.
One of the coolest options was users' capability to collaborate in real-time on the same Excel sheet. Simply by opening the web browser instead of the desktop app. Collaborate on Excel workbooks at the same time with co-authoring.
But just as offline Google Sheets, Online Excel has its downsides.
Cannot be opened anywhere. Unfortunately, workbooks which exceed 30 MB cannot be viewed on Excel Online. Users have to have the Excel native app installed on their computer to view it.
Not all of Office's add-ins are available on the online version.  how to get an Excel add-in.
Excel Online only works from Internet browsers and cannot function offline. In order to access and edit the sheets offline, users must have Excel's native app installed on their computers.
Why Some Users Mix Between Both Spreadsheet Apps
Practiced sheet users truly 'excel' at knowing when to use which software. Picking a side is an outdated challenge. People now have understood that each app has better qualities at certain conditions.
For instance, take being on a budget as a reason. The same accountant or business owner could have simultaneous projects with varying budgets and struggle to maintain a balance between them. Internet people have advised juggling between the two compatible programs with their different versions and assets.
Secondly, take decisions based on current needs. Prioritising needs is key to success. And in this case, determining exactly the type of needs based on the kind of work required is the right solution.
Excel is a great option for one-man jobs or work that doesn't require much sharing. Also, it's a good solution when having a poor connection. On the other hand,  Sheets offers amazing flexibility to online users and working groups.
Moreover, sheets primarily is a browser-based app, users will always enjoy a top-notch experience on all browsers. Unlike the web version of Excel which will not provide a similar experience as it is more prone to malfunctioning or crashing.
Still, Many Users Refer Back to Excel for Its Advanced Features
Firstly, Excel has a few powerful hacks up its sleeve. (E.g. PivotTables, Pivot Charts, and VBA Coding).
PivotTables, for one, enables users to review and analyze data more easily. Pivot Charts also helps in adapting to changing data and creating charts. Finally, VBA coding allows Excel enjoyers to automatic their work and get a better grip on repetitive tasks.
Unfortunately, the process of uploading Excel sheets to Google sheets is not without faults. Among the most reported bugs and privacy hazards, are failing to transfer password protected documents, tough management of PowerPivot, PivotTables and Power Query. Lastly there has been a failure in connecting between separate workbooks in Excel.
On the bright side, Google launched a new edition of spreadsheets last April, adding Macros to the app's feature. A long-awaited upgrade that has always been an integral part of why some people preferred working with MS Excel.
Macros are a force not to be reckoned with. Here's how they work in sheets:
What Are Macros?
In computer science, macro by definition is a pattern which shows how the input sequence should be mapped to an output sequence following a certain, specific procedure.
Simply put, it is a time convenient method to automate tasks. This feature is extremely useful as it makes formatting and repetitive tasks much more amusing.
Users can record a specific task and macro will do it over and over. It's similar to having a robot doing your dull chores.
Macros have long been an edge for Excel. Google's most recent launch doesn't state that macros have become as good as they have always been in Excel, but, it's a huge step forward. What remains an obstacle for Google Sheets is the variety of formulas and charts that Excel offers.
So, to sum up, working with Excel and Google Sheets together is a process that requires a lot of going back and forth. However, it can be totally worth it if handled appropriately and if users understood the pitfalls of shifting between the two spreadsheets.
Summary: A Few Things to Keep in Mind
As illustrated, selecting between Google Sheets and Microsoft Excel is an utterly subjective procedure. Since each software is playing on different strands as their points of strength, the spreadsheets, are becoming more and more like each other with each new update.
Among the mutual points of power are; compatibility on Android, Windows and Mac, autofill options, templates, web-based version of Excel and offline version of Sheets, auto-saving option, and varying features for co-authorisation and collaboration.
The fact that Sheets is backed up by Google alone, has contributed to many users' shift from Excel to Sheets. Not only are people after the reputation and the ease of use, but also since Google has integrated other features such as Google Translation and has facilitated installation of add-ons, it became tough to beat.
Final Tips
The journey of understanding Excel or preferring Google Sheets is a great exploration that allows people to better comprehend their individual or business needs. The comparison remains pivotal. That is why it's vital to observe the pros and cons of each app while maintaining a clear vision of business objectives.
Over the past couple of years, Excel and Sheets have made it considerably easier to shift between both apps simultaneously.
As demonstrated in this comparative article, it is possible to open Sheets in Excel and vice versa.  The Internet has always found the constant weigh between the two programs very interesting.
The final argument: "Will Sheets eventually replace Excel?" practiced reviewers and geeks realize that this is a shallow take on both spreadsheets, and even attempt to share the idea of benefiting from both Excel and Sheets at the same time.
Since each app is working on developing its online as well as offline access, while Sheets maintains to prioritize its collaboration and sharing settings and Excel focuses on its advanced features and ever-strong performance.
There seems to be no clear answer to the challenge between both apps. The situation, in a nutshell, is two developing tycoons trying to please their target audiences and appeal to a wider segment as time passes by.
The spreadsheet users base is divided into three teams, and not just two.
Team number one being a total Excel Stan. Next, team number two – the most common group – who prefers mixing between both apps. Finally, team number three who appreciates Google Sheets for its modern take on Excel and any other spreadsheet program.
Reviewers and spreadsheet geeks are may be onto something true here. If used correctly, Excel and Sheets make great complimentary products.
So, Google Sheets vs Excel? If both programs function efficiently with respect to certain requirements, budget limitations, and niches, why not benefit from both? Even if users do not prefer to pick a side.
Want to learn more about Google?