Over the last few years podcasts have been becoming more and more popular. So, what is a podcast and what is its purpose?
What is a Podcast ?
A podcast is series of audio episodes focused on a particular topic, theme or subject that a listener can subscribe to and listen on-demand, whenever and wherever. Podcasts are created by a host who is called a podcaster and published on an online hosting service making it accessible to everyone. Listeners can subscribe to podcasts to be alerted when new episodes are uploaded.
What is a Podcast- Purpose, Length & Frequency
The main purpose of most podcasts is to provide entertainment and information to its listeners and most importantly keep them engaged. A podcast can vary in the length of time it runs per episode, typically a podcast will be between 20-40 minutes but they can run up to 2-3 hours if the podcaster has enough interesting content to fill this time. They can either be daily, weekly or monthly episodes or have no time pattern at all.
7 Different Types of Podcasts with Examples
Although all podcasts have a similar purpose they can be delivered in different formats. Podcasts have a lot more leeway than radio as they can be on any topic that the podcaster chooses. Lets take a look at the different types of podcasts there can be and the advantages and disadvantages of them.
1. Interview Podcast
This format of podcast is the most popular of all podcast formats. The host or hosts of the podcast interview a guest or guests during the podcast episode. These type of podcasts are typically a discussion on the guests personal life and achievements or on an area of expertise.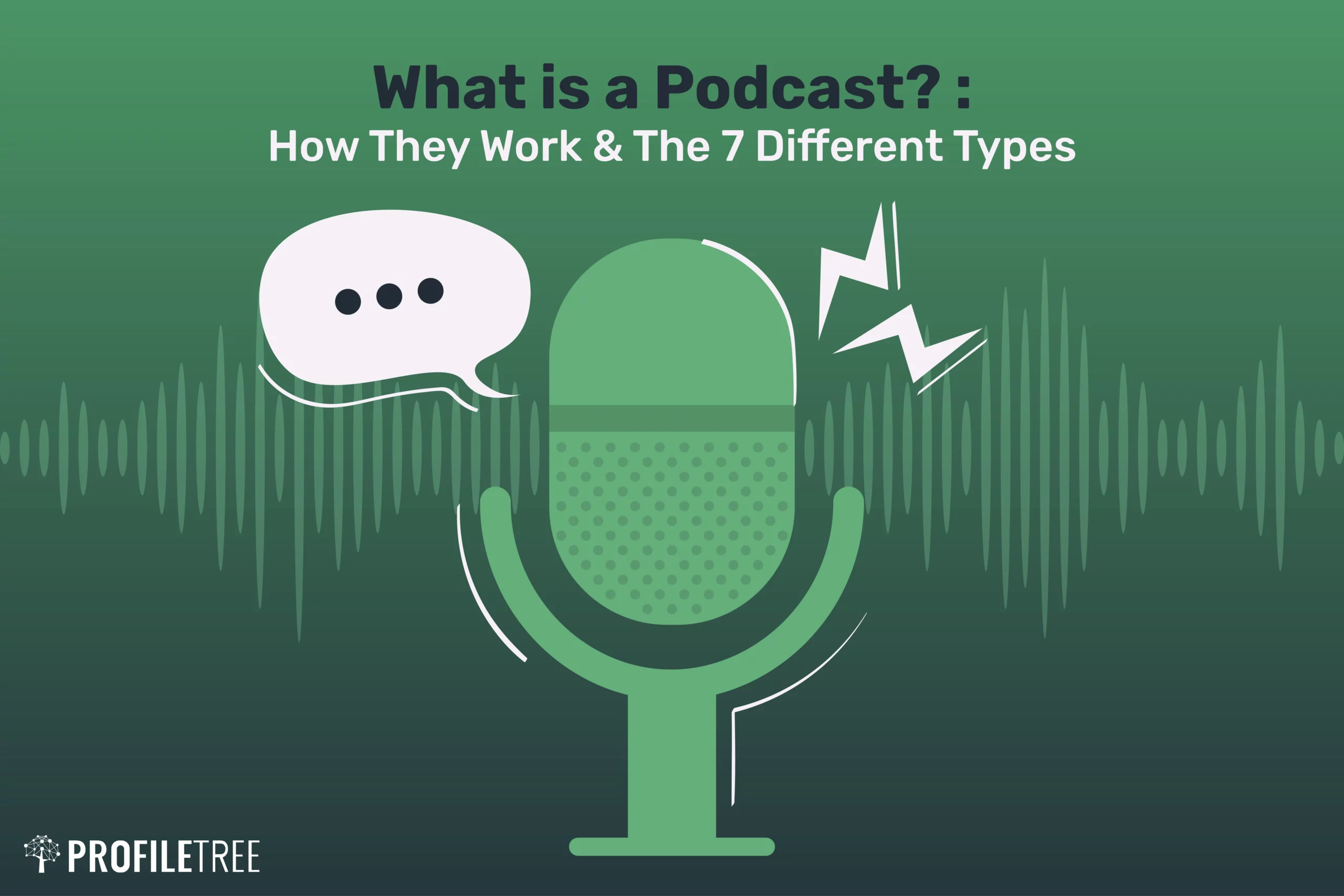 Advantages
Can reach a larger audience as fans of the guest will listen to your podcast to hear them.
Podcast episodes will have a variety of content as all guests will have different experiences.
Various viewpoints and ideas are shared.
Disadvantages
Can be difficult to find guests to interview that will add value to your podcast.
Lots of preparing, planning and research goes into interview podcasts.
If the guest is interviewed online via zoom signal issues may occur and quality can be disrupted.
Examples of Interview Podcasts
The Laughs of Your Life with Doireann Garrihy


Doireann Garrihy interviews the most influential people in Ireland about moments in their life surrounding laughter.
The Joe Rogan Experience


Comedian Joe Rogan talks all about life, current events, comedy, politics and many other topics with his wide variety of podcast guests
F1: Beyond The Grid


Tom Clarkson interviews the biggest names in Formula 1 and gives an inside look into the world of F1.
2. Solo/ Monologue Podcast
Solo/Monologue podcasts are podcasts that have just the podcaster speaking by themselves on a topic of interest or just life in general. The host has to be very entertaining and engaging in order to captivate listeners as it is only their voice they will hear. They are a very natural and honest type of podcast.
Advantages
There is very little editing for a solo podcast as it is meant to be real and authentic.
Not as much preparing or planning is needed for solo podcasts compared to interviews.
Podcaster has full control of content
Disadvantages
Content can become boring and repetitive.
A lot of energy and enthusiasm is needed by the podcaster to keep the listeners engaged.
Content and viewpoints are one-sided.
Examples of Solo/Monologue Podcasts
The Sarah Silverman Podcast


Sarah Silverman talks honestly about a variety of topics in her weekly podcast.
Have you heard George's Podcast


George the Poet talks about inner city life through storytelling and music in this award-winning podcast.
Inner Monologue with Olivia Neill

Influencer Olivia Neill's weekly podcast gives an unfiltered and honest recount on all things happening in her life.
3. Narrative/ Non-Fiction Podcast
Non-Fiction podcasts are podcast episodes that tell a story. This type of podcast is focused on factual accuracy. This type of podcast can have different narratives in each episode or can string together a few episodes to make a series narrative.
Advantages
Stories can be very captivating for listeners.
Having the non-fiction story split into episodes can be addictive to listeners who want to finish it.
It is factual.
Disadvantages
Lots of preparing and research must go into the production of the podcast.
The host must have good storytelling skills to keep listeners interested.
Examples of Narrative/Non-Fiction Podcasts
Your Own Backyard


Chris Lambert's true crime documentary podcast told the real-life story of the disappearance of Kristin Smart.
Chameleon: Hollywood Con Queen


Josh Dean and Vanessa Grigoriadis tell the true story of the Hollywood Con Queen scam.
The Making Of A Detective


This Irish true crime podcast tells the story of 5 notorious murders in Ireland from the viewpoint of Pat Marry, the detective on the cases at the time.
4. Fictional Storytelling Podcast
The name of this type of podcast says exactly what it is. If you are looking for a bit of escapism then this type of podcast is for you which allows you to listen to a tv programme without the visual aspect.
Advantages
There are endless creative options for the host.
Fictional stories can be addictive with the right storyline and cliffhangers.
Podcaster has control over where story will go.
Disadvantages
Have to develop story in timely manner and not drag on the story.
Sound effects need to be created to add the story which can be time consuming.
Examples of Fictional Storytelling Podcasts
Edith!


Edith! tells the story of Edith Wilson, the wife of President Woodrow Wilson, who took control of the Presidents political affairs after he suffered a stroke and told no one about it. Rosamund Pike stars as Edith Wilson in this comedic scripted podcast.
The Amelia Project


This dark comedy podcast is about a secret agency that offers to fake clients deaths and bring them back with a new identity.
Passenger List


Passenger List won the Best Fiction Podcast at BBC Audio Drama Awards 2020 & 2022. Atlantic Flight 702 disappears when flying between London and New York with 256 passengers on board in this two season drama podcast.
5. Open Conversation Podcast
This type of podcast is a conversation between two or more people about either specific themes or broad topics. Open Conversation Podcasts can work well when the hosts have good chemistry and can keep listeners entertained.
Advantages
Easy to plan and prep
Very authentic and honest content
Disadvantages
If the podcasters are not well-know it can be difficult to build a fan base.
The hosts have to have a good dynamic and work well together.
Examples of Open Conversation Podcasts
My Therapist Ghosted Me


Vogue Williams and Joanne McNally give advice and their honest opinions on topics and issues.
The 2 Johnnies Podcast


The Irish comedy duo take on the big issues of the week in their weekly podcast.
Red Table Talk


Jada Pinkett-Smith, Willow Smith and Adrienne Banfield-Norris have open and honest conversations about the most provocative topics.
6. Educational Podcast
This type of podcast is great for people who want to learn on the go. Listeners can gain knowledge about a variety of topics of their choice from learning a new language to learning about the history of the Ancient Romans.
Advantages
If an expert on a certain topic less research will be needed as knowledge is at hand.
Easier and less preparation needed for an audio educational video than a visual educational video.
Disadvantages
Have to consider learning objectives.
There is a high bar set for educational podcasts as quality of information should be exceptional.
Examples of Educational Podcasts
Language podcasts


Educational Podcasts by Duolingo and Coffee Break teach a wide variety of languages.
The Happiness Lab with Dr. Laurie Santos


Dr. Laurie alongside experts and researchers in psychology and behavioral science explores the science behind being happy.
The David McWilliams Podcast


David McWilliams breaks down the world of economics in an easy and accessible way in his weekly educational podcast.
7. Repurposed Content Podcast
A repurposed content podcast is a tv show or radio show that has been reformatted and reused for a podcast. These type of podcasts are often used by News shows who repurpose their content in audio, visual and print to reach a large audience.
Advantages
Reaches a larger audience
If a podcaster has no new content they can repurpose old content.
Disadvantages
Content can be boring if a listener has heard it before.
The content may not suit the platform it is being reformatted for. For example, if the content needs visuals it may not do as well on a podcast.
Examples of Repurposed Content Podcasts
The Daily Show With Trevor Noah: Ears Edition

Trevor Noah gives listeners highlights and extended interviews from his show "The Daily Show with Trevor Noah" on his repurposed content podcast.
TED Radio Hour


TED Radio Hour hosted by Manous Zomorodi explores the big questions in the world today.
The Ian Dempsey Breakfast Show


The Ian Dempsey Breakfast Show gives listeners news, sport, guests, music and the comedy sketch "Gift Grub" in this 2 hour radio show repurposed into a podcast.
What is a Podcast – How Do They Work?
Once recorded podcasts are uploaded onto a podcast hosting platform. A podcaster must then submit their RSS Feed to their podcast directories, which allow their listeners to be able to access and listen to their podcast episodes.
What is a Podcast RSS Feed
RSS feed stands for Really Simple Syndication and it broadcasts audio content over the internet, updating various directories when new content is produced. An RSS feed sends your audio content to your listeners podcast listening platforms.
What is a Podcast Hosting Platform
A podcast hosting platform is a platform that podcasters use in order to host and store the audio files for their podcast. Podcast hosting platforms can be free or paid depending on what the podcaster is looking for.
What is a Podcast Directory
There are many apps that you can listen to your podcasts on. Listeners can subscribe to their favourite podcasts on these apps and be notified when new episodes are released. Here is a list of a few most popular ones.
What is a Podcast: Equipment Required
When beginning a podcast a host will need certain equipment make their podcast. Some equipment is essential in order to make a successful podcast. The three main pieces of equipment needed to create a podcast are a phone or laptop, a microphone and a recording software. You will also need an editing software to edit videos once recorded.
What is a Podcast Genre
We already looked at the different types of podcast formats there can be, so what is a podcast genre? A podcast genre is the theme of a podcast, it gives the listener an idea of what category podcast they are listening to. Some common genres of podcasts are;
Comedy
True Crime
Sports
News & Politics
Arts & Entertainment
Health & Wellness
Music
Society & Culture
Business & Technology
Games
Can You Get Paid for Podcasts?
There are ways in which podcasters can get paid for their podcasts. They can use certain platforms like Patreon to post premium-content and bonus-material that their listeners can pay a monthly subscription to listen to. Podcasters may also get sponsorship from brands in return for them promoting their brand and doing advertisements for them on their podcast.
Now that you know what a podcast is and how they work why not try giving podcasting a go yourself. Read more related ProfileTree articles: Starting a Podcast, Podcasts for your Business