The PowerVision S1 is a handheld gimbal with professional video capabilities. If you are a video content creator, it's going to make life much easier; with features like AI tracking and a manual joystick accessory, you'll be shooting professional videos in no time. This small, compact gadget is any videographer's best friend – check out our review of the S1 gimbal below.
We are grateful to PowerVision for providing us with the S1 gimbal product to review, so this is considered sponsored content. However, we will try to be as objective as possible in our product analysis.
How much does the PowerVision S1 cost?
The PowerVisionS1 is priced at $169, if you would like to learn more, you can visit the product listing on the PowerVision website.
This may seem like a relatively high price point, however, when you take into account the range of cutting-edge features that this little piece of kit boasts, you get a picture of how it has positioned itself as a competitively priced product in the world of smartphone gimbals.
Powervision is well established in the world of both industry-standard and consumer-grade robotics. They have an existing range of high-performing drones, with over 6 aerial drones and 3 specialised aquatic drones.
The PowerVision S1 gimbal, however, is their first foray into the world of handheld phone gimbals for the mass market.
Unboxing the PowerVision S1
A strong point of the PowerVision S1 is that it exists as a part of a wider ecosystem of accessories that support its functionality. We are unboxing the S1 gimbal itself and the magnetic phone clamp that we'll use to fix the phone to the gimbal.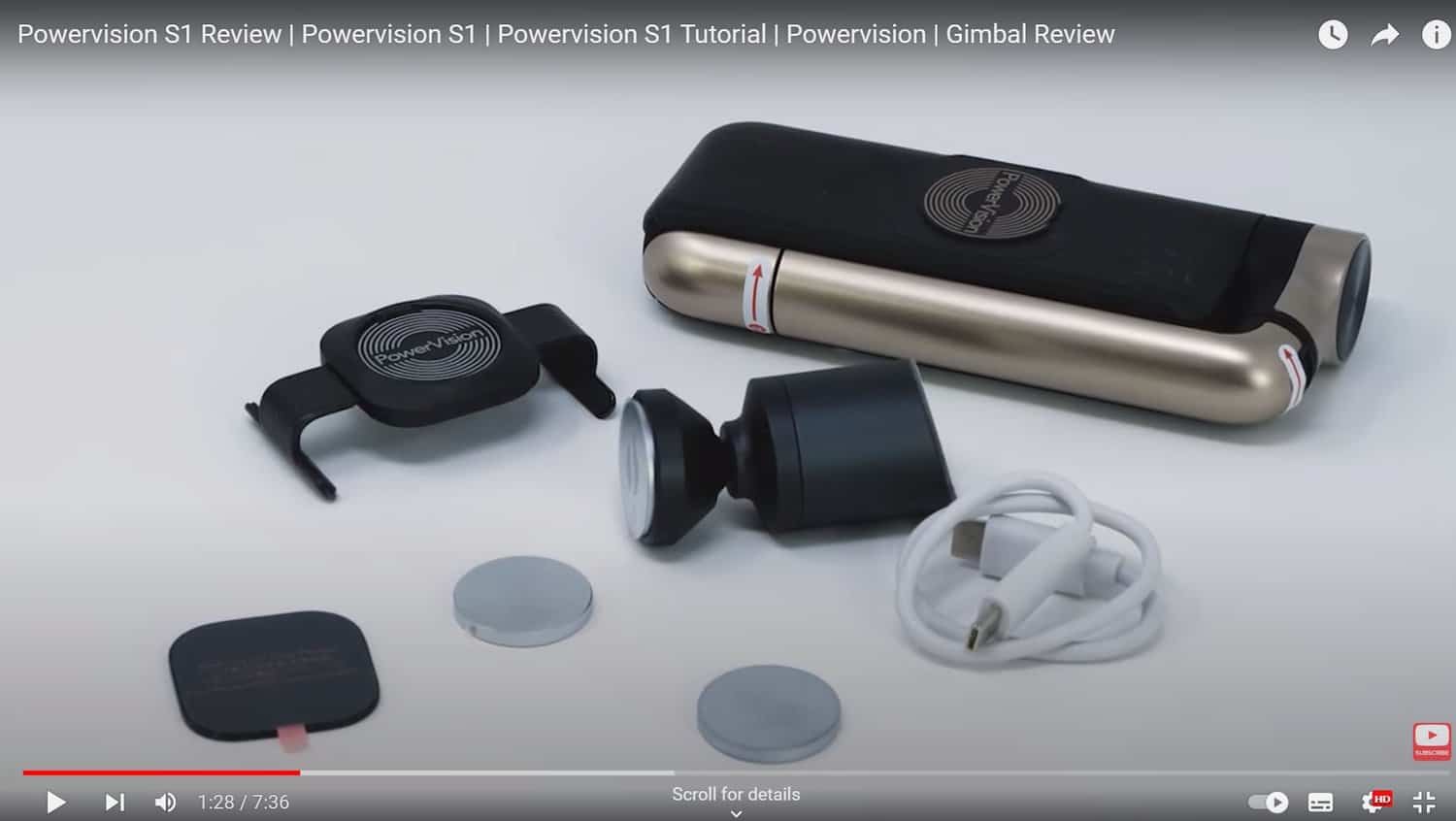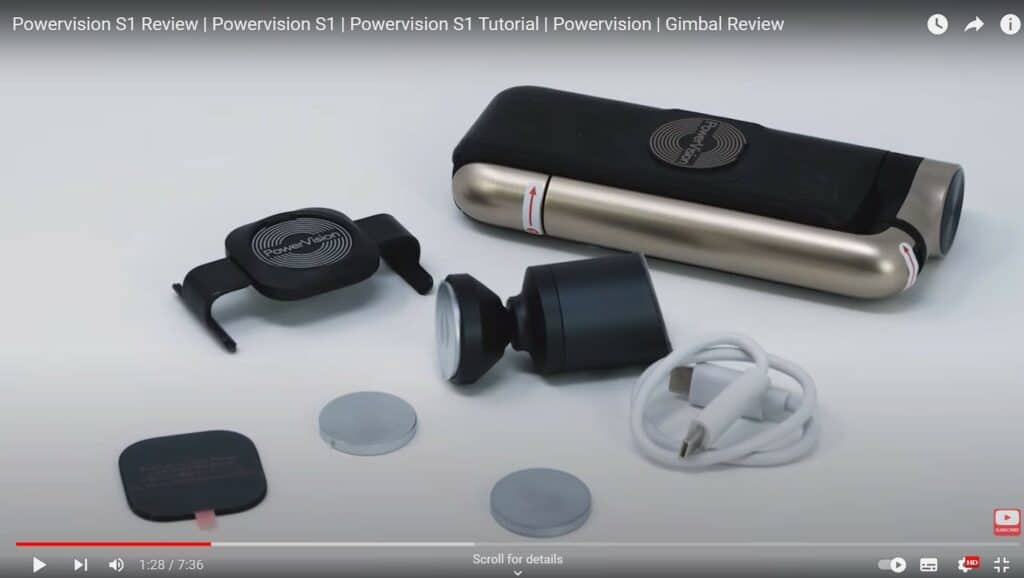 In the PoweverVision S1 box, you'll find the following accessories along with the S1 gimbal itself:
1 x Type C USB cable
1 x universal magnetic phone mount
1 x magnetic car mount
2 x magnetic mounts for use with the magnetic car mount.
The kit comes with a range of methods of attaching your phone to the gimbal, such as a magnetic phone case for both Apple and Samsung phones and a stick-on, universal magnet for attaching to the back of any phone case, regardless of brand.
You also have the option to purchase a Powervision tripod, which is designed to screw into the gimbals ¼ inch screw mount at the base of the handle. This is an industry-standard screw mount, which means that it is also compatible with other brands of tripods and video equipment accessories such as selfie sticks or gorillapods.
PowerVision S1 charger
The type C cable is used for charging the S1 as well as delivering charge from the S1 to your phone if your phone isn't capable of wireless charging.
The S1 we received comes with a USB-C to USB-C cable, this is fine for charging from devices that have a USB-C output but it would have been handy to have a regular USB to USB-C cable packaged in also, as it would allow for charging from regular charging blocks.
Thankfully standard USB to USB-C cables are commonplace, so this isn't a huge sticking point, but it is something that would have been nice to see packaged in with the product.
PowerVision S1 Mounting accessories
The universal phone mount allows you to fix the mount directly onto the back of any phone case, this is great if you want to have a permanent method of attachment, but for the purposes of this review, we will be focusing on and using the magnetic phone clamp instead.
The magnetic car mount has an adjustable ball head that allows for the fine-tuning of your camera angle and doubles as a more traditional clip-on vent mount by unscrewing the magnetic portion of the mount.
The 2 magnets provided for use with the car mount have 1 sticky side that allows them to be fixed onto your car's dash. This is great if you're planning on live-streaming or vlogging from your car, and coupled with the intelligent AI, it allows for a truly hands-free experience.
PowerVision S1 colour options
The PowerVision S1 itself comes in three colour options blue, green and black. We have the black version, but the alternative blue and green colour options have an understated pastel-type colour scheme that we personally find quite visually appealing.
What's missing in the PowerVision S1?
One item we'd love to have seen packaged in with the basic kit is a small carry bag of some kind for keeping the gimbal and accessories neatly together. Even a drawstring bag would have sufficed, and hopefully, future iterations of the S1 will include something of this sort.
Weight and dimensions of the PowerVision S1
With no phone attached, the PowerVision S1 weighs in at just under 300 grams, the equivalent weight of two average-sized oranges. It claims to be the world's smallest mobile gimbal when folded, measuring in at:
14.15cm x 5.84cm – folded
25.85cm x 5.84cm – unfolded
When folded, it's a neat little bit of kit that can easily fit into a large coat pocket, handbag or small camera bag. When unfolded, it has a nice balanced feel and is made from fairly sturdy materials.
Ergonomics of the PowerVision S1
The one area of its design where there is perhaps room for improvement in terms of its ease of use is the grip ergonomics. Rather than having a grip moulded to the shape of your palm like some other competitors, the PowerVision S1 instead has a squared-off profile.
This more boxy approach to its design is probably a trade-off that was made by the designers in order to achieve that lovely compact folded-down profile that the
PowerVision S1 boasts.
Hopefully, future iterations of the S1 will find a way to combine that compact form factor when folded, with a more moulded and comfortable grip when in action.
Using the PowerVision S1
Folding out the PowerVision S1 gimbal for use is a quick and simple 4-step process:
Start with unlatching the door at the bottom of the unit.
Unfold the gimbal's arm from the body of the handle.
Twist the top to 90 degrees.
Fold out the magnetic connector.
The PowerVision S1 has a compact form which is a great advantage compared to its competitors as it enables it to be carried easily on your person, ready to be brought to action at the shortest of notice.
If portability is something that you're particularly looking for in your mobile Gimbal, which most people would be, then the PowerVision S1 is definitely for you.
Battery Life of the PowerVision S1
The PowerVision S1 has a Lithium Ion battery that affords it an admirable max power life of 15 hours and a brisk charge time of just 2 hours. This battery can also be used to double as a power source for your mobile phone, featuring integrated wireless charging capabilities that are located in the handle.
The device also boasts a traditional wired USB-C output doubling as a handy portable power bank that will guarantee you'll always have some sort of charger on hand to keep your smartphone powered on.
Ease of use of the PowerVision S1
The PowerVision S1 gimbal is a straightforward piece of equipment to operate. After attaching your phone, power on the gimbal by pushing the power button and holding it for a moment. Tapping the power button will alert you of its remaining charge.
There is also a manual joystick with the PowerVision S1 for panning or tilting the phone, as well as a vertical mode that can be activated by pressing in the joystick. This is perfect for making content for Instagram Reels or TikTok.
Its 3 axis of articulation allows for it to compensate for camera shake on the roll pitch and yaw axis. When we tested the product, we found that the Gimbal was capable of achieving smooth footage that brings in great production value to your content, be it for home videos, vlogs or live streaming purposes.
To demonstrate just how significant the change is between shooting with the phone's built-in stabilisation compared to the gimbal's functionality, here is some side-by-side footage below.
Weight of the phone when using the PowerVision S1
The Gimbal is rated for weights of up to 280 grams. We found that it performed decently right up to that mark, but when testing with phones around the upper limit we did start to see some noticeable difficulty in returning the phone to the centred position after extreme panning.
Of course, most people won't be using phones that are that heavy, and these results can only be expected when you push the Gimbal up to and beyond its upper limits as specified. Just check that your phone is compatible in terms of weight beforehand, and you shouldn't encounter any issues.
Locking down the PowerVision S1 gimbal
If you need to lock down the gimbal while filming, there are two options. The first option is to use the built-in fold-out tripod that releases from the bottom of the unit in an easy two-step process; first, extend the two thin front legs and then fold out the thicker third leg.
This is a handy backup so that you'll never be without a means of locking down the gimbal. However, I wouldn't rely on it as your primary means of locking down the gimbal as the built-in tripod really requires a level surface to function effectively without the gimbal tipping over and becoming top-heavy.
The second option is to use the ¼ inch screw mount, as we previously mentioned. You can attach an external tripod or other bits of kit to the base of the unit and lock down the device that way.
PowerVision S1 App
The S1 is packed full of features that can be accessed through the companion app, Vision+S1.
In the app, there are options to take stills, panoramas, time-lapses and motion time-lapses. The motion time-lapses are particularly impressive and allow for some super high-production value shots.
Navigating the app is straightforward and self-explanatory, being intuitively laid out and with helpful tutorials on both using the app and the gimbal packaged in if needs be.
Some users complain of the app being particularly laggy, but in our experience using a variety of iPhones right through from iPhone 7 to iPhone XR, there was little to no lag. However, we can't speak for all makes and models of phones.
PowerVision AI Tracking
This Gimbal's strongest feature, in our opinion, is its AI tracking in the form of its 'power follow' setting.
When enabled, you can set the gimbal to track faces in the scene or a specific object in the scene, and this can allow for a great capacity for creative shots and vlog-style content without having to have someone on set to operate the camera.
This AI Tracking feature can be accessed with other apps, such as your native camera app, so it's not just the dedicated S1 companion app – Vision+S1. Making it a super versatile and flexible feature of the device.
Another great feature of the AI Tracking app is the hand gestures that allow you to control the app from a distance. As an example, you can gesture an L shape to start and stop recordings.
From our testing, we found that as long as you gesture clearly, the app will register your gestures and action them 10 times out of 10.
PowerVision S1 product review summary
The Powervision S1 is a neat bit of kit that packs a whole host of features, modes and production value built into a tight package.
Compared to other competitors in the handheld gimbal market, it gains an edge through its compact form as well as the companion app that's packed full of dynamic features and helpful tutorials for those new to smartphone videography.
All in all, it's a solid choice for anyone looking to purchase a compact handheld gimbal for their smartphone. It will increase the production value and video quality of your content, helping you shoot like a pro.
You can also check out these reviews on the DJI Mini 3 Pro | DJI Osmo 5 | DJI Osmo 4 SE
SEE ALSO: What is Drone Photography? | Video Production Explained | YouTube Video Production