As a digital marketer, your goal is not only to generate traffic to your business's website but to also ensure that the viewer is converted into a customer. This is known as conversion rate optimisation (CRO)
This is done by tracking the actions of users on your website. To maximise a user engagement, it is important to adjust your website to appeal to your main demographics. This means that they take the desired action.
This desired action is known as a "conversion". Conversion rate optimisation is the process of designing your website to maximize the number of conversions.
Let's take a look at how this works.
What Is a Conversion Rate?
A conversion rate is the proportion of users on a page who take an action. The specific action can vary from one campaign to another depending on your current goals.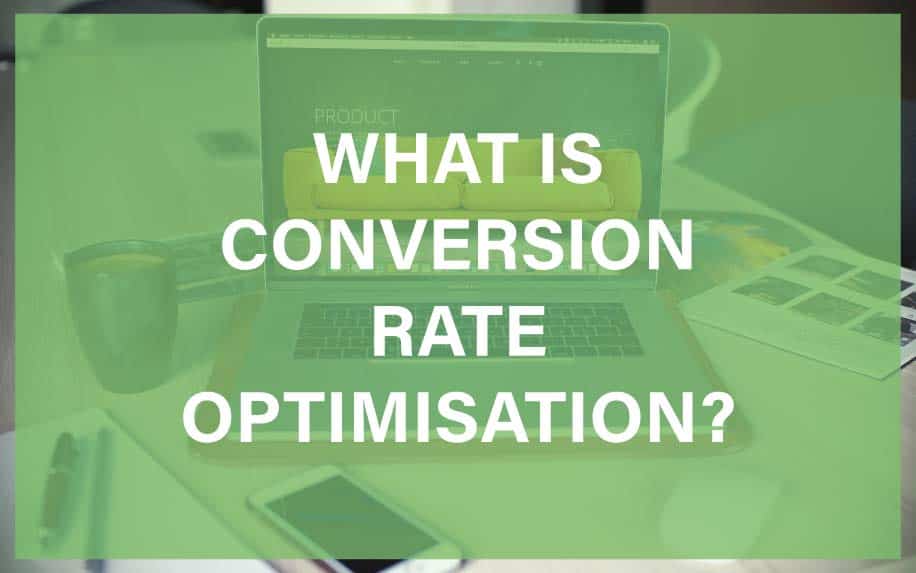 For example, a conversion might be when a user:
Clicks on a video,
Signs up for a newsletter,
Downloads a file,
Makes an enquiry,
Purchases an item.
Not every user on your site delivers value. Conversion rate monitoring lets you figure out how profitable your marketing efforts are.
The best part is that conversion rate optimisation boosts the efficiency of your marketing costs. Rather than throwing more money at the problem, CRO is about making your campaigns more cost-effective.
Ideally, you want your conversion rate to be as high as possible. Let's take a look at how to achieve this.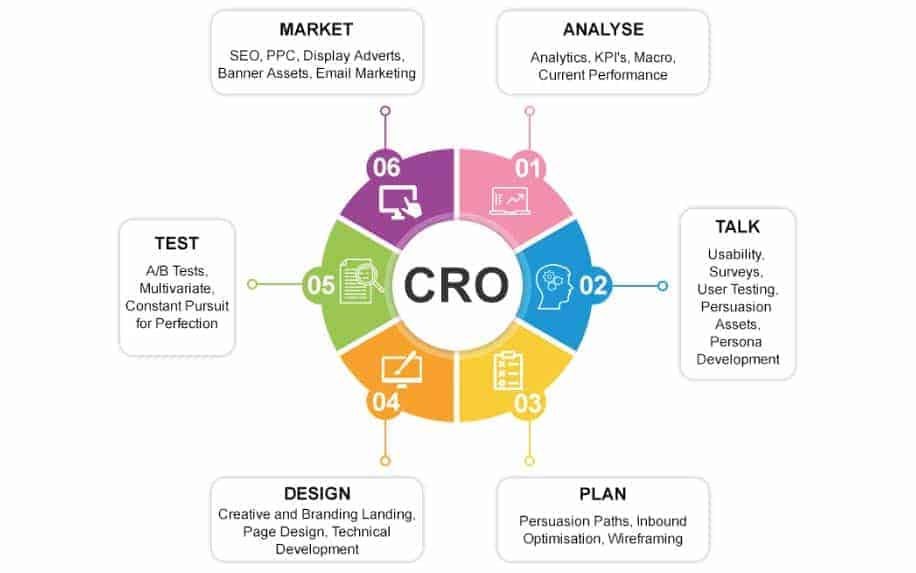 Elements of Conversion Rate Optimisation
Conversion rate optimisation uses different marketing techniques in order to direct the viewer towards your desired action.
This requires the potential customer to have a pre-existing interest in your business which can be achieved through online marketing, or at least for you to have decent traffic on your site.
After you have generated interest in your business, it is now time to utilise conversion tactics to turn the potential customers into paying customers.
Here's how.
1. Knowing Your Target Users
Before you can efficiently direct your customers to your chosen desired action, you need to properly map your website and understand how the viewer reaches it. Take the time to familiarise yourself with your website's layout and the nature of the target action.
Ideally, you should draft a step by step map of the required actions that the user needs to make to reach your target.
For example, if your target action is making the viewer make a purchase, you should go through all the necessary steps four buying a product from your website.
This will help you direct the customers to said action while also allowing you to identify any steps that might require streamlining for a better user experience.
2. Observing Analytics
Setting up website analytics for your site is essential to helping you understand how users interact with it.
These analytics will show you valuable information, such as:
Which elements people click on the most,
How long people spend on your website,
Which pages users visit,
And the many actions that the users make.
This will allow you to know which elements attract the most views to your website and what kind of content retains viewers the most.
All of this data will go a long way towards ensuring that you have a complete understanding of your website which will allow you to improve it later on for an even better conversion rate optimisation experience.
3. Knowing Your Audience
An essential part of conversion rate optimisation is knowing the audience you are optimising for. This is usually your target audience which are the many customers your business caters to. Research the market extensively in order to identify your target audience.
By knowing these demographics, you can have a better understanding of their wants and needs which ultimately helps you optimise your website to satisfy those needs.
Beyond demographics, it's crucial to understand your audience's needs. Most important of all is the information users need to make a conversion. This allows you to tailor your content marketing efforts effectively.
4. Promotions Are Your Friend
Perhaps the hardest step of turning a viewer into a customer is to convince them to try your product. Once you are confident in how good the product or service you offer is, it is time to promote it in order to get potential customers to try it.
This can be done through time-limited offers, bundles or discounts.
Keep in mind that promotions are only as effective as the number of people that know about them. Having a good promotion will do you no good if potential customers don't know about them.
This is why it is important to complement them with special advertising campaigns to maximise your exposure and reach the largest number of potential customers.
Good promotions are a great way for your business to stand out against the competition. This will surely bring you more paying customers.
5. Master the Pitch
The most important thing to ensure the sale is to sell the potential customer on your product or service. This can be done by setting your website in a way that best conveys your product.
You need to convince the customer that they need your business by showing them the improvements they'll get by buying into it. A good way of doing this is by using testimonies from previous customers that were satisfied with your services.
The more convinced the viewer is of the usefulness of your product, the more likely they are to become a converted user. Ultimately, your website should clearly convince the customer of why they need your product.
Conversion Rate Optimisation in 5 Steps
Conversion rate optimisation (CRO) is the process of using online analytics and customer feedback in order to streamline your website to encourage viewers to become customers.
By optimising your digital presence, you can significantly improve your website's conversion rate.
Here is how it's done.
1. Understanding the Conversion Funnel
A conversion funnel is a diagram that represents the process of turning the potential viewer into a customer. The first step is making the potential customer aware of your business. This can be done through marketing efforts to generate exposure for your business.
Next, you need to generate interest in your products which is done by adding informative content about your products to prove to customers that your product will provide them with some form of improvement.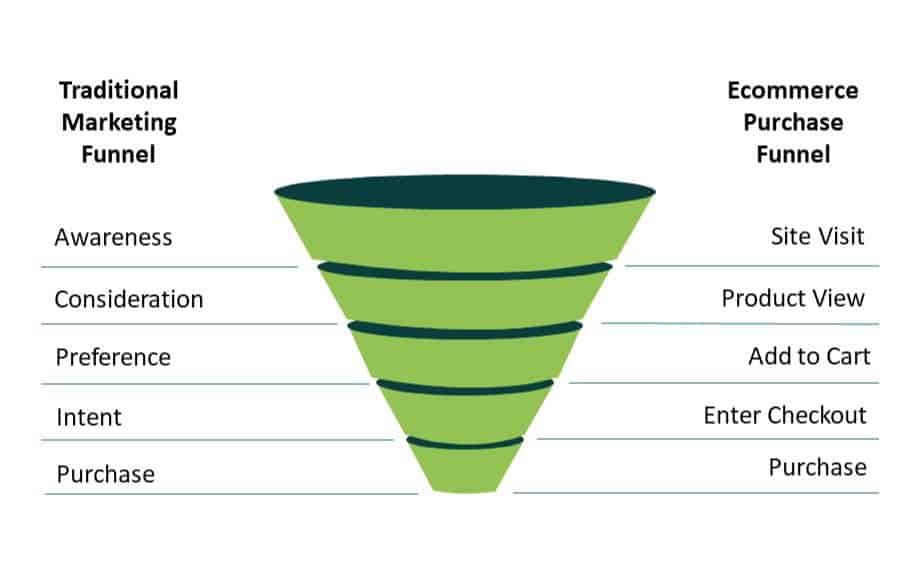 Naturally, the interest will become a desire by the customer to own your product which ultimately leads to the customer taking the desired action.
The exact layers of the funnel will differ from one business to the other.
However, it is generally a good idea to clearly map out your business's conversion funnel to help you plan out the necessary optimisations that will surely simplify the process of conversion rate optimisation.
Generally, it is a good idea to start at the point where you seem to be dropping lots of potential customers. This will likely provide the greatest change in your conversion rate and that's why it should be addressed first.
2. Optimising Your Website
After you have successfully mapped out your conversion funnel, it is now time to make sure that all relevant aspects of your website are up to par. Here are some of the main aspects that you should consider:
Graphics: It is generally a good idea to consider your website's graphics. The graphics should be light-weight, well placed and clean in order to attract potential customers.
Accessibility: The usability of your website plays an important role in your conversion rate. It is not enough to get the customer to want your product, they should be able to easily find and order it. By ensuring that your website is usable on all devices and your products are easily found, you not only save customer's time but you also provide them with a pleasant experience that will encourage them to keep using your business.
Urgency: Every website needs a satisfying call to action. This is what motivates the viewer to engage in your "target action". Customer satisfaction is a great driving force that will generate lots of sales for your business once you utilize it properly. It is important to give the potential customer a reason for taking that action and your statements should induce a sense of urgency to minimize the chance of the potential customer backing out of the deal.
Additionally, you may also choose to provide the viewer with the testimonials of previous customers that were satisfied with your business as an additional motivator to reassure the viewer.
3. Measuring the Results
After you have implemented the necessary optimisations, it's time to analyze the improved data to accurately compare your optimizations efforts.
Here are some of the available tools to help you gather data about the efficiency of your conversion rate optimisation efforts. The first tool is Google's analytics, this will provide you with valuable statistics such as:
Bounce Rate: This is the number of viewers who leave your site after only visiting one page. Generally, having a high bounce rate is an indicator of an unoptimised landing page or your marketing efforts are reaching an audience that has no interest in what you're offering
Exit Rate: This is the number of viewers that leave on a specific page. This is an indicator of your least popular pages that are negatively affecting the overall experience of your site.
Traffic specific conversion goals: A great feature of the google analytics tools is that it allows you to set up customer conversion goals for each traffic source. This will allow you to identify your most effective marketing medium which allows you to focus on it in future marketing campaigns.
Custom conversion goals: One of the reasons that Google analytics is such a popular tool is its extreme versatility. This tool will allow you to set up multiple conversion goals that are all tracked simultaneously to maximize your efficiency.
How to Maximise Your Conversion Rates
Conversion rate optimisation is not an exact science as the conversion requirements will vary from one business to another. Additionally, the factors affecting the conversion rate will vary depending on the target audience.
This is why it is important to have a solid optimisation plan where you can track each and every step taken to correctly identify the stops in the right direction.
Using tools such as google analytics will greatly help by saving you time when trying to compare the effectiveness of an optimisation change. In order to fully maximize your conversion rate, you should expect lots of trials as customers are often unpredictable.
This is why proper documentation of the process will allow you to better understand your audience and help you cater to their needs in a much more efficient way.
Once you've familiarized yourself with the concepts of conversion rate optimisation, you should check out our project management software guide to help you streamline your optimisation efforts.