The sudden and unplanned lockdown the entire world was abruptly put into back in March 2020 and the growing understanding that this pandemic was going to stick around for way longer than anyone ever expected caused worldwide obstruction for individuals, organisations and pretty much every aspect of life. While millions were laid off overnight, companies, on the other hand, experienced a considerable decline in demand, interrupted supply chains, increased costs and consequently a massive drop in revenue.
As the Internet became the only way people could stay connected to and informed about what was happening outside of their doorsteps, companies going online became indispensable if they genuinely wanted to survive this calamity with as few consequences as possible. But even after the pandemic was officially declared ended, companies' online presence has already become a requirement to establish their place in the market, increase visibility, build credibility and generate leads.
Such a need has given rise to an industry, such as web development, to flourish, and now more and more companies are being specialised in website building and web hosting to help other companies create their digital footprint and reserve a place on the cloud. In this article, we are especially addressing web hosting and what you, as a website owner, need to know to get your website up and running.
So bring along a giant cup of coffee, and let's hop into it.
Web Hosting
Simply put, web hosting is that service which allows individuals or organisations to make their websites accessible on the Internet. Web hosting companies provide space on servers to store the files and data that make up the websites, and then they make that space available to users who want to publish their websites online.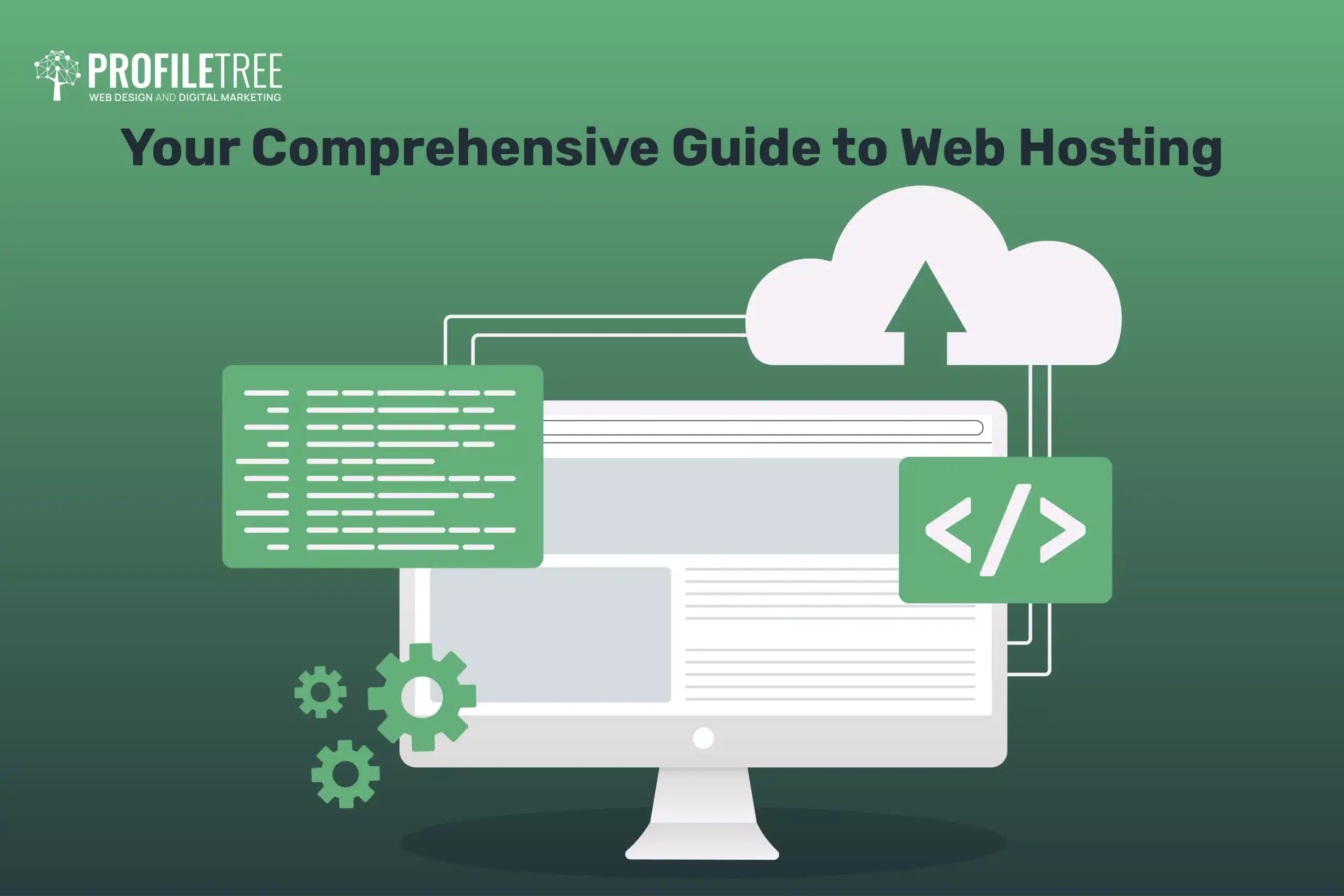 So, if you are a user and you want to publish your website online, you do this by signing up for a web hosting service in which you are essentially renting space on a server where you can store your website's files and data. As this server is connected to the Internet, your website, therefore, becomes accessible to visitors all around the world.
Web hosting companies typically provide features such as website builders, domain registration, email hosting, and technical support. Web hosting services, too, are many, and each of them has its very own attributes, advantages and disadvantages that mainly depend on the needs of the user, and that is precisely what we are covering next.
1. Shared Hosting
The first type of web hosting and the most common of them all is shared hosting, where several websites share the resources of one single server. That means that your website is hosted alongside other websites on the same server and that you share resources like RAM, CPU and disk space with those other websites as well.
This is generally the most popular type of web hosting and is quite the best option for small businesses, individuals, or organisations that are still starting out and do not need a lot of resources or high levels of customisation. Since the cost of the server is divided among multiple users, shared hosting is also more affordable than other types of hosting.
Benefits
Besides affordability, shared hosting is usually very user-friendly, with many hosting providers offering tools and features that can make it easy to set up and manage your website. You do not need to have technical knowledge or expertise to get started with shared hosting.
Another advantage is maintenance. With shared hosting, the hosting provider is in charge of maintaining the server and ensuring that it is running smoothly. This means that you do not need to worry about performing updates, backups, or security patches yourself.
Most shared hosting providers also offer customer support to help you with any issues that may pop up or generally any questions that you might have.
This can be especially helpful for those who are yet new to web hosting or have limited technical experience.
Lastly, we have scalability. A lot of shared hosting plans offer the ability to easily upgrade your resources like storage and bandwidth as your website grows and needs to change.
So, you can start out with a small plan and scale up when necessary without having to switch to a different type of hosting. How much you are able to upgrade generally depends on your website's growth and the type of hosting provider you are using too.
Drawbacks
That being said, there happen to be some potential drawbacks to shared hosting that are important to know if you consider going for this type of hosting.
The first one is related to the core essence of shared hosting, that is sharing a server with other websites. If one of these websites, for instance, experiences a sudden spike in traffic or uses up a lot of resources, it can pretty much slow down your website and cause some unpleasant issues with its performance during these periods of high traffic or resource usage. This can especially be problematic if you have a high-traffic website or require a lot of resources too.
Shared hosting also places a considerable set of limitations on many aspects, the first of which is the amount of server storage and bandwidth you can use. You also get limited control over server configurations and customisation options. This can be a potential downside if you require a specific software configuration or need to make more advanced customisations to your server environment.
Besides, many shared hosting providers have restrictions on the type of software or applications that can be installed on their servers, which can limit the functionality of your website as well. Some have limitations on email sending or receiving, which can highly disrupt the email functionality on your website.
Then, there is this issue with security. Shared hosting can impose some security risks as a vulnerability in one website on the same server can potentially affect other websites on that server as well. So, it is vital to choose a reputable shared hosting provider that takes security seriously and implements measures to protect customers on all their servers.
Generally, shared hosting can be a great option for those looking for an affordable and easy-to-use hosting solution, but it is crucial to choose carefully and consider your website needs, traffic levels and potential limitations before choosing a hosting plan. Shared hosting may not be sufficient for high-traffic websites or those with more complex requirements.
Shared Hosting Providers
So when it comes to shared hosting, there are lots of providers available; however, the best match for you will depend on your specific needs and budget. So here are some popular shared hosting providers currently out there.
Bluehost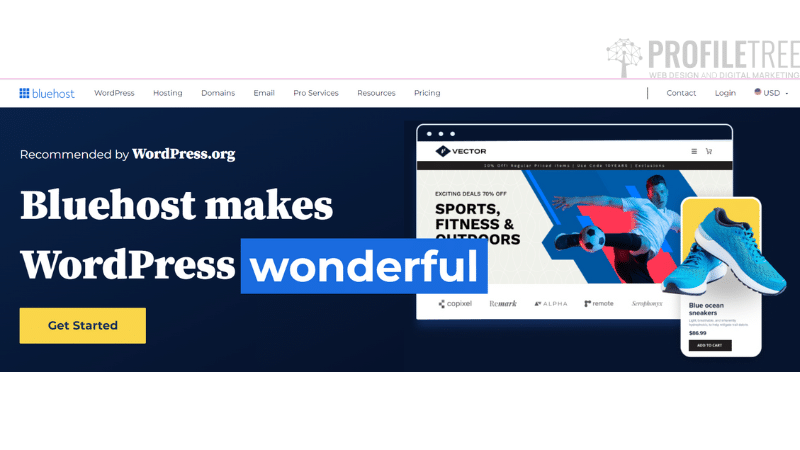 Bluehost is a top-rated shared hosting provider that offers affordable plans, easy-to-use website builders, and excellent customer support. It is even recommended by WordPress itself as a top hosting provider. So, if you are planning to use WordPress as your main content management system or CMS, then this might strengthen your decision to use Bluehost.
Bluehost does offer a wide range of plans and features to suit different website needs and budgets. In terms of plans, they have four hosting well-priced plans specifically designed for WordPress users: Plus, Choice Plus, Online Store, and Pro.
As of August 2023, the Plus plan includes two websites, a free domain name for the first year, domain privacy and 20 GB SSD storage. The Choice Plus plan includes three websites, 40 GB SSD storage and daily website backups for the first year. The Online Store plan includes all of the Plus features as well as code guard and $450 worth of e-commerce plugins. Finally, the Pro plan offers five websites and 100 GB SSD storage, but no plugins are added.
All these plans come with unlimited bandwidth, pre-installed WordPress, WordPress support and automatic updates. Although they may have some restrictions on CPU usage and memory usage, all these plans use SSDs, solid state drives, and CDN content delivery networks to improve website speed and performance, so they are still relatively fast.
Speaking of features, Bluehost provides a wide range of them, including a website builder, a really easy-to-use cPanel, email accounts, SSL certificates and a 30-day money-back guarantee. They also offer 24/7 customer support via phone, chat or email.
HostGator
HostGator is another favoured web hosting provider that offers a number of hosting services, including shared hosting, for which they have three cutely named plans. There is the Hatchling plan, the Baby plan, and the Business plan, which is sometimes referred to as the eCommerce plan.
The Hatchling plan includes one website, a free domain for the first year, 10GB SSD storage, unmetered bandwidth and an email account as well. The Baby plan offers up to two websites with free domains for the first year, 20 GB SSD storage and unmetered bandwidth as well, in addition to $500 Google Ad spend match credit and $100 Microsoft Advising credit.
The Business plan has all of the features of the Baby plan with a lot more, like positive SSL upgrade, dedicated IP addresses, professional website migration services and some SEO tools as well.
Like with Bluehost, all HostGator plans come with features like a website builder, an easy-to-use cPanel, one-click instals for popular applications like WordPress and 24/7 customer support via phone, chat, or email.
They also offer a money-back guarantee and plans specifically designed for WordPress users, which come with pre-installed WordPress automatic updates and WordPress-specific support. In terms of pricing, the HostGator plans have introductory fees of $3.75 and up to $6.25 a month. That being said, the HostGator renewal fees tend to be a little bit more expensive.
2. VPS Hosting
The second type of web hosting is known as VPS, or Virtual Private Server, which, as the name clearly suggests, provides a virtual server environment for websites.
So, how does this VPS actually work?
Well, a physical server is divided into multiple virtual servers, each with its own exclusive resources. This means each of these virtual servers has a dedicated amount of CPU, RAM, and storage. Then every website is hosted independently on one of these virtual servers, which gives them access to a lot more resources than with shared hosting, typically resulting in improved performance and reliability.
This is precisely what sets VPS hosting apart from other types of hosting.
Benefits
VPS gives you, the user, a lot more control over the server environment than when using shared hosting. This means you can configure and customise your server settings to your needs, install software applications, and access the server via a remote desktop. This makes VPS a good hosting choice for users who require a little bit more flexibility and control over their hosting environment.
Another benefit is related to scalability. VPS hosting enables you to quickly scale up or down your resources as required. So, if a website experiences a sudden surge in traffic, additional resources can be easily added to handle the increased demand. This very feature makes VPS hosting a good choice for websites that experience lots of fluctuations in traffic or require additional resources during peak seasons.
In terms of security, VPS provides a higher level of security than shared hosting, as each virtual server is isolated from the others and is also isolated from the actual physical server itself. That means if one website is compromised or has any security issues, it will not affect the others sharing the same server, which makes VPS hosting more reliable.
Drawbacks
That being said, there are some potential drawbacks to VPS hosting.
One of the main differences between VPS hosting and shared hosting is that VPS hosting requires a lot more technical knowledge and expertise as users are the ones who manage their own server environment. This includes installing software, configuring server settings, handling security updates, backups, and server maintenance. So users must be aware of how to do these tasks.
This can also become really time-consuming.
In terms of pricing, VPS hosting is generally more expensive than shared hosting, but it is less expensive than dedicated hosting, the web hosting type we are discussing next. Pricing depends on the hosting provider and the amount of resources needed, which can add up over time.
There are some restrictions as well. While VPS allows for easy resource scaling, there are still some limitations on the amount of resources that can yet be allocated to a virtual server. So, websites with very high traffic or more resource requirements may eventually need to switch to dedicated hosting.
VPS Hosting Providers
So, when it comes to web hosting providers that offer VPS services, lots of them are out there, each offering a range of VPS hosting plans with varying resources, pricing, and features. So, it is essential to research and compare the options to find the best fit for your needs. That said, here are some of the popular VPS hosting providers.
Hostinger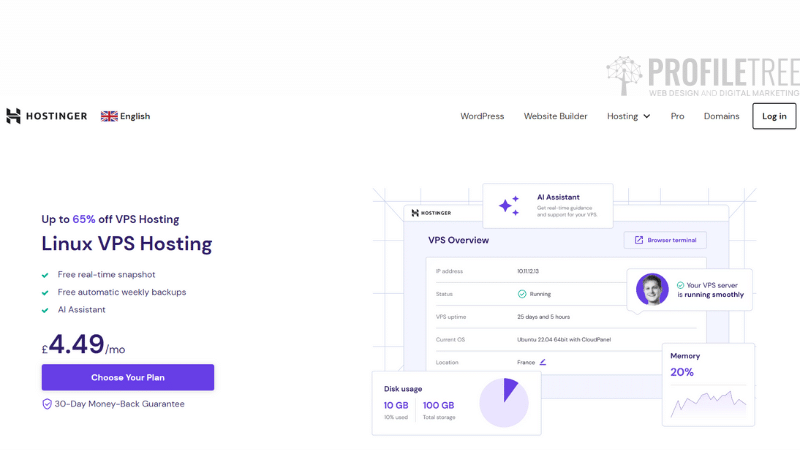 Hostinger is a pretty popular web hosting provider that offers VPS hosting services in four different plans, KVM 1, KVM2, KVM4 and KVM 8, ranging from one vCPU all the way up to eight vCPU and costing between $5.99 to $21.99 a month, as of August 2023.
Each of these VPS plans comes with dedicated resources, including CPU, RAM, storage, and bandwidth, and users can choose between different operating systems like Ubuntu, CentOS and Fedora.
These VPS hosting plans are also scalable, which means that users can easily either upgrade or downgrade their resources as they need. This allows users to start with a small plan and scale up as their website grows. There also are lots of security features, including DDoS protection, fire protection, RWs and SSL certificates.
Besides, Hostinger offers daily backups and a 24/7 monitoring system to ensure the security and stability of their VPS hosting environment.
Hostinger also has excellent customer support available via live chat and email as well as a tremendous knowledge base with articles and tutorials to help users manage their VPS servers.
InMotion Hosting
InMotion Hosting is another popular VPS hosting provider that has four different hosting plans with five different billing cycles. For instance, the fees for purchases on a three-year cycle range from $14.99 a month to about $44.99 a month. If you pay on a one-month cycle, plans then cost $54.44 a month at the minimum and $121.99 a month at the maximum.
So, obviously, the longer you have your billing cycle, the more you save.
In terms of resources, each VPS plan comes with dedicated resources, including CPU, RAM, storage, and bandwidth, as well as cPanel, which is a prevalent and easy-to-use interface for managing web hosting accounts. Users can choose between different operating systems like CentOS or Ubuntu and are given access to their VPS server via SSH or remote desktop.
InMotion Hosting's VPS hosting plans are scalable, so users can upgrade and downgrade their resources as needed. They can start off with a smaller plan and then scale up as they grow.
InMotion Hosting also offers 24/7 customer support via phone, live chat, and email. They also provide a knowledge base similar to Hostinger's that is filled with tutorials and articles to help you manage your VPS service.
Overall, VPS hosting provides a good balance of resources, control, and scalability, as well as security, which all make it a popular choice for medium-sized businesses, high-traffic websites, or even users who need more control over their hosting environment than shared hosting providers do. However, they need to be fully aware of its potential drawbacks and how they can overcome them before they consider using VPS hosting.
3. Dedicated Hosting
Dedicated hosting is the third type of web hosting we are discussing here in which the user rents a complete physical server that is solely dedicated to their website or application. This gives the user complete ownership and control over the server configuration, including installing custom software and configuring any security settings and the operating system as well.
Consequently, the user has full access to all of the resources available on that server, including CPU, RAM, storage, and bandwidth. This allows for high performance and fast load times, even with high-traffic websites or applications, and gives more room for customizability.
Benefits
This customizability, in fact, is a great benefit of dedicated hosting as it allows for greater control and flexibility in terms of server configuration and software installation. This can be exclusively important for businesses with specific technical requirements.
Another benefit is related to security. With dedicated hosting, you can have complete control over security measures like firewalls, encryption, and intrusion detection, which can help protect your website and data.
Websites using dedicated hosting also have high performance. Since the server resources are not shared with other websites, they can handle high levels of traffic without ever slowing down, which makes dedicated hosting a lot more reliable than other types, especially shared hosting.
Additionally, dedicated hosting can be more easily scaled than other types of hosting as you add resources or upgrade to a higher-tier plan as your business grows.
In terms of technical support, most dedicated hosting providers offer 24/7 technical support, which can be essential for managing a complex server environment. Yet, the actual technical support comes internally, which means you or someone else you hire should be able to manage and support your dedicated server.
Drawbacks
Like the other types of web hosting, dedicated hosting, too, does have some drawbacks, the main one being the higher cost. Dedicated hosting is, well, a lot more expensive than shared hosting or VPS hosting, as the client is renting an entire physical server for their website and is paying for the associated maintenance and support costs.
Managing a dedicated server can also be more complex than other types of hosting, which indeed requires a certain level of technical expertise. This admittedly can be a challenge for businesses without an in-house IT team or technical staff.
Maintenance can also be a little bit more time-consuming as the user is totally in charge of maintaining and updating the server hardware, software, and security measures.
For small websites, such as blogs, dedicated hosting can be a little bit of an overkill. It is entirely unnecessary because the resources of the server may not be fully utilised.
However, these greater server resources can still, sometimes, not handle any unexpected traffic spikes your website may experience.
All in all, dedicated hosting is a good choice for businesses or organisations that require high levels of performance, customizability, and security as long as they have the proper budget and technical expertise to manage a dedicated server. But for small websites or businesses, shared hosting or VPS hosting are much better options.
Dedicated Hosting Providers
Now that we understand what makes dedicated hosting different, let's explore some of its popular providers available on the market.
Liquid Web
Liquid Web is an upscale web hosting provider that offers fully managed dedicated hosting service designed to provide customers with high levels of performance, security, and customisation. They use the high-performance, latest server hardware, including Intel processors with SSD storage, to provide customers with fast and reliable hosting.
Liquid Web also has a team of expert technicians who manage the server hardware, software, and security measures, allowing customers to focus on their business instead of server maintenance. They also provide them with advanced security measures like firewalls, DDoS protection, and SSL certificates to help protect their website and data.
Among the great features of Liquid Web is that they have multiple data centre locations in the US, Europe, and Asia, allowing customers to choose the closest server location to their target audience and offering a high degree of customisation, including the ability to select the operating system, control panel, and software application installed on the server too.
Liquid Web has three different standard plans as well as custom solutions. The first plan is the Intel Xeon 1230V6, costing $149.25 a month, in August 2023, and is made for high-traffic websites, small apps and resellers. For databases, small SaaS and large resellers, Liquid Web offers the Intel Xeon Gold 6226R Single plan at $224.25 a month and the Intel Xeon Gold 6226R Dual plan at $374.25 for extensive databases and multi-user apps.
Liquid Web has excellent customer service where the support team is there 24/7 to offer assistance to customers with any issues they may encounter.
GoDaddy
As well as Liquid Web, GoDaddy is another popular web hosting provider that offers dedicated hosting services designed for businesses and organisations that require the high levels of performance security and control that we talked about.
Some features of GoDaddy's dedicated hosting service include the Manage Service. Like Liquid Web, GoDaddy, too, includes a team of expert technicians who manage the server hardware, software, and security measures, allowing customers to focus on their business instead of server maintenance. They have multiple data centres located in the US, Europe, and Asia. That means you have the option to choose the closest server to your target audience.
GoDaddy uses the latest server hardware, including Intel processors and SSD storage, to provide customers with fast and reliable hosting. Their hosting allows for a high degree of customisation accompanied by the ability to choose the operating system, control panels and software applications.
Similar to Liquid Web, GoDaddy does offer skip customers with advanced security measures like firewalls, DDoS protection, and SSL certificates. Their customer support team is also available all the time.
However, it is worth noting that some users may have reported some issues with customer support and pricing transparency. So, it is crucial you do your research and read reviews as well before you make the decision to use GoDaddy's services.
Choosing the Type of Web Hosting
Now that you understand the different types of hosting providers, their advantages, their associated drawbacks, and some providers that offer those types of hosting, there are several key factors you need to consider when deciding what type of hosting to use.
The first thing to think about is the specific requirements of your website. This includes factors such as how much traffic you expect your website to receive, the size of your website, and any special software or applications you need to run.
Performance is another critical factor in website hosting, as slow load times and downtime can hurt your website's user experience as well as the search engine rankings. Choose the type of hosting that will offer the best performance for the size of your website.
Then there is the budget. As we have seen, every type of hosting costs differently based on the features it offers. Even the plans for the same type of hosting vary widely among providers, which can make choosing the most suitable plan for your website's requirements a demanding task.
However, it would not be at all like so if you closely consider your budget first. So make sure to choose a plan that fits your budget and also offers the features and performance that you need.
Furthermore, you have to review your own technical expertise and check whether or not it is enough for the type of hosting you are choosing. As we have seen, some types may require you to have or acquire certain expertise to be able to manage and maintain the servers.
Scalability is the fifth factor you must consider so ask yourself whether or not the hosting plan that you choose can easily accommodate growth and increased traffic over time. Also check that the hosting provider you are planning to deal with offers plans that can be easily scaled up.
Last but not least is security. So website security is important to protect your website as well as your users' data. So make sure your hosting plan includes security measures like firewalls, SSL certificates, and backup options.
Web hosting is an essential part of the long process of creating, managing and maintaining your business's online presence. That is why building your knowledge of the different types of hosting and learning about the most reputable hosting providers on the market is highly needed to make the most suitable choice for your website.