Canva AI is one of the latest artificially intelligent software that's taking the world by storm. It's a creator's best friend, from user-friendly video editing software to AI-generated images and AI-powered writing assistants.
Canva AI is predicted to make the jobs of writers, graphic designers, videographers, and everyone else in the creative industry much more efficient. It frees up precious time that can be better spent on developing creative ideas and focusing on the bigger picture of projects.
But it's not just helpful to those in the creative industry, Canva AI can also be utilised by marketers, teachers, students, and a range of other businesses and industries. In this article, we'll discuss everything that is capable through the power of Canva AI, and there is much more to it than you think!
Table of Contents
What is Canva AI?
Canva AI is a multi-use platform with many different features. It has been described as a visual communication software with user-friendly interfaces that allow users to design and create visual materials. You can use the Canva AI platform to create anything from PowerPoint and graphs to social media posts, logo designs and video content.
Recently, the platform has introduced the AI component, creating a smarter and more efficient platform for content creation. Canva's artificial intelligence allows users to create AI-generated images or written content, this is a relatively new feature and one that we can only expect to become more advanced in the future.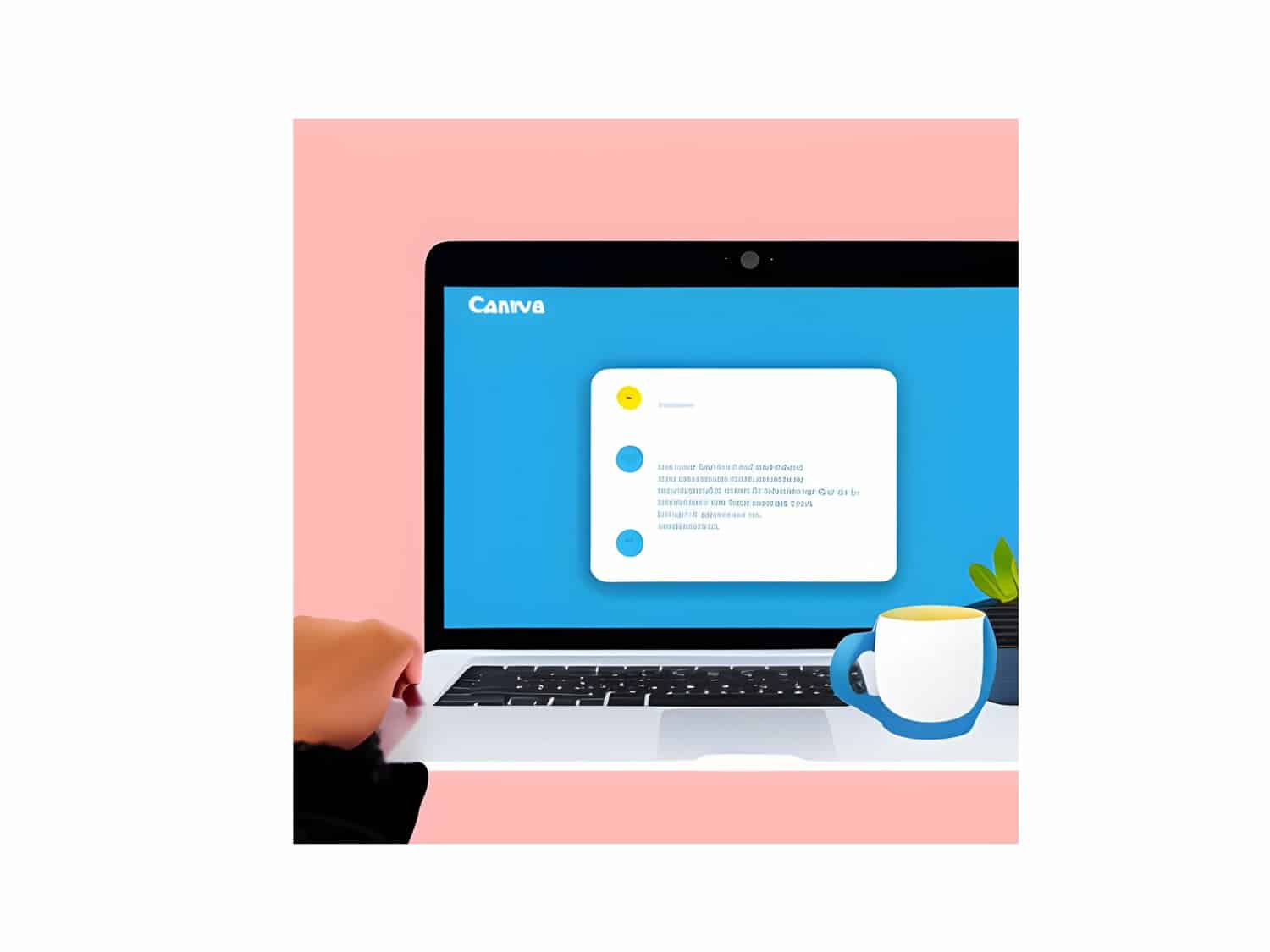 How does Canva work?
The AI component of Canva AI scans millions of pages of existing internet content. It then selects elements from each of these sources to create a piece of written content or an AI-generated image.
The intelligence of the software is able to identify relevant material for unique content creation. With Canva AI, you have the power of a graphic designer, artist, copywriter and content writer, all under one roof.
The Future of Canva AI
We might be a long way off asking Canva AI to create a 5-minute video explaining the benefits of walking every day, but it is not beyond the realm of possibilities. At this current moment, it is pretty amazing what Canva AI is capable of, and in my humble opinion, content creators should embrace the technological revolution that is happening before our very eyes.
At ProfileTree, we are consistently staying ahead of industry trends, and artificial intelligence is the current topic up for discussion. Check out these artificial intelligence statistics and see what the future of AI means for your business.
How many users does Canva have?
Canva has over 100 million monthly active users, which is pretty impressive, given that it has been around since 2013. The platform continues to grow and expand its customer base, and with 100+ languages available, it is also an incredibly inclusive piece of visual communication software.
Is Canva AI Free?
There is both a free version and paid version of Canva AI. The free version is pretty comprehensive, with thousands of free templates, 100+ design types and over a million free photos and graphics to work with.
How much is the Canva app pro version?
Canva AI Pro costs £99.99 per year, per person, which works out cheaper than the monthly plan that costs £10.99 per month, per person.
With the Pro version, you get access to premium templates, brand kits, stock videos and audio clips. you 'll also receive additional features such as the 24/7 customer support, scheduled social media content and tools like Magic Resize and Background Remover.
Canva AI Text to Image
The Canva AI Text to Image is probably the most popular aspect of the platform at the moment. It's a revolutionary new way of generating original images that are royalty-free, enabling businesses and individuals to create promotional content that won't lend them in hot water for copywriting issues or not crediting the original artist.
How to create Canva AI-generated images?
The process for using the Canva AI Text to Image is incredibly user-friendly. It will first ask you what you want the image for, i.e.) an Instagram post, presentation, poster, etc. This enables the software to create an image with the correct size, format and positioning that's required for the specific content you need.
Simply type the description of the image you would like to create and let Canva AI generate a selection of images for you to cherry-pick from. In the example below, I requested a random image of a reindeer on the beach, check out the results below.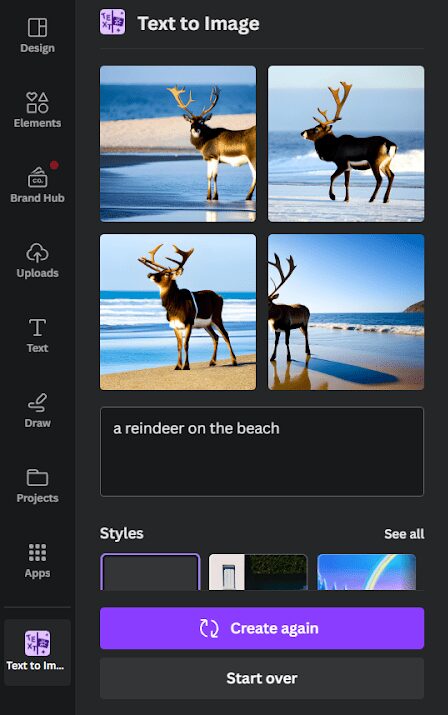 If you're unhappy with the first round of images, you can ask Canva AI to create them again, or perhaps add more specific details to get closer to the image you have in mind. Once you find the one you like the looks of, simply click it and add it to your project.
Canva AI tools for creating images
You can then use the tools on the left-hand bar to add text around the image, draw on it, add in stickers, gifs, shapes, charts or frames, literally whatever else you need to make it original and achieve the desired image that you have in mind. The best way to create Canva AI-generated images is to jump straight in and play around with the tools until you feel comfortable using them.
Canva AI image generator limit
You can create up to 100 AI-generated images per day using the free version of Canva AI. it's also worth noting that some of the editing tools, i.e.g) certain pictures or stickers may only be available through the premium version.
Canva AI Copyrighting with Magic Writer
The newest Canva AI update includes the Magic Writer tool, which is an AI-powered writing assistant. It can help you create drafts, inspire you with creative words, create social media captions and even help you in writing blogs and essays.
How to use Canva AI Magic Write Tool?
The AI scans millions of existing internet pages to create written content that matches your request. Simply open a doc within Canva AI and hover over the + symbol within the doc. This will bring up a list of options, where you can select Magic Write. In the example below, I have asked Canva AI Magic Write to generate 5 points on the benefits of walking.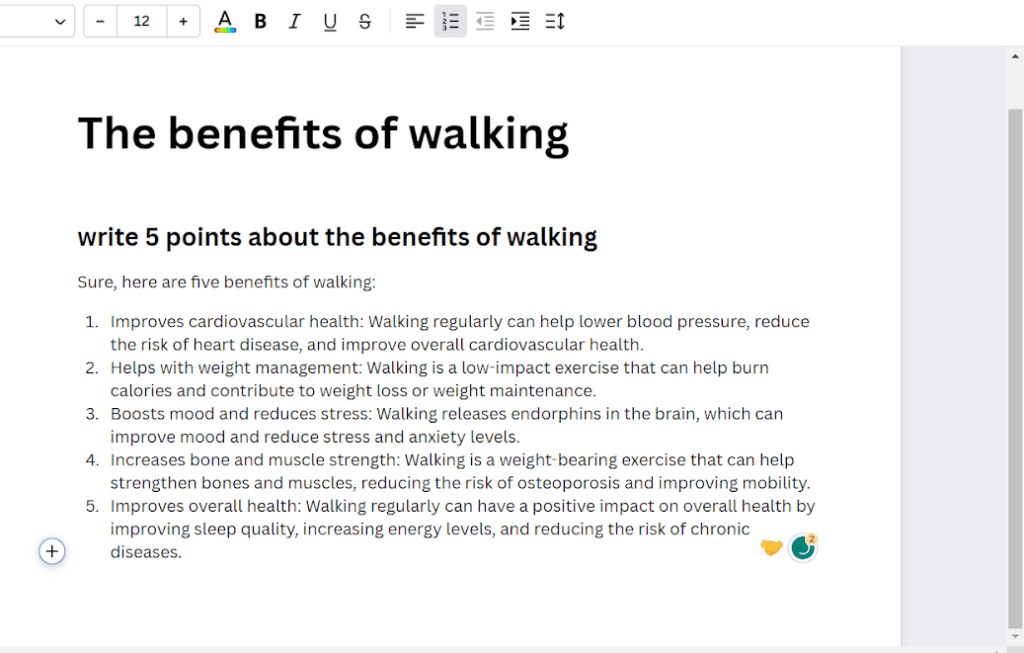 The Benefits of a Canva AI Blog
The Canva AI Magic Write tool is an incredibly efficient way of creating written content. It does all the hard work of research, which allows you to alter the generated content in order to suit your tone, style and brand identity.
It's also great for writers who are stuck on writer's block, as the worst thing is staring at a blank page with no idea how to start. With Magic Write you can generate a first draft because it's always easier to work on something that's already existing as opposed to starting from scratch.
Canva AI limit for Magic Write Tool
The free version of Canva AI lets users ask up to 25 queries per day. This is significantly less than other AI text generators such as Chat GPT. However, if you're using it in combination with creating a PowerPoint or poster, it is an incredibly handy tool to have at your disposal.
Can canva make a qr code?
Another additional feature of Canva AI is its ability to generate a unique QR code. You can choose from the standard square shape QR codes or choose from the dynamic options which come in a range of different designs and shapes. This is a great tool for directing your audience to other resources or websites that you want them to visit. 
Canva AI Powerpoint Generator
This Canva AI PowerPoint generator far outperforms Microsoft and Google Powerpoints. With Canva AI, you have a selection of premade templates, that are quite modern and trendy. Users will have the additional benefit in that they can include AI-generated images with ease, using the integrated feature on the left-hand side.
AI Presenters
Perhaps one of the more lucrative aspects of the Canva AI Powerpoint generator is the ability to include an AI presenter. This isn't a real person, so you don't need to pay for a voice actor or presenter for their time. You simply select a face that you would like to present your content, include your own text and let them recite it to your audience.
This is a great way to increase engagement within your PowerPoint content, people relate with people, even if it's an AI persona. You can include it as part of a training programme, a sales campaign, within corporate communications, etc. It will add another level to your presentation and ensure that people are engaged with the information.
Canva AI for Social media marketing
Social media marketing is a very competitive field, you need to create engaging content and upload it regularly in order to build your audience and promote your brand. It can be challenging for businesses and individuals to find the time to grow their social media channels, without having to hire extra help.
With Canva AI, however, you can create a dynamic social media marketing plan, that takes less time without compromising on quality. The platform features a range of premade templates, where you can simply drop in your text and personalised it to suit your brand.
Canva AI can generate social media content for:
Facebook posts
Facebook covers
Facebook ads
Instagram stories
Instagram reels
Instagram posts
TikTok videos
Twitter posts
LinkedIn video ads
And so much more
Canva AI also features a Youtube Channel Kit, which helps you create engaging video content to grow your channel and reach the audiences that matter.
How to use Canva professionally?
The AI component of Canva can help professionals within the creative industry save time, energy and resources on creating visual and text content. But that's not the full extent of what Canva is capable of, it's a multi-use platform and many different industries will benefit from the resources it provides.
Collaboration projects
The collaboration aspect of Canva is great in a professional setting, multiple work colleagues can access the same project at once, and they can make comments, edit changes or check in on the progress of the project.
This aspect of the platform improves the workflow process, which can be challenging when creating content. With this feature, communication is improved, the timeline of projects is maintained and creative collaboration is facilitated. This is also particularly useful for businesses that employ remote workers.
Education
The education sector can also benefit from integrating Canva AI into its learning. Both teachers and students can access the platform, using it to attend virtual classes, where tools like an interactive whiteboard are available.
The Canva for Education feature is also easily integrated with other learning management systems such as Blackboard and Moodle. Teachers can upload their lesson plans, powerpoints, module handbooks, etc to Canva and spark engagement by using the platform's available gifs, videos, animations, and music.
How much is Canva for Education?
Canva for Education is free for teachers and students to use. You just need to send proof of your educational institution or teacher qualification, and in a few days, the Canva team will set you up with a free account.
Building a brand
The digital marketing industry in particular will love the Canva AI platform. Whether you are a small business taking on the role of digital marketer yourself, or a large business that needs to increase workplace efficiency, Canva AI is capable of streamlining digital marketing all under one roof.
In addition to generating AI art and images as previously discussed, users can also generate brand logos, posters and brochures to build their brand and it's not always digital content. Canva AI users can also create physical merchandise such as business cards, hoodies, cups etc, with branded logos that promote their business.
Interested in finding out more about AI and its capabilities? If so, check out this article on artificial intelligence versus machine learning.
Is Canva the best?
To put it bluntly, I don't think AI content-generating tools have been around long enough in order to choose the best one. There are of course other rivals such as ChatGPT which you could say is better for writing content, but a more appropriate question might be "Which AI tool is best for writing or which AI is best for generating images."
One thing is for sure though, Canva AI and other AI-powered platforms will only continue to grow and become more intelligent in the future. What we need to do now is learn how to optimise them for our benefit and integrate them within everyday life and work.
You can also check out this AI for marketing webinar for more information and useful tips and tricks for AI software.