The market is saturated with products. However, it is rare to find a truly innovative product idea. These cool new gadgets will make your everyday life easier. Sometimes, you won't even know that you needed these new products. But, once you have them, you will start wondering how you lived without them. This list will showcase some of the best products released in 2017. Some of them are highly functional, others can be considered luxurious. Regardless, it is important to know about these products since they will be the trending thing throughout the year.
New Products of 2017
In this technological age, most of our devices support touchscreens. It has become such a common input device that the younger generations might be confused by the lack of it. Unfortunately, some laptops still lack touch support. For those devices, the AirBar exists. It is a simple USB peripheral that attaches to the top of your screen. It projects an invisible field of light that can detect touch and then translate those touches into computer inputs. Furthermore, it is not limited to your fingers like a traditional touch screen, any opaque object can trigger the air bar. This makes it incredibly useful in environments where you have to use gloves. This device is available for purchase for only 69$. Available for both PC and Mac.

We all loved the idea of a smart AI assistant. Most smartphones have that feature these days. Amazon believed that a smart assistant should not be limited to your phone and that's why they have created Amazon Echo. It is a smart speaker that can detect your voice from across the room. It is designed to be voice controlled where you can speak your command at any time to do various tasks such as: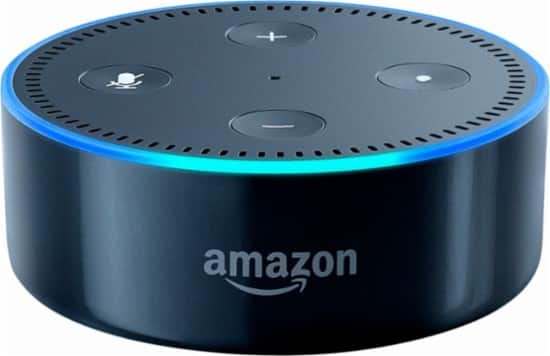 Listen to music
Ask for information
Create a to-do list
Set an alarm
Ask about the weather
Order stuff via Amazon
The device is always on and it responds to the name "Alexa." It is available for 179.99$ and it comes with free expert consultation on how to turn your home into an "Alexa smart home." Various businesses have started to integrate with the Amazon echo. Currently, you can order pizza, call an Uber or even control your lighting.
Energous has been working hard to create a truly wireless experience. The idea of wireless charging might seem like it only belongs to sci-fi movies. However, the Energous WattUp has made it a reality. This transmitter will allow you to charge compatible devices that are in a 15m proximity of it. Using RF technology, the WattUp basically charges your device using radio frequencies. It is one of those rare unique new products that will change our lifestyle forever. In addition to wireless charging, the WattUp will be able to track your devices via Bluetooth. This will allow you to find those tiny little gadgets you always misplace. So far, it is only a proof of concept but the company is expected to come out with a full product in the near future. Keep an eye on them, you wouldn't want to miss it.
Traditional wallets have been around for a long time. Wallets have received little innovation and it's about time that wallets get an upgrade. This is exactly what the Volterman smart wallet is aiming to do. This wallet is of the few new products that aim to upgrade something that we carry daily. This smart wallet contains a portable power bank for those phone emergencies. Furthermore, It connects to your smartphone to ensure that you leave nothing behind. Additionally, it contains GPS tracking and a tiny camera in order to identify thieves. Also, it contains a WiFi Hotspot which makes this wallet one of the most useful and elegant replacement for our ancient wallets. It is currently being crowdfunded; visit their Indiegogo campaign to customize your own wallet. Unfortunately, it is currently only available for men.
This laptop/tablet combo is a great product and quite affordable for people interested in lightweight computers. It is a great solution for university students due to its light weight, long battery life and cheap price. It contains a touchscreen and a built-in tablet that can prove useful for taking notes, drawing and preparing presentations. Additionally, the Chromebook runs the Chrome OS which allows you to download apps from the play store for further utility. The Chromebook is a good all-in-one device that is ensured to suit your needs. This is one of the new products that we recommend for university students on a budget.
XYZprinting Da Vinci Mini 3D Printer
One of the most popular recent technologies is 3D printing. This technology allows you to create or download templates online that the device then prints into existence. The device can use various types of plastics to print your object. It is a great device for individuals interested in technology but lacks the technological knowledge. The printing experience is streamlined and all you have to do is connect the printer to your home network and start printing. This product is available for 283$. It is an incredible tool to have as it allows you to print small replacement parts for various products you have at home. It is an essential tool for any DIY fan.
This small HDMI devices connect to your TV to turn it into smart streaming TV. This small stick allows you to connect to various streaming sites like Netflix, Hulu, Amazon video and several others. The device comes with its own remote for your convenience. Alternatively, you may connect your smartphone to browse the available streams. It is incredibly simple to use, requiring no setup and it provides you with one of the highest quality streams available among these new products for tv streaming. The Roku streaming stick is available for the low price of 39.99$ and it comes with 2 free months of Hulu. As a result, the Roku streaming stick is a bargain that you can't afford to miss.