If you've been reading any of our simply gorgeous quality content for the past however long you've been doing so (humour us), then you'll be quick to realize we're particularly adept at quite a handful of things; Online marketing, analytics, design, app development and a smorgasbord of other such topics. But our favourite so far would have to be social networks, search engine optimisation and brand building. And you wouldn't believe how much a LinkedIn account can fit all of that at once.
Yes, LinkedIn; The social network with a strong emphasis on professional networking over adorable cat videos (their loss really), and with quite a healthy following over the years since its inception. So what use can you get out of having a LinkedIn account? A better question is to ask what you have to lose; literally nothing. With a LinkedIn account, you can quick start your professional journey and start making connections left and right to get in the proper circles you need to be in, and with a little bit of help and some SEO magic, you can get much more bang for buck out of your LinkedIn account. So pull up a metaphorical bar stool and lend us your eyeballs as we delve into why you should own and hone a LinkedIn account.
What Is LinkedIn?
Founded on the 28th of December, 2002 by Reid Hoffman & co and launched on the 5th of May, 2003, LinkedIn is a business and employment centric social networking service mainly operating via website and a suite of mobile apps and primarily used for professional networking purposes such as employers listing jobs, would-be employees taking on said jobs by presenting their respective CVs and so on. When you take a look at LinkedIn, you'll find it isn't too dissimilar from other social networks such as Facebook; you flesh out a profile as you would in any other network, you make friends in the form of "connections" in an effort to imitate real life work relationships and you can join groups for various niches and industries to start widening your circles far enough to find what you're looking for professionally.
With close to 500 million people having a LinkedIn account and 106 million active monthly, it's no wonder LinkedIn managed to catch the eyes of multinational technology giant Microsoft, having acquired LinkedIn on the 8th of December, 2016 for the (exceedingly) hefty sum of $26.4 billion in a cash merger consideration (we don't think we can count that high).  LinkedIn has achieved some acquisition of its own, however; Having bought out both SlideShare and Lynda to facilitate users discovering each other and offer a suite of learning material for all sorts of categories such as tech, business and creative skills.
And anyone with an interest in braving the professional world can make a LinkedIn account and start networking. Whether you're an eager fresh graduate, a mid-level manager or a marketing exec with years of experience, having your very own LinkedIn account and access to all of LinkedIn's neat features opens up a host of networking and career options.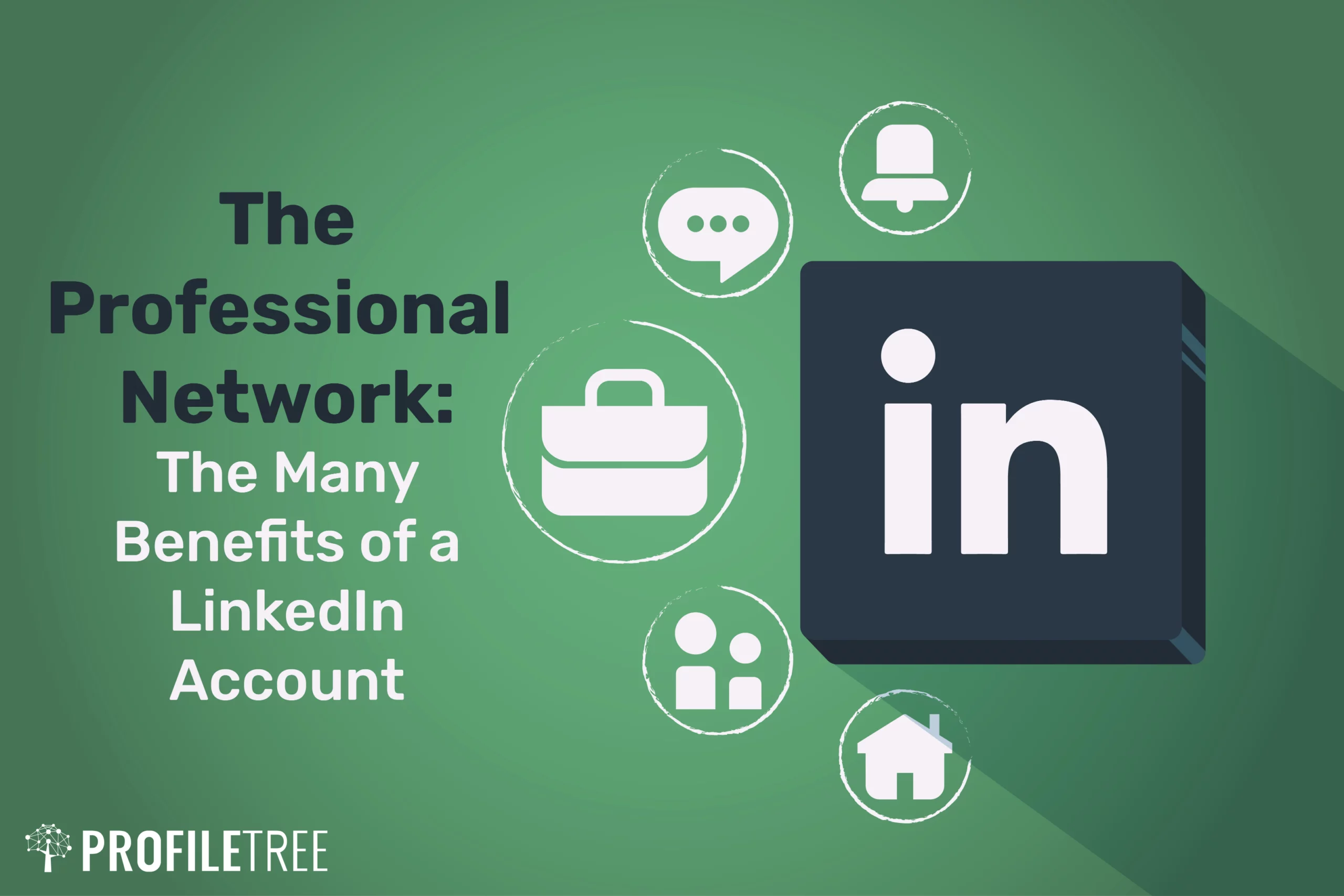 What's a LinkedIn Account Good for?
You know the history and hopefully by now you at least saw the site itself. We could go into detail as to what the interface generally entails but we'd like to think our average reader doesn't like everything spoon-fed to them (although there's nothing wrong with that). So let's assume you made your very own LinkedIn account and want to start getting to make use of this thing, we admit it can get a bit overwhelming at first but try to take a deep breath and go over the things you can use it for with us, yeah?
Reconnect with the Past
Say you want to get back in touch with your friends and mentors from school or university, see how they're doing and where life took them nowadays, maybe even see if any of them are in a specific professional circle you want to be a part of? LinkedIn makes that simple for you; simply by syncing your contacts or plugging in your email to LinkedIn, it'll scour its database and find you as many viable connections based on that info for you to connect with, that way, you can get back in touch with your old mates and professors and see what's what in their neck of the professional world.
Connect with the Present
Getting back in touch with figures from the past is certainly warm and dandy, but chances are you're looking to connect with a newer circle of people to further your professional endeavours. Thankfully, LinkedIn allows you to connect with people far and wide all over the globe,
Show Your Skills


With a LinkedIn account, you not only have access to all of LinkedIn's snazzy features and helpful groups, but you also have the ability to preview your professional skills to users far and wide; your LinkedIn account acts as your very own Curriculum Vitae, except with the added benefit of interactivity. You can add all of your previous and current work experience, your actual CV, your credentials and certifications as well as cover letters, and with more and more websites allowing you to use your LinkedIn account to import all your information and apply straight away, there's no reason why you shouldn't have a LinkedIn account.
Preach
One of the best ways to relay to others that you know what you're doing (or at least have a very good idea of what you're doing) is by blogging about it. And with LinkedIn, it's even easier; Having a LinkedIn account gives you access to LinkedIn's own publishing platform, giving you the opportunity to start publishing your content to thousands of other like-minded individuals in whatever field you're trying to break into. More people looking at your stuff means more people likely sharing it, and more exposure is sure to net you something pretty rewarding.
Get a Job


It's LinkedIn after all. With a LinkedIn account, you can get jobs recommended according to what you put in your profile and your activity as well as preferences, and with jobs for almost anyone and in every conceivable professional field, you'd be amiss not to invest in your very own LinkedIn account. And hey, if you have a specific field of work you're interested in, LinkedIn gives you the option to search specifically for whatever position your heart is set on.
How Do I Make the Best of My LinkedIn Account?
We thought you'd never ask. With the kind of time investment and effort you're ought to put into your LinkedIn account, you should make sure to get the most bang for buck out of the whole process, squeezing that proverbial fruit for all the juice you can get your professional mitts on. And seeing as we kind of have a thing for search engine optimisation (who would have guessed it), there are a handful or two of some pretty neat SEO hacks you can employ in your LinkedIn account building endeavour. So try to keep up.
Leave No Stone Unturned
During the not so arduous process of fleshing out your LinkedIn profile, you need to make it your goal to fill out as much as humanly possible in order to reap the full benefit of your LinkedIn account. It's good practice to try and use descriptive keywords during this process to add a bit of SEO zing to the mix. It's not exactly applied quantum physics to understand; You'll be exponentially more relevant in LinkedIn's searches if your profile is full of valuable and worthwhile information, even more so if it contains relevant and smart keywords, but try to avoid stuffing it full of them so as not to turn people away when they look at your LinkedIn account, because you better believe that most people will judge you based on what you say and do there, much like in real life (nobody wants to sit next to the laughing lizard man in public).
A pivotal part of this process, although deceptively simple, is to claim your custom URL; Perhaps the easiest thing LinkedIn offers that can substantially boost your SEO. This URL can be used to put on your CV or website, all the better because most employers nowadays tend to look at your LinkedIn at some point or another for reference. A good rule of thumb is to just use your full name in the URL to make it look more professional and neat, and it's not the end of the world if somebody claimed your name before you did; make a variation of it while maintaining the original, just avoid a long string of nonsensical numbers.
And don't forget to add a bit of personality to your profile as well; Ever since LinkedIn decided to follow suite with most other social networks and adopt cover photo functionality, most everyone has been making use of this by adding more flair to their LinkedIn account. Of course, it goes without saying that LinkedIn is a professional network and you want your choice of cover and profile picture to reflect that, so keep that in mind while you browse your gallery.
We mentioned adding keywords to strengthen your LinkedIn SEO a bit, but we think it's prudent to maybe expand a bit on that so as to avoid any mishaps; Take your job title for example, without too much embellishing or blowing anything out of proportion, you can add an element of SEO by adding a few strategic keywords. "On-Site Hardware Sales Representative" sounds a lot more professional than "Tool Salesman," right? Kind of a vague idea but hopefully you get what we mean; spice up your title while trying to stay grounded, so as to present yourself better and show up in more people's scope.
It's a Social Network Still


Although LinkedIn is more geared towards learning about whatever industry you're into and maybe trying to get an opportunity more than it is about sharing deep fried squid recipes and videos of your cat, Prince Puffins, it's still a social network where connections should be made, discussions should be started and participation should be a given.
The first and perhaps simplest thing you can do in that regard is to connect to as many people as you can. LinkedIn's search results rely on your network of connections and contacts, and its search results either show people you're acquainted with or people who are connections of others you may know. Put simply; The wider the net you cast over the denizens of LinkedIn, the more relevancy your profile will attain in other people's searches, thereby expanding your network of contacts. So, even if it's kind of strange at first, try to vigorously connect with as many other users as you can to start reaping even more benefits from your LinkedIn account.
Similarly, you'll want to get stuck into as many relevant groups as possible, this also adds to the visibility you'll get when it comes to LinkedIn's searches; the more groups you're a part of on your LinkedIn account, the more relevant search results will be coming your way. Apart from simply popping up on people's radar, you'll also be a part of active and rewarding communities filled with like-minded people in the field who can share some quality insights at no cost whatsoever, other than your time investment of course. Having access to multiple platforms where you can learn, share, ask, answer and just participate in an ever-growing community of industrious individuals not only gives having a LinkedIn account more merit, but it helps others identify you as a fine contributor and upstanding member, meaning your networking will be silky smooth.
And if you're confident enough in your prowess and expertise, you can start your own group and start growing your very own thriving community full of entrepreneurs and moguls. Create one around a specific industry-related topic, start producing high quality content and share it with your members and followers and establish yourself as a thought leader in your niche, generating more and more potential leads with each new bit of content as you go.
Build Your Image


LinkedIn is a pretty strong platform when it comes to building a reputation and propagating your content, and if you establish yourself as a key opinion leader of sorts, you can make your brand soar through the virtual skies. LinkedIn sports a couple neat endorsement and recommendation features, allowing first degree contacts to endorse specific skills you have and even write up a recommendation for you, which can boost your credibility in your field, although the general consensus about whether or not it affects your LinkedIn account's placement in searches seems to point in that "doesn't really matter" direction. However, people who manage to find your LinkedIn account will be pleased your impressive collection of endorsements and recommendations, potentially giving you a substantial amount of credibility when it comes to recruiters. You can pay it forward and be a team player by doing some endorsement and recommendation of your own, just try not to expect anything in return and give it a personal touch; It can go a very long way.
If it isn't readily apparent by now, you should be shoving your LinkedIn profile anywhere applicable to give yourself some more exposure; put it in your email signature, include it in your Facebook profile, maybe even stick it into Twitter and Google+ (if anyone still uses that). Going along a similar vein, Try not to feel too ashamed when it comes to self-promotion; you're spreading your brand in a positive and productive manner, with some high quality content that can prove to be useful to those interested, all the while increasing your brand's online footprint, be proud of your custom little URL and show it to the world (like Simba but less cute).
All In All
Having a LinkedIn account doesn't just give you access to a vibrant and lively professional platform full of all sorts of employment potential, it also allows you to fortify your image as well as your brand's image. It allows you to potentially reach places and people that can take you to the next step in your career, and it gives you valuable insight into whatever niche you see yourself in, share all sorts of neat info with like-minded users and gain a pretty hefty amount of experience along the way. So maybe try to find the time to invest in a LinkedIn account, would we try to waste your time?
Think we have a point? Got anything to add? Share with us in the comments and get in on the conversation.