EMOJI Domains- 
Yes you have seen that right. Emoji Domains! Who ever thought they could ever exist? As a matter of fact they have been around since 2001 when the first emoji domains was bought. The one problem being back then in 2001, no one could see the brilliant cartoon pictures. 
With the rise of emoji's since the early 2000's, people have been using emoji's more and more. But are emoji Domain's relevant or should people just stick to using the laughing face when they receive a rated 1 out of 10 joke? Can emoji's be the new hashtag or will they fade out quicker than fidget spinners went out of fashion? Some people may even say hashtags have been short lived but come on, one of the best scenes in DeadPool was the #driveby scene!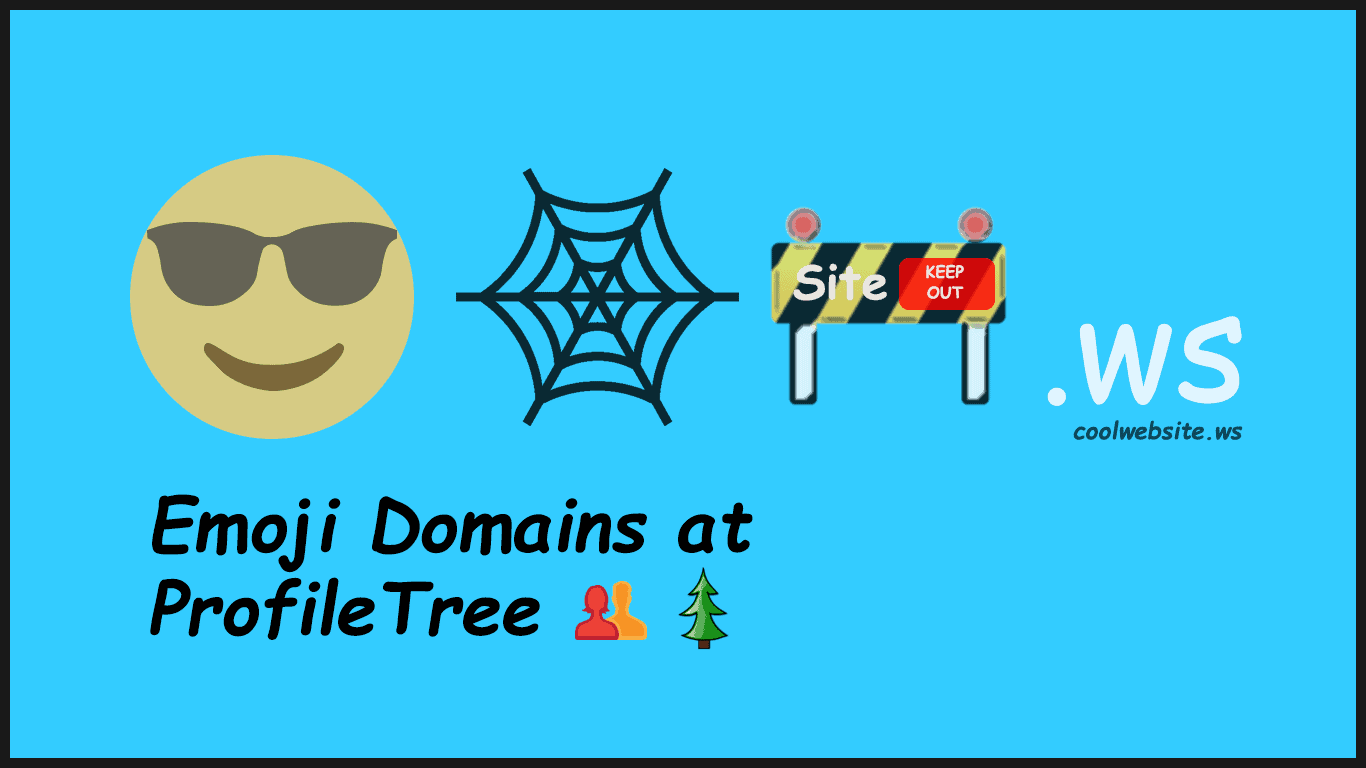 Brief emoji history lesson  ;
The first ever devices to allow emoji's was phones in Japan in 1999. At this time, a Japanese telecoms company released the original 176 cartoon pictures and labelled them as emoji's. They were called emoji's as the 'e' meant the word picture and the word 'moji' is a character. So e-moji means picture character. Sounds simple now. 
When the first set of emoji's were released, they were very simple and neat.  No one really knew how to use them properly and since then they have been used to describe how people are feeling and their body language over text.
So how do emoji domains work?  ‍♂️
Emoji domains work in a very unique way. Every emoji is converted into Unicode, which is the xn code you'll see the emoji convert into within the address bar. 
Emoji domains also use ASCII, which stands for American Standard Code for Information Interchange. This code can only be understood by computers. The code used in this converts characters into numbers, so the explanation mark is also known as number 33! Until 2010 this was the only way emoji domains could be registered.
In 2010 algorithms called ToASCII and ToUnicode were developed to translate Unicode into ASCII and to convert ASCII into Unicode. A process called Punycode then creates the domain names based of these algorithms. This is why you will see the xn address in the address bar when you search an emoji domain.
 

The standards for emoji's; 
An non-profit organisation is in charge of defining emoji characters and to encode new emoji's into Unicode. The company is called Unicode Consortium and was founded in 1991. Since 2010 registering emoji domains have became harder as they can only be registered at country code top-level domains and there are only a handful of country codes that allow this. And you've guessed it, .uk and .us are not one off the handful. Two country codes you can use for emoji domains are as follows;
.ws (Western Samoa)

.to (Tonga)
Every few months Unicode Consortium asks for suggestions for new emoji's. In March 2018, Emoji 11.0 was released. This brought over 150 new emoji's into the emoji world. New charcters with different hair styles were included in the new emoji version as well as make and female superheroes. Many animals were included in this including a badger, a peacock, a kangaroo and parrot. Unique items such as a skateboard, a compass, toilet roll, infinity and a softball were also included. One flag was included in the new 11.0 version and this was the pirate flag.
2016 was the year emoji's took off with over 250 emojis being added to the. Diversity was the main topic of the emojis this year with Mrs Claus being included and you could choose the skin tone of your emoji's face and body parts. One of my personal favorite emoji, the rolling around with laughter emoji was added this year. Every one around the office knows about my over use of this emoji. 
What are the problems? 
As great as using emojis as a domains sounds, there are many problems with emoji domains. One of the biggest problems is that not all emoji's show the same on different devices and browsers. The differences between devices and browsers can be realistic to more cartoon like emoji's. Examples of this is below;
Potable water on apple is shown as a single tap whereas on google and Samsung it is shown as a sign.

A pistol on Google is shown as a water pistol on Apple. Apple keeping it PG.

The dizzy face on Apple is shown as a cross-eyed face whereas on Facebook and messenger it is shown as a spiraled eyes.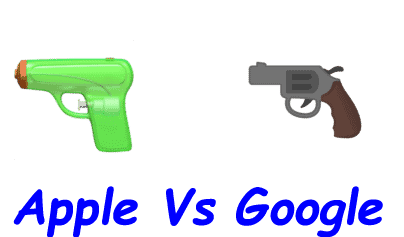 There are also too many similar emoji's. This can be quite confusing for users when searching up web addresses/domains. For example the grinning face also has five other grinning emoji's that are very similar to it. So there's the grinning face, the grinning face with big eyes, the grinning face with smiling eyes, the beaming face with smiling eyes, the grinning face with squinting eyes and the grinning face with sweat.
Similar to the grinning face there are many other emoji's that have similar alternatives. Below I will list them;   
Smiling face, Smiling face with smiling eyes, Smiling face with halo, Slightly smiling face

☺

Face blowing a kiss, Kissing face, Kissing face with smiling eyes, Kissing face with closed eyes

Face with tongue, Squinting face with tongue, Winking face with tongue

Disappointed face, Pensive face

Slightly frowning face, Frowning face

☹️

Hushed face, Frowning face with open mouth, Anguished face, Face with open mouth

Smiling face with horns, Angry face with horns

Grinning cat face, Grinning cat face with smiling eyes, Cat face with tears of joy, Smiling face with heart eyes, Cat face with wry smile, Kissing cat face, Weary cat face, Crying cat face

Child, Boy

Guard, Woman Guard

‍♀️

Detective, Woman Detective

️‍♀️

Woman Astronaut, Man Astronaut

‍ ‍

Couple with heart, Couple with heart women + women, Couple with heart man + man

‍❤️‍ ‍❤️‍

Family woman man boy girl, Family man woman boy boy, Family man woman girl girl

‍ ‍ ‍ ‍ ‍ ‍ ‍ ‍ ‍

Family woman woman boy, Family woman woman girl, Family woman woman boy girl, Woman woman boy boy, Woman woman girl girl

‍ ‍ ‍ ‍ ‍ ‍ ‍ ‍ ‍ ‍ ‍ ‍ ‍

Family man man boy, Family man man girl, Family man man boy girl, Family man man boy boy, Family man man girl girl

 

‍ ‍ ‍ ‍ ‍ ‍ ‍ ‍ ‍ ‍ ‍ ‍ ‍

Family woman boy, Family woman girl, Family woman boy girl, Family woman boy boy, Family woman girl girl

‍ ‍ ‍ ‍ ‍ ‍ ‍ ‍

Family man boy, Family man girl, Family man boy girl, Family man boy boy, Family man girl girl

‍ ‍ ‍ ‍ ‍ ‍ ‍ ‍

   

Mouse, Rat

Christmas tree, Evergreen tree, Deciduous tree

 Shamrock, 4 leaf clover

 

☘

Globe showing Americas, Globe showing Europe-Africa, Globe showing Asia-Australia

Star, Glowing star

⭐

Sun behind cloud, Sun behind large-cloud

⛅

Sun behind rain-cloud, Cloud with rain

Person swimming, Woman swimming

‍♀️

1st medal place, 2nd medal place, 3rd place medal, sports medal

Key 0, Key 1, Key 2, Key 3, Key 4, Key 5, Key 6, Key 7, Key 8, Key 9, key 10

0⃣1⃣2⃣3⃣4⃣5⃣6⃣7⃣8⃣9⃣

White square button, Black square button

Black small square, Black small-medium square, Black medium square, Black large square

▪◾◼⬛

White small square, White small-medium square, White medium square, White large square

▫◽◻⬜

1 o'clock, 2 o'clock, 3 o'clock, 4 o'clock, 5 o'clock, 6 o'clock, 7 o'clock, 8 o'clock, 9 o'clock, 10 o'clock, 11 o'clock, 12 o'clock, half past 1, half past 2, half past 3, half past 4, half past 5, half past 6, half past 7, half past 8, half past 9, half past 10, half past 11, half past 12
As you can see above there are many similar emoji's we can use in domains, only problem is they are very similar and seeing the differences in the address bar would be quite hard. You may even go onto a different domain by entering the wrong emoji in the bar. An example of this would be; Say you are trying to go to  .ws, you may accidentally go to ☹️.ws, which to you and me look the same but realistically the second sites emoji has a larger disappointed face. How easy would that be to do?!
To also increase diversity when using emoji's there is now 6 skin tones users of emoji's can use. This again increases the awkwardness when emoji's are used for a domain. These six skin tone colours range from yellow, to a pale colour to medium/dark shades of brown. Each one of the different skin tones with each emoji is technically a different emoji. So for every person emoji there are six different emoji's. See below for examples;
As you can imagine it might be difficult to find the correct domain. It also means there could be six possible domains from the 'one' emoji, which can cause issues when people are trying to reach certain sites.
Another problem emoji domains have is how accessible emoji's are. Most devices nowadays have access to emoji's although their access is difficult. On desktops to access emoji's you will need to go to the touch keyboard which is accessible through the toolbars. Whenever you're on the toolbar you then need to go to the  emoji icon which brings up all the different emoji's. So getting to the emoji's on desktop is a task in itself. Until emoji's have their own place on the keyboard then using them for many daily activities such as domains should stay how they are until then. To have that many emoji's on the keyboard, it would be very difficult, it would need to be about five times the size of the keyboard is right now.
Access on mobiles and tablets is still quite difficult too. This is because you need to go onto a separate keyboard to find them. There are hundreds and hundreds of emoji's so to find the right emoji for you, you will need to go left and right a few times. To get to the flags panel, you will need to go to the right most panel.
What is the future of emoji domains? 
Realistically I don't think there is much of a future of emoji domains. I feel they are to difficult to use for domains, firstly registering a domain is difficult, accessing emoji's is difficult and using domains is also difficult. 
I think that emoji domains are a great Easter egg a company can use to increase creativity in their company and to advertise. Coca-cola used an emoji domain once for an advertising campaign and it was successful. They used the smiley face domain, the smiley face being one of the most used emoji's. Other massive companies such as Sony pictures and Budweiser also use emoji domains to redirect to their website, which is great fun and I think is the perfect way to use emoji domains.
So if there is a future for emoji domains, I believe they will only be used by companies to redirect to their websites. Great fun, eh? So keep an eye out for our very own   emoji domain! (I don't think that will ever happen).
My final thought;
Overall I believe that I would use emoji domains myself. They are a great alternative to re-direct domains to your sites. For now I would only purchase emoji domains to re-direct them and because some domains could potentially be worth a good bit of money in the future if they were to take off. 
I don't think that Emoji domains are relevant and they won't be for the next few years.
Check out our  Domain Reviews; 123Reg | GoDaddy | NameCheap | Name.com