Marketing plays a pivotal role in making or breaking the business, for it holds extensive power. With the fierce competition nowadays, you will need a solid plan and practical tools in order to stand firm while delivering your business to success. One of the main elements that would help your business thrive in today's world is the incorporation of artificial intelligence.
No matter how big or small your company is, embracing cutting-edge AI technology to thrive has become essential nowadays. All businesses have been using top AI marketing tools to promote their services indispensably. Even those who own businesses on a much smaller scale, like affiliate marketers, bloggers, or entrepreneurs, could leverage the latest AI marketing tools to up their business game.
Delve with us into this exciting world of the artificial intelligence realm and explore its potential in establishing a sturdy marketing strategy. There are plenty of tools at your disposal that will assist your business to function optimally.
What Exactly Are the AI Marketing Tools?
Before venturing into the competitive business world, learning a thing or two about AI marketing tools that could greatly assist your business plans is crucial. This revolutionary technology operates by machine learning, which isn't a new concept in the technology industry but is more advanced than ever.
AI marketing tools are web-based applications or software that collect a considerable amount of information stored in their database and weave it with the market trends, providing a successful outcome of automated decisions. These decisions, more often than not, display a high percentage of accuracy to the extent of speculating the next move of your potential buyers.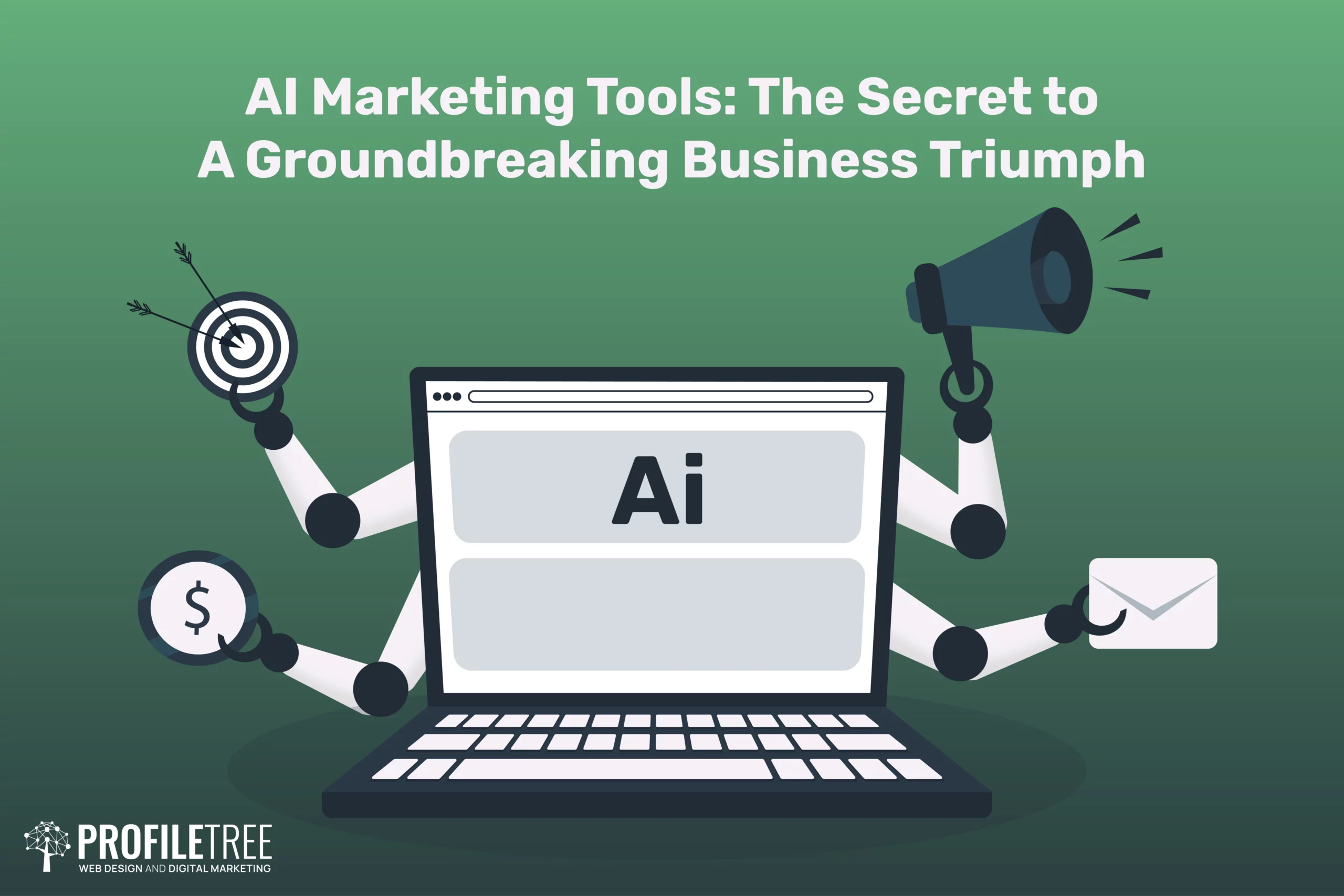 The best part is that human intervention isn't required throughout any part of the process. Still, the results would be quite fruitful and in real-time, harnessing the time and energy of everyone around. Without AI marketing tools, your business may not achieve a competitive edge that sets it apart and makes it stand out in the market.
4 Main Benefits of AI Marketing Tools
The significance of incorporating artificial intelligence marketing tools into every business cannot be exaggerated enough. These AI marketing tools have become necessities, and one of the main factors is speed. These cutting-edge AI technologies are proficient in processing massive quantities of data gathered from various platforms, including social media, email, and multiple websites.
In order to empower your business and enhance its marketing and sales campaigns, you'll need to bridge the gap between the affluent information presented and the actionable solutions. This will eventually result in significant improvements that will highly benefit your business. Let's walk you through the tremendous benefits you can reap from the marketing tools presented by AI:
Automated Decisions
AI marketing technology offers a plethora of benefits that can do great for your business, starting with its ability to automate data-driven decisions within seconds. This data is primarily impactful in the vast world of marketing.
Its main objective is to anticipate the response of your customers to your conveyed messages. Not only that, but it also assists in guiding you towards better and more effective strategies for your marketing campaigns.
Time-Saving and Cost Effective
In today's competitive business world, every firm is striving to maximise efficiency while minimising costs. AI marketing tools, the game-changing innovation, offer long-term solutions that require nothing more than an investment, paving the way for overflowing benefits. These benefits will surely outweigh these initial expenses, delivering your brand to triumph.
Letting AI handle your mundane manual tasks goes a long way in saving you precious time. It also eliminates your need to hire more employers, eventually leading to significant cost-cutting. That said, AI marketing tools are also sufficient and aid in reducing the risk of human error.
Increase of Return on Investment (ROI)
If you're on the hunt for effective ways for your business to thrive, look no further than the groundbreaking invention of AI marketing tools. One of their impactful benefits is skyrocketing your return on investment (ROI) by surging your sales to remarkable amounts. This happens by dividing leads, promising to leave room for only efficient ones.
Unlike traditional approaches that drain resources more often, these intelligent tools offer cost-effective solutions. With the incorporation of artificial intelligence (AI) technology, you can effortlessly gain unparalleled access to profound customer insights as well as a comprehensive understanding of your buyers' desires.
Generating Personalised Experiences
Understanding your customer's needs and desires is paramount in today's highly competitive market. Luckily, AI marketing tools can be invaluable when it comes to this regard, where they can offer personalised experiences for every single customer. This can only happen through accomplishing predictive analysis that assists in comprehending the behaviours and purchasing habits of your customers.
This remarkable technology is known to be employed by industry giants like Google, Netflix, and Instagram. It leverages by offering recommendations tailored to their customers' studied preferences based on their past interactions. More interestingly, this benefit can help you meet the expectations of your customers with minimal effort.
5 Ways You Can Make the Best Use of AI Marketing Tools
AI technology has been rapidly progressing, and with this unprecedented advancement, it has become increasingly evident that AI marketing tools offer a wealth of untapped benefits. By tackling the power of these insurgent tools, businesses can successfully attract more customers and optimise their service offerings.
If you're keen to fuel the growth of your business, look no further. Below, we've gathered a list of invaluable suggestions on all the ways you can use AI tools to exploit their full potential and move your business forward. Stay ahead of the business game and uncover the endless possibilities awaiting you to unravel!
1. Generating Original Content
Content is the driving force that fuels the success of digital marketing. Without compelling and persuasive content, it becomes pretty challenging for a business to promote its services and seal effective deals. Generating high-quality content has become easier and more accessible than ever with the available AI tools. It no longer demands significant time or effort.
Today marketers can meticulously set their strategies, compose engaging content, and thoroughly edit it in mere seconds. The rise of social media has also aided in successfully distributing your copies, ensuring it encounters potential clients.
2. Setting Up Chatbots
An AI chatbot can be perfectly significant when it comes to nurturing a lead. The emergence of AI marketing tools has revolutionised this process by offering a streamlined customer service experience. When the chatbot is set up correctly, it succeeds in directing customers to your products and services, ensuring a fruitful experience.
Chatbots make sure customers have their inquiries answered whenever they reach out rather than leaving them feeling ignored. They also help in reducing the tasks of customer service agents who go through tedious processes of answering repetitive questions like price or the availability of a product or service. A chatbot can easily take care of that part and leave more room for productivity tasks. If more complicated answers are required, they can be forwarded to a customer service agent.
3. Update Pricing Through Control Dynamic
Dynamic pricing is a game-changer in the realm of retail strategy. It empowers businesses to adapt pricing in real-time, relying on market conditions and the coveted balance between supply and demand. With the aid of advanced AI-powered tools, retailers can now unlock the immense potential of this pricing strategy, allowing them to revamp prices multiple times a day.
Imagine a bustling hotel booking website or an airline company that seamlessly adjusts prices based on availability – this is dynamic pricing at its finest. By employing this innovative approach, retailers stand to optimise their margins and drive unrivalled customer satisfaction. Prepare to dive into the exciting world where pricing becomes a fluid and profitable adventure.
4. Forecasting Sales
In order to thrive, businesses must set target revenues and devise effective strategies to ensure the achievement of these goals throughout their campaigns. By harnessing the power of AI marketing programs, marketers gain invaluable insights into their customer data and past shopping behaviour, enabling them to make accurate predictions about potential sales.
This predictive capability helps businesses identify which products are likely to become popular bestsellers and guides their decisions on inventory management to prevent any potential supply chain disruptions. Furthermore, businesses can leverage this knowledge to hone their promotional efforts and determine the most effective means of showcasing certain items to boost sales further.
5. Wrapping Up
With AI at their disposal, companies can enhance their marketing strategies, optimise product stock levels, and drive increased revenue while staying ahead in the competitive business landscape. Machine learning and AI marketing have been in existence for quite some time.
Companies have consistently turned to technology to enhance their work systems and glean valuable insights to boost revenue. However, in today's digital era, using cutting-edge AI marketing tools is not merely a luxury but an absolute requirement. Embracing these tools is crucial for any business striving to establish a sustainable and visionary brand that will stand the test of time.
Artificial Intelligence is an exciting world that keeps progressing by the day. This realm can only fuel your business to promising success. So, make sure you explore all the AI marketing tools and exploit their potential to establish a sturdy strategy.