To find the most relevant strategies for developing a website, you need to admit the importance of having a well-laid website structure for your organisation or brand.
Every business should invest in establishing a solid website strategy.
And the reason is obvious.
In marketing, perception is reality. A static and flat online presence that only communicates in a single direction without segmentation can ruin any business—most importantly, it will never reflect well for a brand.
Actually, the internet is overloaded with websites for all kinds of business. But indeed, that's not what we're talking about here.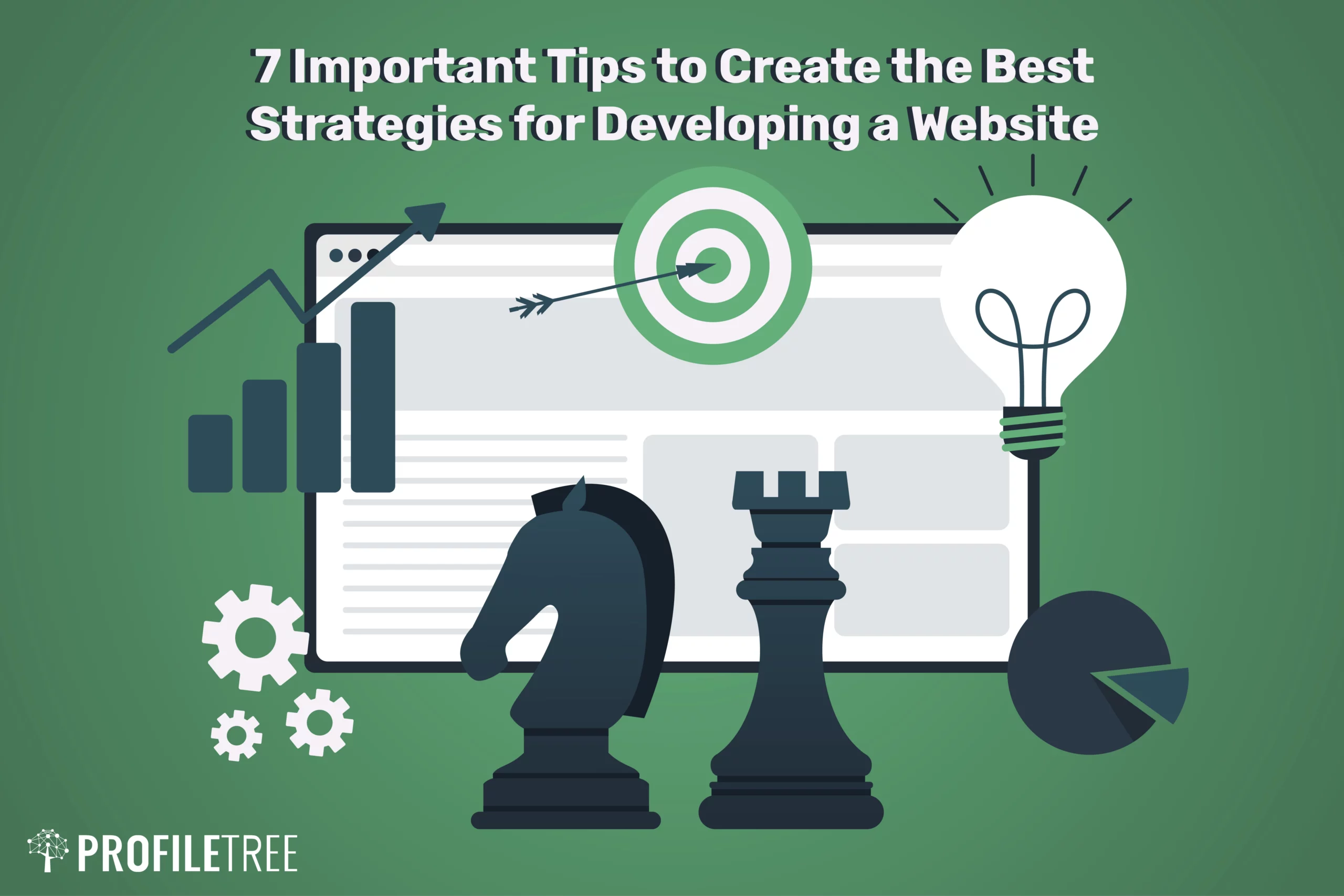 Throughout our experience, we have seen so many companies with no websites or HORRIBLE websites, even those companies with thousands of employees making thousands of millions of dollars in profits!
Developing a website is an anchor for your digital marketing efforts.
For this reason, one of the first steps we always take with our clients is to thoroughly look at their websites before implementing any marketing strategy.
To understand how your website is a game-changer, check out these key statistics to put things into perspective for your business, whether a business-to-business (B2B) or business-to-consumer (B2C) company.
These incredible statistics scream the point that building a strong website is fundamental to having a strong digital marketing plan. So without further ado, here you can find the top tips for creating the most effective website development strategies.
Tips to Choose Effective Strategies for Developing a Website
Whether you're a freelance photographer, own an apparel store or have another type of business, a great website is crucial for your organisation's success.
As a webmaster who has worked on campaigns, marketing or building over 100 small business websites, we know what it takes to establish great and engaging business websites.
So, are you looking for the best strategies for developing a website but aren't sure where to start?
Don't worry! Developing a successful website doesn't have to be overwhelming or expensive. With the right strategies, any business can create an attractive and effective website that will help them reach their goals.
Here are key tips to help you start on the path of developing a website and booking a seat in the online marketplace.
While any business activity, whether a web or marketing project, starts with goals, consider both your company and the user.
Your site can only generate traffic, sales, and leads when you ensure you have what your target audience needs and can deliver it for them satisfactorily by offering an exceptional experience.
Defining goals for your business and your user should be easy. The only advice here is to be as specific as possible. Such a goal, like developing a website, never guarantees any progress. Instead, generating 25% leads within 6 months is what you should stick with.
If the goals don't align, you will most likely have a TERRIBLE problem where you'll seek to increase revenues yet be unable to deliver the experience and product your audience seeks.
It's painful to invest money and time into a website to learn that everyone is bouncing from, where no one finds a sufficient reason to buy from you.
Pro tip: This is a big clue that you might focus less than necessary on your end goals rather than theirs. That's why it's so important to link your objectives with your audience's satisfaction.
Define Your Target Audience
Taking time to understand your audience segments among your various business lines will be your first step to having one of the best strategies for developing a website. Using qualitative and quantitive data to define your digital marketing strategy, especially when building profiles to target via ad campaigns.
Targeting efforts always pay off.
Make a buyer persona as a starting point for further marketing efforts. Creating this formula allows you to tailor your initiatives and programs appropriately for every potential customer segment.
Use Google Analytics to build your persona from the data extracted. But if you don't have a website with significant traffic, you can create a survey to allow your customers to talk about themselves.
Also, you can use Hubspot free template to build your own
Pro tip: you can offer incentives to encourage your customers to fill out your survey for free— something like free samples of shipping or any other related offers that your customers will love to get.
Also, you can choose these questions to define your target audience.
1. Who is my ideal customer? What age group, income level, gender, or other demographic characteristics do they have?
2. What problems can you solve? How can I solve it with my product or service?
3. What media channels do they frequent? Are they active on social media, read blogs, watch YouTube videos or listen to podcasts?
4. How do people in this group buy products online/offline? Do they prefer online research first, or do they like purchase in-store?

Make Your Website Visible
It's essential to build an effective domain name when creating strategies for developing websites. For example, let the domain describe your business, or you should include the company name.
You're free to purchase multiple domain names pointing to your site as long as it's easy enough for consumers to find.
Being visible is not enough; you need a good domain name.
Your domain, also known as your website address, represents the entry point to your website.
It's often the first step when starting a business.
A good one makes a good impression for professionality and usability purposes and, of course, for search engine optimisation (SEO).
Here are important tips for coming up with an ideal domain name:
Easy to spell: the optimal name is easy to spell globally. Try not to use made-up, slang, or extremely esoteric words.
Use the right domain extension: It's always better to choose a .com domain name (compared to .net, .co, and so) unless it's more appropriate to use a certain extension for a certain purpose, such as .org, .gov, or .org.
Keep it as short as possible: Try to make it shorter to remember and type correctly by users.
Don't use numbers and hyphens: The rule of thumb is the shorter it is, the easier it is— you need to avoid any numbers and hyphens in the domain name as they may be misunderstood when vocalising in different languages. They are hard to remember and far from being elegant and memorable. It's better to have a word-only domain name.
Choose a memorable one: with so many websites on the internet, it's essential that your website has a catchy name, so people will remember how to get access to it in the future (as opposed to complicated names).
Check the availability of the domain name: hosting websites such as Godaddy will let you know if this domain name is waiting for you or if you need to keep searching.
Use the keywords: Try to choose keywords as a domain name. For example, if you have a business to replace plastic, you can start with recycle.com.
Make the address broad: How knows? Your business might have an opportunity to expand, so you facilitate future growth. For example, Amazon.com is a much wider website address than Grocery.com. That allows Amazon to sell pretty much each and every type of consumer good instead of being limited to only grocery stuff. However, the original purpose of Amazon was to sell books.
Create an SEO-friendly URL: When building your URL, remember to come up with an SEO-friendly link. The ideal website address includes keywords and geo-location; for example, "www.IrelandGiftshop.com."
Check if the price is okay: Since almost all good domain names are taken, and you will need to buy from the current owner, you need to determine how much you're willing to purchase your desired address. Choose a reasonable price or keep searching for another domain.
Don't use nonsensical names: Choose an address that conveys a meaning, so users will know instantly what your business is about. Well, Google and Nike are catchy and nonsensical names, but they were costly to brand—as a small business owner, you probably don't have the same budget.
Don't know how to name your business? Our team can help you establish a brand far beyond any business before because we put everything in its right place! So book your call today or check our services.
Prepare to invest in your website look and marketing. A lot of brands overspend on their design sites using the best plugins and brilliant tools and then go cheap on marketing.
Conversely, other brands want to go big on marketing and only consider putting something special into their website.
This budget should be split into different categories, including finding the right CMS, technology, and any other type of site to build a unique one that speaks on your behalf of you.
Off the shelf?
Well, you need to know the limitations; that's how you're not obligated to start over with a new one before you have ROI on it.
If you have a ready-made budget plan, don't throw it away! Just make some adjustments to keep it updated with your new website content strategy.
If you don't feel comfortable with templates or you are thinking of the customer and custom code, just make sure it isn't overkilled.
The idea here is to not push your breakeven point too far out into the future. And avoid being over or undersold. Instead, know what your upfront investment should go to and what the incremental one is to make the right decisions and support your business.
And it always depends on your business scale and your target segment.
Keep Your Design Fresh, Unique, and Simple
The first thing prospects see when they click through your website link is the homepage— the most important part of your web design project.
Make sure your homepage typically answers any critical questions new customers will be asking. These should include who you're, what they can do on your website and your business.
Consider the impression you want to leave and the message you want to communicate with your potential customers.
The trick is not to overload your homepage. And yes, it's a tick. But all writers, including me, know the simpler, the harder. So make your homepage well-organised and avoid distractions and confusion for your customers.
The general rule is to keep it to less than 12 words of any text.
When choosing the right strategies for developing a website, continue a lead with transparency.
Let's face it: people are lazy. They want to feel that they control their site experience. That means you need to make it clear to everyone to take the right action you desire.
Websites have come a long way, from pretty front to a brilliant online brochure for your business. Done right, they're now one of the best digital marketing tools to build trust and credibility with your prospects, so help them get your website by sharing more, not less.
For example, if you sell a specific product, make your public-facing pricing pages transparent and readily available to your customers. Clear pricing packages can lend credibility to your brand— not just that they will qualify and disqualify prospects for you.
Imagine how much time you will save from replying to emails and messages from people asking about your pricing.
You also need to help them find your prices quickly by involving them in your primary navigation on your home page.
Pro tip: make your pricing easy to disgust and create a clear call-to-action (CTA) message to complete the sale.
This revealing and honest approach to showing your pricing builds trust in your brand and makes customers feel more in charge of buying decisions.
One of the most-used strategies for developing a website is product reviews— a powerful tool for ecommerce solutions.
Your prospects generally trust customers' opinions. So, using this developing website strategy is valuable to your sales.
You can use that to your advantage by encouraging previous customers to rate their orders and proactively disclosing this and other related information on your website.
Also, you can lead the narrative and boost your offerings by telling your story your way. In other words, you will build credibility for your brand when prospects find honest reviews about your product or service, whether or not you choose to feature them on your website. That is enough to take the lead and help your brand stand out.
Important: Use the right way when featuring reviews by gathering feedback from emails, comments, and emails, then displaying them on your product pages to keep them public on your site.
Product reviews and pricing pages are just two ways to use within your strategies for developing a website to purchase buyers, decline the friction in your sales process, and encourage advocacy.
If you can keep a potential buyer on your website— rather than looking for any information elsewhere, you win and create a better experience for you and them.
How Can Profiletree Help You?
Creative work shouldn't be a way to showcase your talent but the point at which killing ideas get realised. Meanwhile, how it's done makes a world of difference. Well-placed creativity gives a good idea pushing the wings to fly; messy creativity puts the whole process in a tailspin.
At Profiletree, creativity bleeds into everything we build. It's part of each communication strategy, including your developing website strategy, every media buying plan, social campaign, digital marketing activities, PR services, every rebrand, every piece of content, and every video.
Working closely with our web development and content specialists, our designers will conjure up all their experience to turn those plain words into creative ascites, comms, and executing concepts. Our experts craft art-working ready for a point after setting distinctive visual identities in sync with well-laid wider campaign outputs and strategies.
Exactly the kind of creative output that help you hit the market.
How?
We love brands.
We love the process of understanding your dreams.
We love making your business tick.
We love making your brand stand out and deliver value to your audience.
We love creating new brands and watching them breathe fresh life into outdated ones.
We might not prefer calling ourselves a branding agency because what we offer goes beyond that.
Our seasoned team produces the sort of work that comes at the very heart of your business goals, providing new identities for existing and new businesses.
By combining all the creativity and expertise from our specialists and your team, we can help you set up well-tailored strategies for developing a website from initial conception right through to complete creative communications and executions. Call us now!