ProfileTree has concluded the Digi-Growth Programme in partnership with Lisburn and Castlereagh City Council and Invest NI. The programme has been a huge success, helping 340 local businesses enhance their digital marketing capabilities and grow their business online.
"This project is part funded by Invest Northern Ireland and the European Regional Development Fund under the Investment for Growth & Jobs Northern Ireland (2014-2020) Programme."
What was the Digi-Growth Programme?
Over the course of three last years (2020-2023) ProfileTree has worked in partnership with the Lisburn and Castlereagh City Council and Invest NI to help support local businesses in developing their digital marketing skills and competing within the online environment.
The Digi-Growth Programme provided tailored support to local businesses depending on their business goals and current level of knowledge within digital marketing. Support came in the form of mentoring sessions, website design and development, SEO content, and much more!
This was a fully funded programme, businesses who applied to the scheme were awarded hours based on the criteria, ProfileTree then developed a digital marketing strategy that would best optimise those hours and enhance the business's digital presence.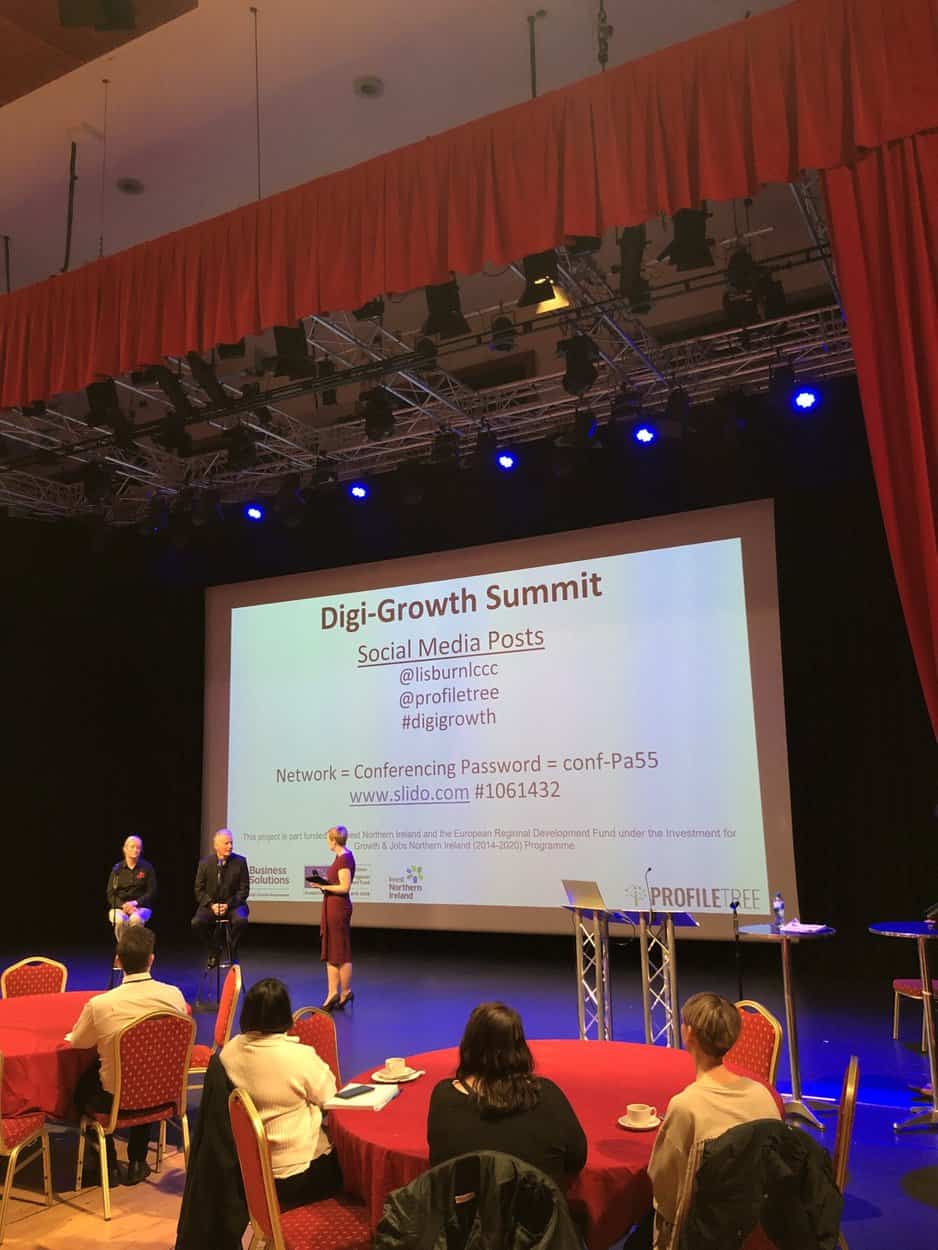 Digi-Growth Summit – A fully booked event
Following the success of the Digi-Growth Programme, a Digi-Growth Summit was held in order to explore the impact of the programme and hear from the businesses who benefitted from participation in the scheme.
ProfileTree, Vava Influence and Lisburn and Castlereagh City Council attended the event as guest speakers, exploring the future of digital marketing and the impact it will have on local businesses.
The Digi-Growth Summit was a fully booked event, local businesses attended to hear from the industry experts, take part in the discussion and explore how they can navigate the field of digital marketing for the benefit of their business.
Hearing from Programme Beneficiaries
Garfield Harrison from 4SM and Rosaleen Stewart from Rosie's Emporium attended the event as previous beneficiaries from the Digi-Growth Programme. They gave their unique experience of how their business benefitted from an enhanced digital presence.
"Our website is like lightning"
Garfield Harrison from 4SM, a plant and civil engineering business, described the specific benefits his businesses received after participating in the programme. This included support with developing a rigorous email marketing strategy and assistance in improving his website's performance.
ProfileTree helped 4SM create a database with over 1600 email addresses and provided support with embedding advertisements within these marketing emails. They also transformed the website's speed and performance, taking pages that used to take 15 seconds to load and transforming them to what Harrison describes as "like lightning".
"The support was personalised to my business"
Another beneficiary of the Digi-Growth Programme was Rosaleen Stewart, business owner of Rosie's Emporium. Rosaleen spoke of how the programme's support was personalised to suit her business needs and not necessarily about following trending digital marketing topics.
Rosie also accredited ProfileTree for being instrumental in providing support during her pivot to online marketing following Covid restrictions. She explained how she used to feel overwhelmed when using Google My Business tools, but with mentoring sessions provided by ProfileTree, she is now able to utilise these tools and keep track of her digital performance.
Rosie's Emporium benefitted from real monetary value following the Digi-Growth Programme. The renovated website design has helped Rosies reach customers throughout the U.K. and Ireland and the physical shop has now moved into a bigger location.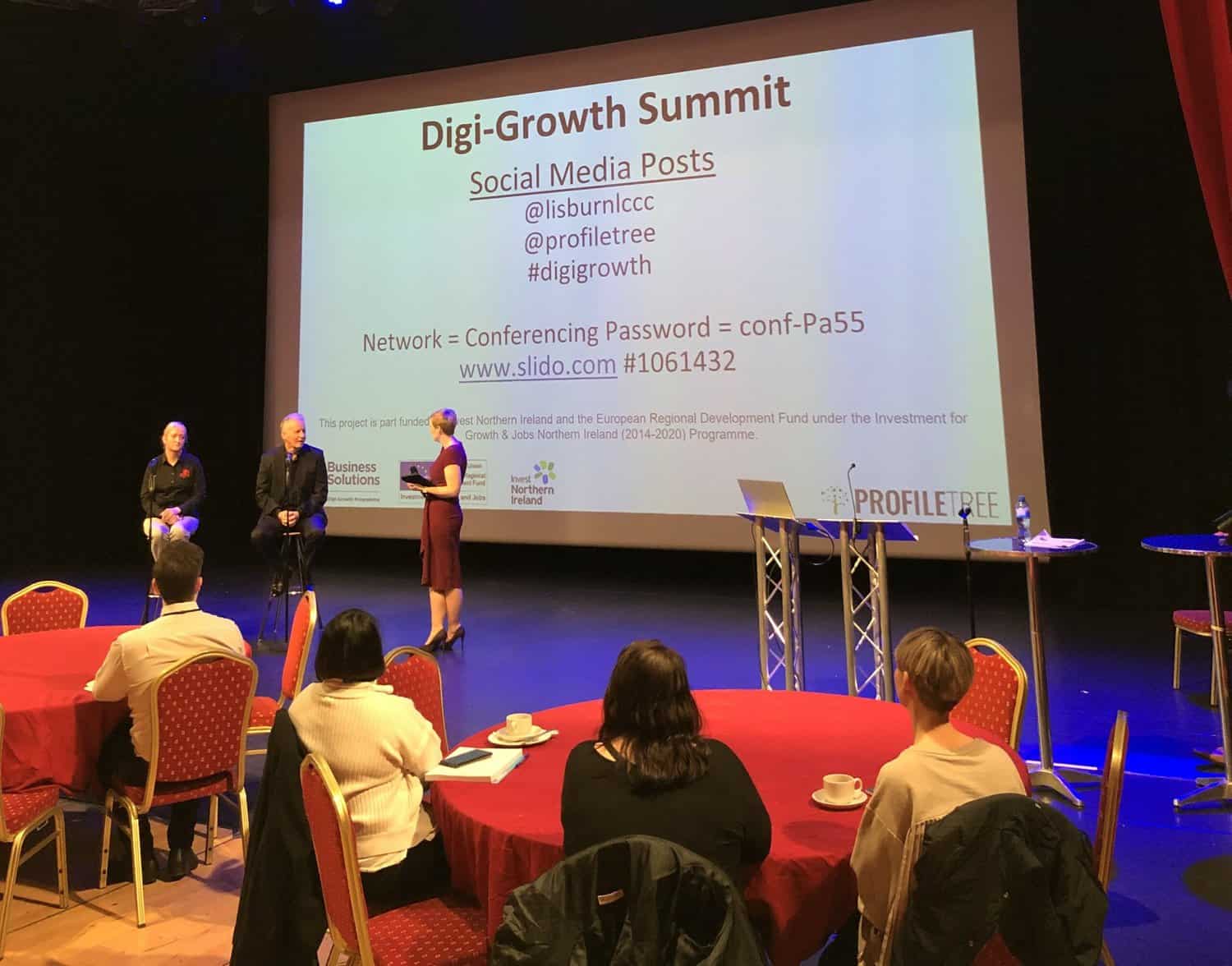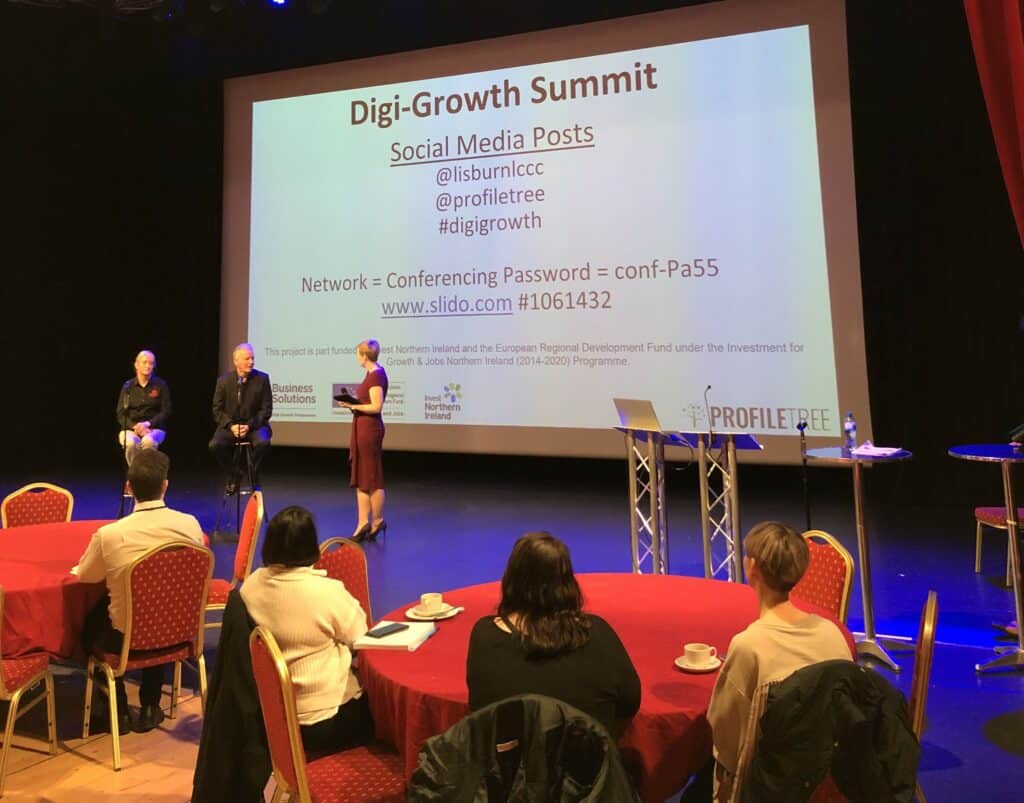 ProfileTree gave their thoughts on the future of digital marketing
ProfileTree were invited to discuss the impact of the programme and how the future of digital marketing will continue to affect local businesses. This presentation was delivered by Ciaran Connolly (CEO) and Stephen McClelland (Business Developer).
You are a media business!
Drawing attention to the fact that every business in this modern age is now also a media company. This is a relevant point for businesses regardless of their size, industry or niche, if they are to be seen against competitors, businesses need to invest in media marketing methods.
As part of the Digi-Growth Programme, ProfileTree helped local businesses develop promotional pieces of video and written content that they could utilise in the online space. This helped business carve out their own digital space and spread awareness of their brand.
SEO
Profile Tree is a digital marketing agency with a speciality in SEO. This presentation discussed the technicalities of rising above Google algorithms and optimising businesses' websites for enhanced visibility in search results.
SEO was a major service provided to the beneficiaries of the Digi-Growth Programme, essentially helping them understand the impact of their online content and how to utilise it to attract more traffic and grow their digital presence.
The Future is AI
Another key topic discussed was the future of artificial intelligence and its impact on digital marketing for business. The presentation discussed current AI software that businesses could utilise in order to make their role as a media company much more efficient and accessible.
Digi-Groth Summit attendees received practical advice and guidance on using various AI platforms to grow their digital presence, including:
ChatGPT: A leading AI software that can generate social media posts, essays, blog articles, keywords, and a host of other forms of written content.
Canva AI: A platform used to generate unique AI images that can be for online promotion. Canva AI also features an AI writing assistant and many other user-friendly features to create videos, PowerPoint, brand logos, etc.
Microsoft Copilot: An AI extension onto Microsoft platforms, this AI integration can summarise emails, organise notes, generate first drafts and even allow the user to ask questions on Excel.
Artificial intelligence is going to revolutionaries how we conduct our daily work lives and as Ciaran summarised at the end of the presentation,
"The only people who should be worried about AI, are those who are not using it".
Helping local Lisburn and Castlereagh Business
The Digi-Growth Programme was a major success, helping over 340 businesses in developing a digital strategy and learning the skills to maintain their presence.
Get in touch with ProfileTree for more information and support on digital marketing for your business.